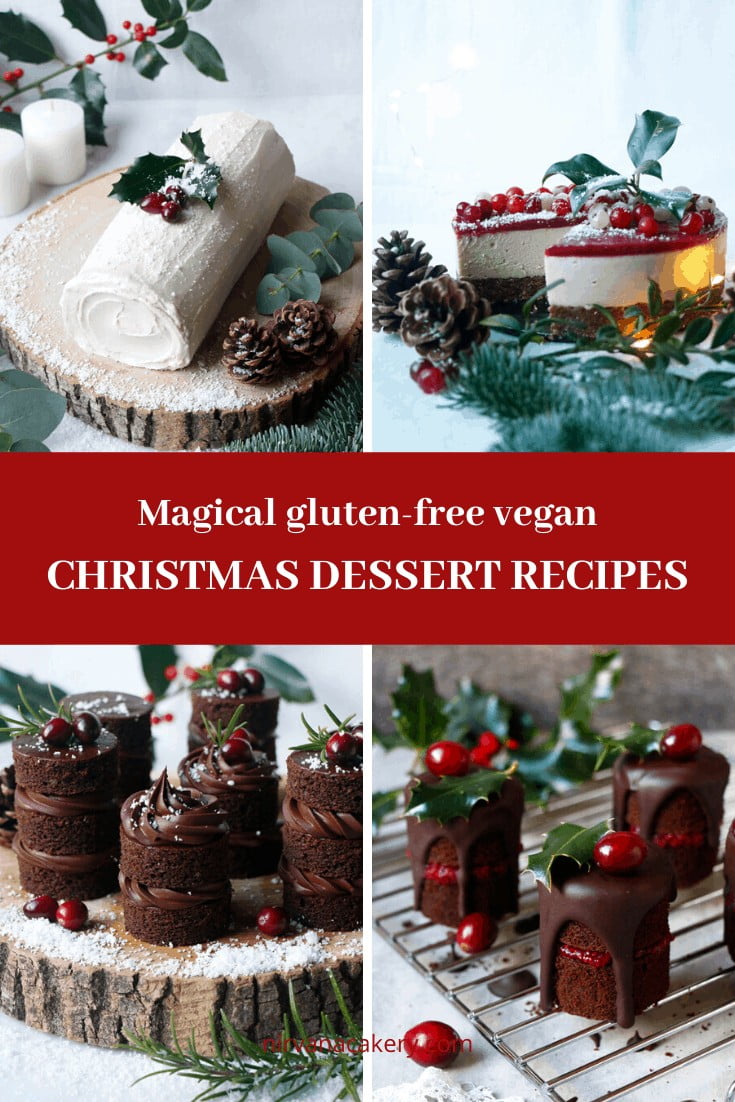 I have a wonderful selection of Gluten-free Vegan Christmas Dessert recipes on the blog and I've grouped my favorites in this post to make it easier for you to browse through them. Enjoy!
And if you would love more help with your wholesome plant-based cake making please check out my Plant-based Cakes Guide to get ready for healthier holidays this year!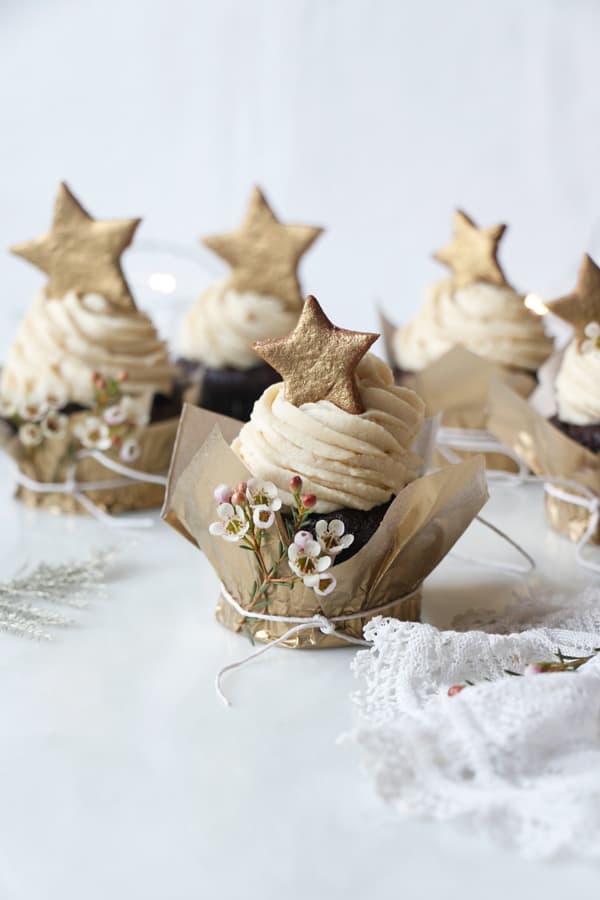 These gluten-free vegan Gingerbread Cupcakes taste as festive as they look. With moist gingerbread sponge and wonderful white chocolate frosting topped with gold star cookies they make the loveliest sweet Christmas treat.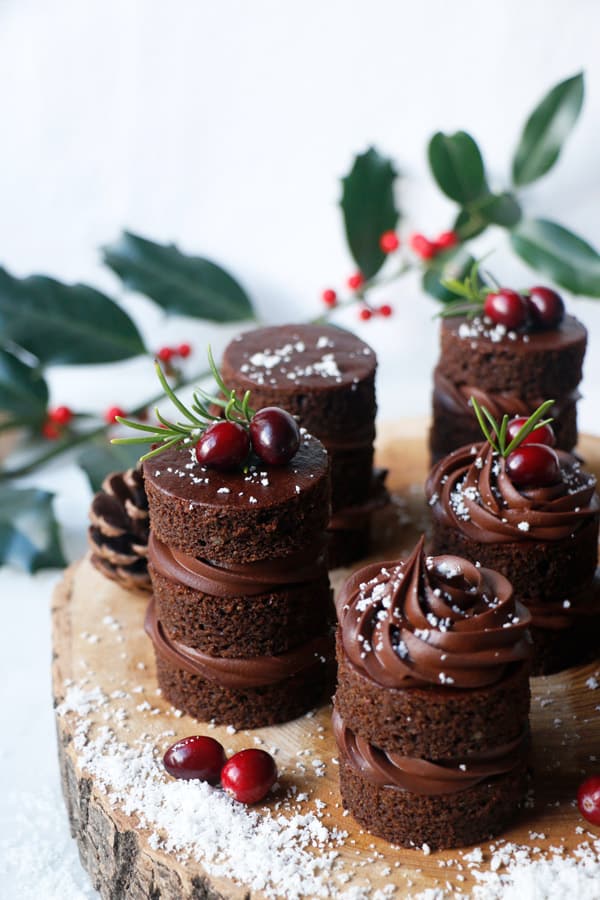 These Chocolate Gingerbread Mini Cakes are my latest Christmas mini cakes made with lovely moist gingerbread spiced chocolate sponge filled with luscious chocolate ganache frosting. They're gluten-free, vegan and tree nut-free so everyone will be able to enjoy these.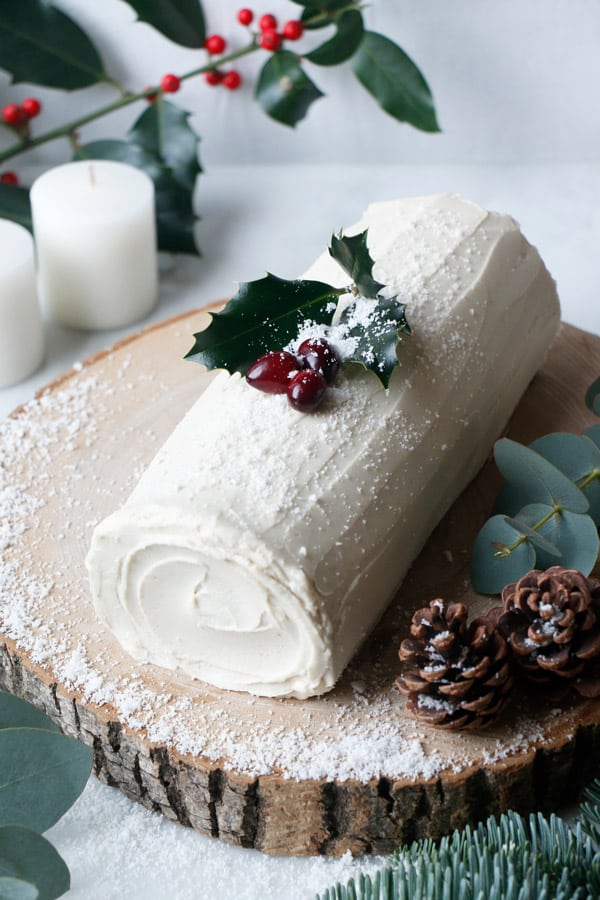 I think that Yule Log is one of the loveliest Christmas recipes to make and one that will look stunning on your festive table. This Yule Log is a plant-based recipe without any refined sugar and made with only wholesome ingredients filled with vegan white chocolate frosting making it taste just so lovely.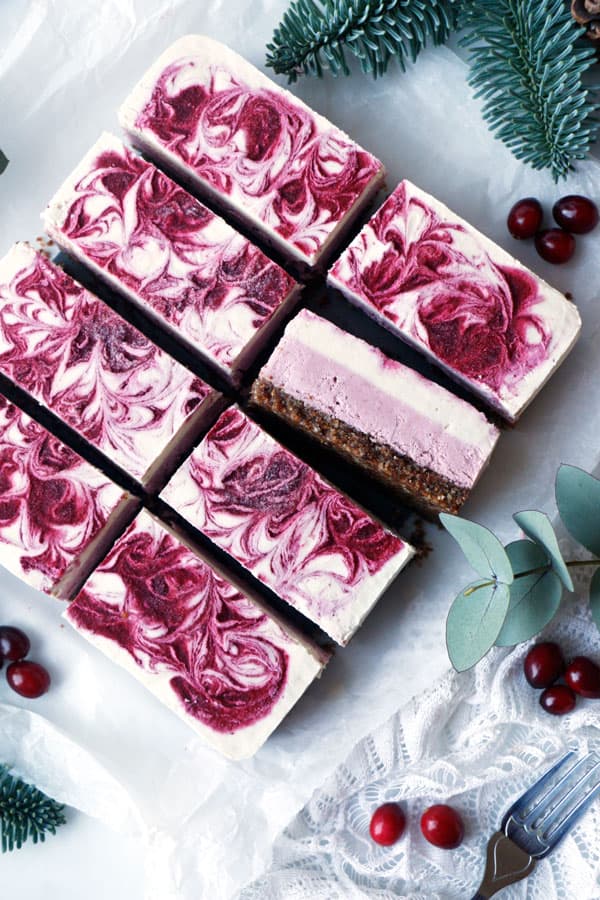 This incredibly delicious raw White Chocolate Cranberry Cheesecake tastes like Christmas morning and the one to make for your plant-based friends this Christmas.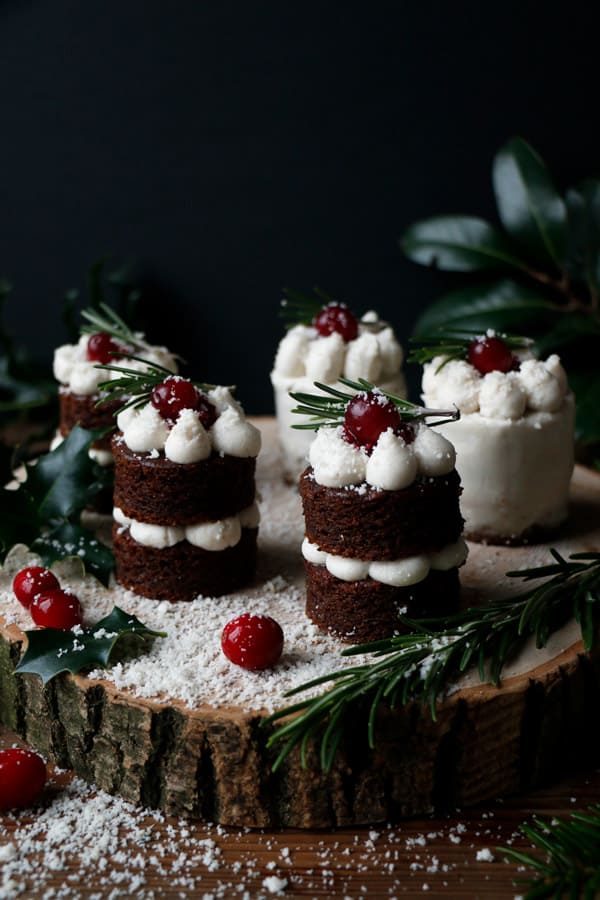 These delicious Gingerbread Christmas Mini Cakes are grain-free and vegan made with a mix of ground walnuts and chestnut flour and filled with Cranberry Chia Jam and Vegan Mascarpone Frosting.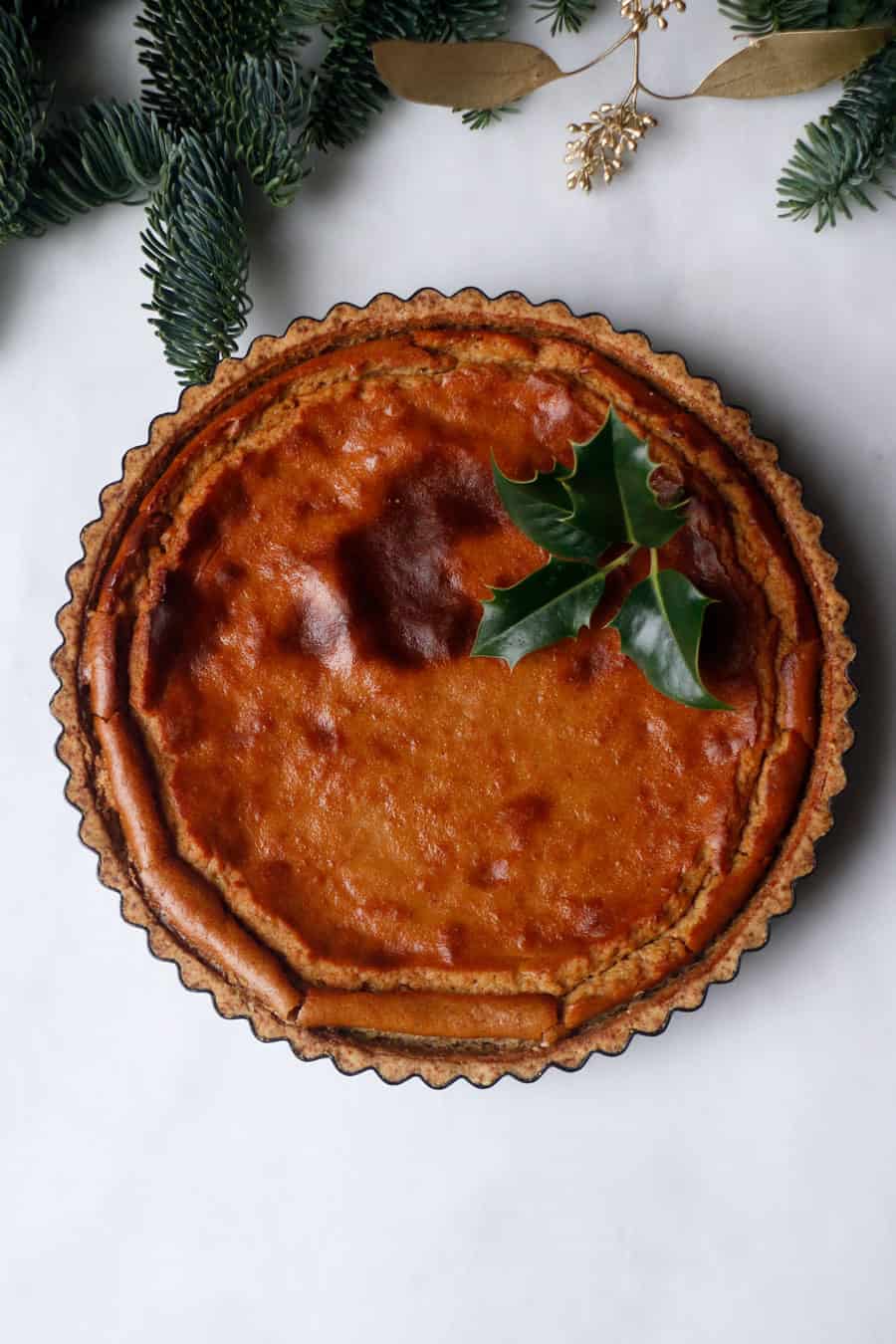 This Baked Gingerbread Cheesecake is a protein rich cheesecake with the most wonderful almond chickpea crust and creamy filling of cashews, silken tofu and vegan creme fraiche. Spiced with ginger, cinnamon, cloves, nutmeg, allspice and orange zest it feels nourishing and cozy.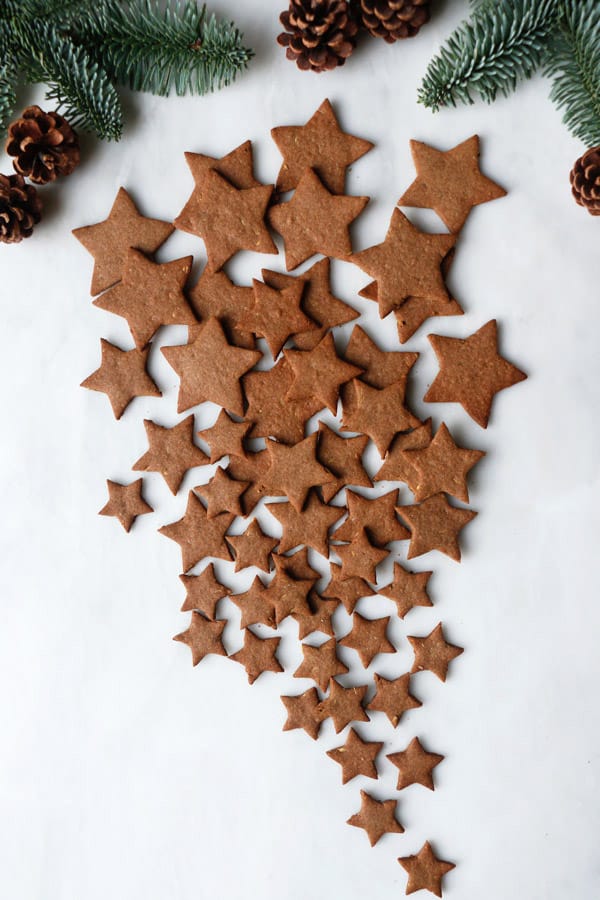 These Walnut Fennel Cookies are my favourite Christmas cookies at the moment! Gluten-free vegan simple to make and tummy-friendly, I love them so much.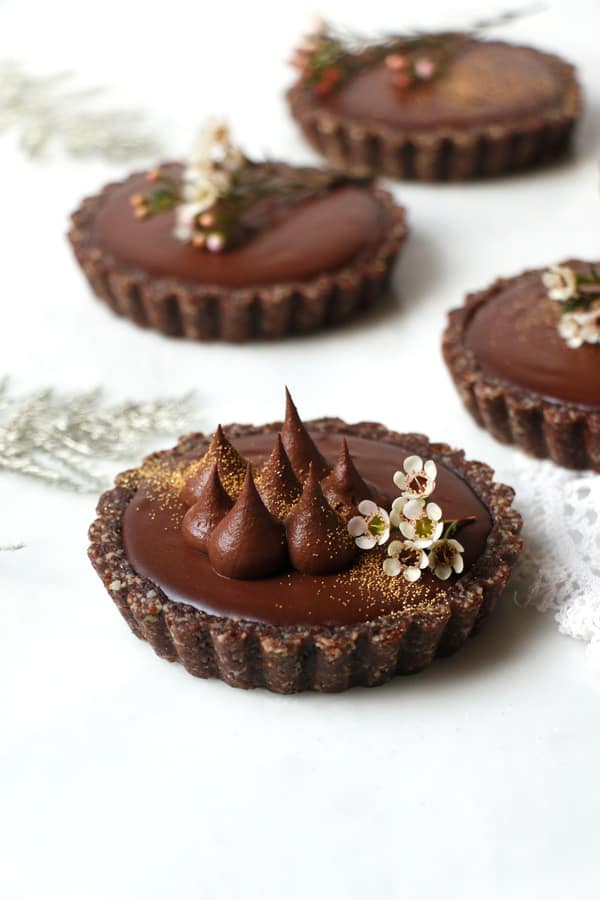 These wonderful Chocolate Orange Tarts are perfect Christmas recipe if you looking for a simple yet totally decadent dessert. They are wholesome, grain-free vegan and nut-free.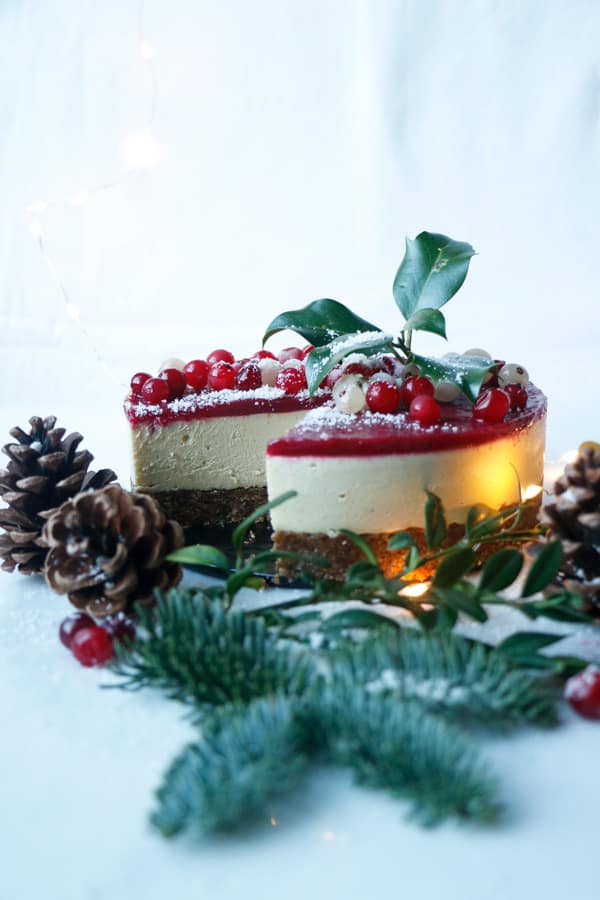 This Gingerbread Cheesecake is all about the ingredients and layering in different festive flavours. Created with raw nutty gingerbread crust, orange and ginger cashew cream layer and cranberry jelly. So delicious!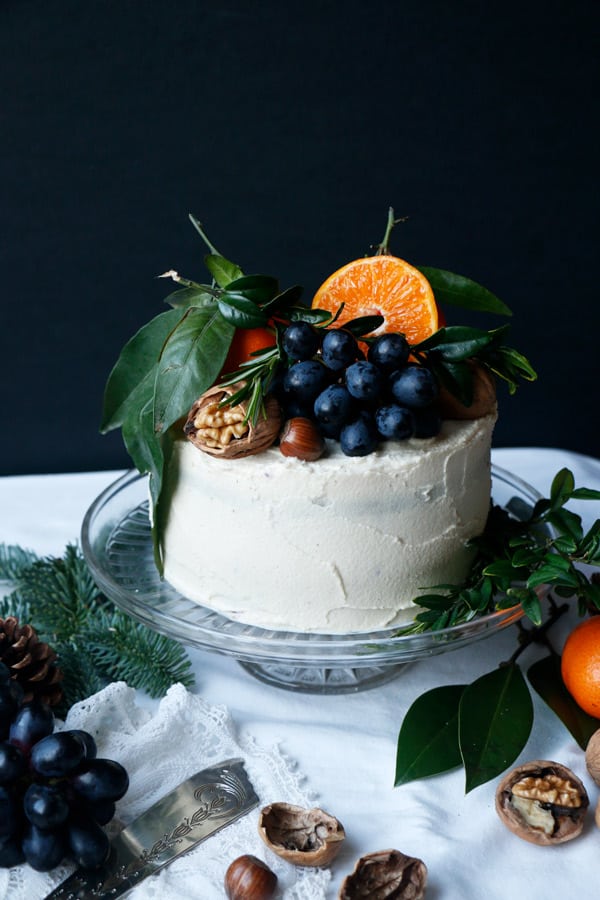 This lovely moist Gingerbread Layer Cake is filled with my favourite cranberry chia jam and smothered in cashew frosting. Topped with fabulous fruit and nuts to symbolise season's abundance.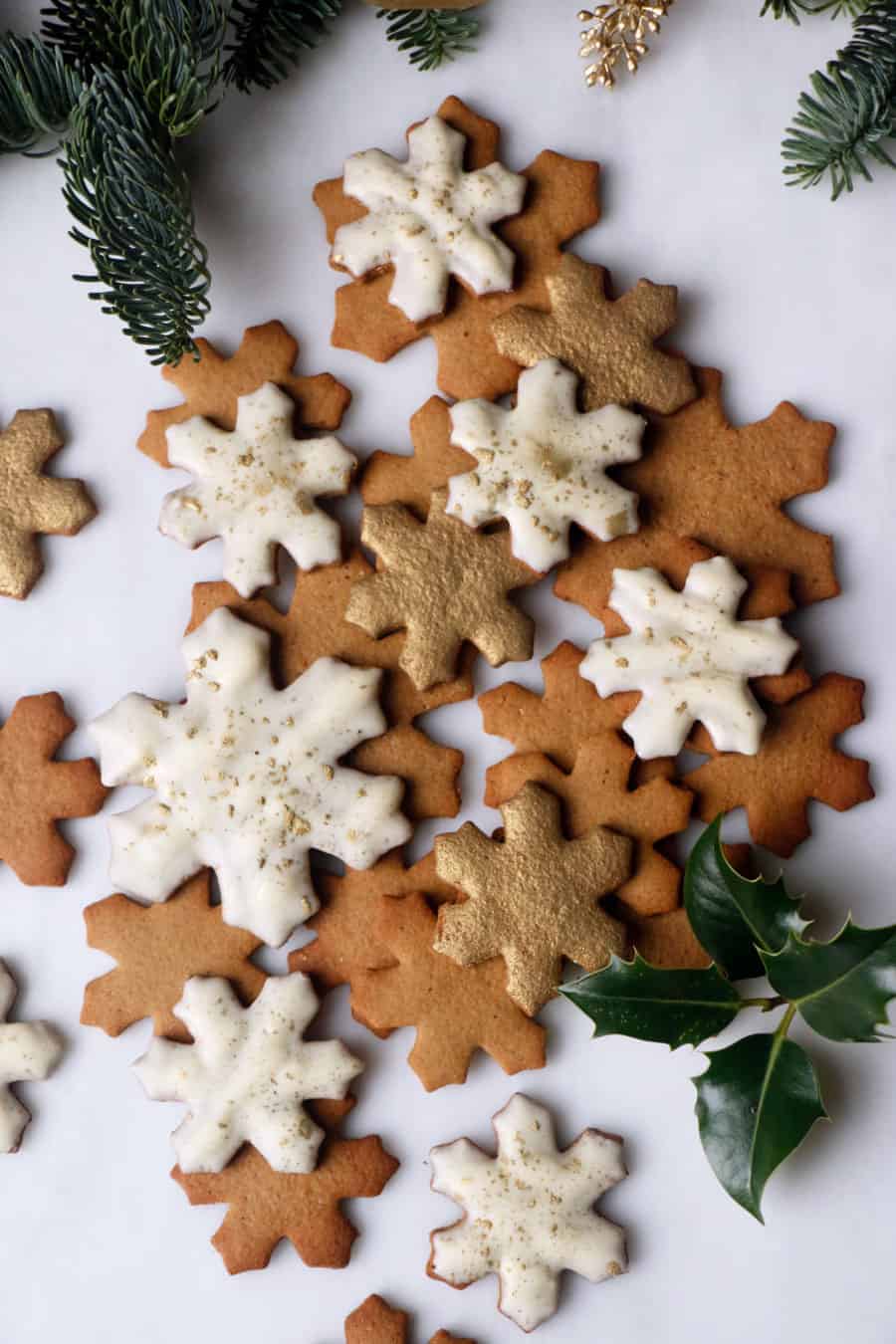 These simple wholesome Gingerbread Cookies are dipped in vegan white chocolate and dusted with edible gold lustre powder for a festive feel.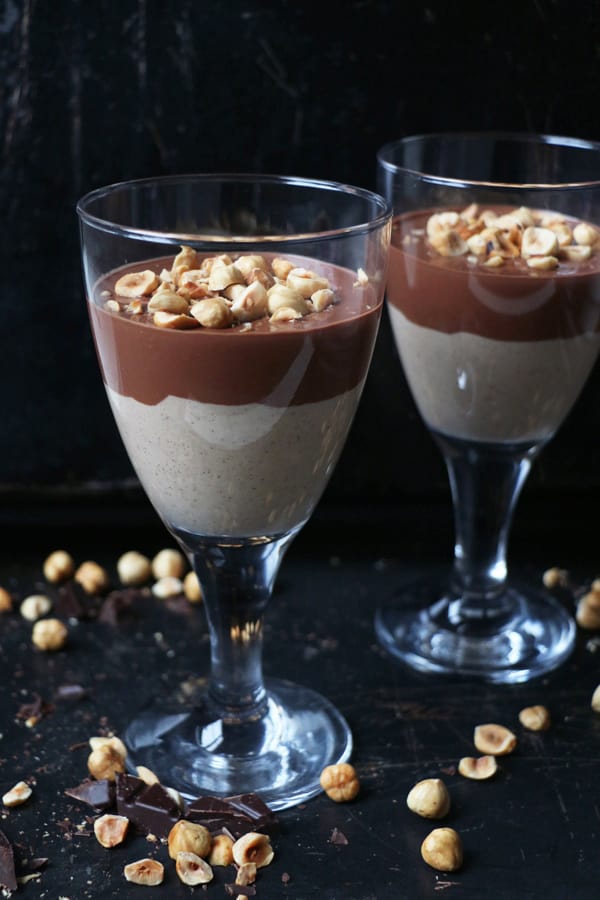 One of my oldest recipes from the blog this Hazelnut Chocolate Mousse is such simple plant-based dessert and yet so delicious!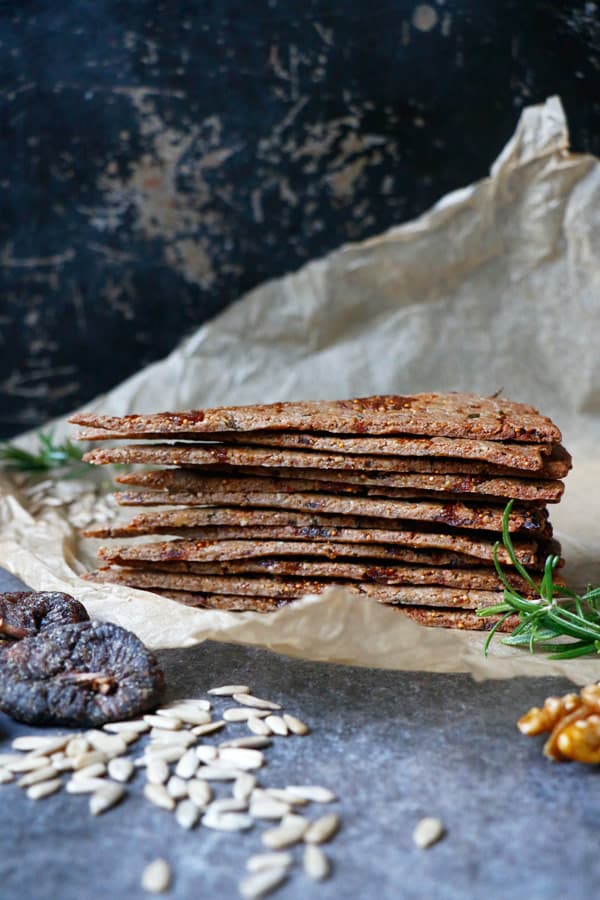 I'm including these Fig Walnut Rosemary Crackers in here because they're wonderfully festive and taste amazing. Made with ground walnuts, sunflower seeds, quinoa flour, dried figs and fresh rosemary they make the perfect addition to your festive table.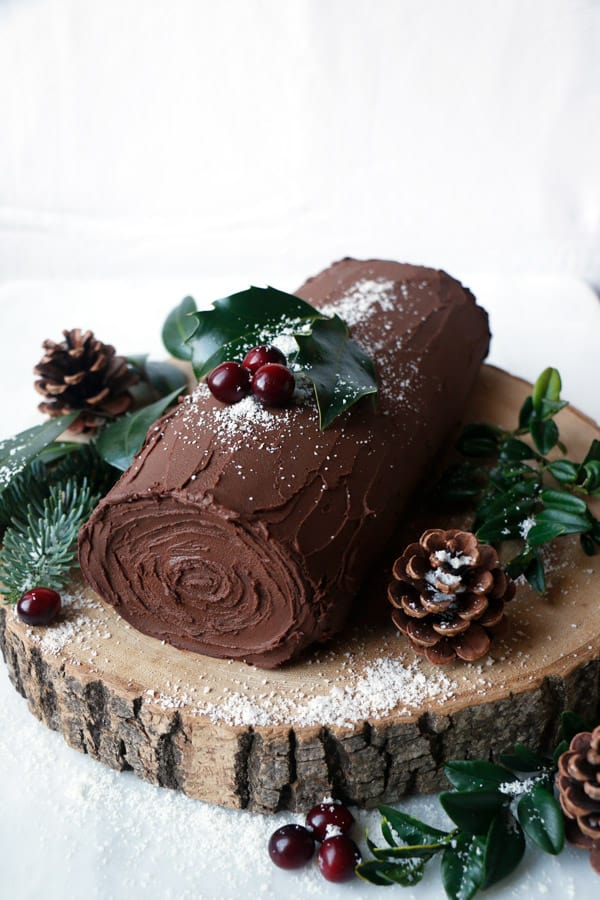 The ultimate festive dessert Buche de Noel created as a gluten-free vegan and nut-free version with two choices of filling topped with lovely chocolate ganache.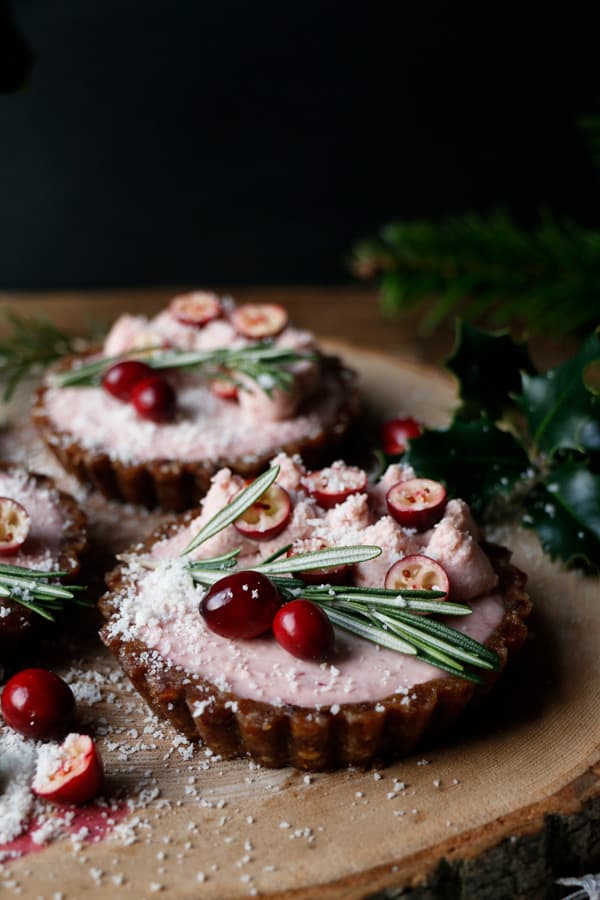 I absolutely love these Raw Gingerbread Cranberry Christmas Tarts, they have all of the amazing ingredients to make them a wonderful Christmas dessert.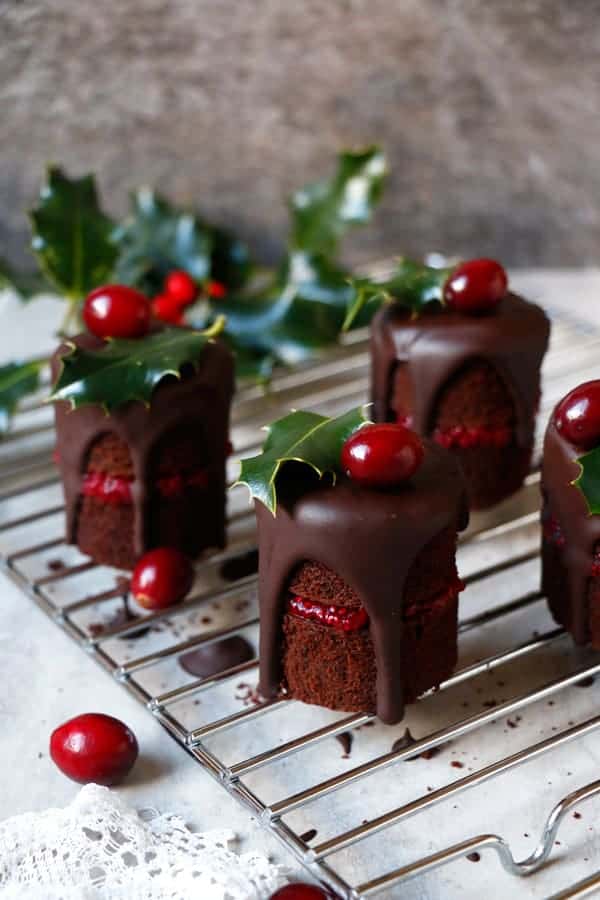 These Chocolate Cranberry Christmas Mini Cakes are my most popular Christmas recipe to date. These lovely little sponge cakes are filled with cranberry chia jam and topped with chocolate and fresh cranberries.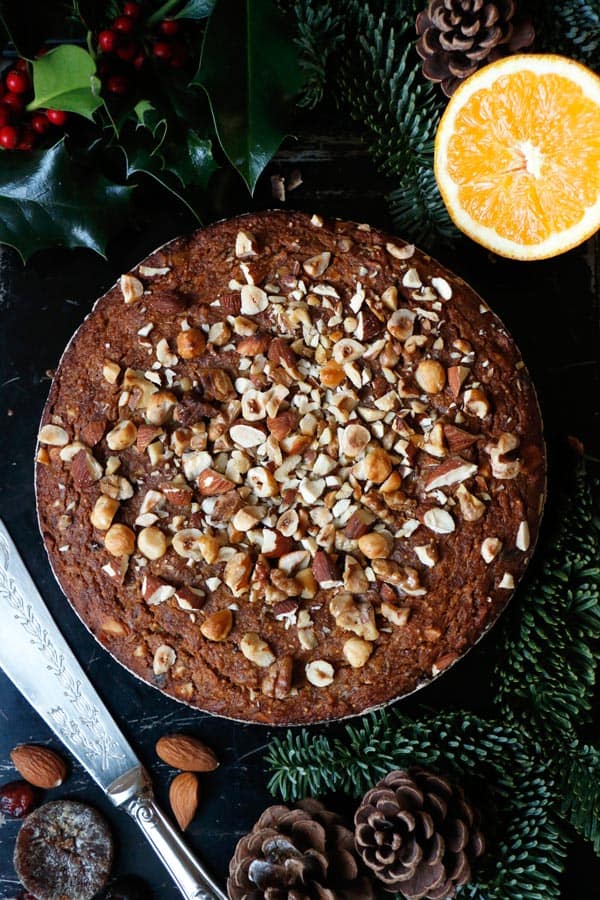 This Fruit and Nut Cake with Orange Cardamom Cashew Cream is a wonderful gluten-free vegan version of traditional fruit and nut cake. Packed with fruit, nuts, spices and full of flavour, absolutely delightful.
Similar Posts: