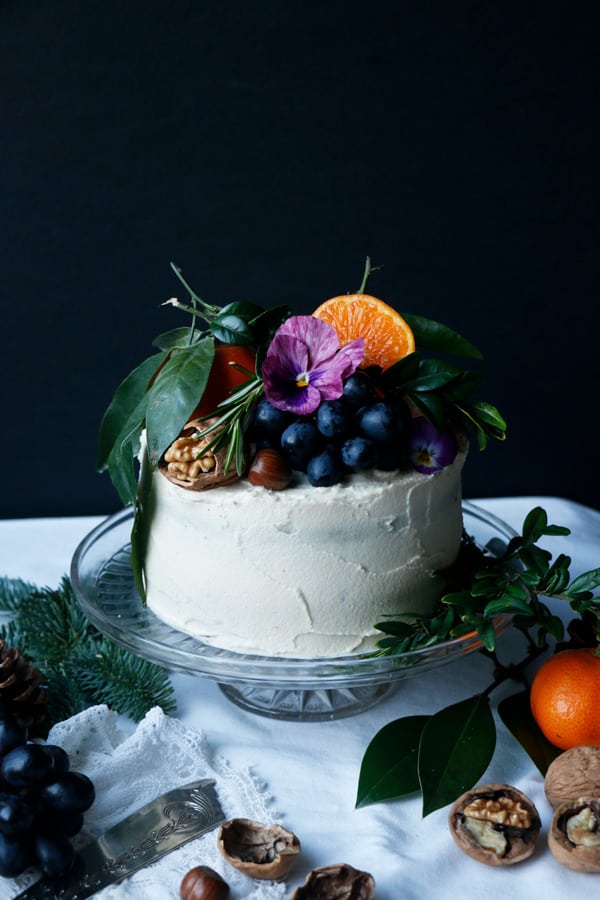 Last post of 2018! And what a year this was! My Life hasn't been much different to the year before, but I have gone through so much internal growth, made so many life-changing decisions and am entering 2019 with so much hope and high expectations for things to dramatically change. I am ready.
The message that has been coming to me all of this year was surrender, let go, patience,… I wrote this message in my recipe book after one of my meditations and I would love to share it with you. If you had a difficult year it might help.
"Surrender to Life as it's happening to you through you. Let go & just relax into it. If you were here just to touch someone else's hand, see someone's smile, hear a beautiful piece of music, see beauty, it was worth living."
What if it's as simple as that. The rest will simply come to you when you're ready.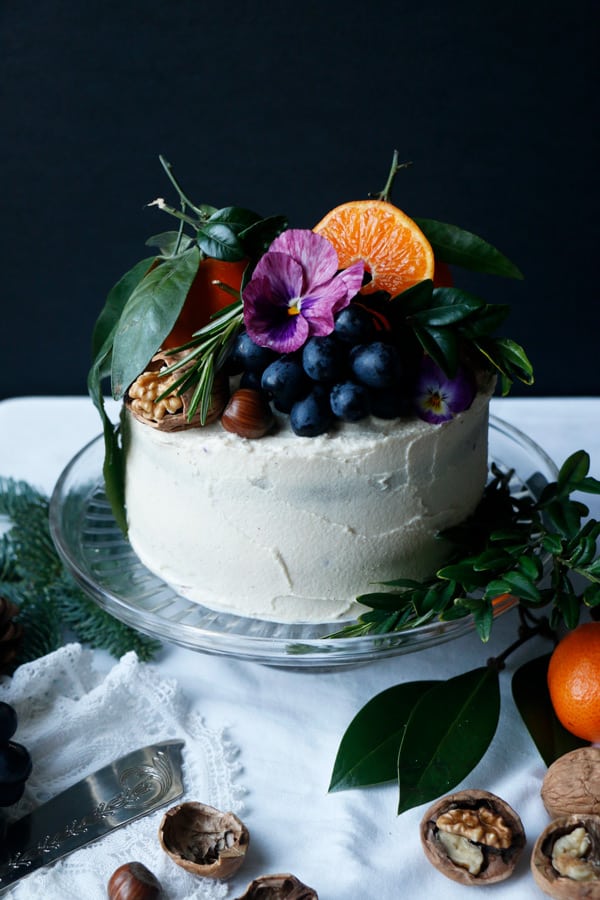 Now this Gingerbread Layer Cake, I have to, of course, leave you with a yummy cake to close 2018. And here it is, a deliciously moist spiced gingerbread sponge cake filled with cranberry chia jam and cashew frosting. Topped with fabulous fruit and nuts to symbolise season's abundance.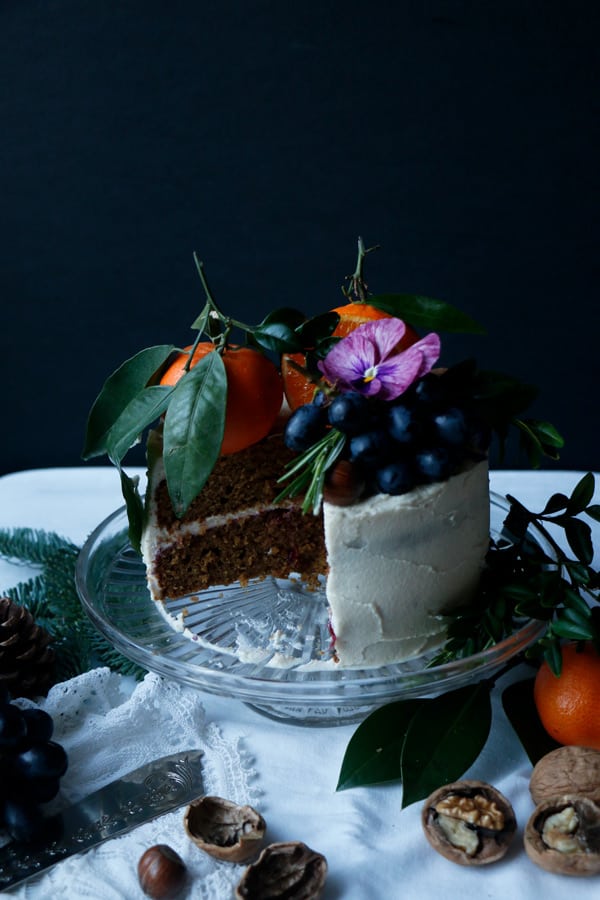 Adapted closely from my Vegan Apple Cake, but this time I've made cashew frosting to frost the cake. I have to say I find cashews more temperamental than macadamias in this frosting. The frosting also needs more coconut oil to work well. If you prefer to, use my Macadamia Mascarpone Frosting. Prepare the frosting and the cranberry chia jam the night before.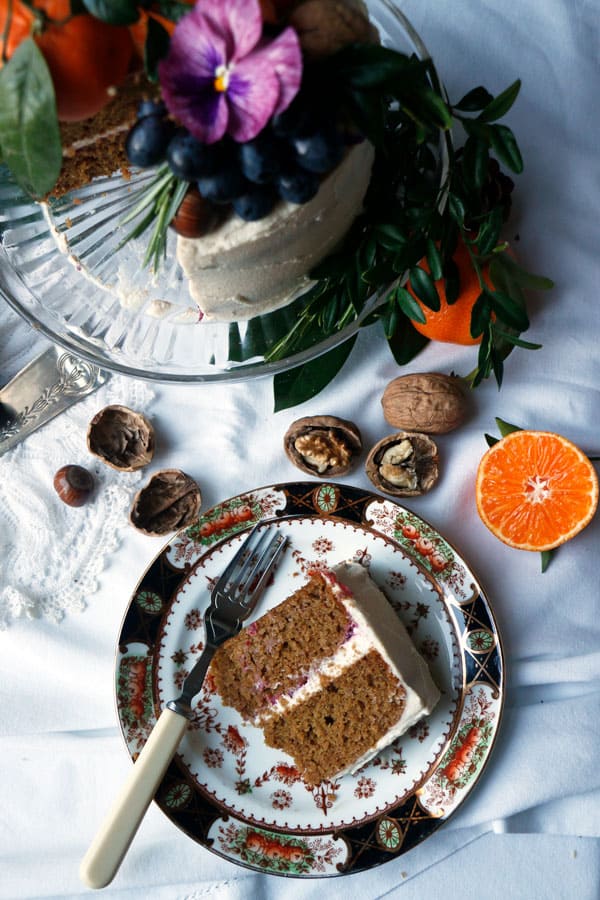 I've baked this cake twice, once with teff and once with buckwheat flour, I prefer it with the teff flour. I've styled it so you could make it for Christmas or New Year's Eve.
Finally thank you so much for being here, reading my posts, making my recipes and sharing the plant-based message. Wishing you the most magical Christmas time spend with your loved ones, hope this New Year will bring you much joy & guidance on this incredible yet crazy journey through life.
Yield: 6" layer cake
Gingerbread Layer Cake (vegan & gluten-free)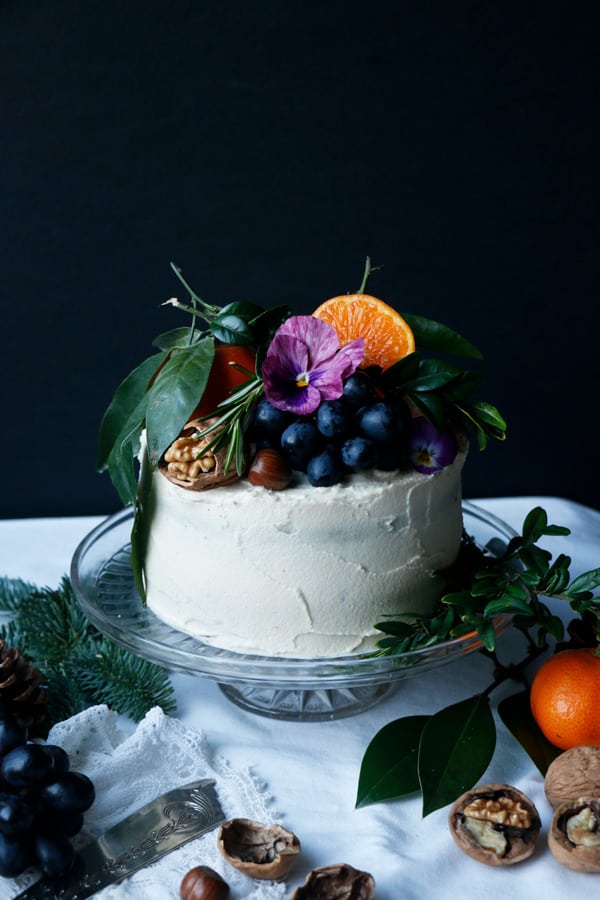 Ingredients
Gingerbread cake:
100g ground almonds (1 cup)
35g teff flour (1/4 cup)
70g brown rice flour (1/2 cup)
30g tapioca flour (1/4 cup)
1tsp baking powder
1tsp bicarbonate of soda
2tsp ground ginger
1tsp cinnamon
1/4tsp ground cloves
pinch nutmeg
pinch sea salt
100g coconut sugar (3/4 cup)
2tbsp ground flaxseed + 6tbsp water
80ml apple sauce (1/3 cup)
80ml olive oil (1/3 cup)
80ml almond milk (1/3 cup)
2tsp apple cider vinegar
1tsp vanilla
Filling:
Cashew frosting:
120g cashew nuts, soaked for at least 4 hours or overnight (1 cup)
1x 400ml can full fat coconut milk, refrigerated overnight
2tbsp maple syrup
2tsp lemon juice
1tsp vanilla
pinch pink salt
80ml coconut oil (1/3 cup)
Topping:
clementines
grapes
nuts
fresh rosemary sprigs
Instructions
Mix 2tbsp ground flaxseed with 6tbsp water and set aside to thicken.
Preheat the oven to 180°C (350F)
Grease and line the base and dust the sides of two 6" round cake baking tins.
In a large bowl whisk together ground almonds, teff flour, brown rice flour, tapioca, baking powder, bicarbonate of soda, ginger, cinnamon, cloves, nutmeg, salt and sugar. Set aside.
In a small bowl whisk together flax eggs, apple sauce, olive oil, almond milk, apple cider vinegar and vanilla.
Add the wet mix to the dry mix and mix until well combined. You should have loose muffin consistency. Spoon the mixture evenly into your prepared tins and level out the surface.
Bake for about 30 min or until a cocktail stick comes out clean.
Remove from the oven once ready and leave to cool down for 20 min before removing from the tins.
Cashew Frosting:
Place the can of full fat coconut milk (I've used 50% coconut) into a fridge, preferably overnight.
Place the cashew nuts into a bowl, cover with water and leave to soak overnight.
Rinse the soaked cashews well under running water and place into high speed blender. Scoop the solid part only from the coconut milk can and place into the blender with the nuts. Add maple syrup, lemon juice, vanilla and pinch of salt and blend until smooth. Stop and scoop the sides of the blender as needed. As the ingredients start to warm up, the mix will loosen and becomes easier to blend. Add the coconut oil and blend until incorporated.
Scoop the mix into a small bowl and refrigerate overnight.
When you're ready to frost the cake, whip the mix for couple of minutes until fluffy. The texture will change as you whip.
Once the cakes are completely cool, you can frost the cake. Place the bottom layer onto a cake stand and spread with a layer of cranberry jam. Now using spatula spread generously with some frosting. Top with the second cake layer and frost the top and the sides of the cake.
Decorate your cake to your liking with fresh fruit, nuts and rosemary sprigs.
Store in fridge before serving.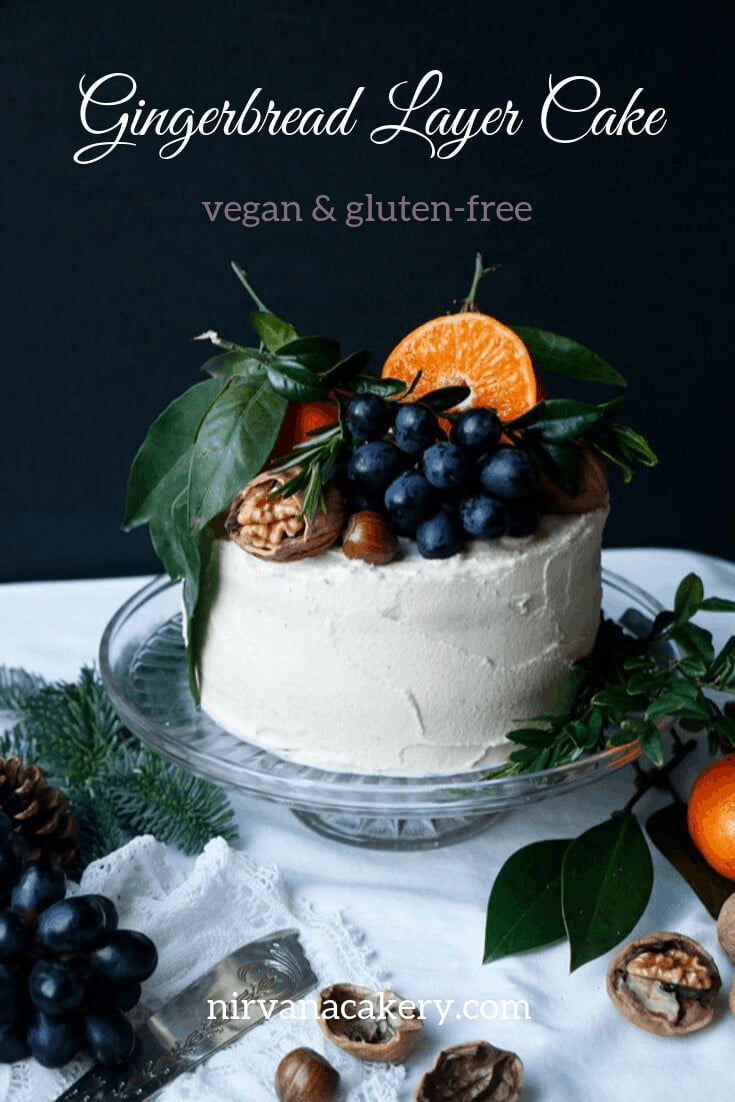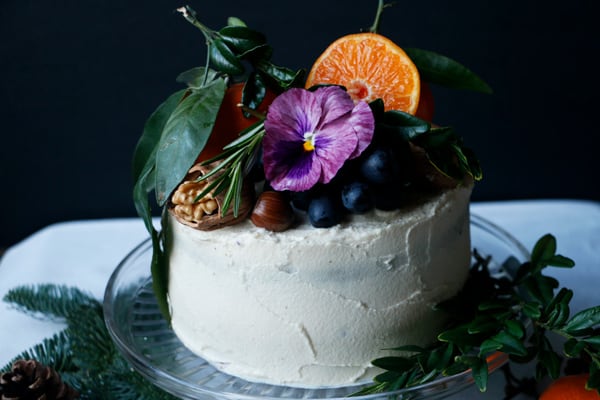 Similar Posts: