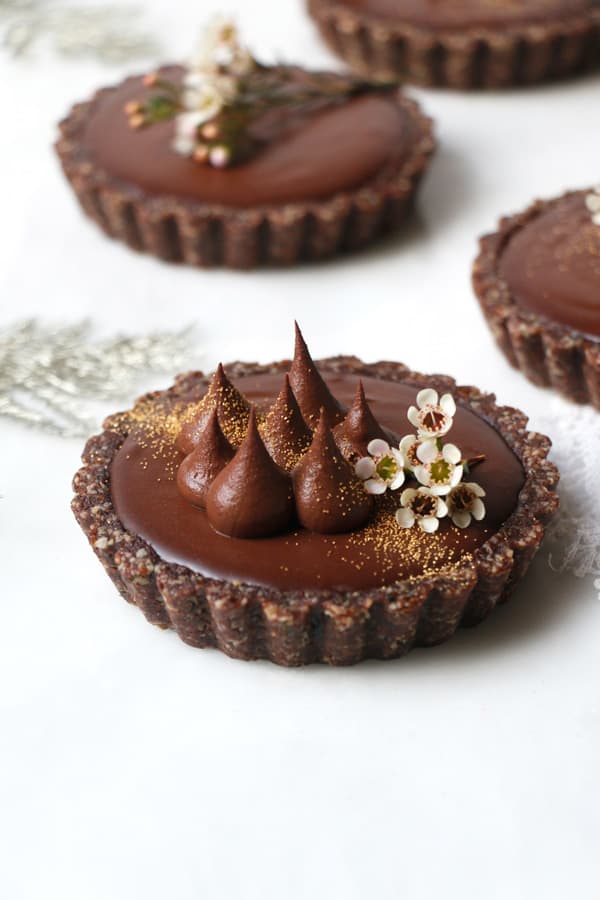 Special thank you to Amore di Mona for sponsoring this post.
I have discovered a whole new love for chocolate and orange in these lovely Chocolate Orange Tarts. The truth is I've never really been a huge fan of the chocolate orange combination, but this season, I've been feeling really inspired to use exactly these two wonderful ingredients.
Orange always reminds me of Christmas, the aroma coming from zesting an orange is one of the most beautiful scents and I love adding orange zest to all of my Christmas bakes if possible.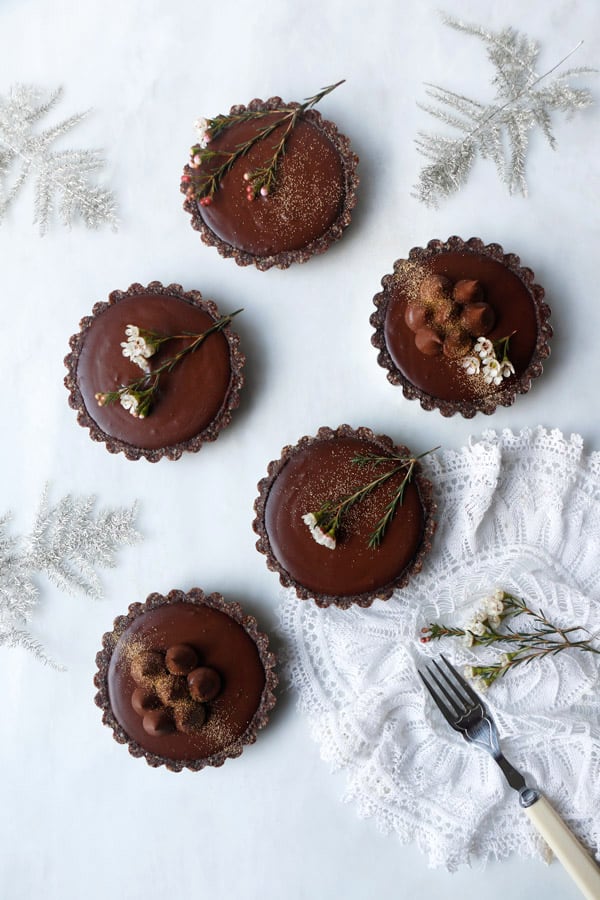 The tarts shell is a raw based nut-free dough made with sunflower seeds, pumpkin seeds, dates, cacao, cinnamon and orange zest. If you don't need these to be nut-free, you could use a combination of almonds and sunflower seeds, which is lovely too or even hazelnuts that are lovely with chocolate.
To make the ganache I've used vegan creme fraiche that gives them little more cheesecake flavour and together with the orange zest creates a divine combination. It is very simple yet such delicious filling. If you have problems finding vegan creme fraiche you can use vegan creme of your choice to make the chocolate ganache.
I have originally made this recipe as an 8″ cheesecake and it worked really well too. Alternatively, you can also make it as a large tart.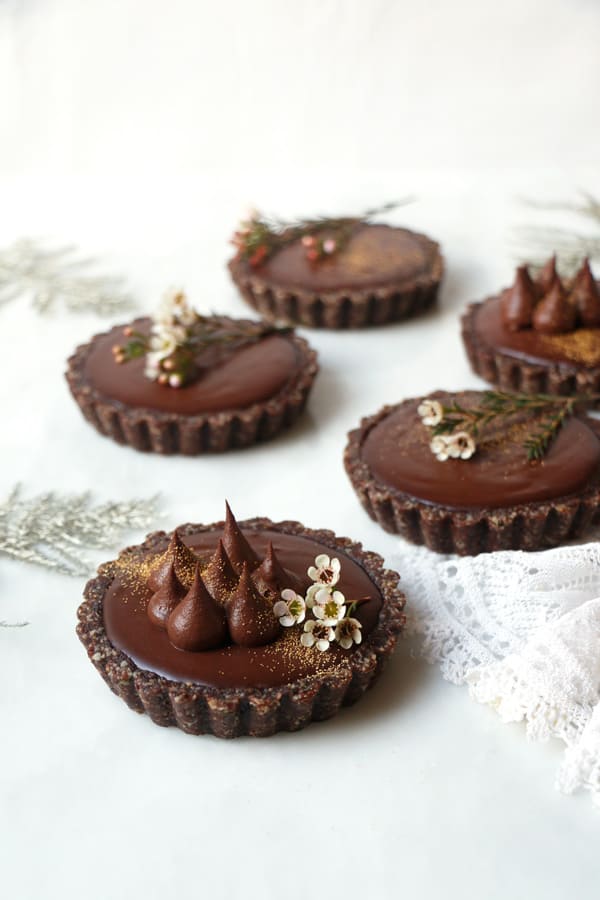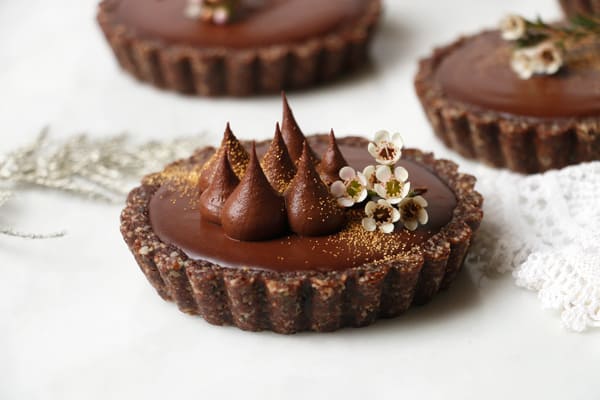 I've decided to make the decoration on these very simple, it really is a recipe that you can enjoy any time of the year and you can choose decoration to suit the mood of the season.
I didn't want to make these really Christmassy but still wanting them to have the festive feel and decided to sprinkle them with little edible gold dust. I also feel that they look quite folky, and that is exactly what I was going for. I'm hoping that they will stir some joyous memories and emotions in you. Or maybe, oh yes, I'm making these!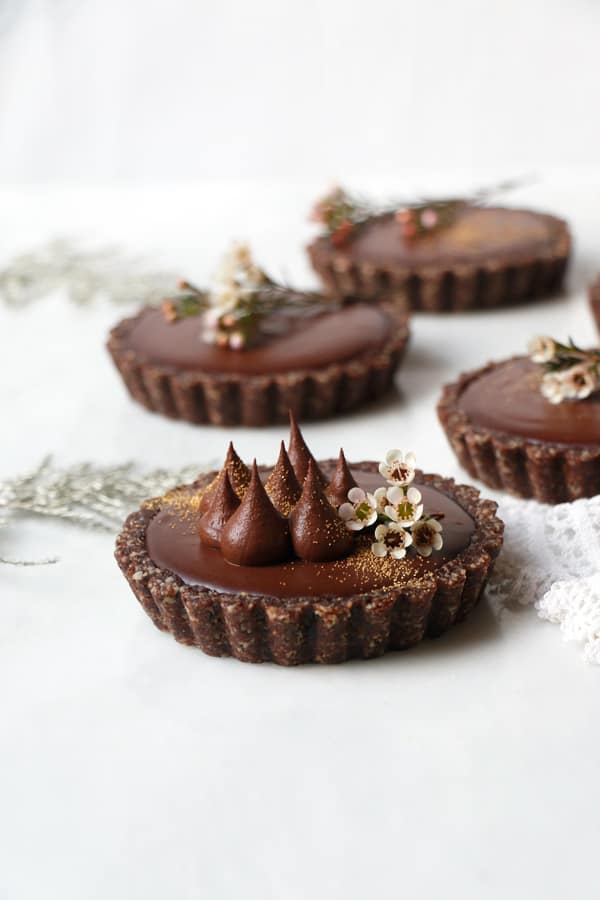 Yield: 6 tarts
Chocolate Orange Tarts (vegan & grain-free)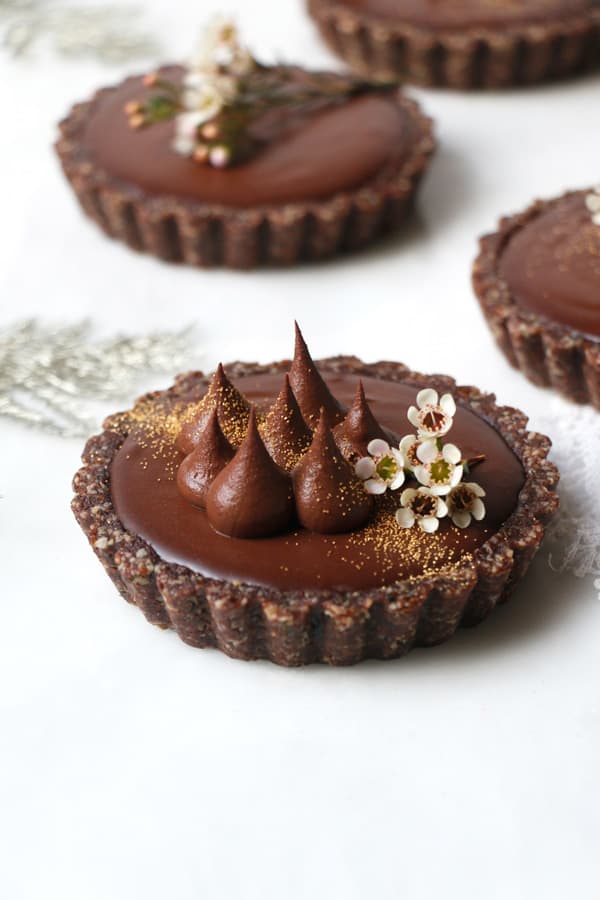 Ingredients
Crust layer:
120g sunflower seeds (1 cup)
60g pumpkin seeds (1/2 cup)
2tbsp raw cacao powder
1tsp cinnamon
pinch sea salt
6 medjool dates, pitted
zest of 1/2 orange
1tsp maple syrup
Chocolate ganache:
350g dark vegan chocolate (12.3oz)
400ml vegan creme fraiche (1 and 2/3 cup)
2tbsp powdered sugar of your choice
1tsp cinnamon
pinch cloves
pinch allspice
zest of 1 orange
Topping:
Instructions
Place sunflower and pumpkin seeds into food processor and pulse few times until they are coarsely ground. Add cacao, cinnamon, sea salt, pitted dates and orange zest and blend until the mixture starts coming together when pressed. Add maple syrup if needed and blend until the mixture sticks together.
Lightly grease 6 tart tins. You can also line the base for an easy removal.
Spoon the mix evenly into each, press tightly onto the base and the sides to form a crust. Set aside.
Roughly chop the chocolate, place into heatproof bowl and gently melt over a pot of simmering water. Stir until smooth.
In a medium bowl mix together creme fraiche, sugar, cinnamon, cloves, all spice and orange zest. If your mixture is not at room temperature once the chocolate has melted place it above the pot with the simmering water until it reaches room temperature.
Now fold the melted chocolate into the creme fraiche mixture and stir until smooth.
Pour or spoon the ganache onto the crust of each tart and place into fridge to set overnight.
Place the leftover ganache into fridge to set overnight.
Once set gently remove from the tart tins.
Fill a piping bag fitted with a large round nozzle with the leftover ganache and decorate your tarts. Sprinkle with little gold dust.
Best served chilled.
Notes
I've used 6 small 10cm tart tins with removable base in this recipe.
You can make this recipe as 8" round cake or large tart.
If you can't find vegan creme fraiche you can replace it with vegan cream.
You can replace the sugar (I've used blended rapadura sugar) with 1tbsp of maple syrup, but the sugar makes the filling little more dense.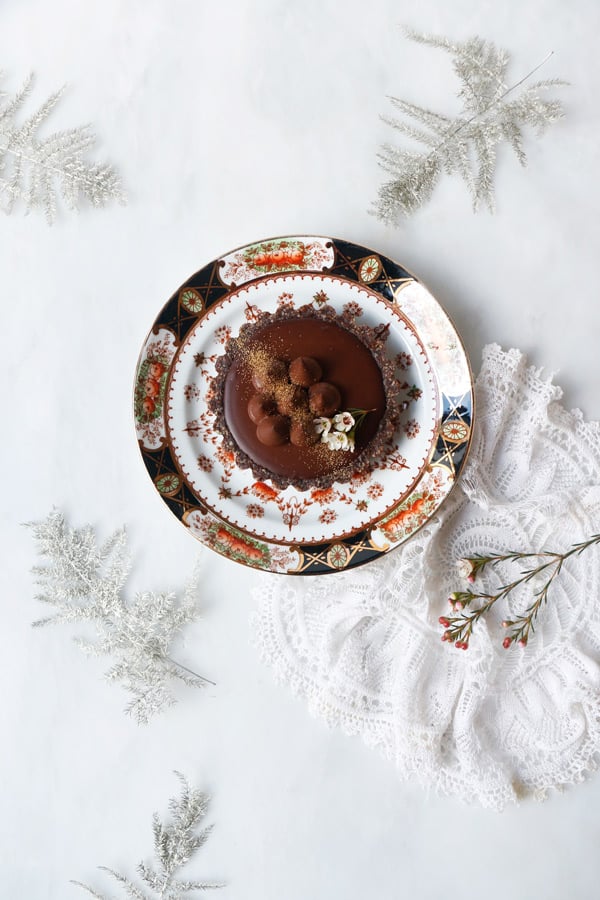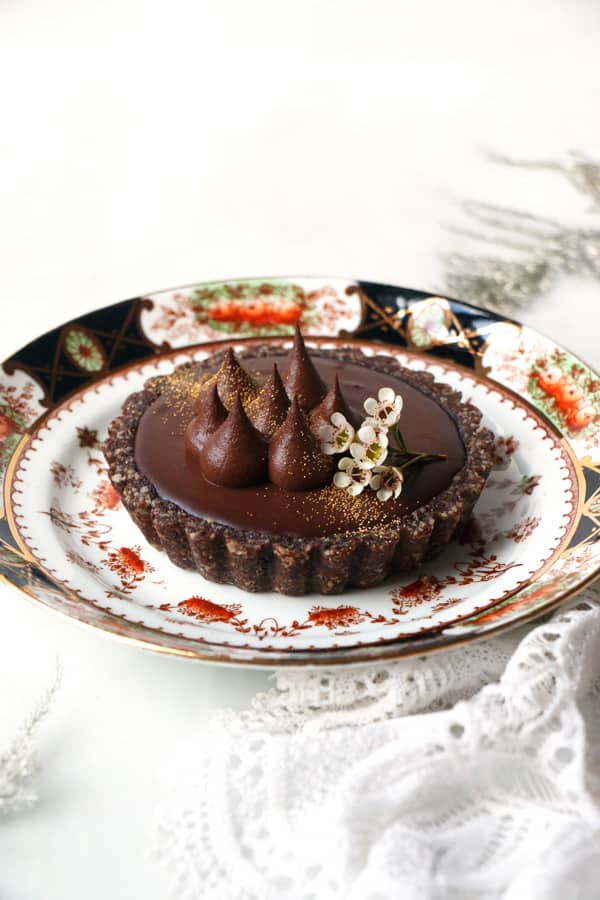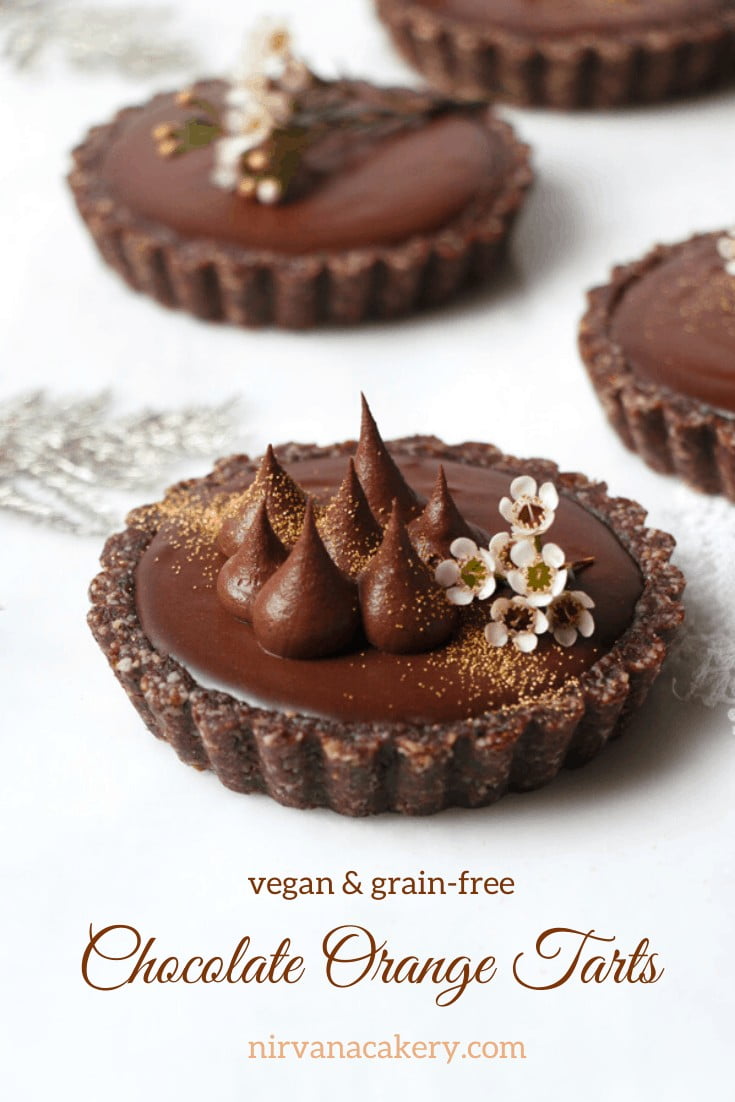 Similar Posts: