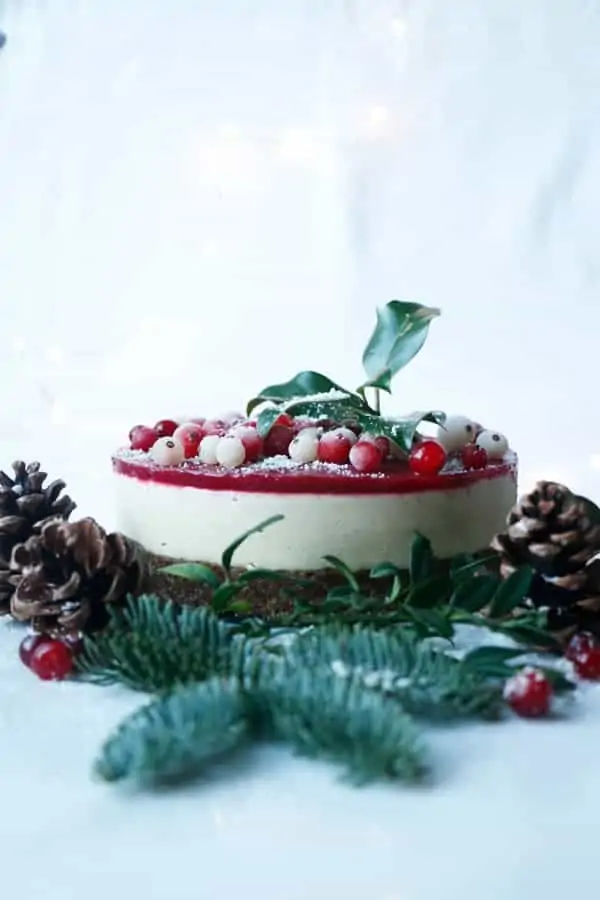 I know that you've been waiting for some Christmas recipes and I have to admit I am a little behind this year. There's been so much going on in my life this year, many decisions to be made, some more difficult than others and I know that you've certainly haven't had a smooth ride either this year.
So I feel that all there is left to do now is surrender, let go and nourish ourselves. Make some delicious plant-based food, share it with others and make some awesome cakes, that too!
This Gingerbread Cheesecake is all about the ingredients and layering of different flavours. It's adapted from my Raw Gingerbread Cranberry Christmas Tarts from last year, that I absolutely loved. First, there is the nutty crust with walnuts and almonds mixed together with dried figs, dates and raisins, orange zest and spices. So full of flavour.
The creamy coconutty layer on top is a mix of cashews, coconut butter, fresh ginger and orange juice and zest; more light and delicate. And on top is a cranberry agar jelly to add a little tartness and gorgeous red colour.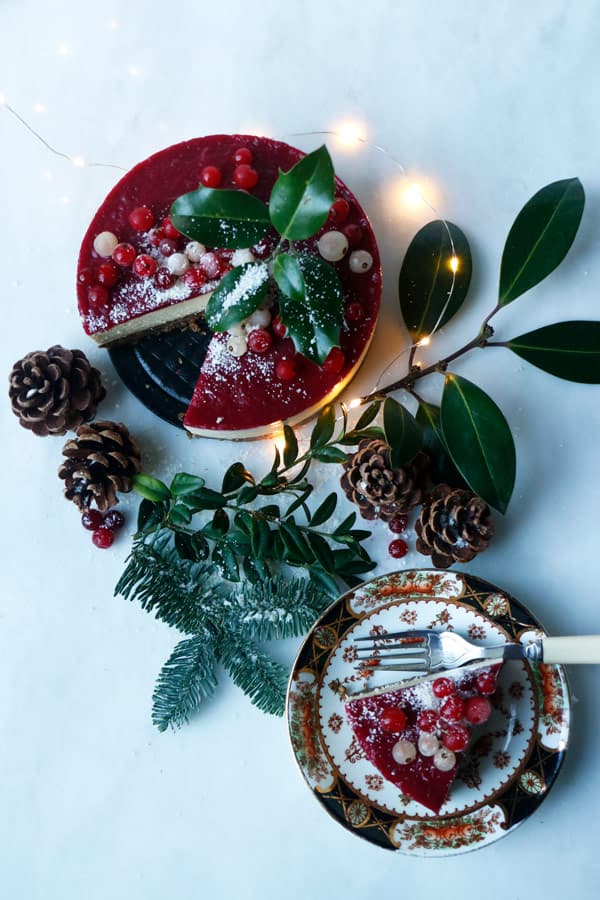 It's a raw based cake except for the cranberry layer which has to be cooked. I find the jelly made with cranberries very tricky to set because of their tartness. It needs more agar and time to cook to set and you can see in the photos it could have done with even more agar to set better. But I don't think it matters as much with this cake, because it's served chilled, it's only a thin layer and it will hold the shape well.
I've decorated my cheesecake with some red and white currants that I had left over in my freezer from the summer, which I thought looked really lovely and wintery on top, and some cranberries. I've also dusted some blended flaked coconut on top to resemble snow.
I do still have couple more recipes coming to you before Christmas, well that's if I have no more disasters in the kitchen this weekend! I also have a really lovely baked gingerbread cake recipe I would love to share too :)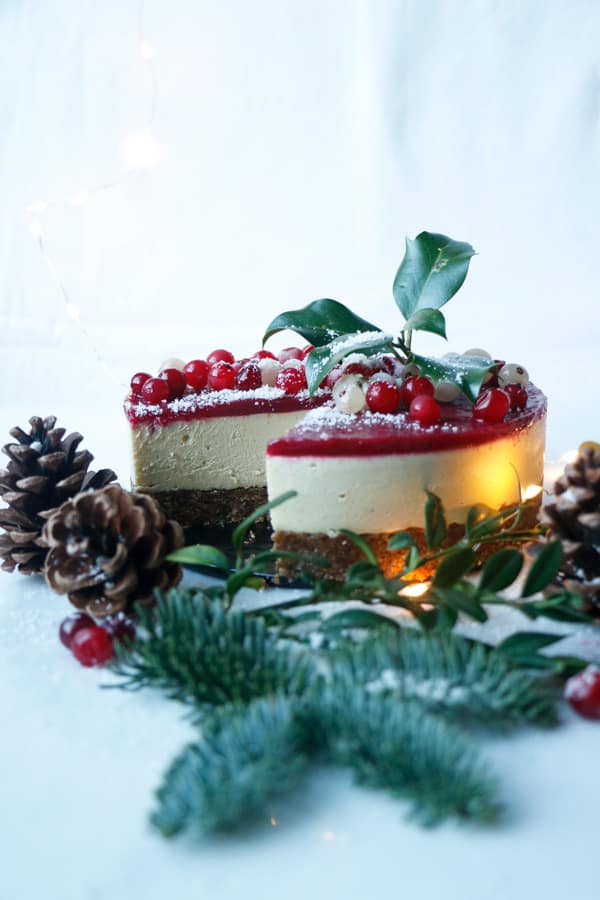 Yield: 6" cake
Gingerbread Cheesecake (vegan & grain-free)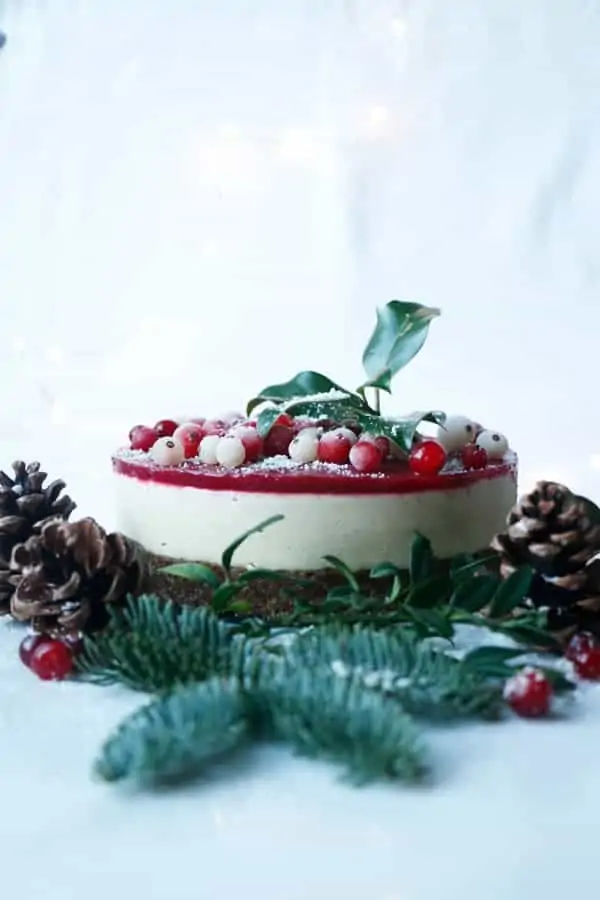 Ingredients
Crust layer:
150g mix of almonds & walnuts (1½ cup)
120g mix of dates, figs & raisins (1 cup)
¼ orange, zest
1½tsp ground ginger
1tsp cinnamon
pinch ground cloves
pinch pink salt
1tsp maple syrup
Orange cream layer:
120g cashews, soaked for 4 hours or overnight (1 cup)
60ml maple syrup (1/4 cup)
small piece fresh ginger
1/2 orange, zest
120ml orange juice (1/2 cup)
1tbsp lemon juice
1tsp vanilla
1/2tsp cinnamon
1/4tsp cardamom
pinch pink salt
150g coconut butter (3/4 cup)
Cranberry jelly:
100g fresh or frozen cranberries (1 cup)
120ml water (1/2 cup)
small cinnamon stick
2tbsp maple syrup
2 1/2tbsp agar flakes
Topping:
fresh or frozen cranberries
frozen red and white currants
blended flaked coconut for snow
Instructions
Place almonds and walnuts into food processor and pulse few times until they are coarsely ground. Add pitted dates, figs, raisins, orange zest, ginger, cinnamon, cloves and salt and blend until the mixture starts coming together when pressed. Add maple syrup if needed and blend until the mixture sticks together.
Spoon the mix into 6" tin. Press tightly and evenly onto the base and place into a fridge.
In a double boiler gently melt coconut butter and set aside.
Rinse the soaked cashews under running water and place into high speed blender. Add maple syrup, peeled ginger, orange zest, orange juice, lemon juice, vanilla, cinnamon, cardamom and salt and blend until smooth. Slowly add melted coconut butter and blend until incorporated.
Pour or spoon evenly onto the crust layer and smooth out the top.
Place into a freezer until set.
Once set place into fridge while making the cranberry jelly.
Place the cranberries and cinnamon stick into a small pot, add water and bring to a boil, gently simmer for about 10 minutes until the cranberries are soft and have popped.
Press the mixture through a mesh sieve discarding the cinnamon stick and skin. Add extra water if needed to have 180ml (3/4 cup) liquid. Now pour it back into the pot.
Stir in maple syrup and agar flakes and bring back to a boil. Leave to simmer for about 15 minutes stirring frequently until the flakes have dissolved.
Take off the heat and leave to cool down before carefully pouring on top of the cake.
Place back to fridge to set.
Top with fresh cranberries and red and white currants.
To make the snow effect, blend some flaked coconut in a blender until desired consistency. Sprinkle on top of the cake.
Store in a fridge or freezer.
Enjoy!
Notes
You can also buy coconut butter as creamed coconut (usually better value) in a solid bar, they're the same product.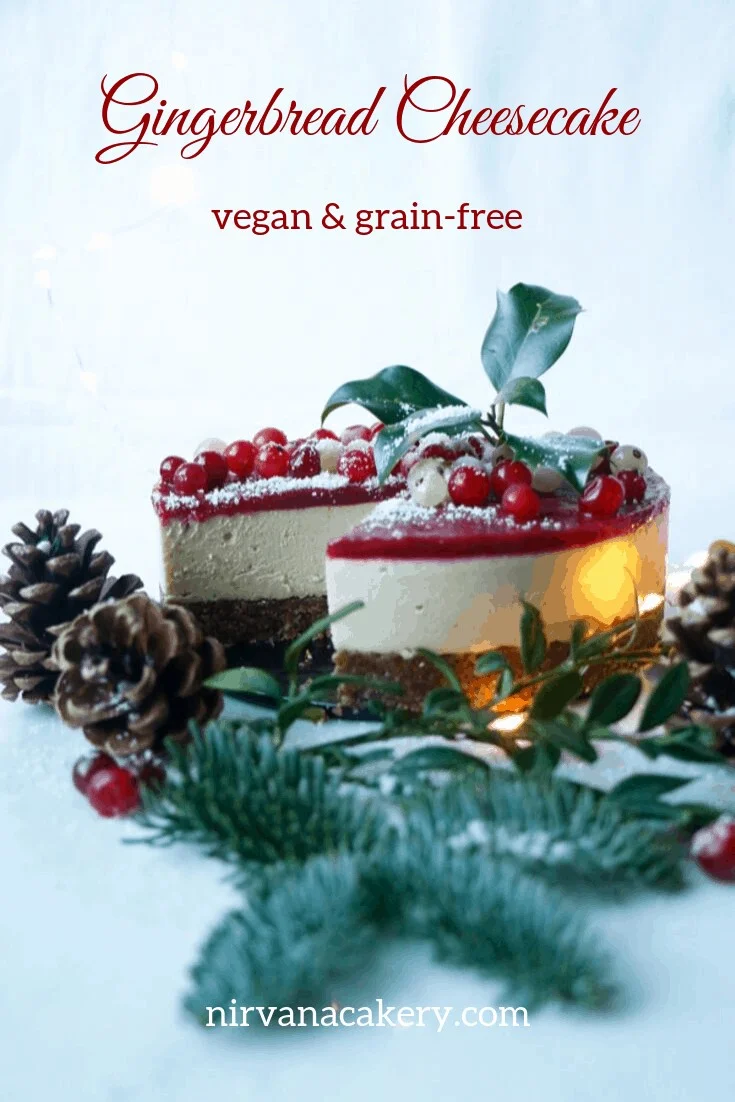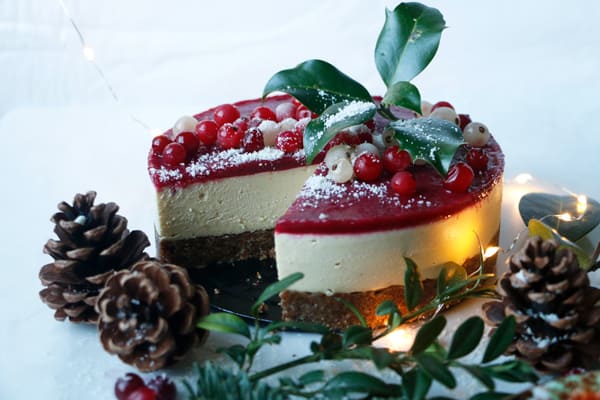 Similar Posts: