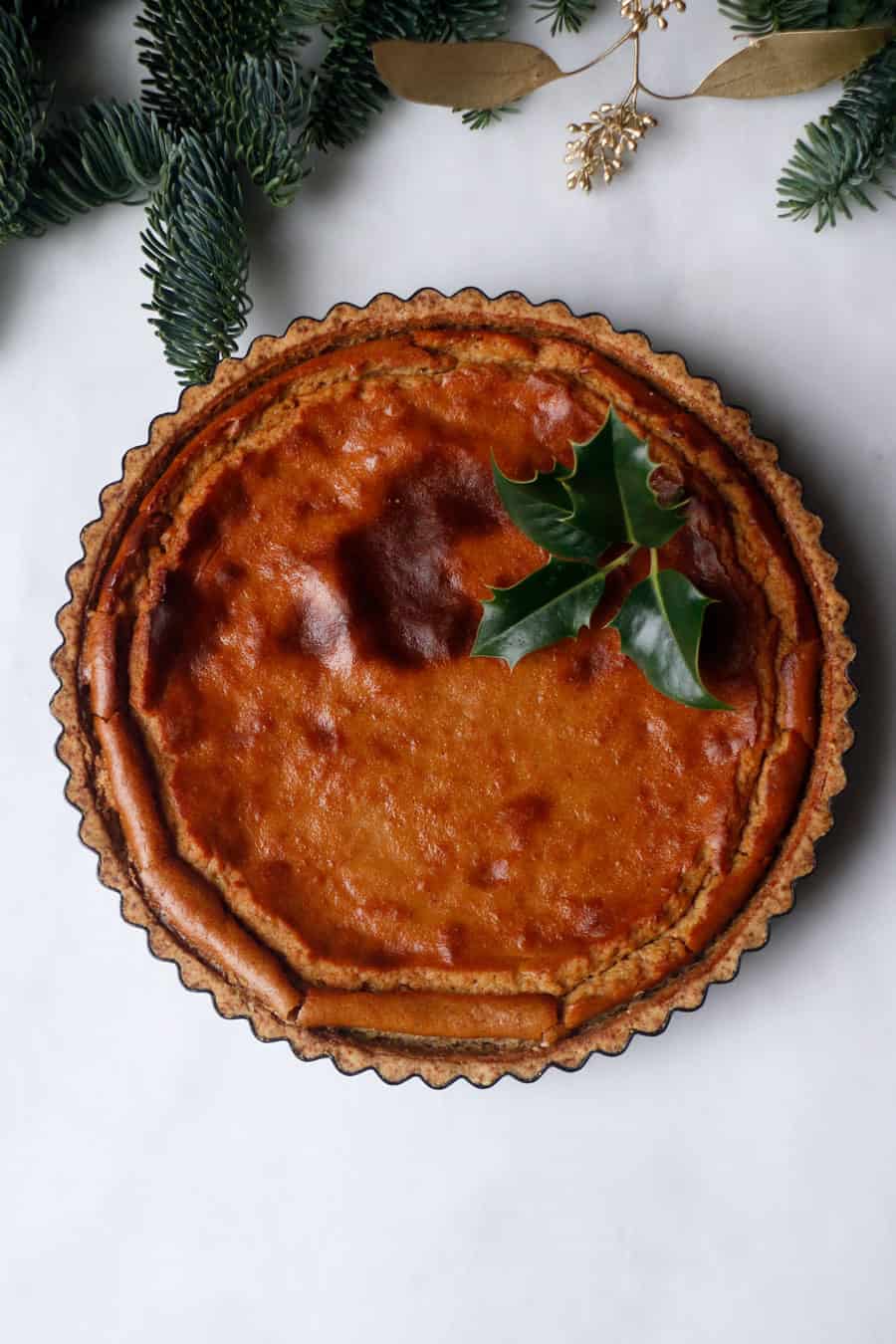 Today I'm sharing with you my first Christmas recipe for this year, Baked Gingerbread Cheesecake. Baked cheesecake has been on my list for ages and what a perfect occasion to finally make it. Themed with beautiful gingerbread spices it's my kind of heaven.
This is a wholesome plant-based cheesecake, lightly sweetened and yet again made with my favorite almond chickpea crust, what can I say, I love it so much, sweet or savory, it works like a dream!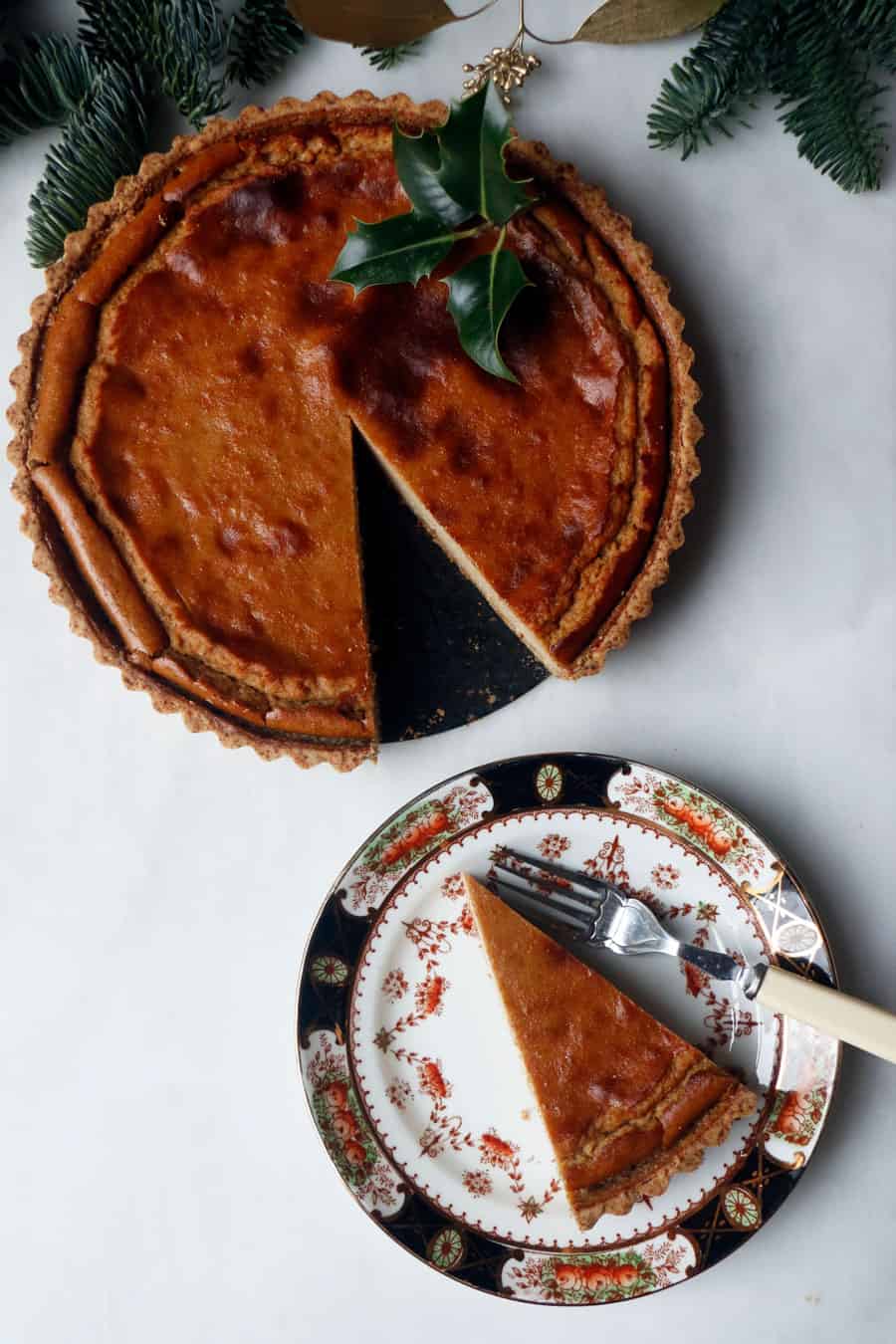 It's a protein rich cheesecake with creamy filling of cashews, silken tofu and vegan creme fraiche. Spiced with ginger, cinnamon, cloves, nutmeg, allspice and orange zest it feels nourishing and cozy.
Not a complicated recipe, the crust is easy to make and filling is just simply blending all ingredients together. Plus it's a perfect recipe to make a day in advance. I have used chickpea flour in the filling, but I feel that cornflour will be more creamy and lighter flavor. So you have an option to pick depending on your diet preference.
It's not one of my prettiest recipes, but I feel it speaks for itself. You could dust it with little powdered coconut or sugar or top it with gingerbread cookies or cranberries and rosemary if you wish.
Hope you love it :)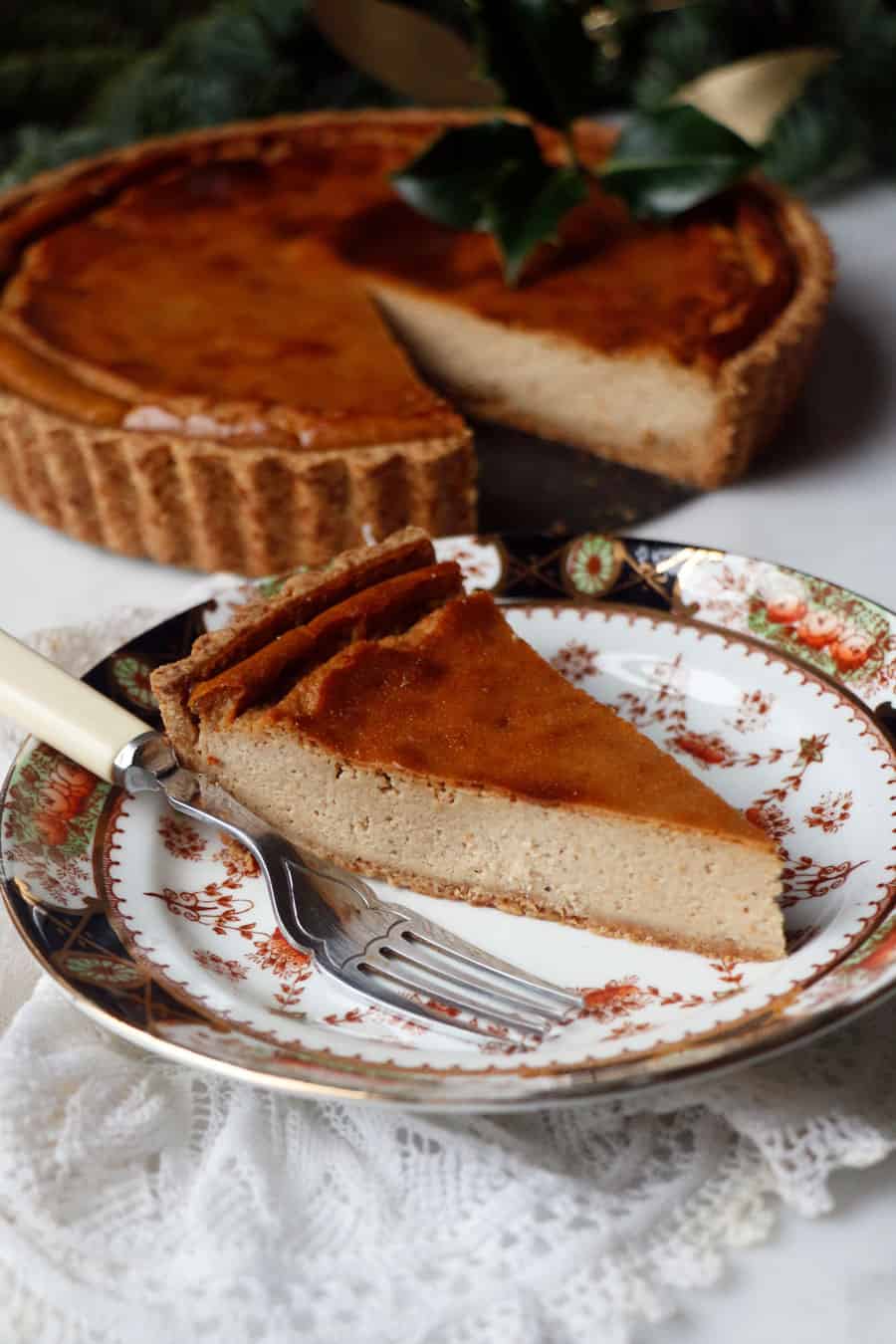 Yield: 9" tart
Baked Gingerbread Cheesecake (vegan & gluten-free)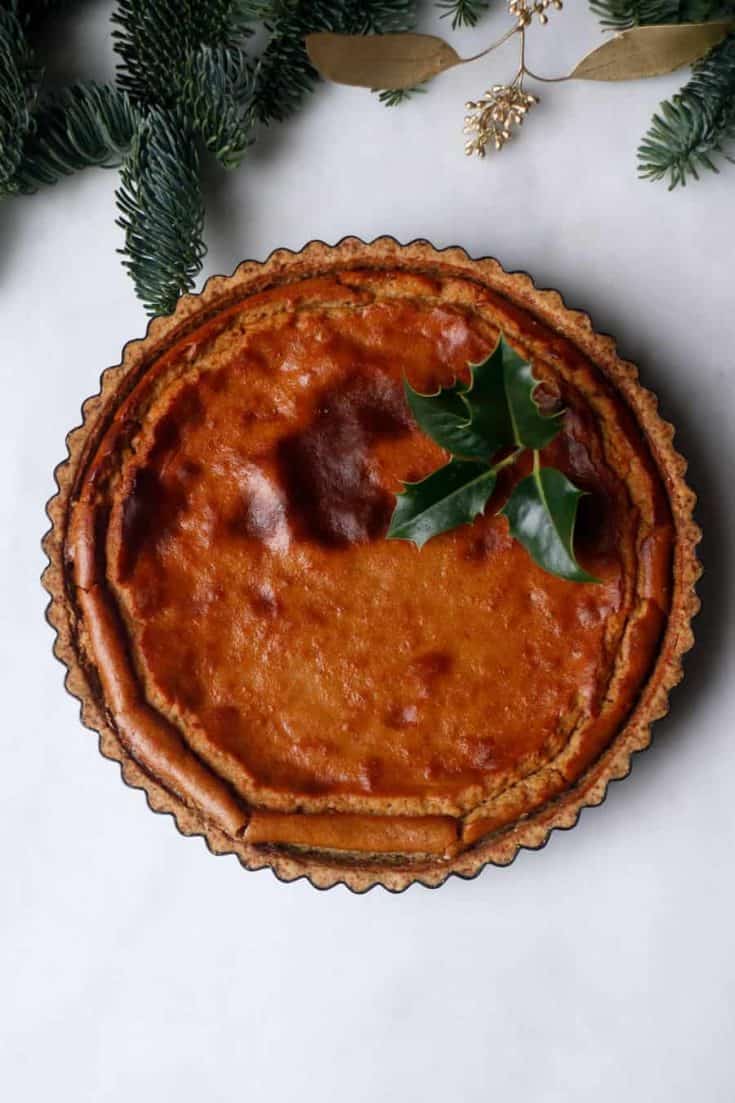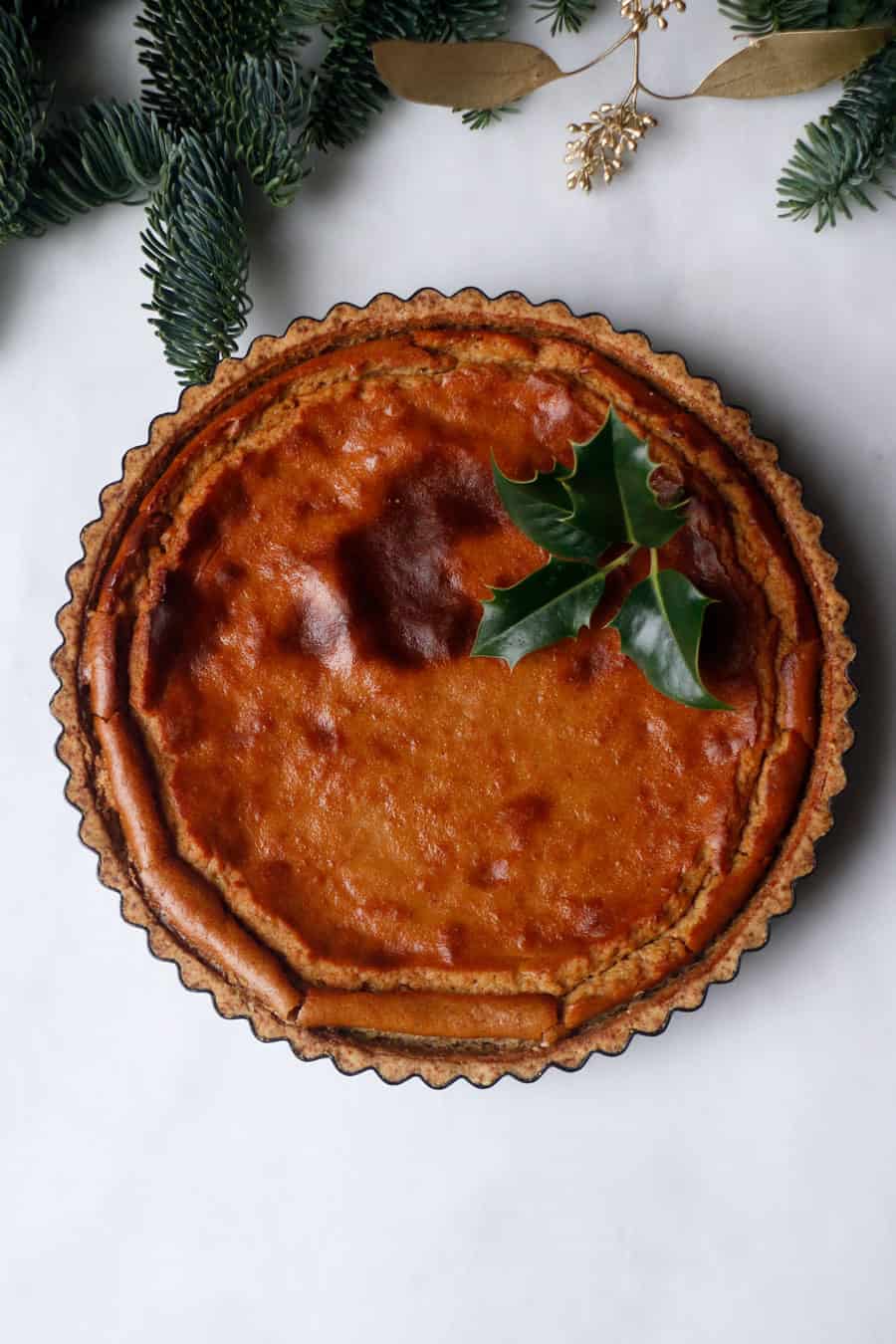 Ingredients
Cheesecake crust:
100g ground almonds (1 cup)
60g chickpea flour (1/2 cup)
30g tapioca flour (1/4 cup)
2tbsp coconut sugar
1tsp ginger
1/2tsp cinnamon
1/4tsp cloves
pinch sea salt
4tbsp solid coconut oil
1-2tbsp water as needed
Cheesecake filling:
120g cashews, soaked for 3 hours (1 cup)
400g silken tofu (14oz)
200ml vegan creme fraiche, or use coconut cream or coconut yogurt (3/4 cup)
60ml maple syrup (1/4 cup)
1tbsp blackstrap molasses
2tsp vanilla extract
zest of 1/2 orange
1tbsp lemon juice
1 1/2tsp ginger
1tsp cinnamon
1/4tsp cloves
1/8tsp nutmeg
1/8tsp allspice
2tbsp cornflour or chickpea flour
Instructions
Preheat the oven to 180°C (350F)
Prepare 9" tart tin with removable base. You can grease and line the base, but the pastry is quite greasy and it's not necessary.
In a medium bowl whisk together ground almonds, chickpea flour, tapioca flour, coconut sugar, spices and sea salt.
Using your hands rub in the coconut oil until mixed in. Now add 1tbsp of water at time until you have a smooth soft dough. Don't overwork it, rather just bring it together.
Press the dough directly into the tart tin and work your way around the base and up the sides to form a crust.
Pierce the base few times with a fork and bake for 10 minutes.
Remove from the oven and leave to cool down. If the base puffed up gently press it down.
Filling:
Rinse cashews with plenty of running water and drain well.
Place cashews and well drained tofu into blender, add creme fraiche, maple syrup, molasses, vanilla, orange zest and lemon juice and blend until smooth. Add spices and cornflour and blend again until incorporated.
Pour the filling into your pre-baked crust and bake for 50 to 60 minutes until set.
Remove from the oven and leave to cool down completely before transferring to fridge to set. It will still wobble when baked but will set in fridge.
Enjoy!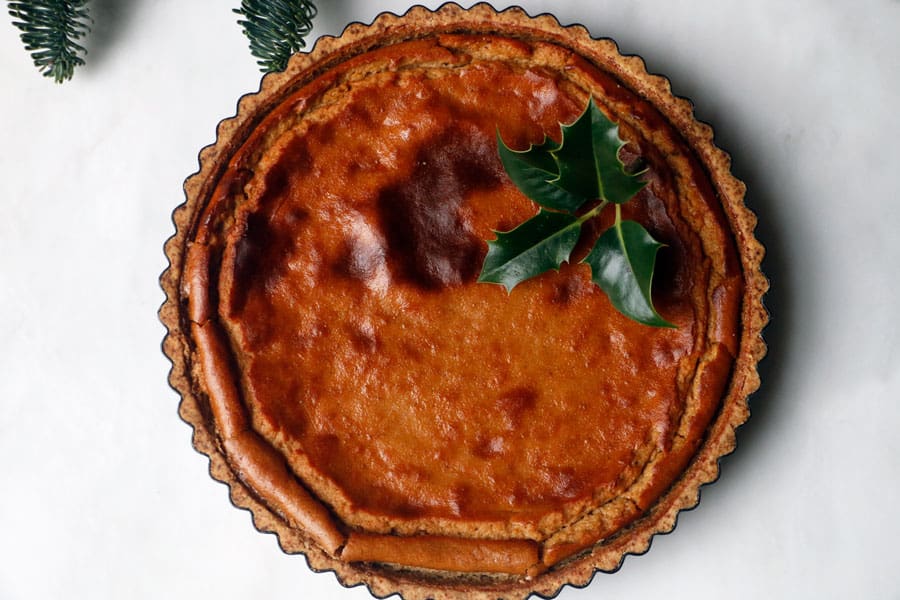 Similar Posts: