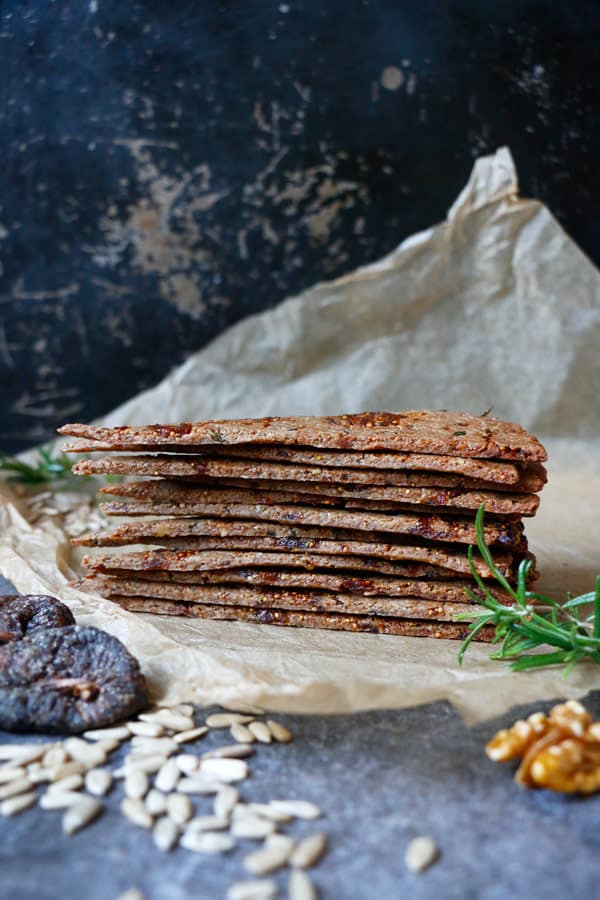 I've got another yummy recipe for the party season for you – Fig Walnut Rosemary Crackers. They are everything crackers should be, crispy, full of flavour and so moreish. I could not stop myself from eating them!
Inspired by my ever so popular Buckwheat Rosemary Crackers these are much nuttier and just as amazing. Only missing some cashew cheese to dip in.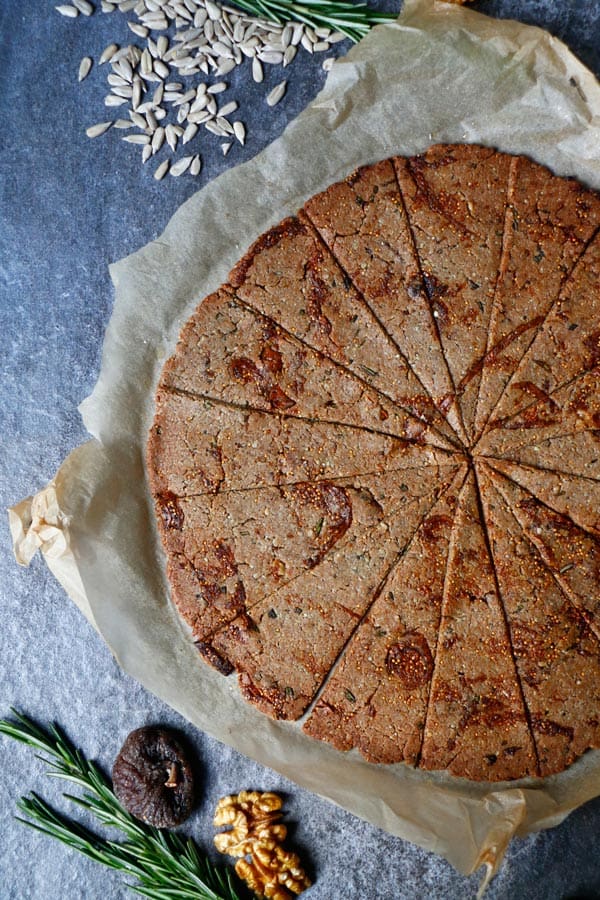 To make the crackers I've used ground walnuts, sunflower seeds and quinoa flour mixed with flax egg and little olive oil with an addition of dried figs and fresh rosemary. The dough is fairly oily because of the high nut and seed content and the extra addition of olive oil. I've made them with and without the olive oil and it works just the same, but for me, they taste so much better with it, so I do recommend adding some in.
The dough is also quite textured and with the addition of the figs, it has a tendency to split when rolling out. But don't worry, just have patience and use your hands to shape and push the dough together as needed. It also depends on the way you cut your figs, I've sliced mine very thin, but left them long for the look. If you slice them smaller it will be easier rolling it out. You can cut the crackers into small squares or triangles like me, whatever you prefer. If you like to make them completely grain-free just replace the quinoa flour with extra sunflower seeds. Enjoy with some great company:)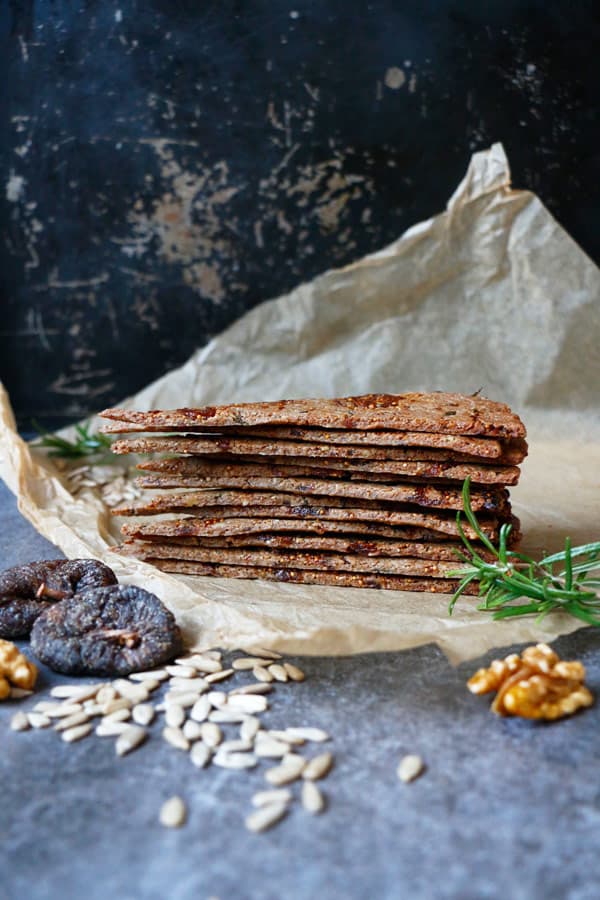 Yield: 16 crackers
Fig Walnut Rosemary Crackers (gluten-free & vegan)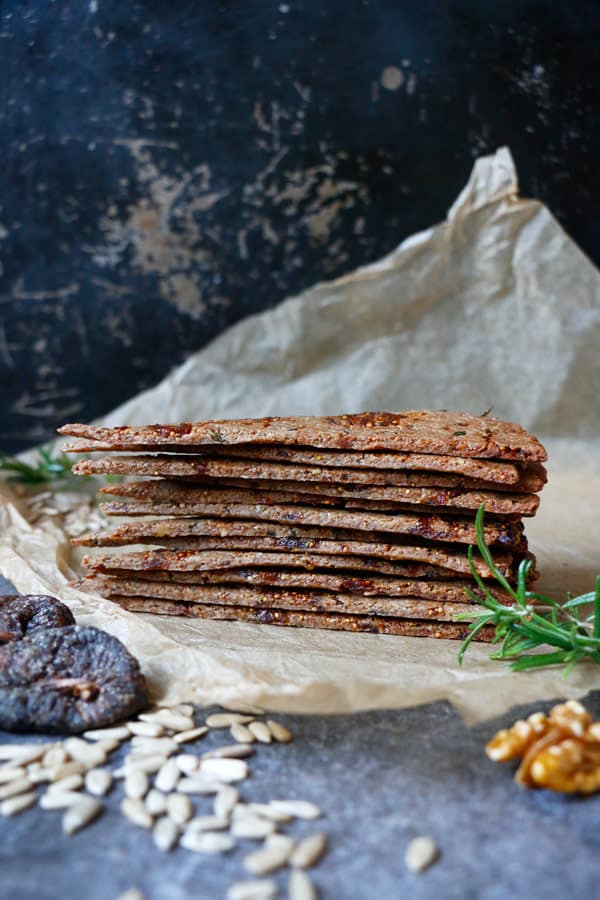 Ingredients
3 dried figs, finely sliced
100g walnuts (1 cup)
60g sunflower seeds (1/2 cup)
60g quinoa flour (1/2 cup)
1/2tbsp chopped fresh rosemary
1/2tsp sea salt
1tbsp ground flaxseed + 3tbsp water
1tbsp olive oil
Instructions
Preheat the oven to 180°C (350F)
Prepare 1 baking sheet.
Mix the ground flaxseed with water and set aside to thicken.
Place walnuts and sunflower seeds (you can do this separately) into food processor or blender and pulse until finely ground. Scoop into a mixing bowl.
Add quinoa flour, rosemary and sea salt and whisk well together.
Stir in olive oil followed by flax egg.
Bring together into a dough, if needed add in extra water by tsp and blend in chopped figs. The dough will feel slightly wet and oily.
Shape the dough into ball and place onto a baking paper. Using rolling pin roll out into circle until about 1/4" thickness. Be patient with the dough, it will crack because of the figs, just use your hands to shape it and push back together.
Using pizza cutter cut the dough into 16 wedges like you would cut a pizza.
Carefully transfer onto a baking tray with the baking paper.
Bake for 15-18 min until golden brown.
Store in an airtight container for up to a week.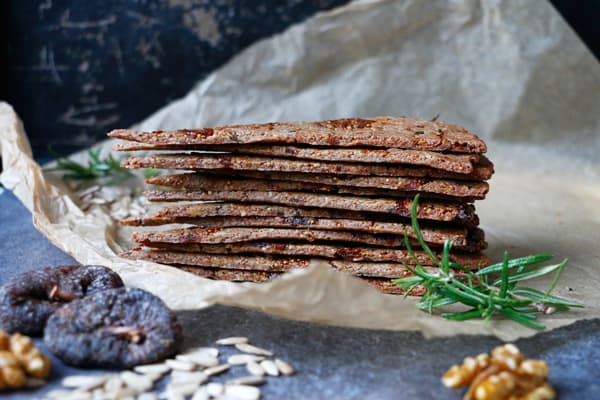 Similar Posts: