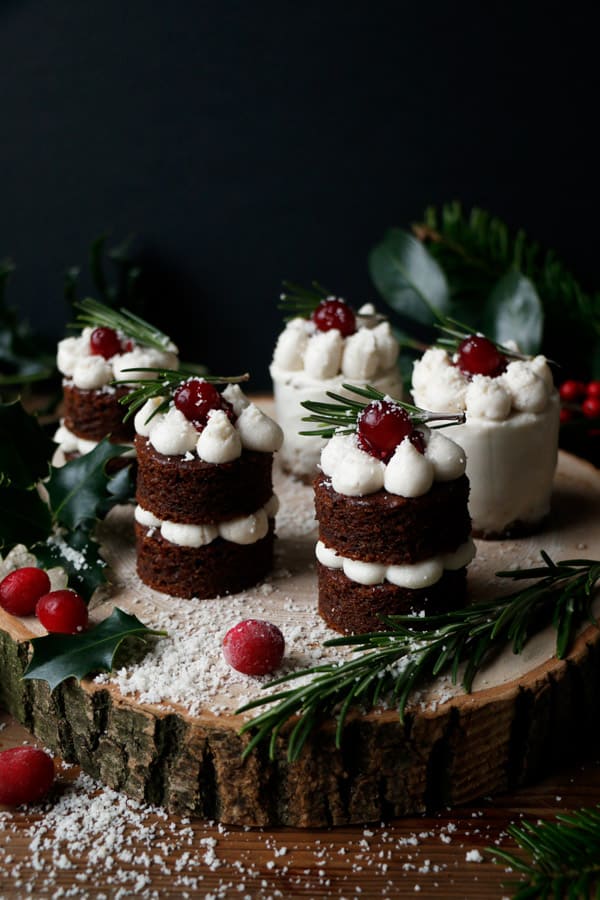 Christmas has arrived to the blog and I have the yummiest Gingerbread Christmas Mini Cakes recipe for you.
Because so many of you are now following a grain-free diet, I gave myself a challenge to make these grain-free and I've used a mix of ground walnuts and chestnut flour.
The sponge is beautifully moist, it raised well (after few adjustments) and the flavour is amazing. I've used my Vegan Macadamia Mascarpone Frosting to pipe the decoration and Cranberry Chia Jam for filling.
I've worked on this recipe last weekend when it was snowing, so rare in London, so I got inspired to make some snow for my mini cakes too :) You probably wondering what I've used, I've just blitzed some flaked coconut in my blender.
My loyal testers (even the fussy ones) really loved this recipe and I really hope you will too! I'm hoping to have couple more Christmas recipes for you before Christmas and also thinking about making raw version of this one if I have enough time.
I have two more versions of Christmas Mini Cakes on the blog that you might love to try, my latest version Chocolate Gingerbread Mini Cakes and my original Chocolate Cranberry Christmas Mini Cakes.
Hope you love them!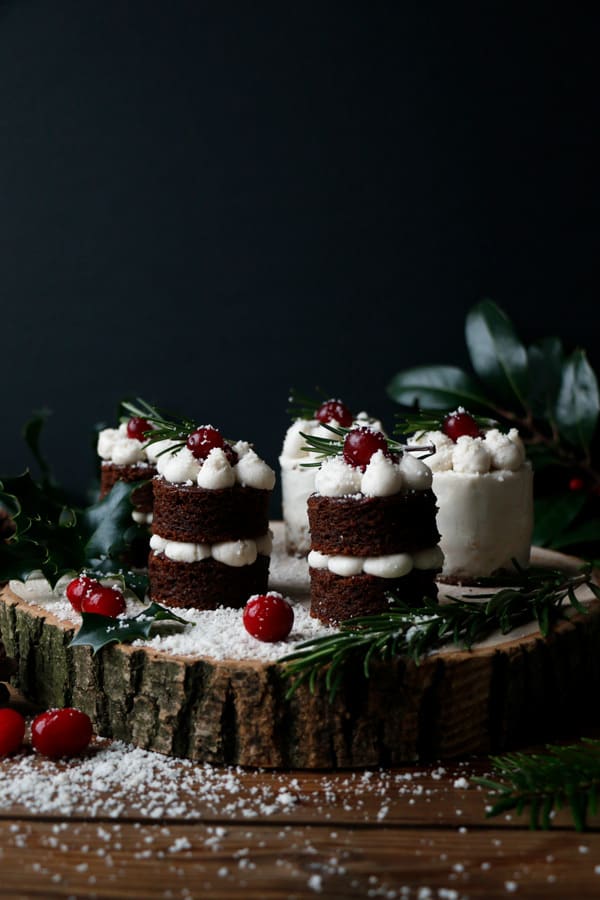 Yield: 5 - 6 mini cakes
Gingerbread Christmas Mini Cakes (grain-free & vegan)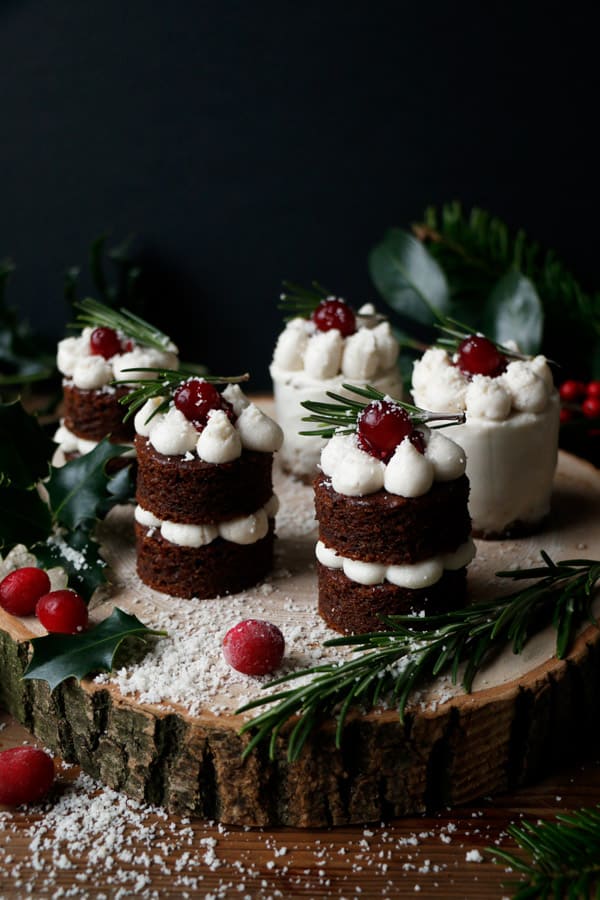 Ingredients
75g chestnut flour (1/2 cup)
100g ground walnuts (1 cup)
30g tapioca flour (1/4 cup)
1tsp baking powder
1tsp bicarbonate of soda
2tsp ground ginger
1tsp cinnamon
1/4tsp ground cloves
pinch ground nutmeg
pinch sea salt
75g coconut sugar (1/2 cup)
2tbsp ground flaxseed + 6tbsp water
120ml apple sauce (1/2 cup)
2tbsp blackstrap molasses
60ml olive oil (1/4 cup)
2tsp apple cider vinegar
1tsp vanilla
Assemble:
fresh cranberries
rosemary sprigs
blended flaked coconut for snow
Instructions
Mix 2tbsp ground flaxseed with 6tbsp water and set aside to thicken.
Preheat the oven to 180°C (350F)
Grease and line 9" springform cake baking tin.
In a large bowl whisk together chestnut flour, ground walnuts, tapioca flour, baking powder, bicarbonate of soda, ginger, cinnamon, cloves, nutmeg, salt and sugar and set aside.
In a small bowl whisk together flax eggs, apple sauce, molasses, olive oil, apple cider vinegar and vanilla.
Add the wet mix to the dry mix and mix until well combined. You should have muffin consistency.
Spoon the mixture into your prepared tin and level out the surface.
Bake for about 35 min or until a cocktail stick comes out almost clean. It will be slightly sticky.
Remove from the oven once ready and leave to cool down for 20 min before removing from the tin.
Once completely cooled place onto a flat surface and using 2" round pastry cutter carefully cut out shapes. You should end up with 11-12 shapes.
Spoon some of the macadamia frosting into a piping bag fitted with large round nozzle and pipe around the edges. Now dollop some cranberry chia jam into the middle. Place a layer on top and repeat. Top with fresh cranberry and rosemary sprigs.
To make the snow effect, blend some flaked coconut in a blender until desired consistency. Sprinkle on top and around the decorated mini cakes.
Enjoy!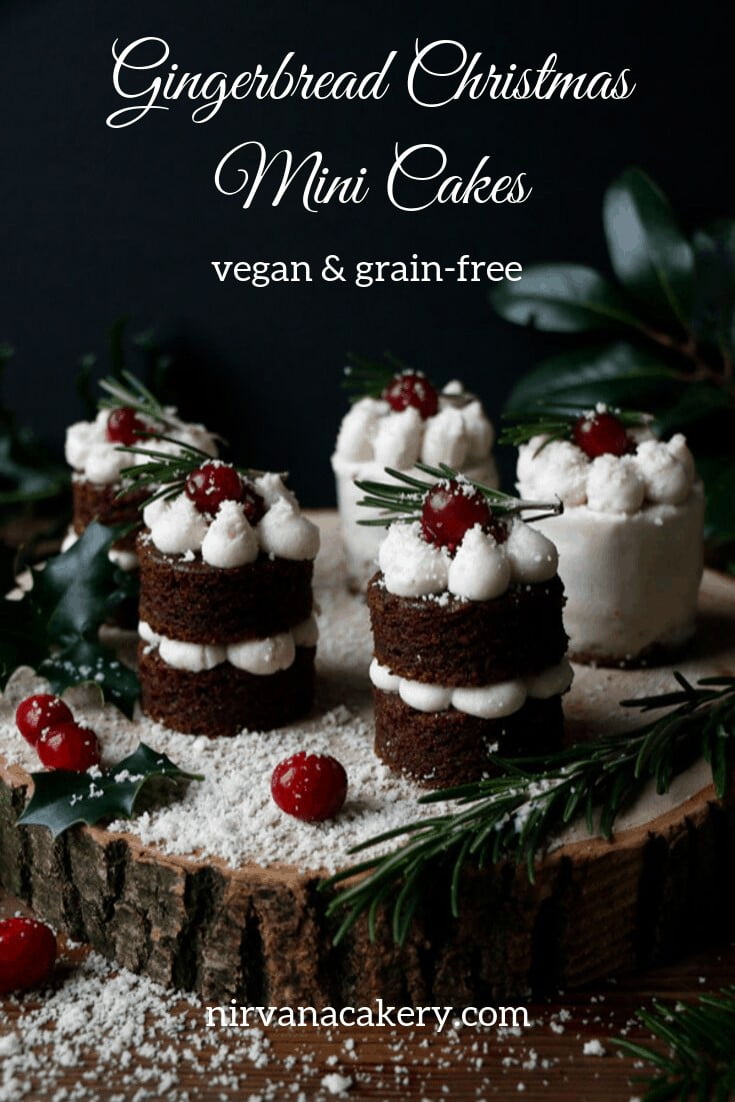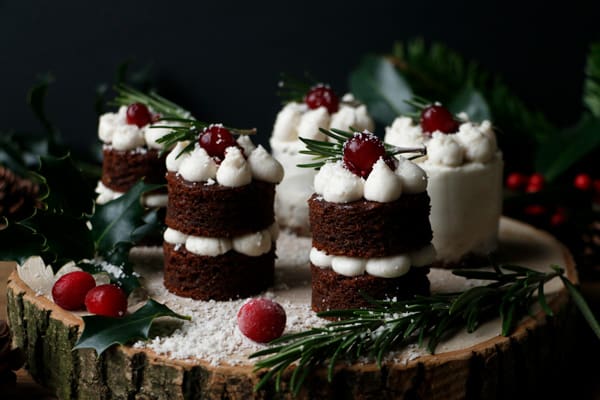 Similar Posts: