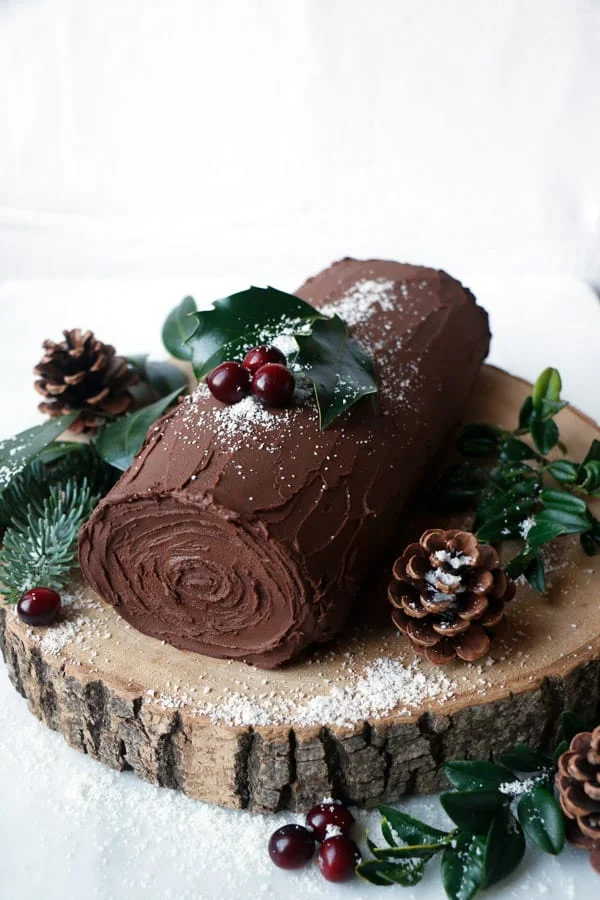 Special thank you to Amore di Mona for sponsoring this post.
Amore di Mona has been asking me for a gluten-free vegan Buche de Noel recipe for a long time now and so finally this year I've accomplished it! This is my third year having a go at this recipe so it was about the time I've managed to roll it out without it falling apart.
I'm very pleased how it came out together and this Yule log is a real treat for chocolate lovers whether they're following a gluten-free vegan diet or not; plus I promise you they will never know.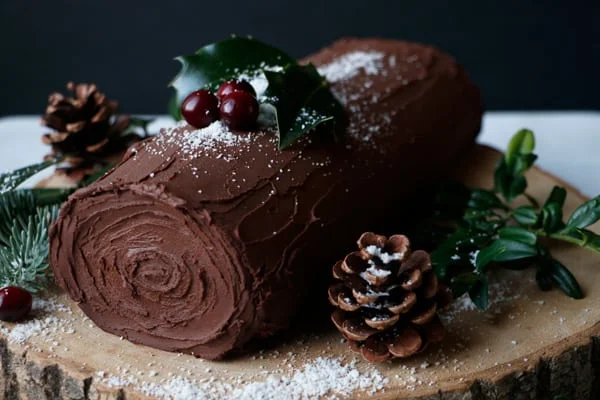 For the sponge cake I've used my gluten-free mix of brown rice flour, sunflower seeds and tapioca flour; the secret ingredient here is a whipped aquafaba to create a soft sponge. I have adapted the sponge cake from this French recipe and it will be useful for you to see this video which will be helpful for the technique used.
I've created two different fillings that you can choose from. From my experience, a thicker filling will perform better when rolling the cake up and will be less likely to crack. I've used maple cream in both of the fillings, because of its thickness and to avoid using sugar or vegan butter. My chestnut filling is a simple combination of chestnut puree and maple cream. And my vanilla filling is a cooked vanilla cream made with agar flakes, cornflower, vanilla, oat cream and maple cream. Both of the fillings are lovely in different ways, I found the chestnut filling easier when rolling into a log.
You might already have your favourite you'd like to use as a filling; you can even use the chocolate ganache inside as well as on the top. The chocolate ganache is also really lovely mixed with some chestnut puree.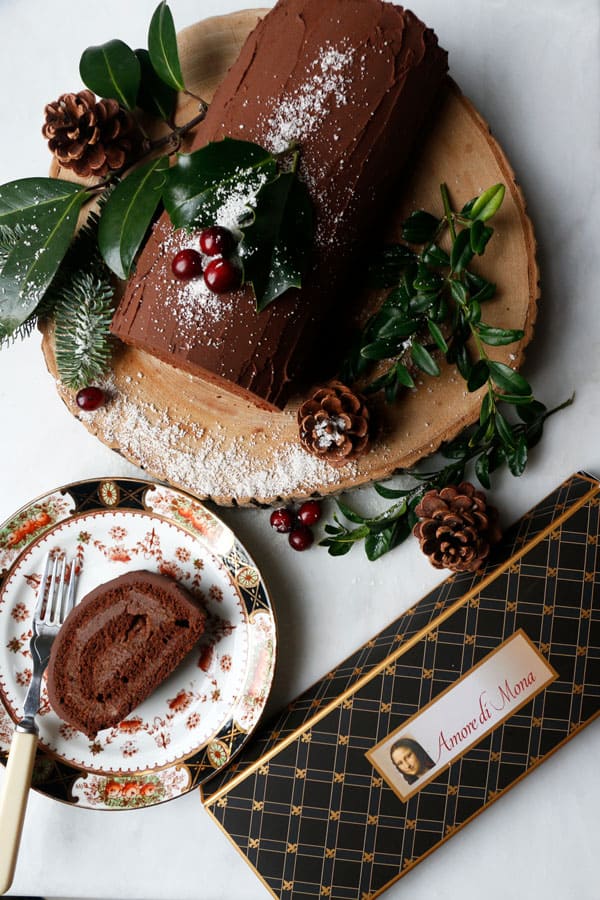 The recipe is not as complicated to make as it looks and any cracks you might get when rolling it up can easily be covered up with the chocolate ganache which will set everything beautifully.
Finally decorate your Buche de Noel with few fresh or sugared cranberries, some greens of your choice and sprinkle with some powdered sugar or blended dried coconut for a festive feel. Enjoy & do let me know if you make it :)
I have also a new white version of this recipe and you can see it here.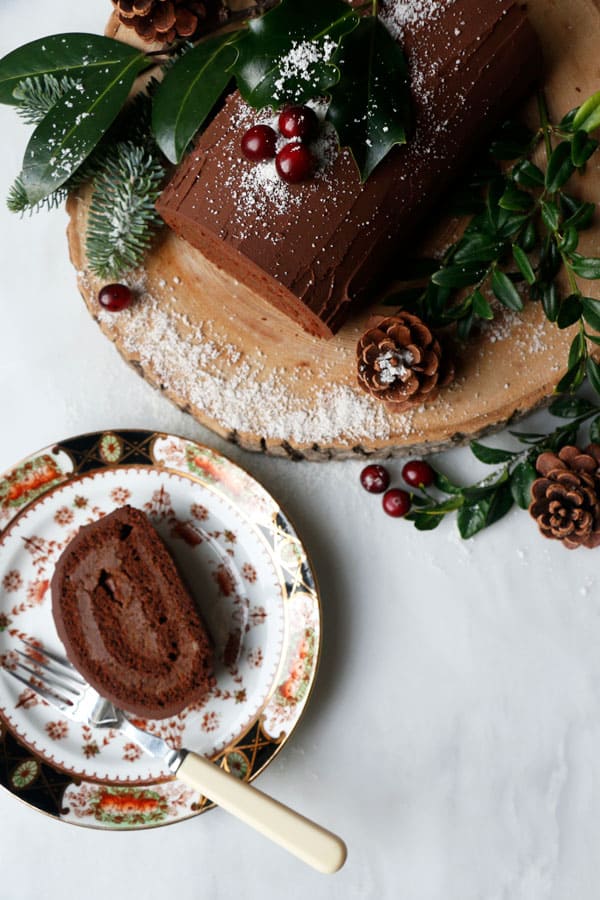 Buche De Noel (vegan & gluten-free)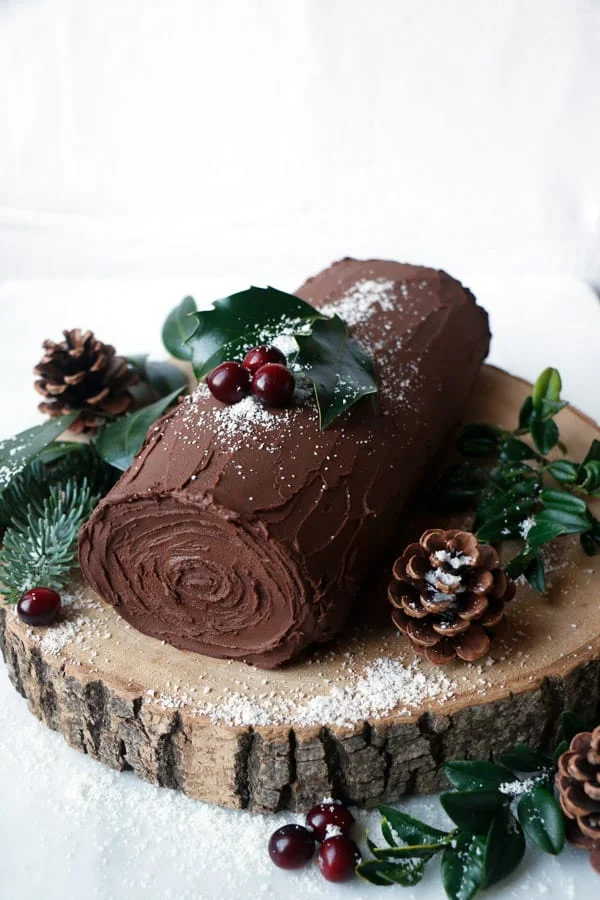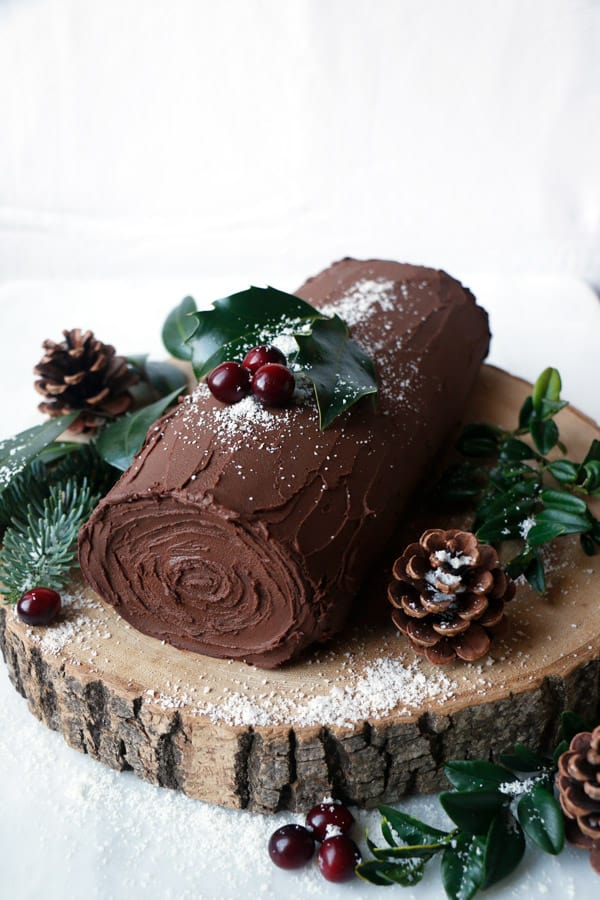 Ingredients
Chocolate sponge cake:
70g brown rice flour (1/2 cup)
35g sunflower seeds, ground into flour consistency (1/4 cup)
40g tapioca flour (1/4 cup + 1tbsp)
30g cacao powder (1/4 cup)
1tsp baking powder
1/2tsp bicarbonate of soda
1/2tsp cinnamon
pinch sea salt
75g rapadura sugar, powdered (1/2 cup)
60ml olive oil (1/4 cup)
2tsp apple cider vinegar
120ml water
60ml aquafaba, whipped
1/4tsp cream of tartar
Filling choice 1 - Chestnut cream:
300g chestnut puree (1 1/3 cup)
4tbsp maple cream
1/2tsp cinnamon
1/2 vanilla bean, seeds scraped
Filling choice 2 - Vanilla cream:
480ml oat cream (2 cups)
1 vanilla bean, seeds scraped
2tbsp agar flakes
1 1/2tbsp cornflour
4tbsp maple cream
Chocolate ganache: make the night before
200g chocolate or dark vegan chocolate (7oz)
240ml oat cream (1 cup)
1/2tsp cinnamon
1tbsp maple syrup
Topping:
fresh or sugared cranberries
powdered flaked coconut or white sugar for snow
fresh rosemary
Instructions
Preheat the oven to 180°C (350F)
Line a 25 x 35cm Swiss roll tin with baking paper.
Place aquafaba and cream of tartar into a bowl of a standing mixer and whisk for 10 to 15 minutes until stiff peaks form.
In a large bowl whisk together brown rice flour, ground sunflower seeds, tapioca flour, cacao powder, baking powder, bicarbonate of soda, cinnamon, salt and sugar and set aside.
In a small bowl whisk together olive oil, apple cider vinegar and water.
Add the wet mix to the dry mix and mix until well combined.
Fold in the whipped aquafaba bit by bit until combined.
Pour the mixture onto your prepared tin and level out the surface.
Bake for about 10 minutes or until a cocktail stick comes out clean.
Remove from the oven.
Dust the top with some powdered sugar, lay a sheet of baking paper on top followed by a damp tea towel. Place baking sheet or something flat on top to help you to flip the cake over.
Now carefully peel the baking paper from the top.
Grease another sheet of baking paper with a little oil and place on top of the cake. Using a rolling pin carefully roll the cake over the pin and wrap with the cloth. Leave to cool down for about 20 minutes.
Once cooled carefully unroll the cake and spread with your choice of filling. Using the help of the paper carefully roll the cake into a roll.
Place onto the serving platter and using spatula generously spread with chocolate ganache finishing off to create a log effect.
Top with some fresh or sugared cranberries, rosemary sprig and some powdered sugar or blended flaked coconut to resemble snow.
Chestnut cream:
Blend chestnut puree, maple cream, cinnamon and vanilla until smooth consistency. Place into fridge until needed.
Vanilla cream:
Place 400ml oat cream (leaving little to mix with the cornflower), vanilla, and agar flakes into a medium pot and heat until boiling point. Leave to simmer for about 10 minutes until the agar flakes have dissolved. Mix the cornflower with the rest of the oat cream and pour into the pot stirring constantly until it comes to a boiling point. Take off the heat and stir in the maple cream. Place into a fridge for about an hour until set. Once set whisk until smooth and creamy and place back to fridge until needed.
Chocolate ganache:
Roughly chop the chocolate and place into a small bowl. Place the oat cream, cinnamon and maple syrup into a small pot and gently heat until the boiling point. Pour over the chopped chocolate and stir until completely melted and smooth. Leave to cool down for a bit before placing into a fridge to set overnight into a spreadable consistency.
Notes
Maple cream is sometimes called maple butter. You will be able to buy it in the USA, but if you're based in Europe you might have to make your own from maple syrup.
Filling number 3 choice can be the chocolate ganache mixed with some chestnut puree.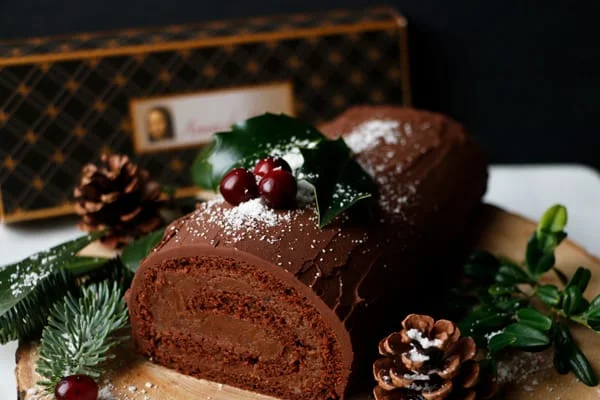 Similar Posts: