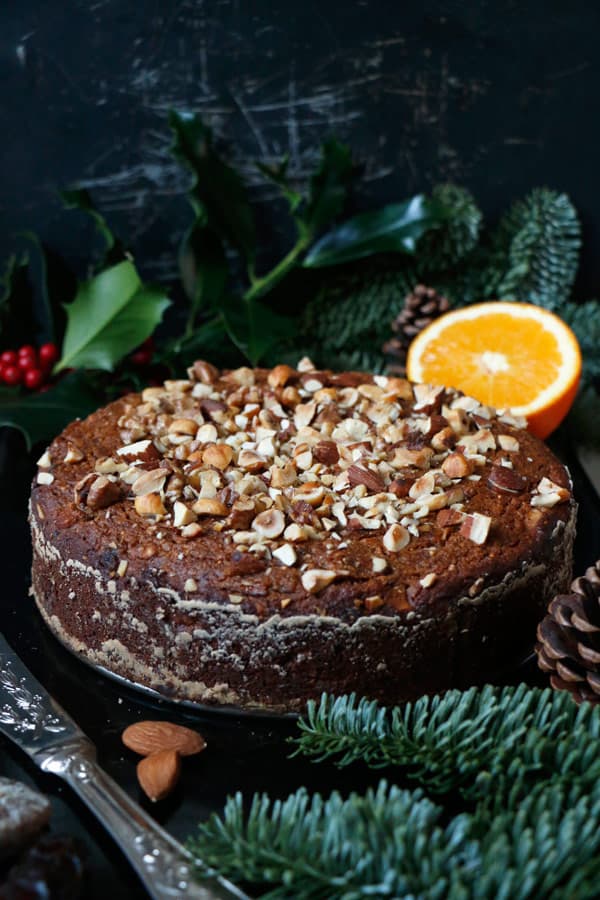 This Fruit and Nut Cake recipe has been requested by one of you and I'm so glad that you've asked me. Out of all of the festive recipes that I've made so far this year, this cake feels the most Christmassy and I'm so happy to bring you this recipe.
It's a rich cake packed with fruit, nuts, spices and full of flavour. I've served it with Orange Cardamom Cashew Cream which beautifully compliments the richness of the cake.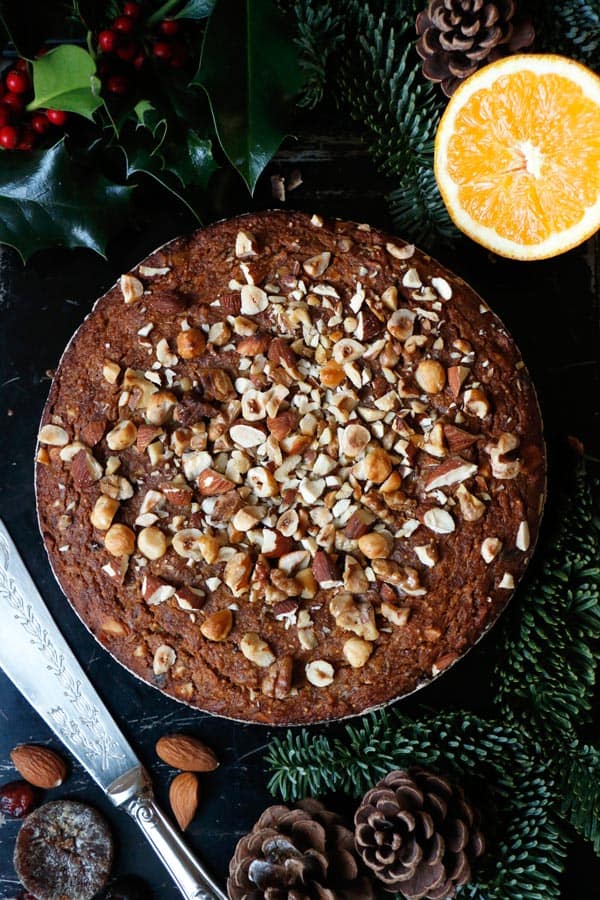 There are quite a few ingredients in this cake, but it's mainly the mix of dried fruit and nuts, which makes it look so long. It's not a difficult recipe, so please don't feel overwhelmed. I've used a mix of my favourite dried fruit and nuts – cranberries, dates, figs, almonds, hazelnuts, and walnuts. You could choose any of your favourites – apricots, raisins, pecans or cashews would be great too. The fruit has to be soaked for at least a couple of hours before making the cake until it swells up and absorbs most of the orange juice so you have to plan a little ahead.
This is a lovely moist cake and it's best baked at a lower temperature for longer period of time. It could be anywhere between 1 hour and 1 hour and 15 minutes until nicely toasted on top. When testing with a toothpick, it will feel a little sticky, but not wet. Then leave to completely cool down in the tin and optionally serve with the orange cardamom cashew cream.
I hope this sounds delicious because it really is one lovely cake:) I had this cake tested by quite a few of my friends and family and everyone loved it, no one will ever know it's gluten-free and vegan.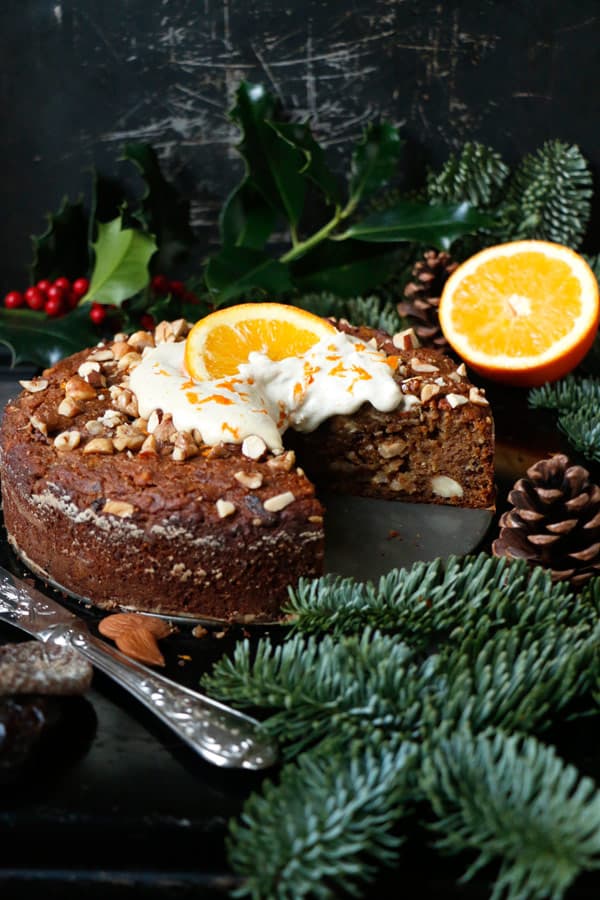 Yield: 8" cake
Fruit and Nut Cake with Orange Cardamom Cashew Cream (gluten-free & vegan)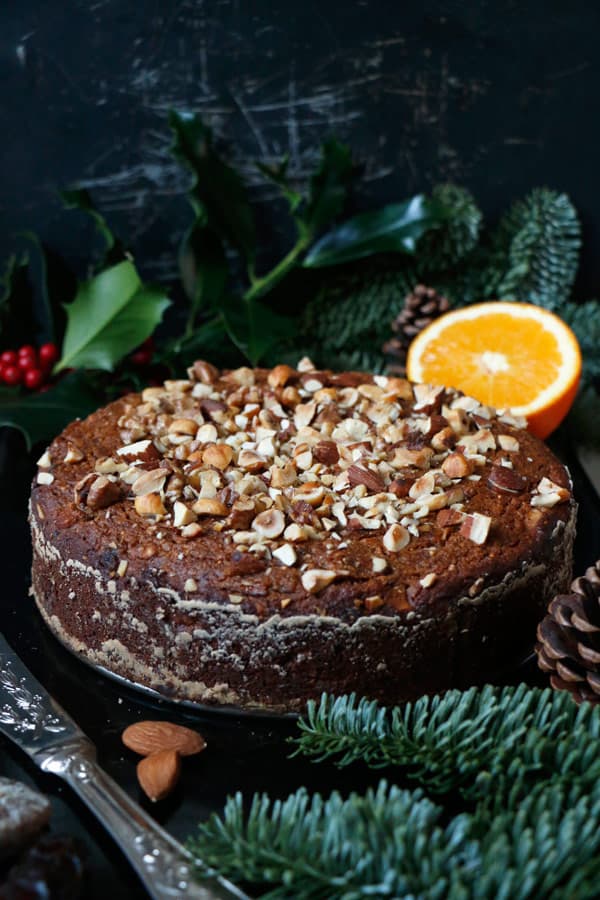 Ingredients
40g dried cranberries (1/3 cup)
60g dates (1/3 cup)
100g figs (about 5 large figs)
1 large orange, zest and juice
95g buckwheat flour (3/4 cup)
100g ground almonds (1 cup)
30g arrowroot (1/4 cup)
75g coconut sugar (1/2 cup)
1tsp baking powder
1tsp bicarbonate of soda
1tsp cinnamon
½tsp cardamom
1/2tsp ginger
1/8tsp cloves
pinch of sea salt
2tbsp ground flaxseed + 6tbsp water
80ml olive oil (1/3 cup)
2tsp apple cider vinegar
1 medium apple, roughly grated
60g almonds (1/2 cup)
50g hazelnuts (1/2 cup)
50g walnuts (1/2 cup)
Orange Cashew Cream:
120g cashews, soaked for 3 hours (1 cup)
pinch sea salt
orange zest to taste (from about 1/4 orange)
good pinch cardamom
1tbsp maple syrup
¼tsp vanilla
¾ cup almond milk
Instructions
Roughly chop cranberries, dates and figs and place into a small bowl. You should have about 1 1/4 cup chopped fruit. Mix in zest from about 3/4 orange (save the other 1/4 for the cashew cream) add orange juice from the whole orange, it should just about cover all of the fruit. Leave to soak for couple of hours until the juice is absorbed by the fruit.
Preheat the oven to 175°C (350F)
Grease and line 8" round cake baking tin. I tend to line the base and dust the sides.
Mix 2tbsp of ground flaxseed with 6tbsp of water and set aside to thicken.
Roughly grate apple and mix in with the soaked fruit. Set aside.
Roughly chop all of the nuts and set aside.
In a large bowl whisk together buckwheat flour, ground almonds, arrowroot, coconut sugar, baking powder, bicarbonate of soda, cinnamon, cardamom, ginger, cloves and salt. Set aside.
In a small bowl whisk together olive oil, apple cider vinegar and flax eggs. Set aside.
Now stir the soaked fruit mixture to the dry mix followed by the wet mix and mix everything until combined. You should have moist muffin mix consistency. Now stir in about 3/4 of the chopped nuts (save some to sprinkle on top).
Spoon the mixture into the prepared cake tin and level out the surface. Top with the rest of the chopped nuts.
Bake for about 1 hour and 15 minutes until toasted on top and a cocktail stick comes out almost clean, it will feel slightly sticky.
Remove from the oven once ready and leave to completely cool down in the tin.
To make the cashew cream rinse and drain the cashews. Place all of the ingredients into high speed blender and blend until smooth. Refrigerate until ready to serve.
Notes
Don't pour the cashew cream on top of the cake ( I did only for the pictures) it's best to slice the cake first and serve with the cashew cream.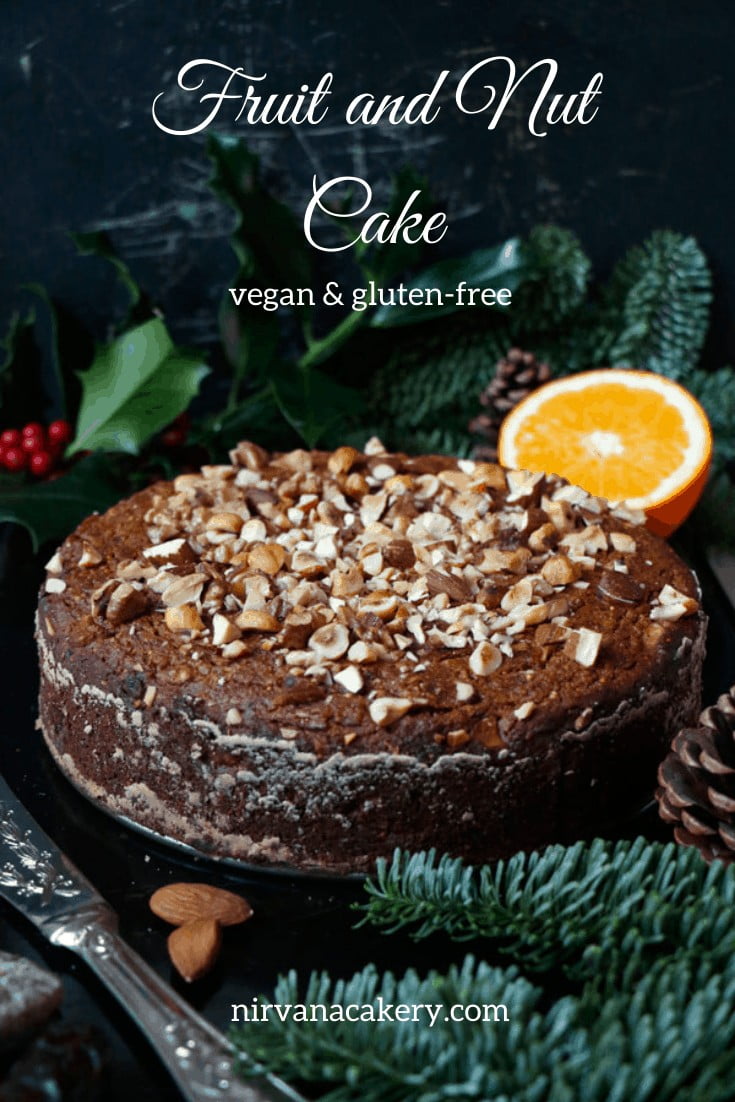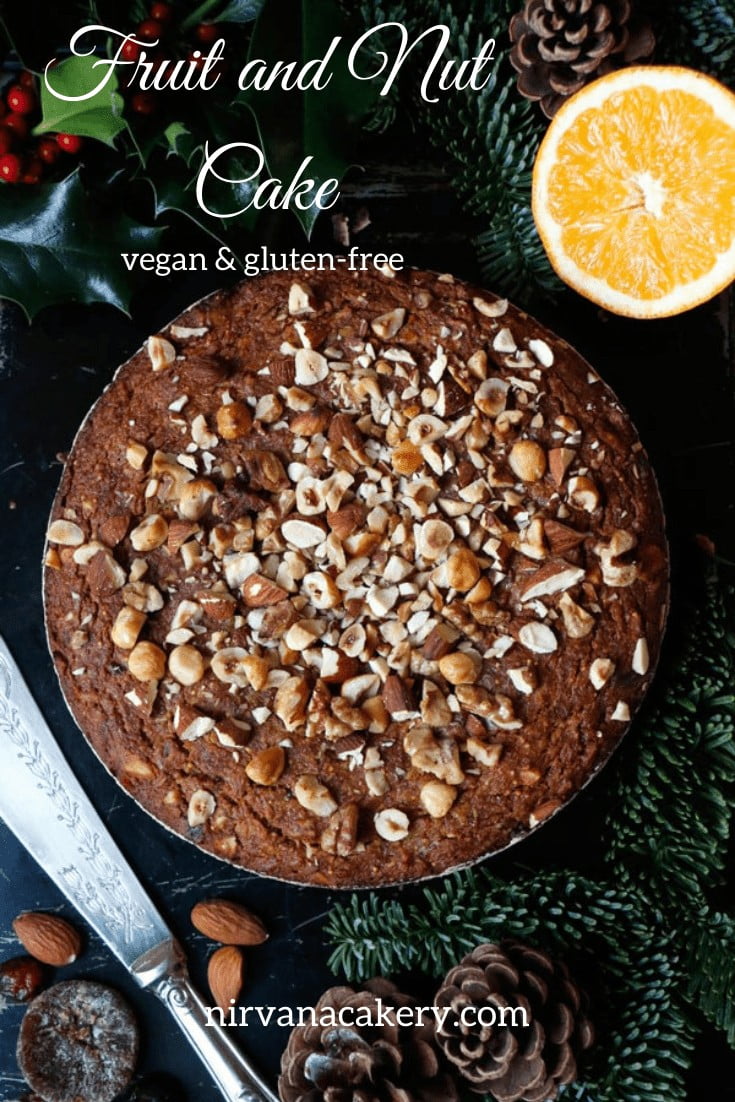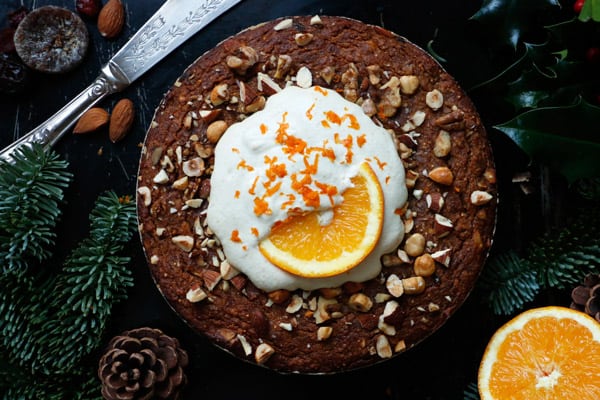 Similar Posts: