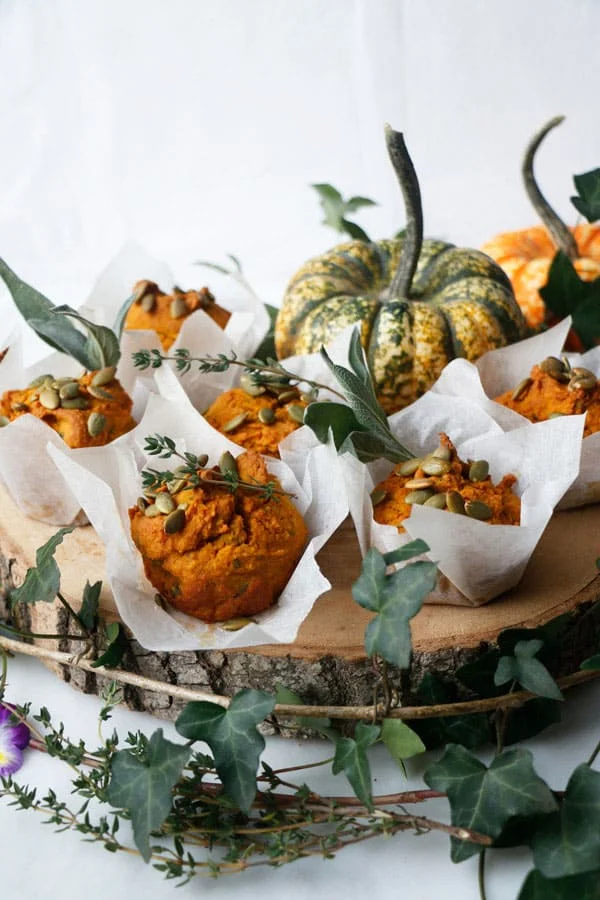 November is here, the pumpkin season continues and I have a savory recipe for you this week, very moreish Savory Pumpkin Muffins.
Baked with delicious Hokkaido squash puree and packed with fresh herbs these are the perfect autumnal muffins for breakfast, afternoon snack or for dinner to go with your pumpkin soup. Hope that sounds good?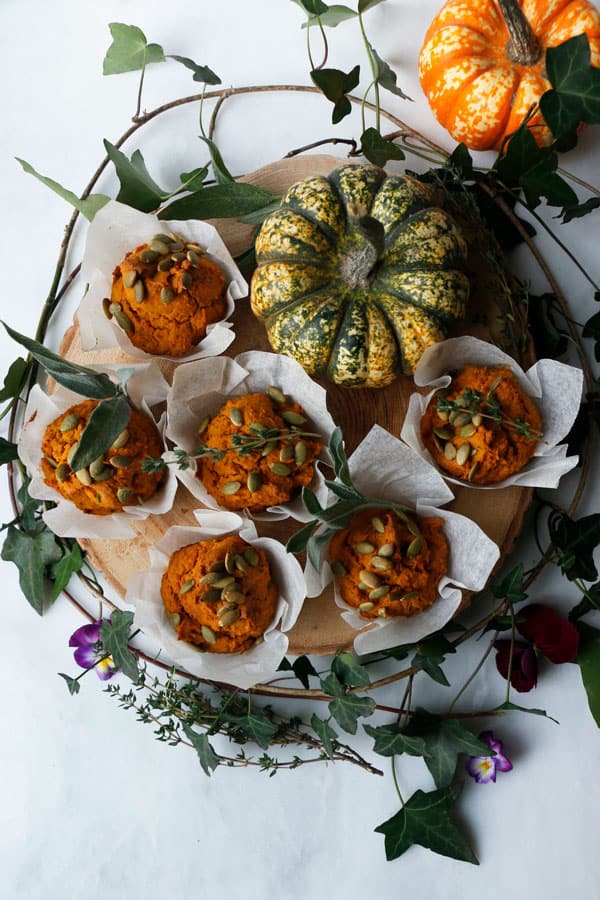 I have to say that Kabocha Squash, Blue Hokkaido and Red Kurri Squash are my absolute favorite ones and I love them roasted with some rosemary, thyme and sage. To bake these muffins I've used some steamed Red Kurri Hokkaido Squash, it always gives such beautiful orange colour to the baked goods. And I've used the leftover puree to make some hummus and the other half to cook squash and watercress soup. My kind of Sunday!
I've used a good amount of some of my favorite fresh herbs – rosemary, thyme and sage to add lots of flavor, feel free to add even more if you like. I've used buckwheat flour, but I think millet flour would be really delicious in these muffins too.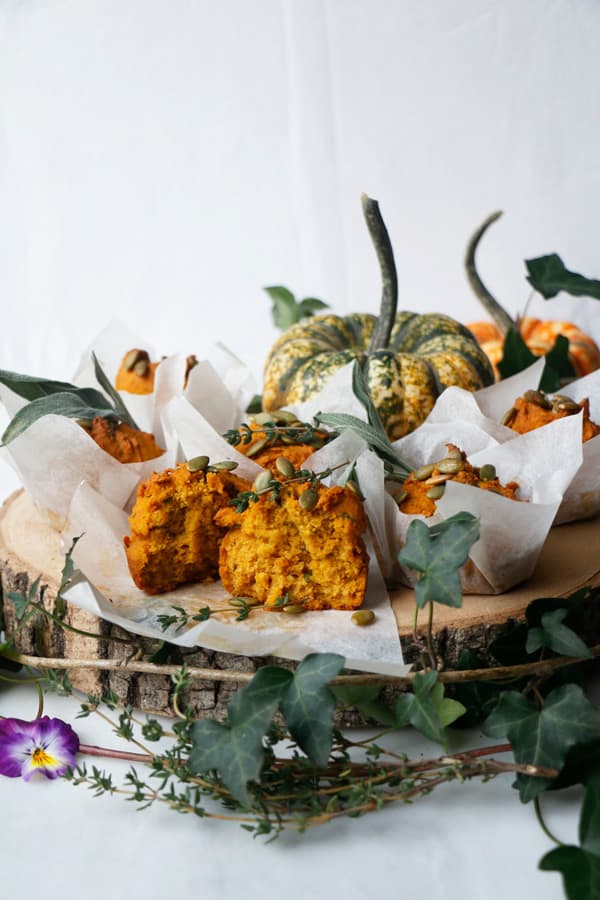 What are your favourite recipes to make with pumpkin?
More pumpkin recipes to make this season:
Pumpkin and Oat Breakfast Bars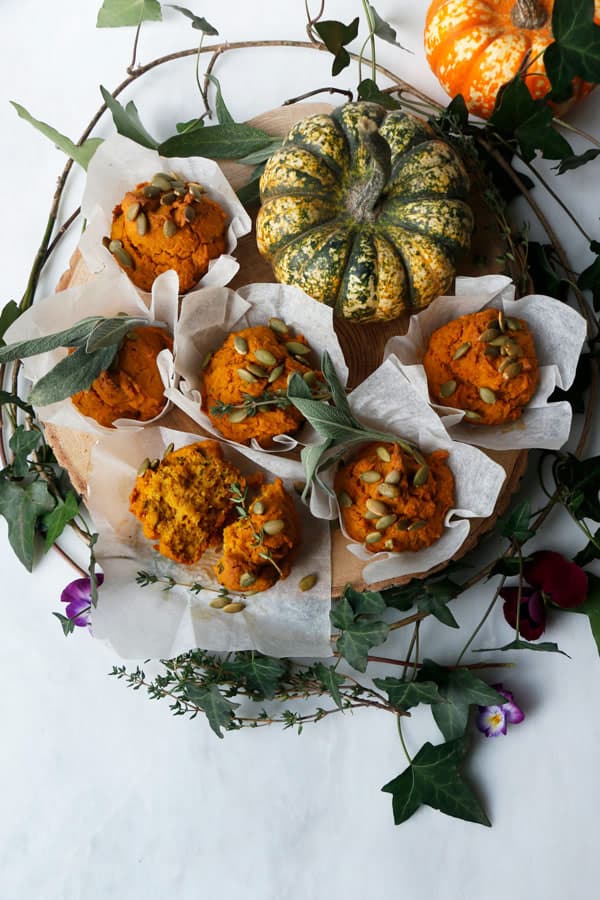 Yield: 10 muffins
Savory Pumpkin Muffins (vegan & gluten-free)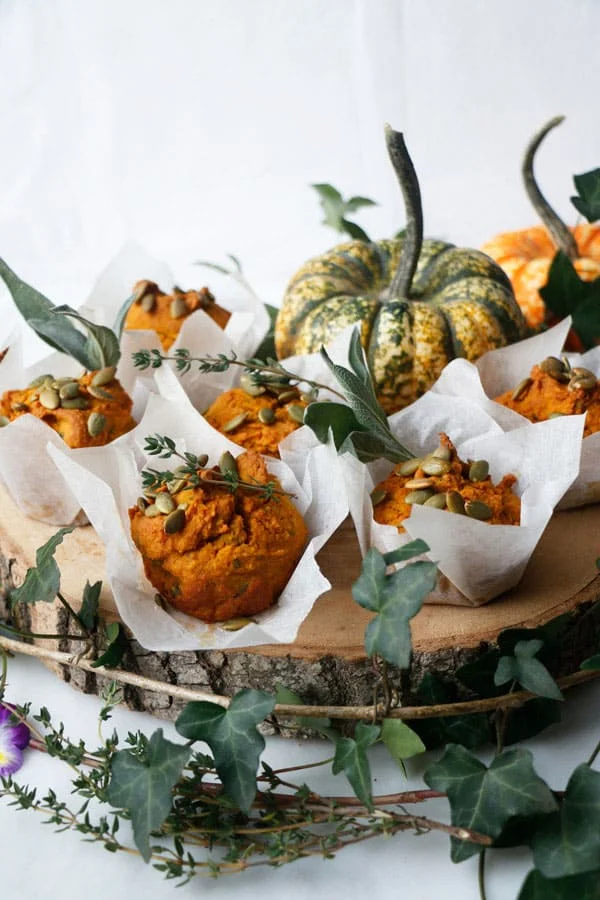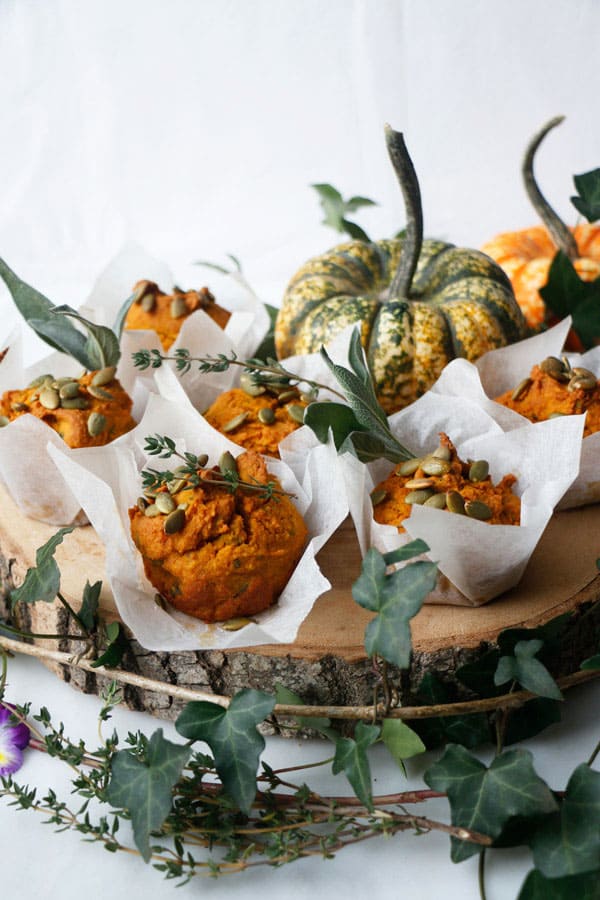 Ingredients
100g ground almonds (1 cup)
95g brown rice flour (3/4 cup)
70g buckwheat or millet flour (1/2 cup)
30g tapioca flour (1/4 cup)
1tsp baking powder
1tsp bicarbonate of soda
1tsp sea salt
freshly ground black pepper to taste
3 sage sprigs, picked
3 rosemary sprigs, picked
5 thyme sprigs, picked
1/2 lemon, zest
2tbsp ground flaxseed + 6tbsp water
240ml pumpkin puree (1 cup)
80ml olive oil (1/3 cup)
120ml plus as needed almond milk (1/2 cup+)
2tsp apple cider vinegar
pumpkin seeds to sprinkle on top
Instructions
Mix 2tbsp ground flaxseed with 6tbsp water and set aside to thicken.
Preheat the oven to 180°C (350F)
Prepare 12 hole cupcake size tin with 10 cases. I use 5" square cut out from baking paper.
In a large bowl whisk together ground almonds, brown rice flour, buckwheat flour, tapioca flour, baking powder, bicarbonate of soda, sea salt and black pepper and set aside.
Pick and finely chop the rosemary and sage, pick the thyme and add together with the lemon zest to the dry mix. Whisk until combined.
In a small bowl whisk together flax eggs, pumpkin puree, olive oil, almond milk and apple cider vinegar.
Add the wet mix to the dry mix and mix until well combined. You should have thick muffin consistency. Add extra almond milk as needed.
Spoon the mixture evenly into your prepared cases and sprinkle with few pumpkin seeds.
Bake for about 30 to 35 minutes or until a cocktail stick comes out clean.
Leave to cool for 10 minutes before removing from tin.
Enjoy warm or cold.
Notes
I've used half of a medium Hokkaido squash to make pumpkin puree for this recipe. To steam your pumpkin or squash, very carefully open your pumpkin, scoop out the seeds and chop into large chunks. Place into steaming basket or pot filled with little water, cover and steam until tender. Leave to cool down, scoop out the flesh away from the skin and blend until smooth.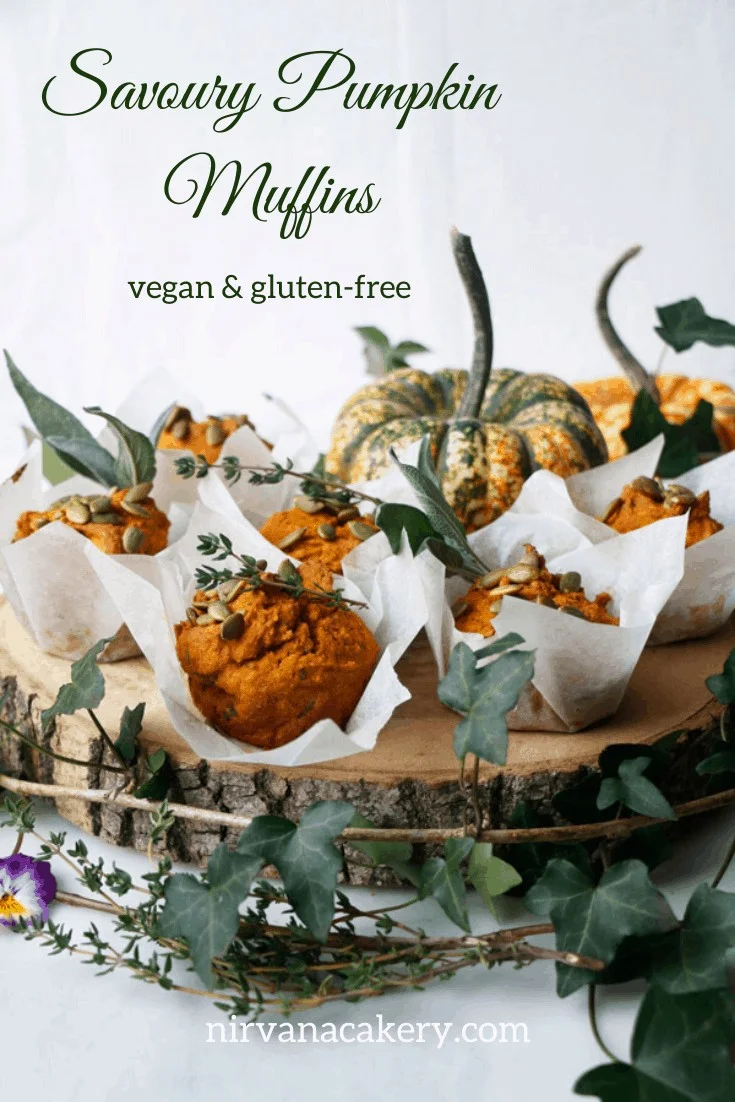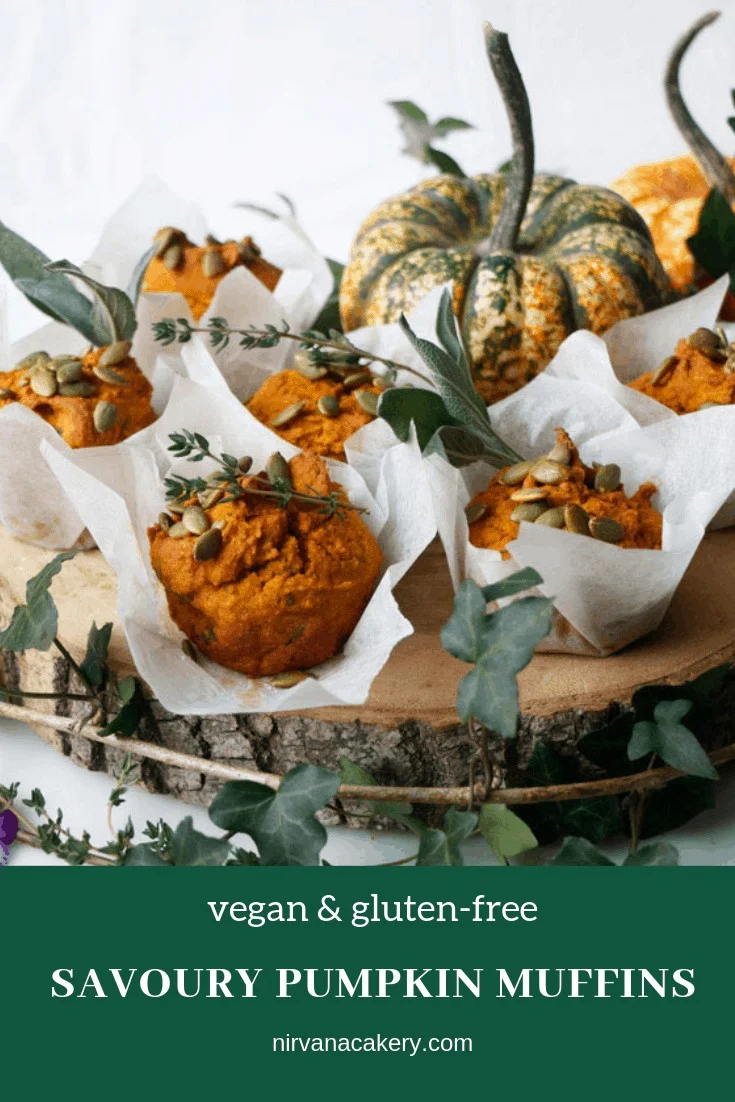 Similar Posts: