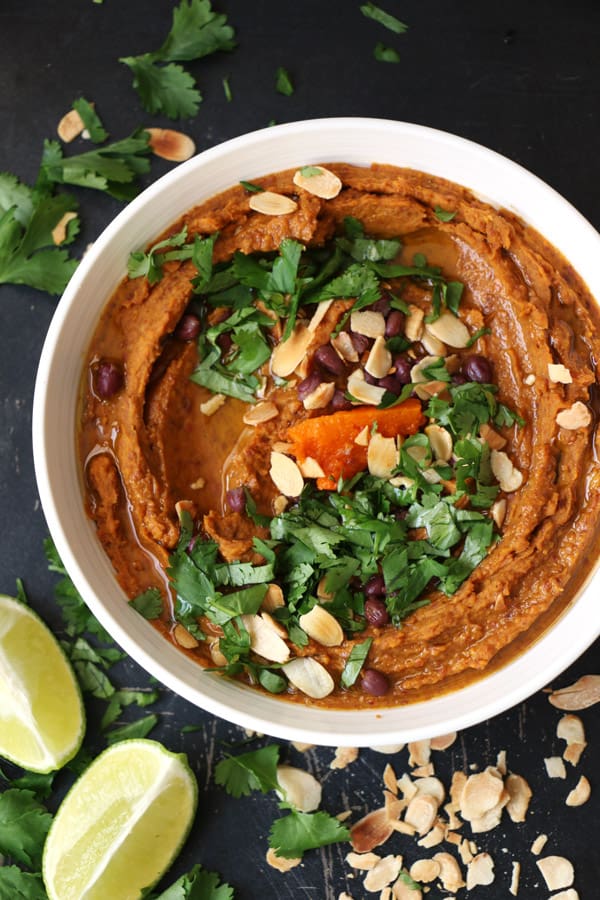 With the holiday and party season around the corner, I've got some healthy inspiration for you today. This Pumpkin and Adzuki Bean Dip is a delicious twist onto more traditional hummus recipe using roasted pumpkin and adzuki beans.
Inspired by masala seasoning it's spiced with lovely warming spices of cinnamon, cumin, cardamom, cloves and fresh ginger. A lovely seasonal dip recipe to fit any festive table setting.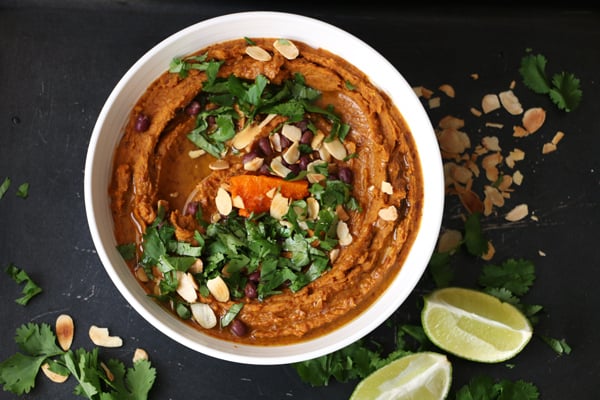 Wonderful recipe if you have some roasted pumpkin leftover, but if you don't, it only takes 30 minutes to bake once chopped into wedges. You don't need much, I've used about a quarter of a medium pumpkin, which gave me about one and a half cup once roasted.
If you prefer, do cook your own adzuki beans, for the convenience I've just used canned ones from Biona. It's a very simple recipe and once all of the ingredients are prepared, it takes only a few minutes to finish off. I've had a great fun creating this dip recipe and am totally in love with it! Hope you'll enjoy it too:)
Pumpkin and Adzuki Bean Dip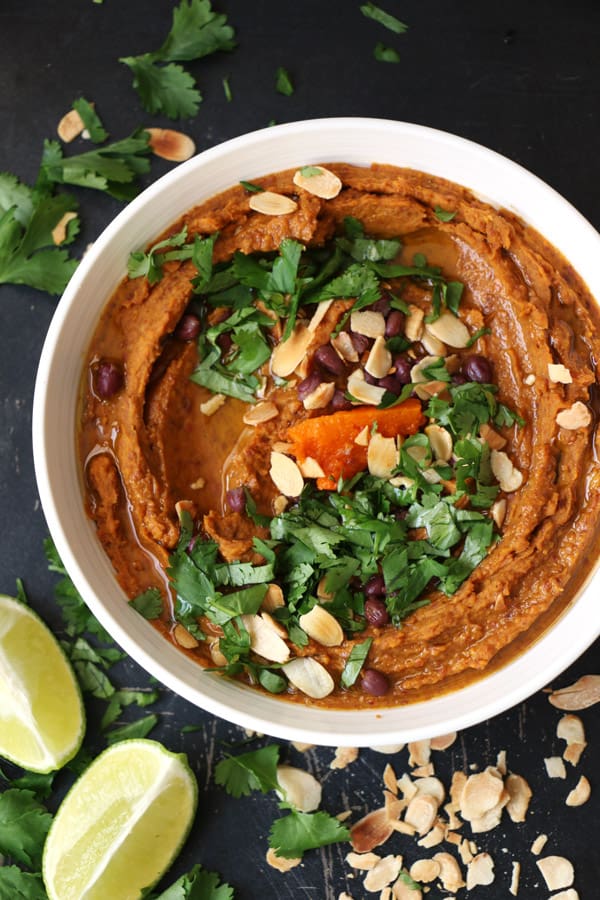 Ingredients
250g pumpkin (2 cups chopped)
1 can adzuki beans (1 1/2 cups)
2 garlic cloves
small piece of fresh ginger, peeled
1/2tsp cumin
1/2tsp cinnamon
pinch of cardamom
pinch of cloves
3tbsp olive oil
juice of ½ lime
sea salt and black pepper
To garnish:
toasted flaked almonds
fresh coriander
extra virgin olive oil
Instructions
Preheat the oven to 200°C (180°C fan)
Peel the pumpkin, remove the seeds and chop into wedges.
Place on a baking tray, toss with some sea salt and drizzle of olive oil and bake for about 30min until soft and slightly browned around the edges.
Drain the adzuki beans.
Place all of the ingredients into a food processor and blend until combined.
Garnish with some toasted flaked almonds, fresh coriander and good drizzle of olive oil.
Enjoy!
Similar Posts: