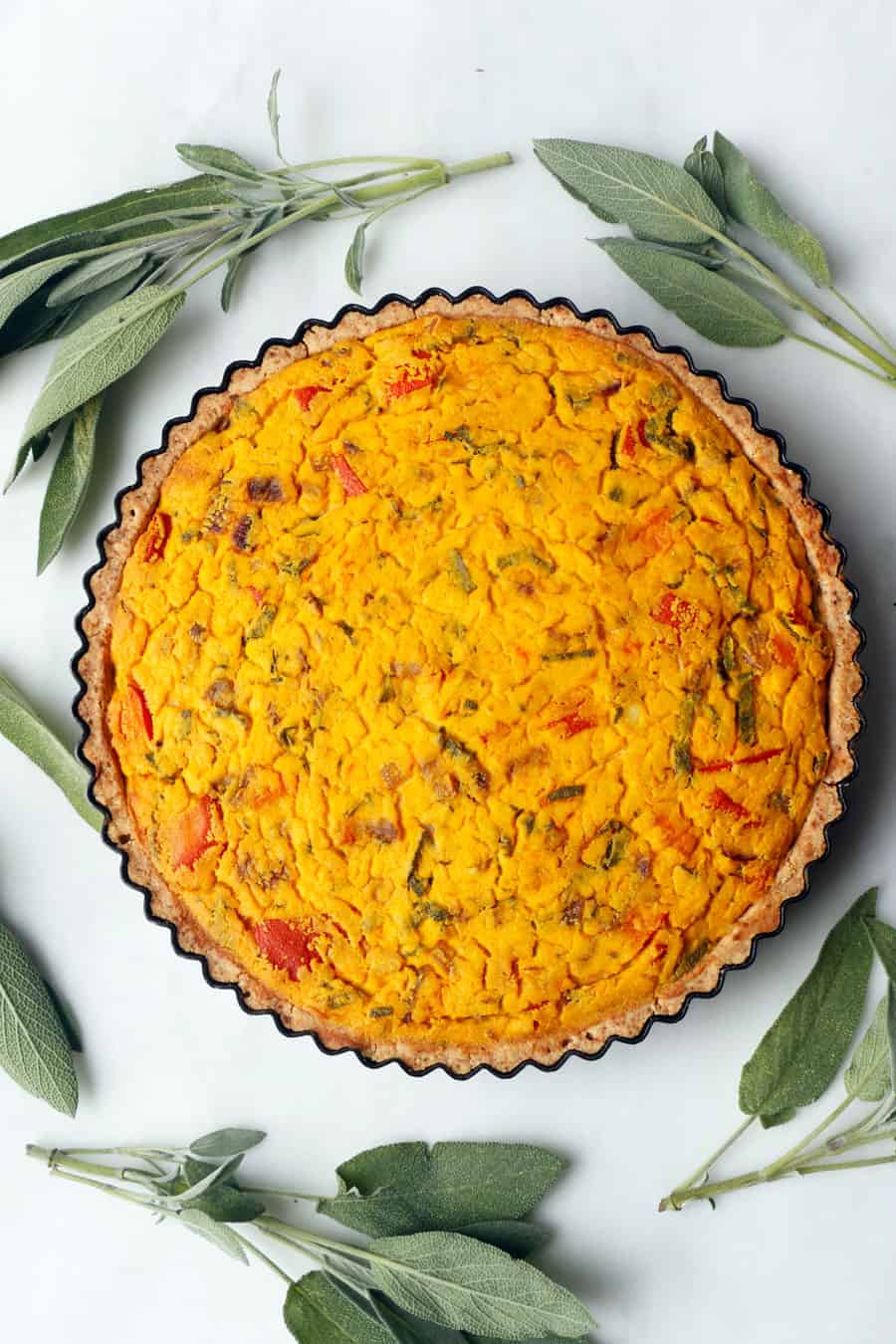 You're in for a plant-based treat, this Vegan Pumpkin Sage Quiche is absolutely amazing! This was my birthday cake this week and I'm already planning to make it again.
Yes, for the first time in years I haven't made myself a birthday cake! I don't even know why except that I just didn't feel like anything sweet. Luckily this quiche was as good as the best birthday cake.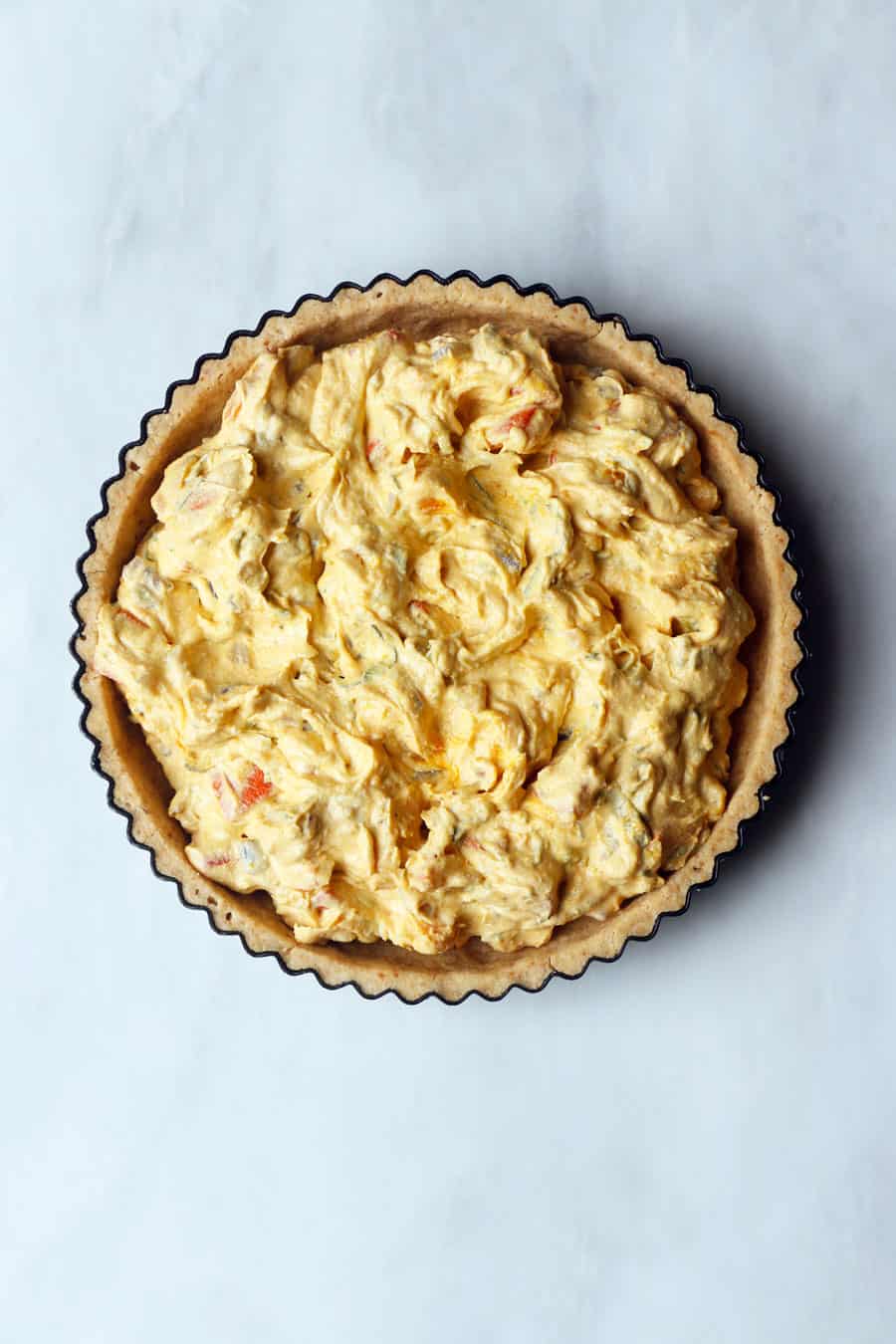 This quiche is not a complicated recipe to make but there are few elements to prepare before pulling it all together. The flavors are amazing, I absolutely love pumpkin/squash and sage combination and it's fabulous with the creamy tofu and creme fraiche. I use vegan creme fraiche from Oatly. And I've used my favorite almond chickpea crust that I'm slightly obsessed with.
The recipe is a variation of my Beetroot Chard Vegan Quiche recipe that I've made this summer. And if you haven't yet tried that one, maybe this one will be the one that appeals to you.
I've used Hokkaido squash in the filling but you can use any of your favorite roasted pumpkin/squash in here. I tend to keep the skin on but you can peel it if you prefer.
Hope you love it as much as me!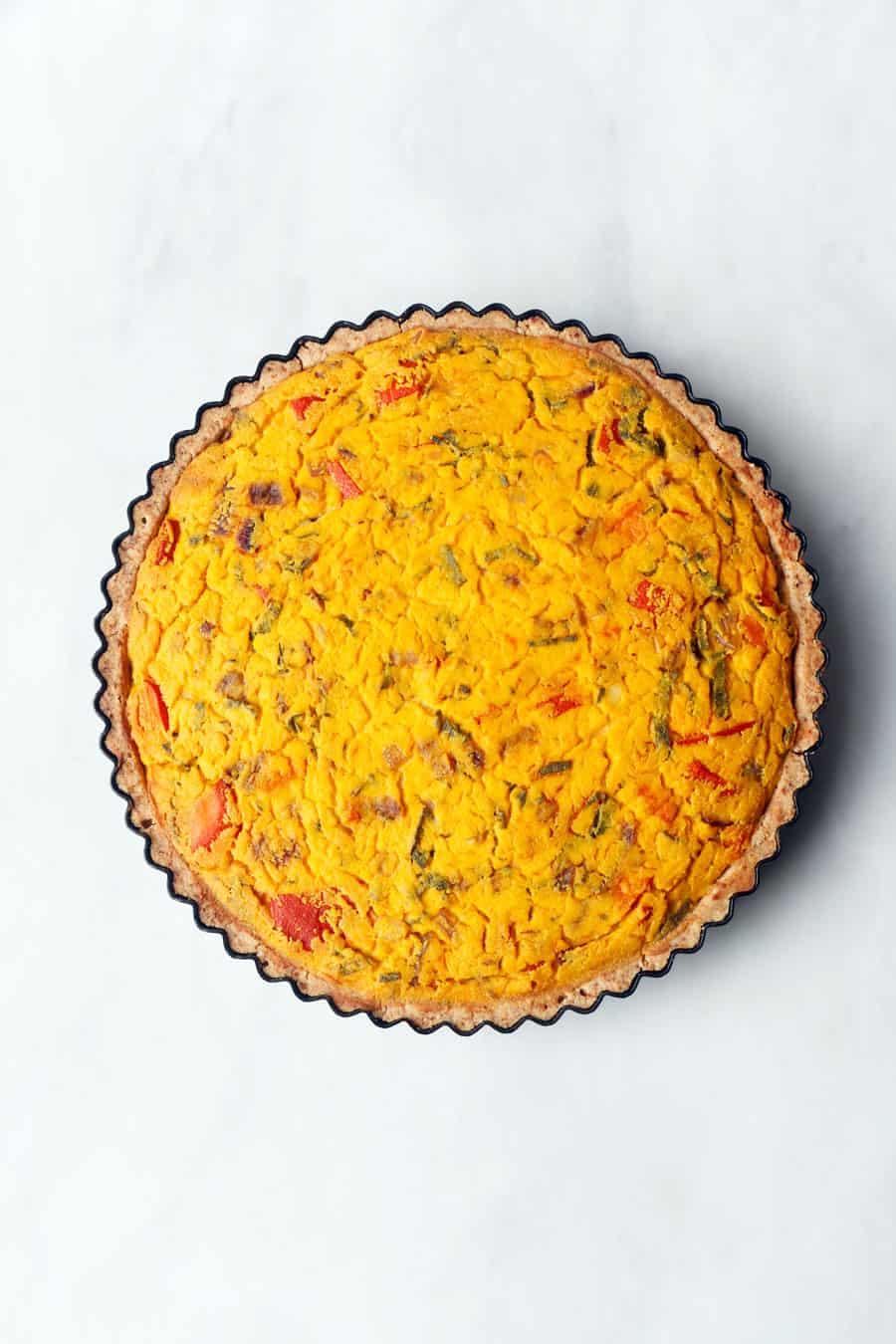 Yield: 9" tart
Vegan Pumpkin Sage Quiche (gluten-free)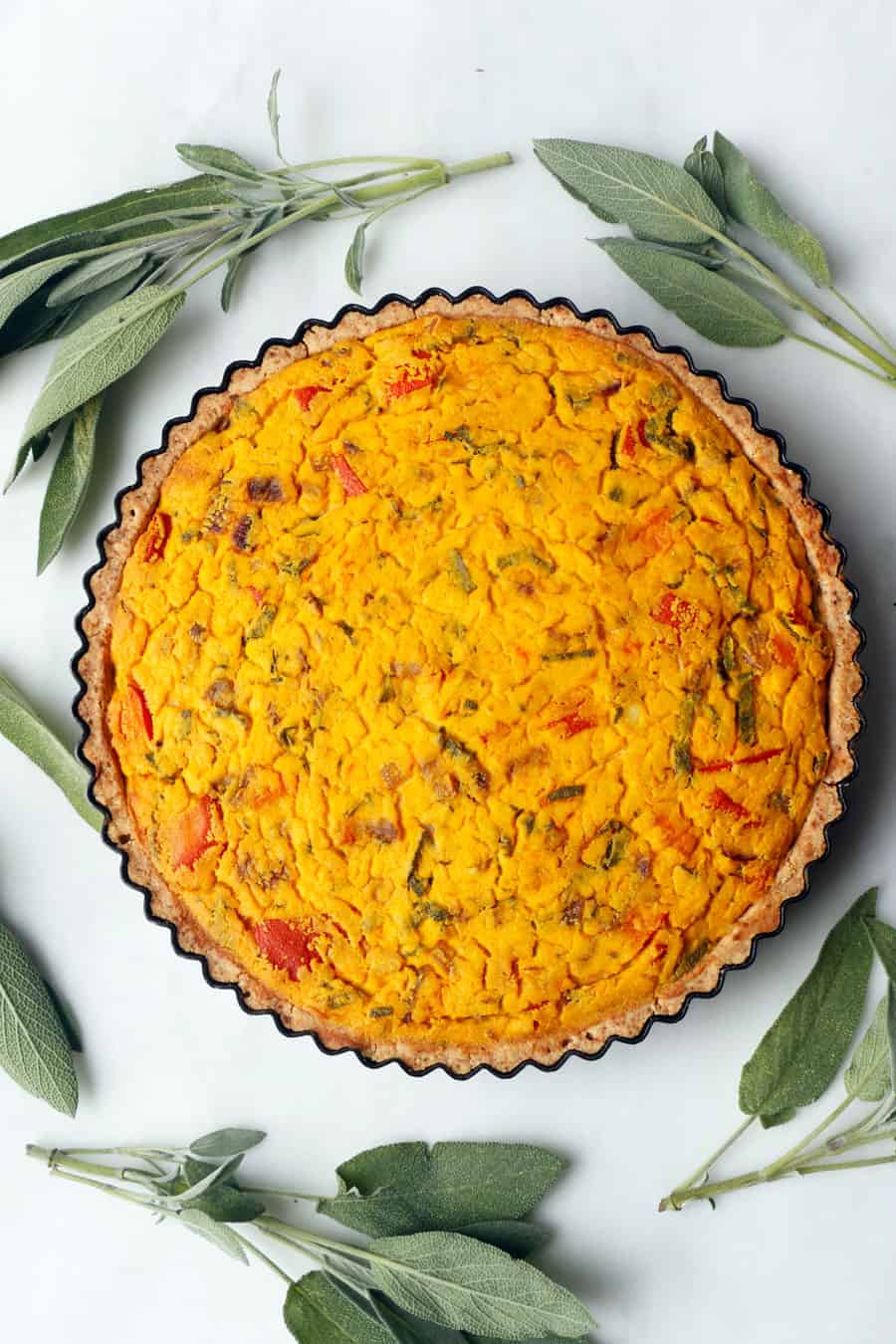 Ingredients
Crust:
150g ground almonds (1½ cups)
60g chickpea flour (1/2 cup)
30g tapioca flour (1/4 cup)
1tbsp coconut sugar
good pinch sea salt
4tbsp solid coconut oil
2-3tbsp water as needed
Filling:
300g firm tofu (10.5oz)
200ml vegan creme fraiche (3/4 cup)
2tbsp chickpea flour
sea salt & black pepper to taste
pinch of nutmeg
1 red onion
500g Hokkaido squash, chopped into small pieces (4 cups)
small bunch of sage to taste
Instructions
Preheat the oven to 180°C (350F)
Prepare 9" tart tin with removable base. You can grease and line the base, but the pastry is quite greasy and it's not necessary. It will easily come out.
In a medium bowl whisk together ground almonds, chickpea flour, tapioca flour, coconut sugar and sea salt.
Using your hands rub in the coconut oil until mixed in. Now add 1tbsp of water at time until you have a smooth soft dough. Don't overwork it, rather just bring it together.
Press the dough directly into the tart tin and work your way around the base and up the sides to form a crust.
Pierce the base few times with a fork and bake for 10 minutes.
Remove from the oven and leave to cool down. If the base puffed up gently press it down.
Filling:
Preheat the oven to 200°C (390F)
Halve the squash, scrape out the seeds and chop into small pieces. I left the skin on. Place onto a baking tray, drizzle with olive oil, season with sea salt, optional add few sprigs of thyme and roast for about 30 minutes until soft. Set aside.
Peel and thinly slice red onion and saute with little oil for about 5 minutes. Set aside.
Place well drained tofu into large bowl, add creme fraiche, chickpea flour, sea salt, freshly ground black pepper and nutmeg and blend until smooth. Set aside.
Pick and finely slice the sage leaves.
Mix all the filling ingredients together. Check for seasoning. Add extra tbsp of chickpea flour if needed.
Spoon into the crust and smooth out the top.
Bake for about 45 minutes until set.
Remove from the oven and leave to cool down for about 20 minutes before removing from the tart tin.
Serve warm or cold.
Enjoy!
Notes
If you can't find creme fraiche you can use little extra tofu and add 2tbsp or so plant-based milk to help with the blending.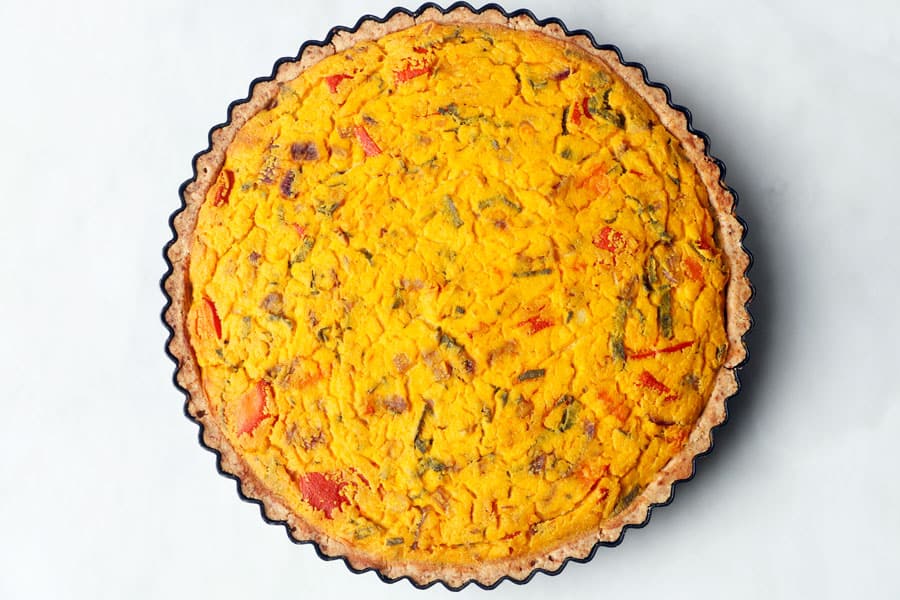 Similar Posts: