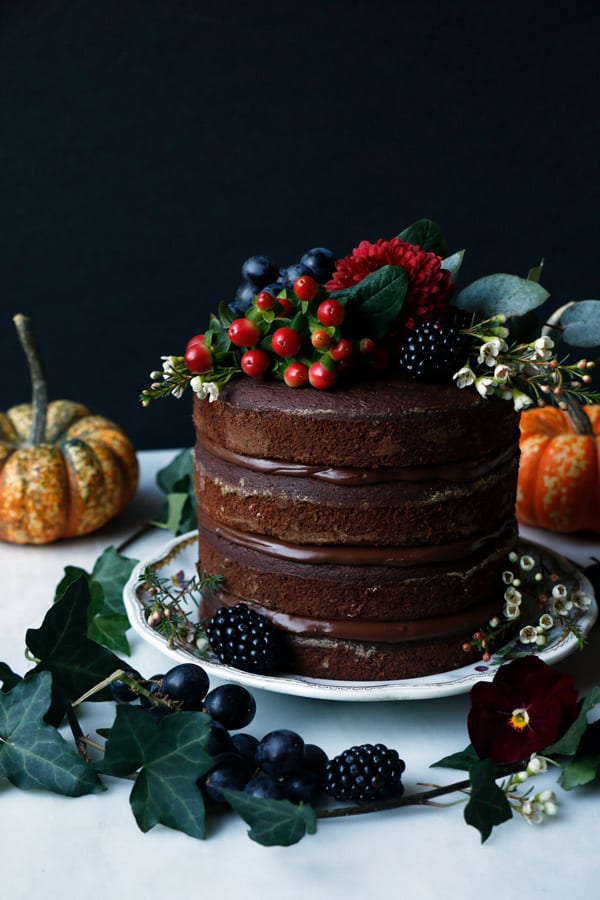 Special thank you to Amore di Mona for sponsoring this post.
Today I have an offering for all of my lovely readers who celebrate Thanksgiving, a four-layer Pumpkin Chocolate Layer Cake that would look wonderful on your festive table.
It's a wholesome moist pumpkin chocolate sponge cake filled with simple chocolate ganache and topped with season-inspired decoration of fruit and flowers for a festive feel.
It's my last pumpkin recipe this Autumn and adapted from my Plantbased Pumpkin Layer Cake from last month which would also be amazing to bake for Thanksgiving.
I wrote this recipe for a two-layer cake for the convenience if you only like to make two layers or have only two 6″ tins. Please double the recipe to make four layers at the same time. The chocolate ganache is enough for the four layer cake.
It's a nut-free recipe and I'm using sunflower seed flour in here for added moisture in combination with brown rice and buckwheat flours. Please feel free to replace the buckwheat with another gluten-free flour like teff, quinoa, millet or oat flour. When using oat flour you will have to slightly increase the quantity. The mix should be a thicker muffin mix to raise well as it has a quite large quantity of pumpkin puree. Please adjust the plant milk accordingly.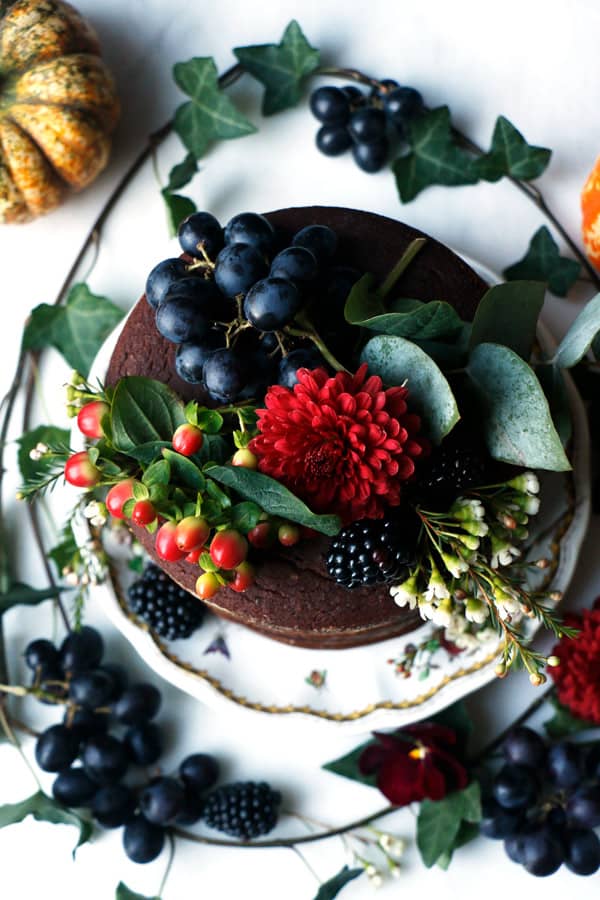 The chocolate ganache is a simple blend of dark chocolate, oat cream and spices. You can replace the oat cream with coconut cream if you can tolerate coconuts. With the coconut cream, you can reduce the chocolate to 150g as it goes solid when refrigerated in comparison to oat cream. The chocolate ganache will further set on the cake.
If you fancy you can pour extra chocolate over the top. I felt that it didn't really need it and I wanted to keep it little more simple and decorate the top of the cake more lavishly.
And since this is a Thanksgiving post I would love to express my gratitude for you being here, reading my posts, trying out my recipes, it's my bliss and it makes me so happy to be able to share it with you.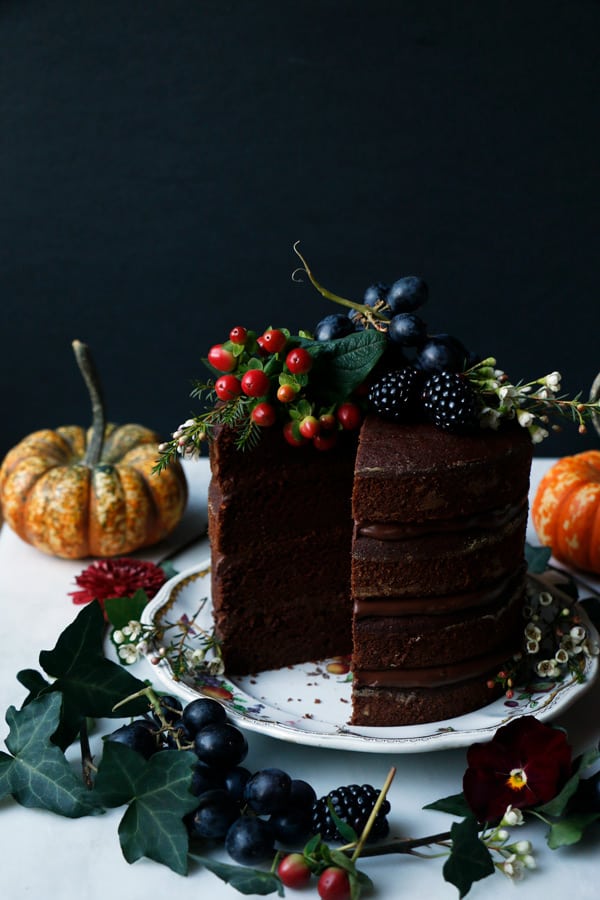 Yield: 6" layer cake
Pumpkin Chocolate Layer Cake (vegan & gluten-free)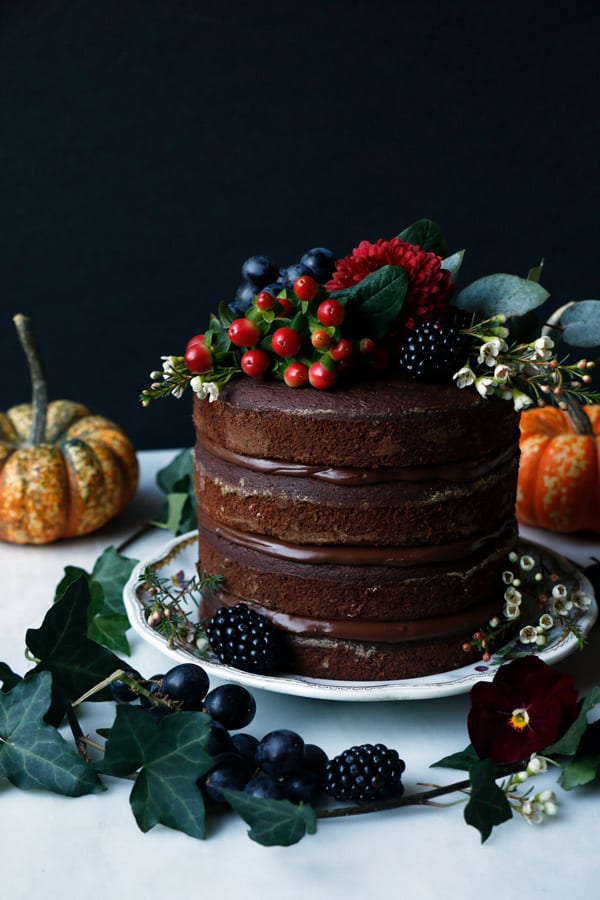 Ingredients
Two layer cake:
95g brown rice flour (3/4 cup)
35g buckwheat flour (1/4 cup)
70g sunflower seeds, ground into flour consistency (1/2 cup)
30g tapioca flour (1/4 cup)
30g cacao powder (1/4 cup)
1tsp baking powder
1tsp bicarbonate of soda
2tsp cinnamon
1tsp ground ginger
¼tsp ground cloves
pinch nutmeg
pinch sea salt
100g rapadura sugar (3/4 cup)
2tbsp ground flaxseed + 6tbsp water
240ml pumpkin puree (1 cup)
80ml olive oil (1/3 cup)
60ml plant milk (1/4 cup)
2tsp apple cider vinegar
1tsp vanilla
Chocolate ganache: make the night before
170g dark vegan chocolate (6 oz)
240ml oat cream (1 cup)
1tbsp maple syrup
1/2tsp cinnamon
1/4tsp ginger
pinch nutmeg
Topping:
fresh black grapes and blackberries
autumnal flowers
Instructions
Mix 2tbsp ground flaxseed with 6tbsp water and set aside to thicken.
Preheat the oven to 180°C (350F)
Grease and line the base and dust the sides of two 6" round cake baking tins.
In a large bowl whisk together brown rice flour, buckwheat flour, ground sunflower seeds, tapioca flour, cacao powder, baking powder, bicarbonate of soda, cinnamon, ginger, cloves, nutmeg, salt and sugar and set aside.
In a small bowl whisk together flax eggs, pumpkin puree, olive oil, milk, apple cider vinegar and vanilla.
Add the wet mix to the dry mix and mix until well combined. You should have thicker muffin consistency. Add more milk if needed.
Spoon the mixture evenly into your prepared tins and level out the surface.
Bake for about 30 to 35 minutes or until a cocktail stick comes out clean, might still be little sticky.
Remove from the oven once ready and leave to cool down for 20 min before removing from the tins.
Repeat the process to make another 2 layers.
To make the chocolate ganache roughly chop the chocolate and place into a small bowl. Place the oat cream, maple syrup and the spices into a small pot and gently heat until the boiling point. Pour over the chopped chocolate and stir until completely melted and smooth. Leave to cool down for a bit before placing into a fridge to set overnight into a spreadable consistency.
Once the cakes are completely cool, you can assemble the cake. Place the bottom layer onto a cake plate and using spatula spread with some chocolate ganache. Top with the second cake layer and continue with the third and fourth layer. If the cake feels little wobbly you can insert a bamboo skewer through the centre to keep it stable.
Decorate your cake to your liking with fresh seasonal fruit and flowers.
Enjoy!
Notes
This recipe is for 2 layers, I made it twice to get 4 layers. You can double the recipe to make 4 layers at the same time or make the recipe twice, depending on how many 6" cake tins you have.
You can replace the buckwheat flour with any other gluten-free flour of your choice.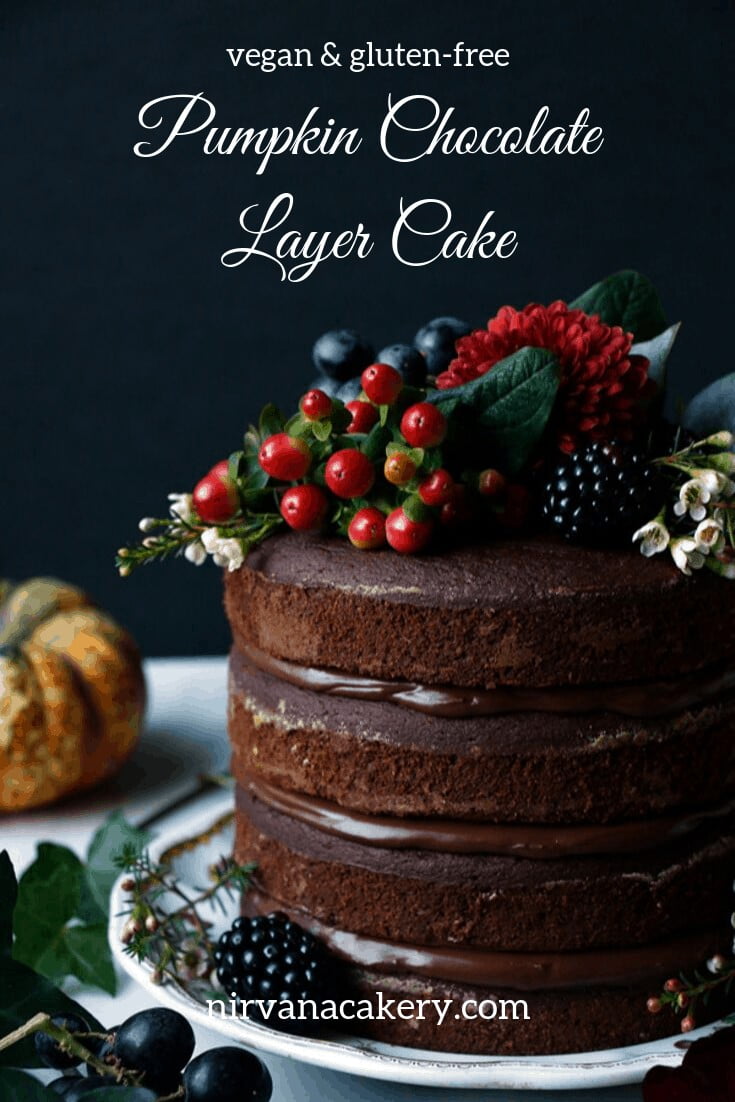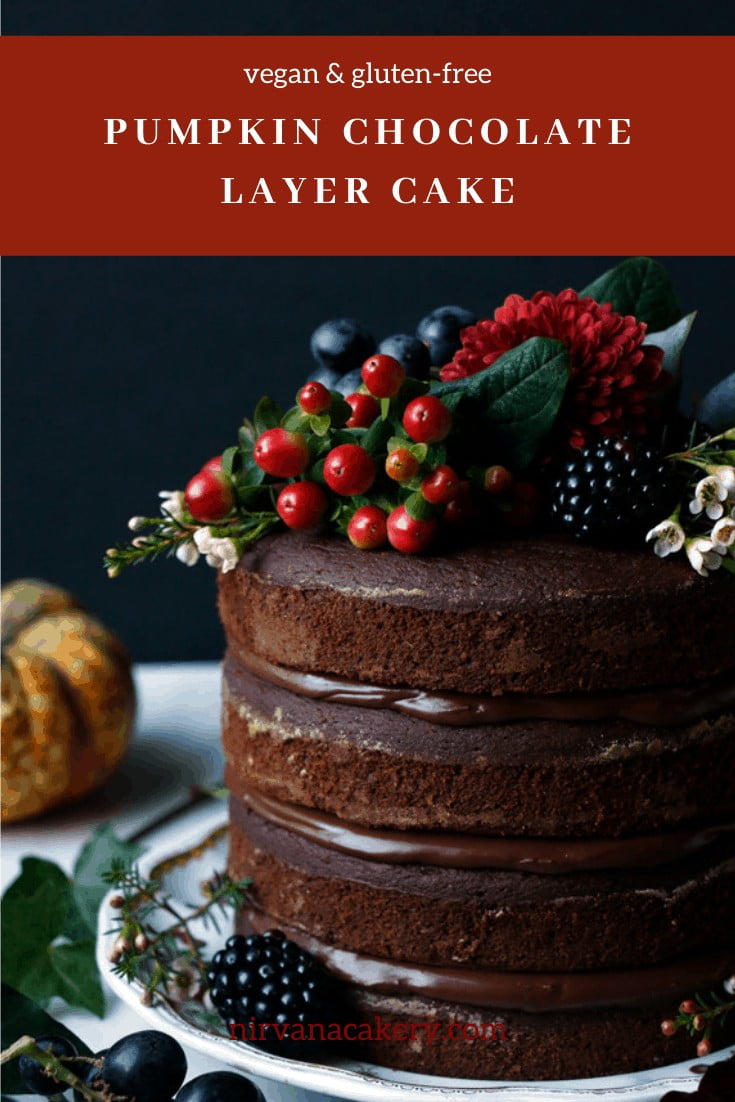 Similar Posts: