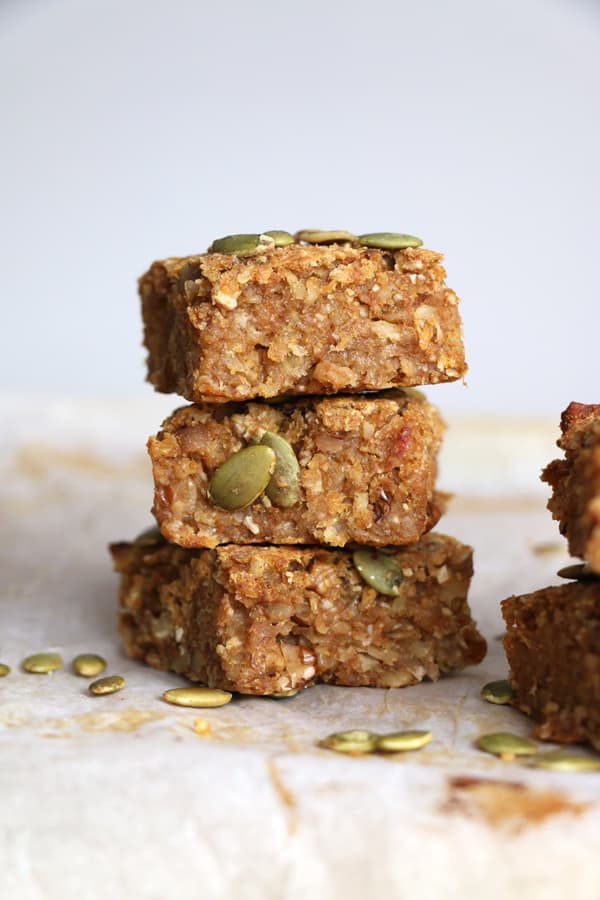 Since it's an October and officially a pumpkin season I've got a few more pumpkin recipes coming for you. Last week I've been playing around with healthy breakfast ideas and have created this moist Pumpkin and Oat Breakfast Bars recipe.
They are really delicious bars made with fresh pumpkin, sweetened with few medjool dates and beautifully spiced with cinnamon, cardamom, ginger and cloves.
I've used fresh pumpkin that I've made into a puree, but I suppose you could use ready made one if you prefer. You could also use different nuts like pecans that are traditionally teamed up with pumpkin. The bars will be moist due to the amount of pumpkin, so I recommend to store leftovers in a fridge.
Great eaten warm or cold and a fantastic option if you have a little time in the morning and need to grab a quick breakfast or a snack for later. And if you have some pumpkin puree leftover you can treat yourself to a Pumpkin, Orange and Turmeric Smoothie. Enjoy!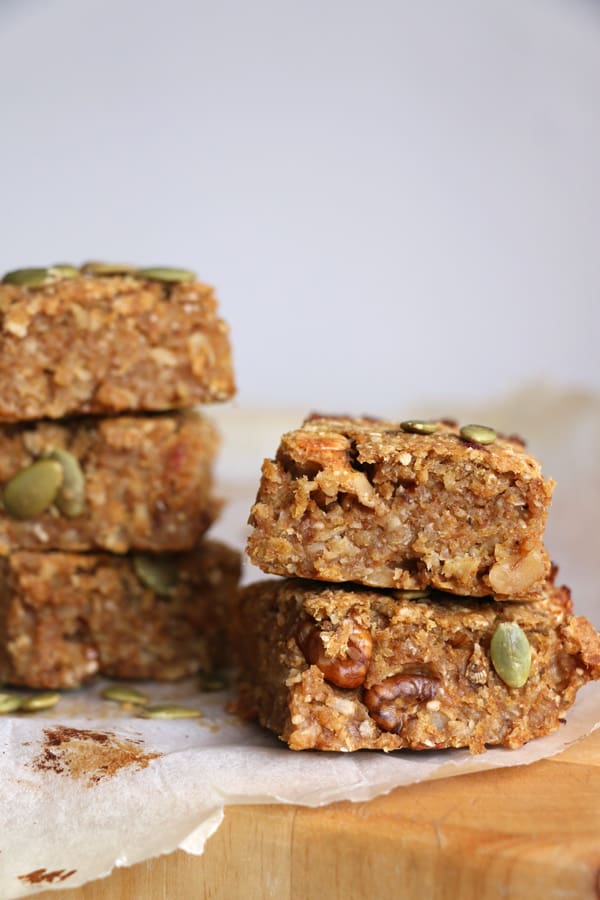 Yield: 16 bars
Pumpkin and Oat Breakfast Bars (gluten-free & vegan)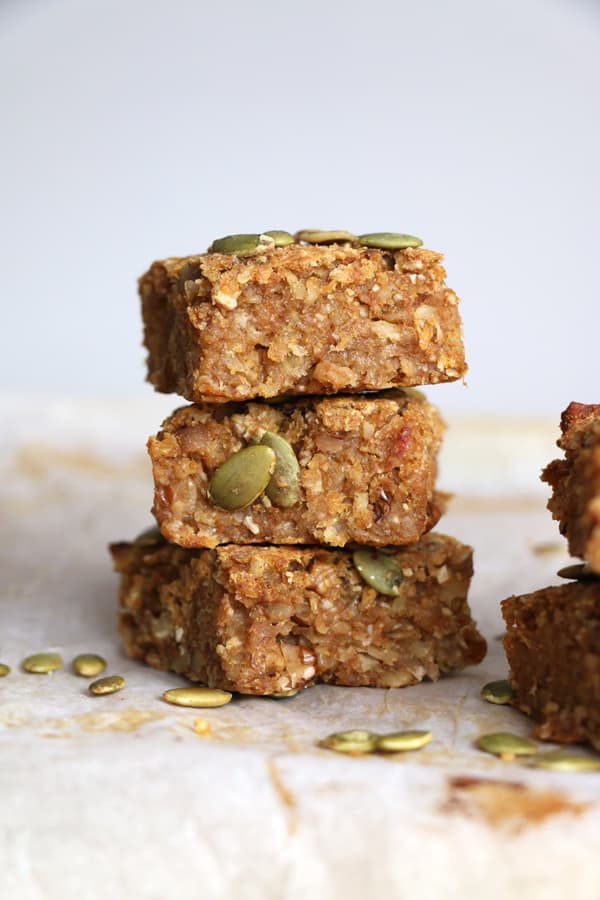 Ingredients
480ml pumpkin puree (2 cups) from 1kg pumpkin
100g pitted medjool dates, about 6 dates
2tbsp coconut oil
200g gluten-free oats (2 cups)
100g desiccated coconut (1 cup)
1tsp baking powder
1tsp cinnamon
1/2tsp cardamom
1/2tsp ginger
1/4tsp cloves
pinch of sea salt
75g walnuts, chopped (3/4 cup)
40g pumpkin seeds (1/4 cup)
Instructions
To make the pumpkin puree you can either steam, boil or roast your pumpkin. I find the steaming method the quickest.
To steam your pumpkin or squash, very carefully open your pumpkin, scoop out the seeds and chop into large chunks. Place into steaming basket or pot filled with little water, cover and steam until tender. It takes anything between 10 to 20 minutes. Leave to cool down, scoop out the flesh away from the skin or if the skin looks nice you can keep it on and blend until smooth.
Preheat the oven to 200°C (390°F)
Line 9" square baking dish with large piece of baking paper.
Blend 2 cups of pumpkin puree with medjool dates and coconut oil and set aside.
In a large bowl whisk together oats, coconut, baking powder, cinnamon, cardamom, ginger, cloves and salt.
Add pumpkin mix and chopped walnuts and mix well together.
Spoon the mixture into prepared dish, sprinkle with pumpkin seeds and bake for about 30-40 min until browned around the edges.
Cut into squares and enjoy!
Store in a fridge.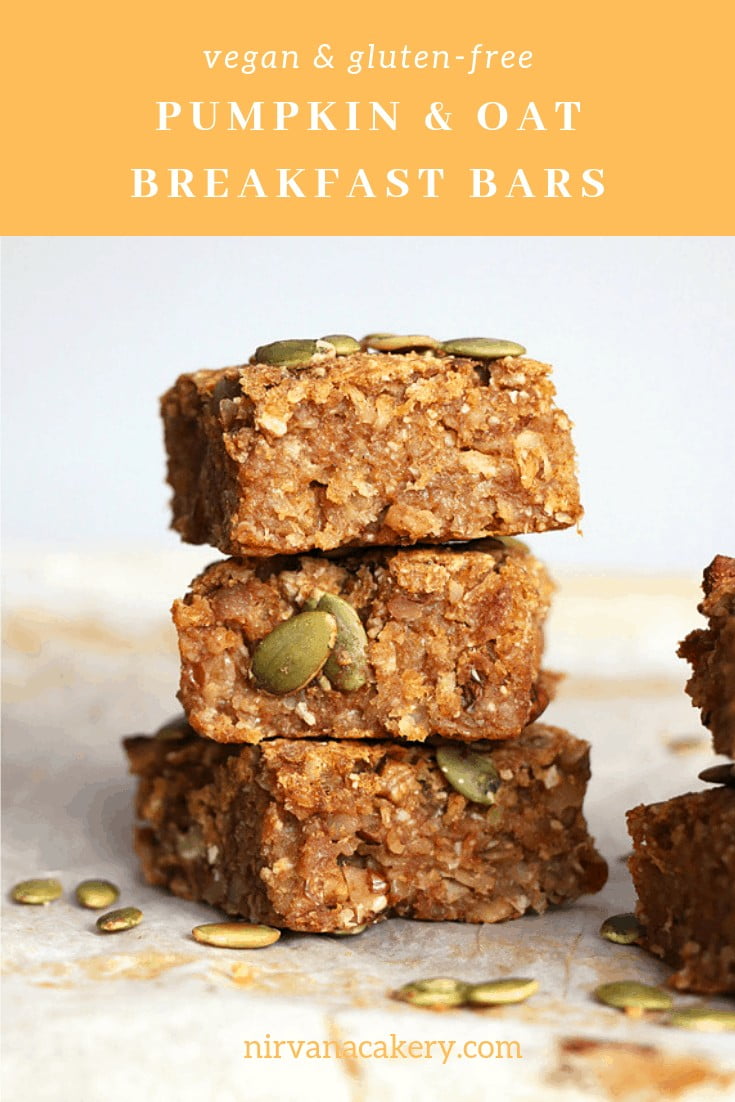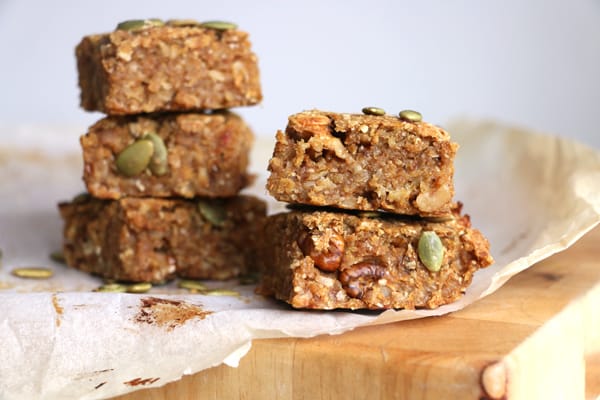 Similar Posts: