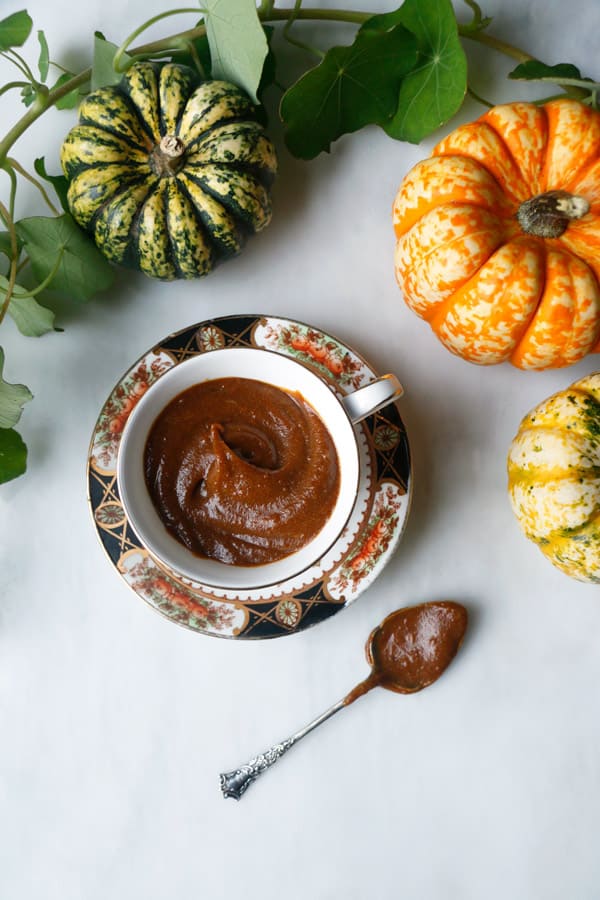 I've been feeling really inspired this week and have made three different pumpkin recipes! This lovely Vegan Salted Pumpkin Caramel, Pumpkin Walnut Bread coming in the next post and even a Pumpkin Roll. All came out really lovely and very moreish. Yes, I've been eating lots of cake this week!
This caramel is such a treat and would make a perfect addition to all of your Autumn dessert recipes. I'm also thinking to use it to fill or drizzle Ginger Molasses Cookies, another of recipes on my list for this season.
I've adapted this recipe from my Salted Caramel I've made a few years back. The caramel is a lovely and thick consistency and it's really simple to make. All you need to make it is pumpkin puree, coconut milk, coconut sugar, spices and sea salt. If you prefer you can leave the sea salt out or just use a pinch.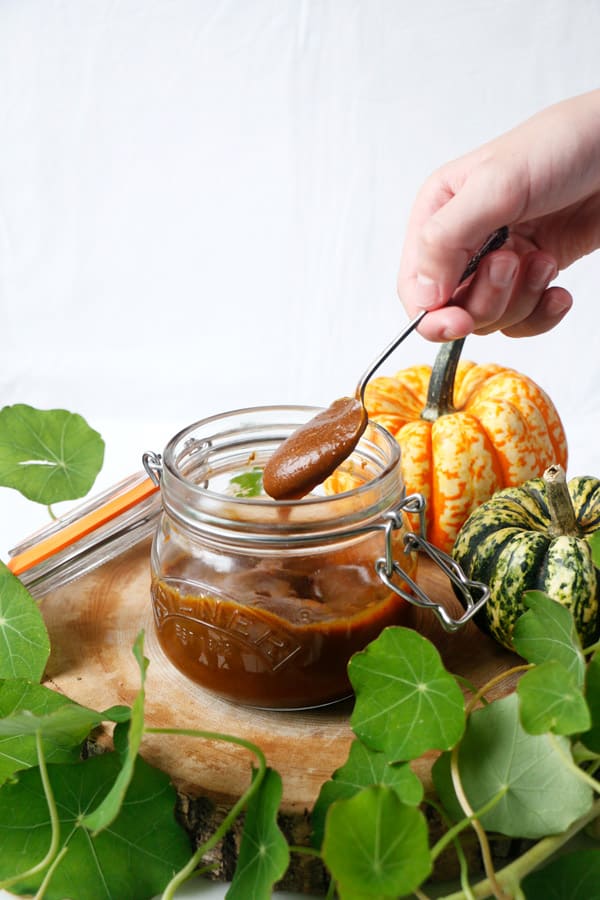 If you like it more of a sauce you can either use it warm before it thickens, leave it to cook less time or add slightly more coconut milk. I like the consistency it has become with the measurements I have used but you can experiment to get the one that you love.
I've made my pumkin puree by steaming medium size Hokkaido (Red Kuri) Squash and then just used a stick blender to puree it into a smooth consistency. Normally I remove the skin but I left it on this time and it was perfect. So from now on, I will do that.
Hope you love it!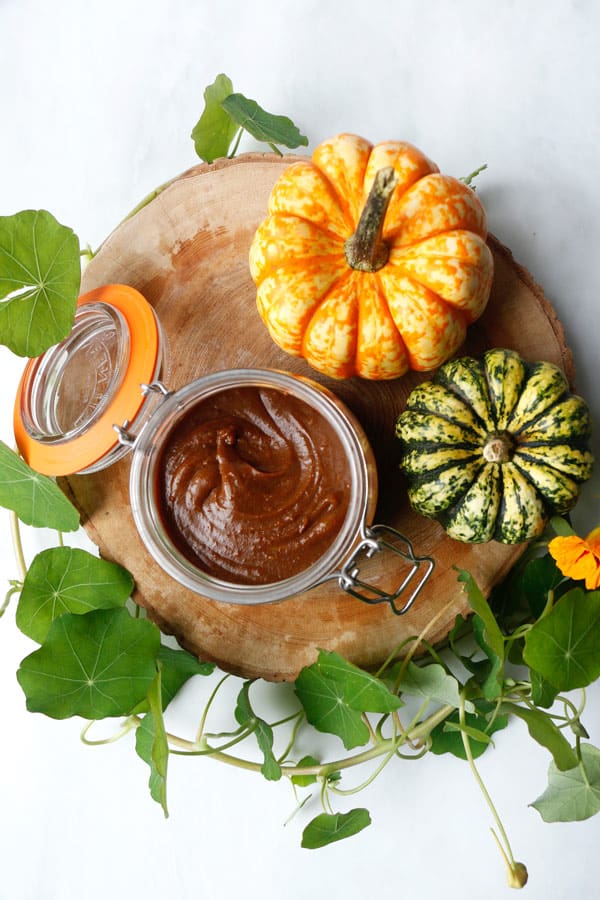 Yield: 1 1/4 cup
Vegan Salted Pumpkin Caramel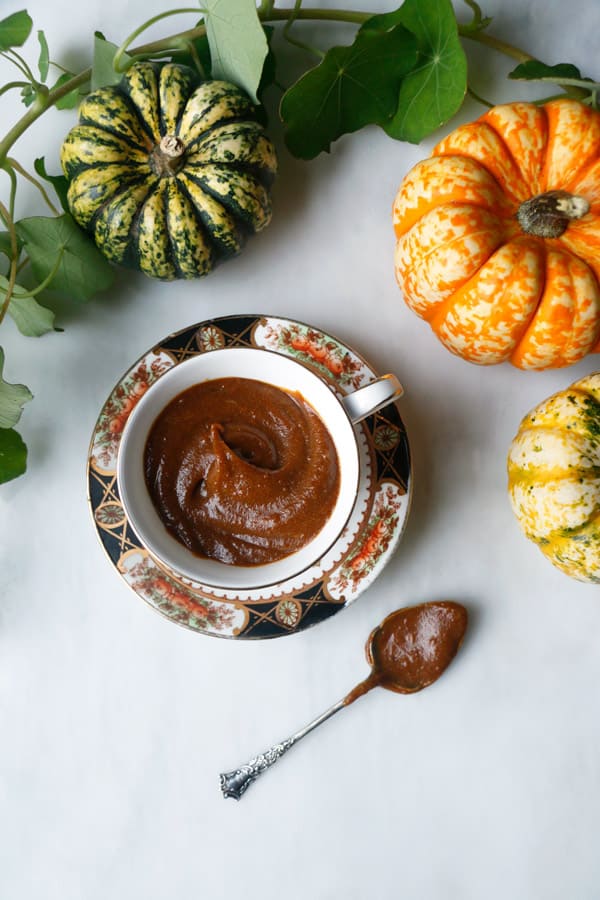 Ingredients
120ml pumpkin puree (1/2 cup)
180ml full fat canned coconut milk (3/4 cup)
75g coconut sugar (1/2 cup)
1/2tsp cinnamon
1/4tsp ginger
1/8tsp nutmeg
1/8tsp allspice
1/8tsp cloves
1/2tsp sea salt
Instructions
Add all of the ingredients into a medium pot, whisk well and bring to boil.
Simmer for about 25 to 30 minutes stirring in between.
The caramel will change consistency once ready. It will thicken and the colour will be darker.
Leave to cool down.
Store in a lidded jar in fridge until ready to use. It will become even more thick when refrigerated.
If you like to loosen the caramel just gently warm.
Enjoy!
Notes
I like to steam the pumkin to make the pumpkin puree but you can also roast it. In this recipe I've used Hokkaido (Red Kuri) Squash. I find that with the steaming method you can easily keep the skin on before blending into smooth puree.
To steam your pumpkin or squash, very carefully open your pumpkin, scoop out the seeds and chop into large chunks. Place into steaming basket or pot filled with little water, cover and steam until tender. Leave to cool down, scoop out the flesh away from the skin or if you prefer keep it on and blend until smooth. Refrigerate until ready to use.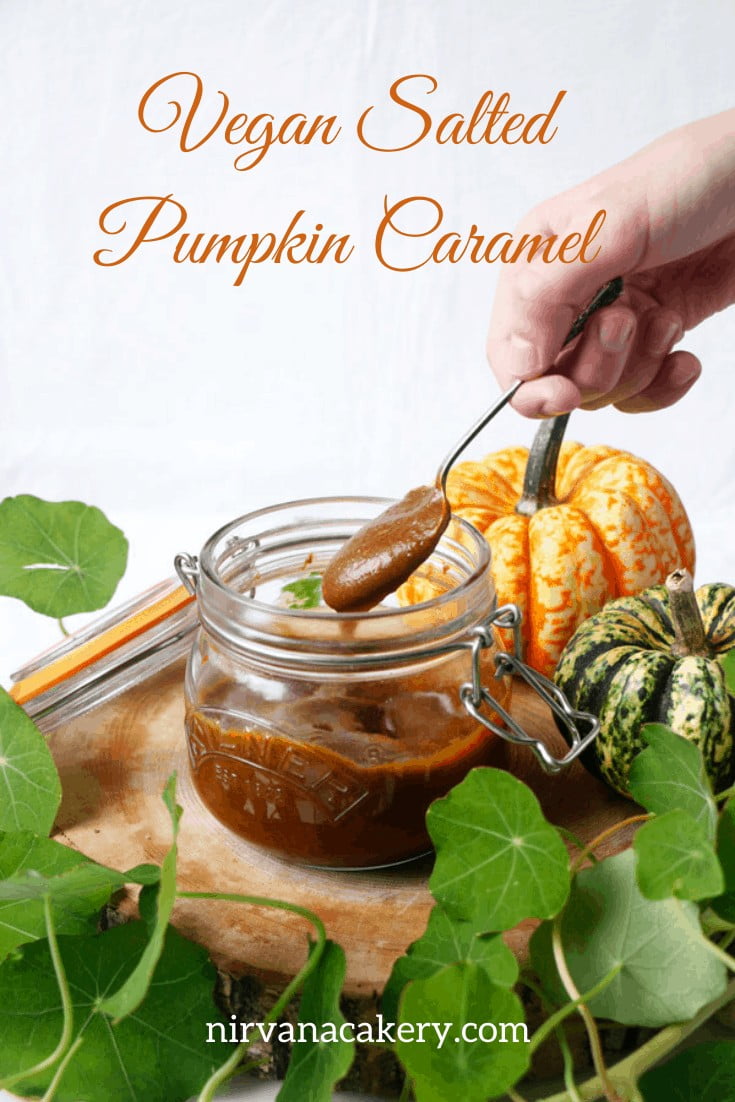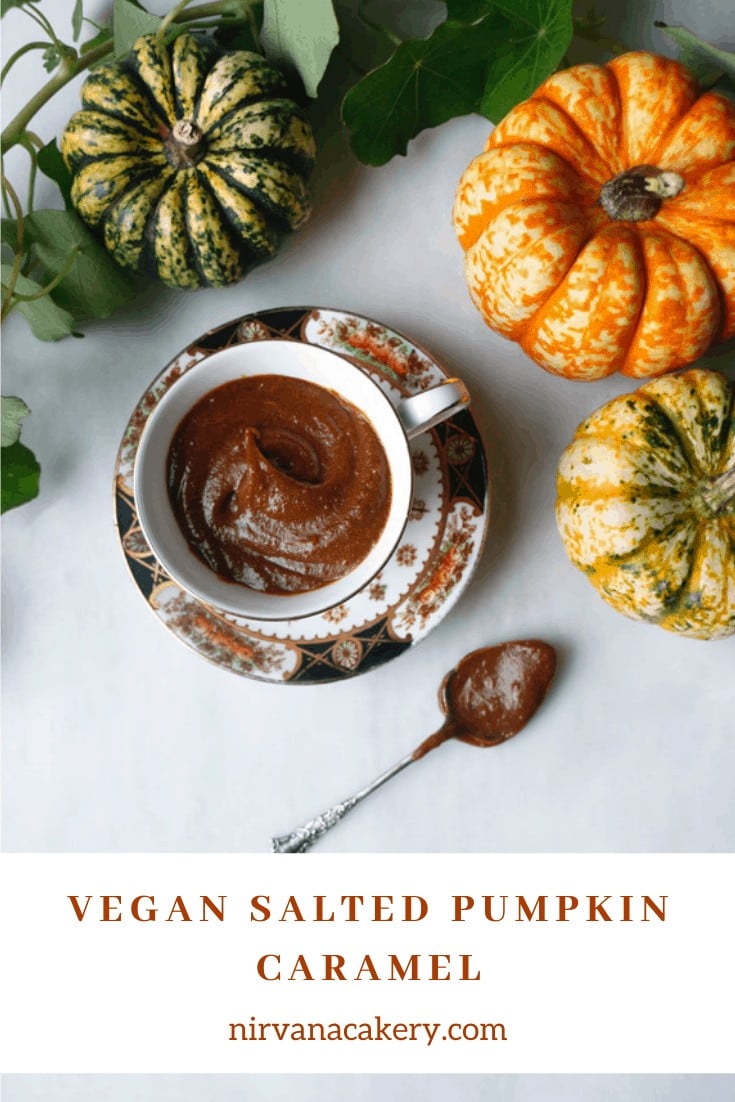 Similar Posts: