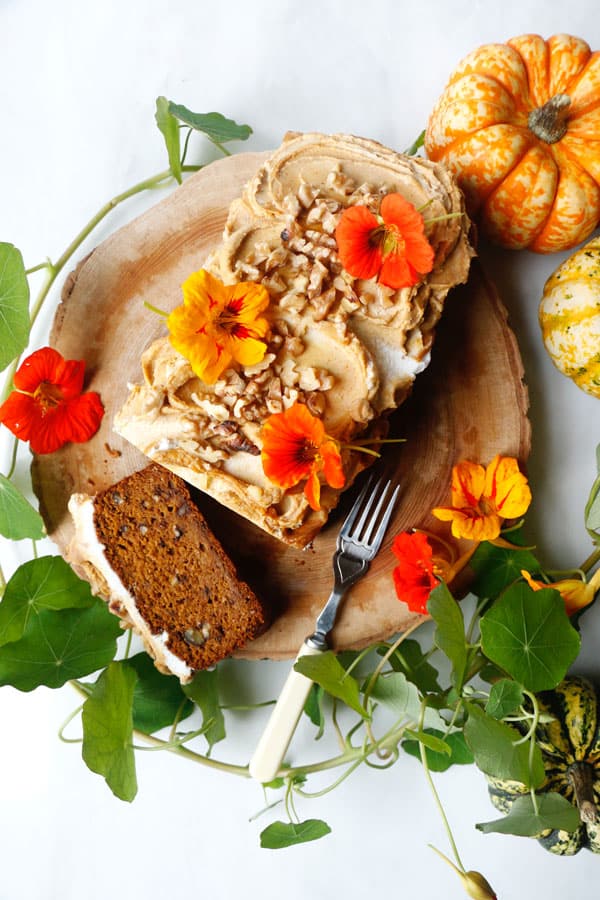 Here is the promised Pumpkin Walnut Bread with Coconut Frosting and Salted Pumpkin Caramel and you are in for such a treat! This is the first time I've made pumpkin bread although I have very closely adapted it from my Plantbased Pumpkin Layer Cake.
I wanted to make this recipe slightly denser and I've added little more pumpkin puree and more spices and it was really lovely and full of flavour. The topping I have chosen just tied everything together beautifully and I couldn't stop myself from eating it!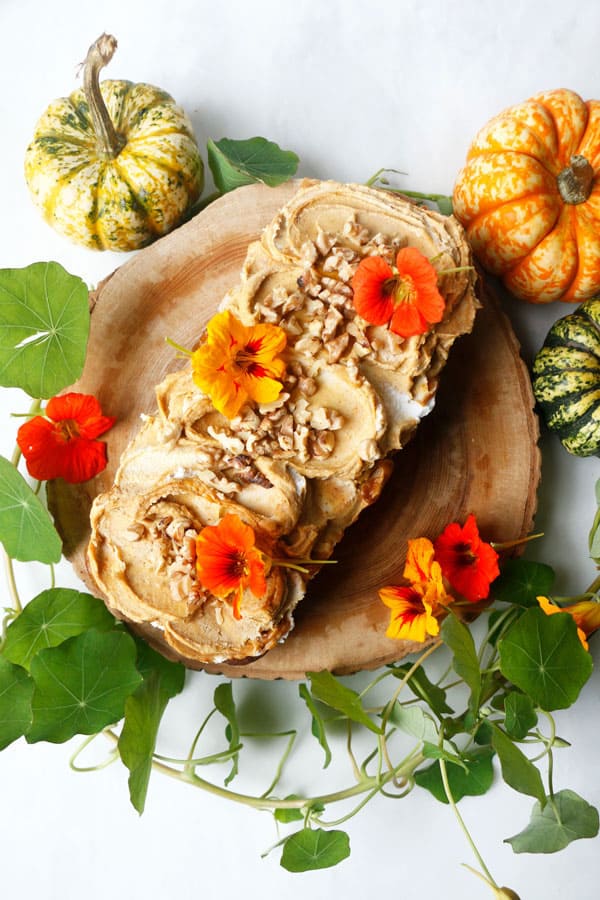 I am just really grateful to our American neighbours for inventing so many different ways to use pumpkin in desserts because it's not typical in Britain neither in my country and I absolutely love them! As I said this week I also had a go on a Pumpkin Roll and it came out so well. I'm going to test the recipe one more time before sharing it with you.
If you like the bread to be slightly less wet use only 1 cup of pumpkin puree and adjust the almond milk, aim for thick muffin consistency. I really recommend trying the bread with the simple whipped coconut cream and the Vegan Salted Pumpkin Caramel on top, it was really amazing.
Enjoy the recipe and let me know what you think :)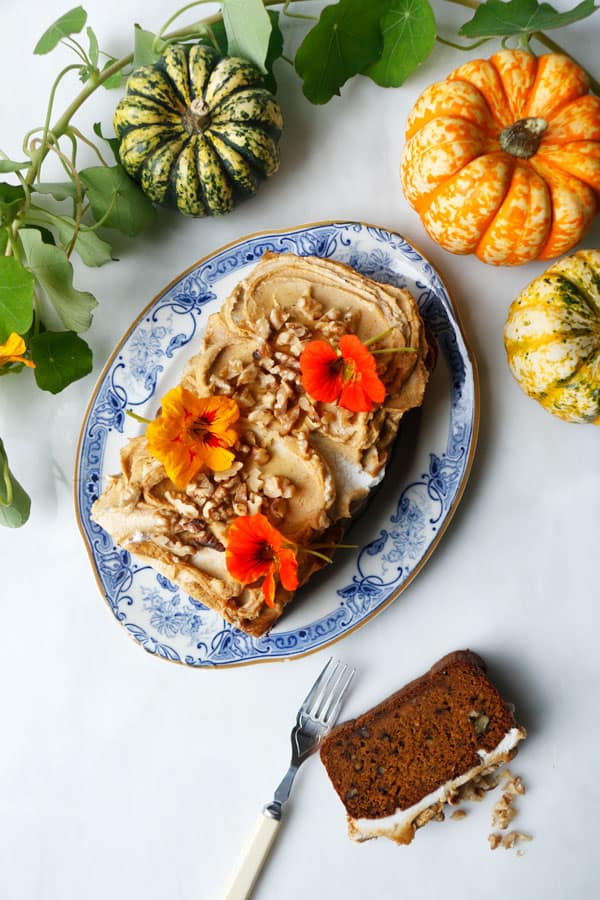 Yield: 8 to 10 slices
Pumpkin Walnut Bread with Salted Pumpkin Caramel (vegan & gluten-free)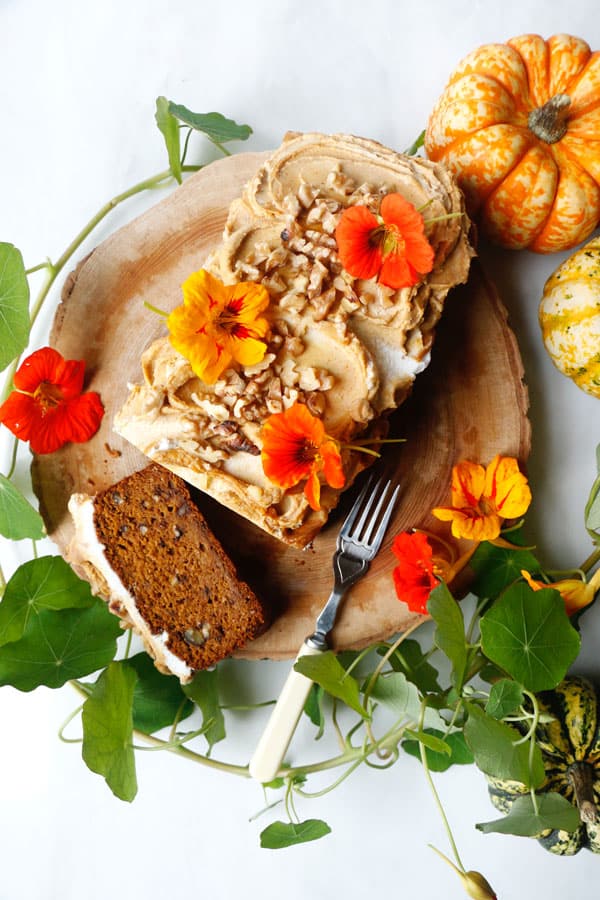 Ingredients
100g ground almonds or walnuts (1 cup)
70g buckwheat flour (1/2 cup)
70g brown rice flour (1/2 cup)
30g tapioca flour (1/4 cup)
1tsp baking powder
1tsp bicarbonate of soda
2tsp cinnamon
1tsp ginger
1tsp cardamom
1/4tsp cloves
1/4tsp allspice
1/4tsp nutmeg
pinch sea salt
1 orange, zest
100g coconut sugar (3/4 cup)
2tbsp ground flaxseed + 6tbsp water
300ml pumpkin puree (1 1/4 cup)
80ml olive oil (1/3 cup)
60ml almond milk (1/4 cup)
2tsp apple cider vinegar
75g walnuts, chopped (3/4 cup)
Topping:
whipped coconut cream
toasted walnuts
Instructions
Preheat the oven to 180°C (350F)
Grease and line 10" x 4½" loaf tin with baking paper.
Mix 2tbsp ground flaxseed with 6tbsp water and set aside to thicken.
In a large bowl whisk together ground almonds, buckwheat flour, brown rice flour, tapioca, baking powder, bicarbonate of soda, cinnamon, ginger, cardamom, cloves, allspice, nutmeg and sea salt. Whisk in the sugar and orange zest and set aside.
In a small bowl whisk together flax eggs, pumpkin puree, olive oil, almond milk and apple cider vinegar.
Add the wet mix to the dry mix and mix until well combined. You should have thick muffin consistency. Adjust milk or flour as needed. Fold in chopped walnuts.
Spoon the mixture evenly into your prepared tin and level out the surface.
Bake for about 45 to 55 min or until a cocktail stick comes out clean.
Remove from the oven once ready and leave to cool down for 20 min before removing from the tin.
Once the bread is completely cool, you can frost the top. Place the bread onto a serving plate and using spatula spread generously with some whipped coconut frosting. Drizzle with salted pumpkin caramel and swirl the two together. Top with few chopped toasted walnuts.
Enjoy!
Notes
Aim for thick batter to make it as a loaf. If you're making it as a lower cake aim for muffin consistency.
If you're not planning to frost the bread you can top the bread with chopped walnuts before baking.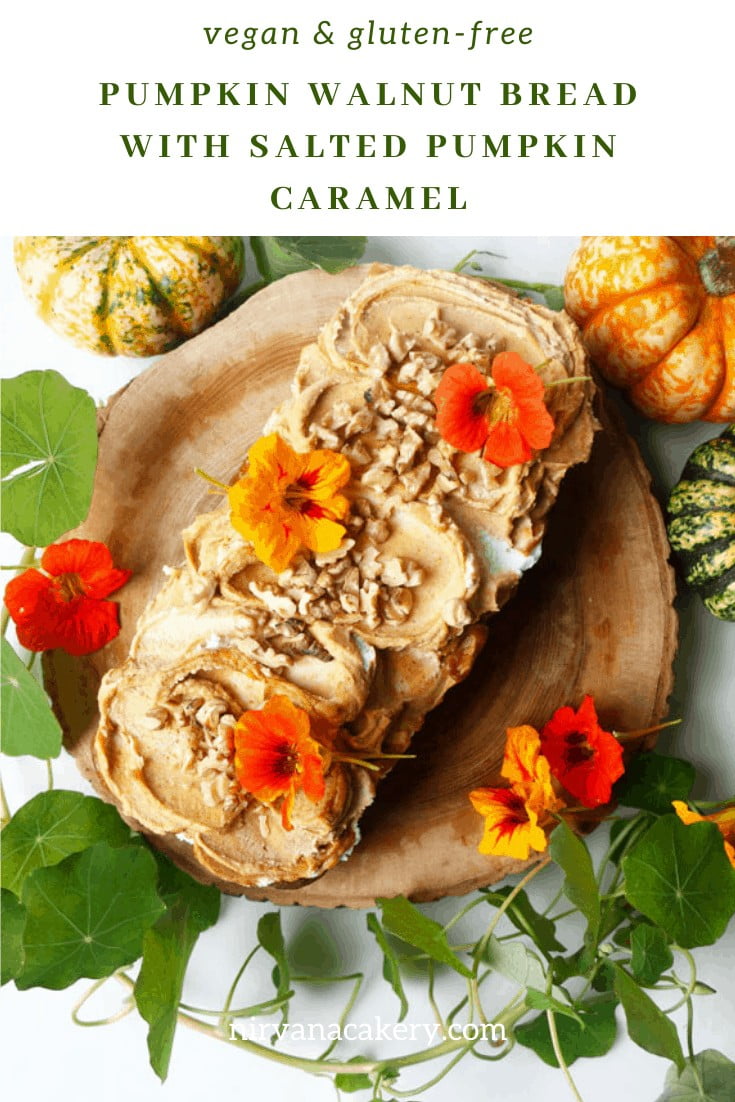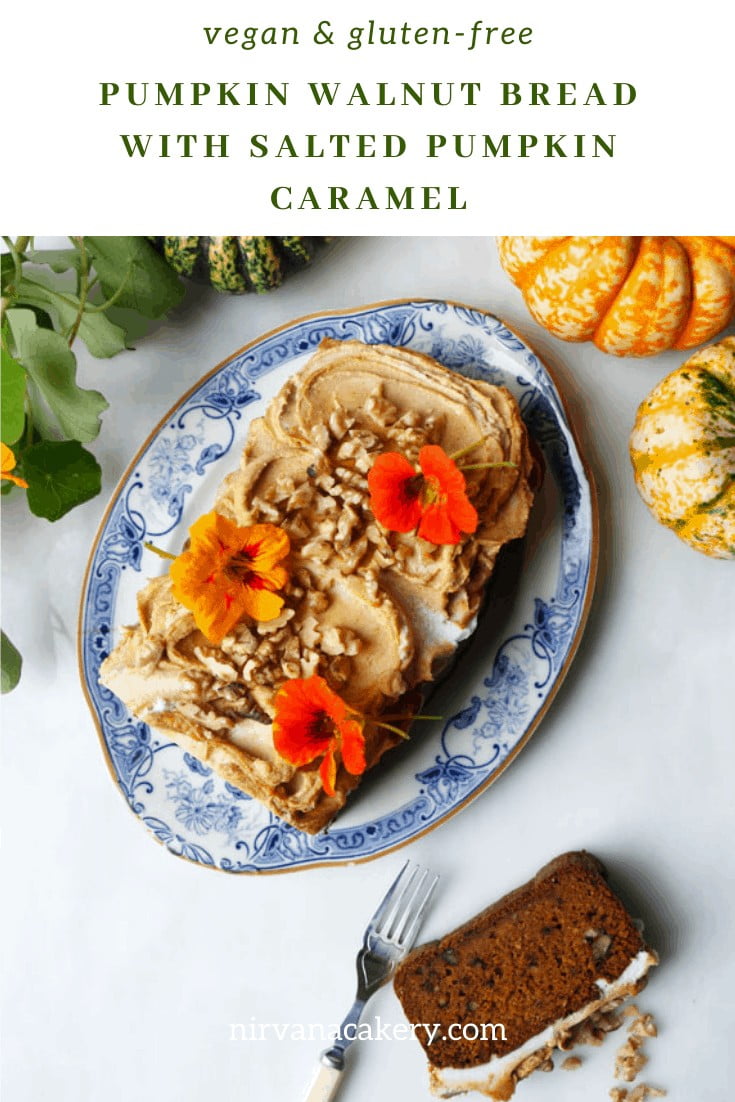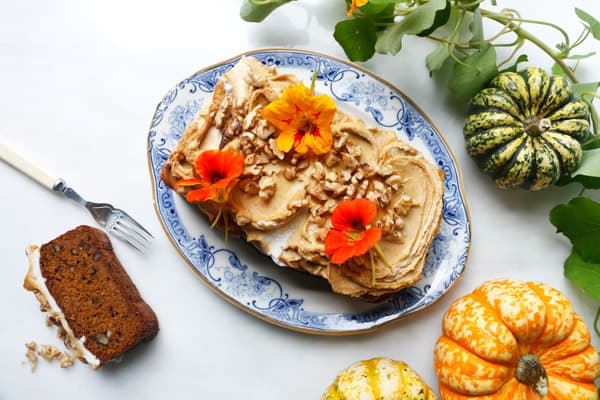 Similar Posts: