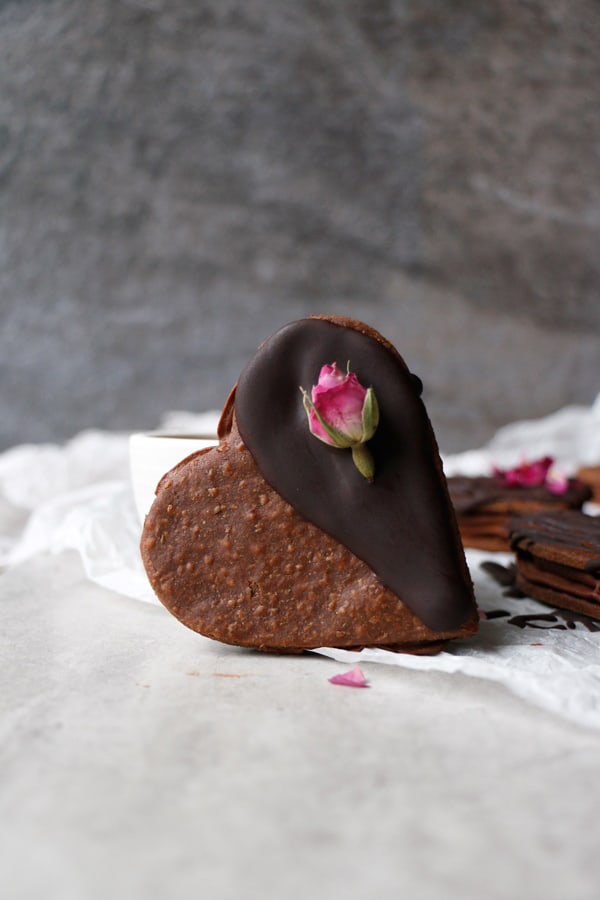 Special thank you to Amore di Mona for sponsoring this post.
I have to say I've been really enjoying creating themed holiday recipes, I loved creating all of the Christmas recipes and I absolutely loved making Valentines Day recipes in my collaboration with allergy friendly vegan chocolate Amore di Mona. Luckily Easter is coming soon and I already have some new requests from some of you, which is always so welcome.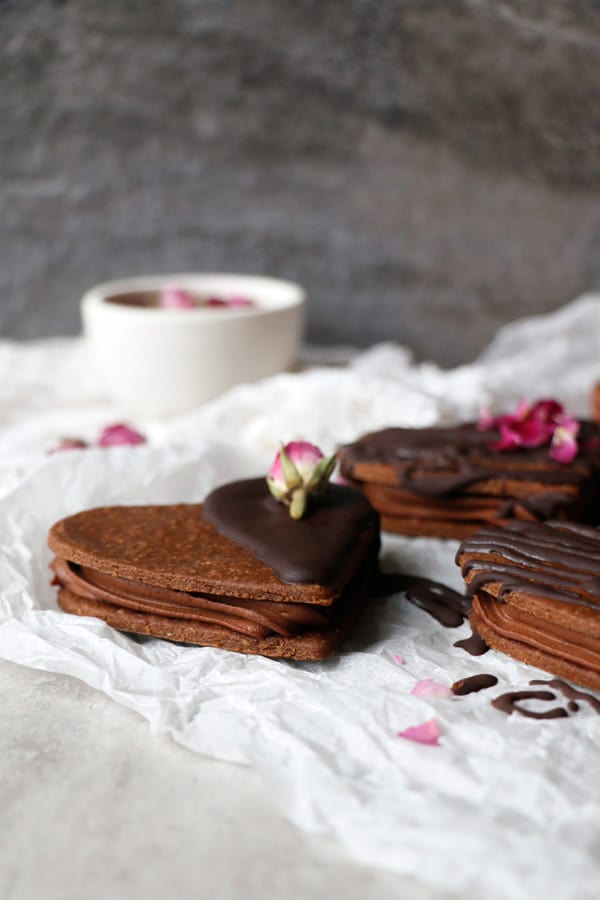 These Chocolate Quinoa Sandwich Cookies did give me little work, it's always a challenge creating vegan gluten-free recipes without the use of nuts and coconut products and I have to be really inventive. But I love a bit of challenge.
As always I kept the recipe as healthy and low in sugar as possible. I have adapted the cookie dough from a recipe by Jude Blereau, in which she has used olive oil to make her dough. I love using olive oil to make crackers, for cookies I sometimes find that they go too crispy, so you have to be careful not over baking them. But because these are sandwich cookies, the filling somewhat soften them and the olive oil works well in this recipe. If you can, you can always use coconut oil instead.
I've added some psyllium husk to the dough, but have also made it without it, and it works just the same, so feel free to leave it out. The dough is really lovely and very easy to roll out and cut out shapes.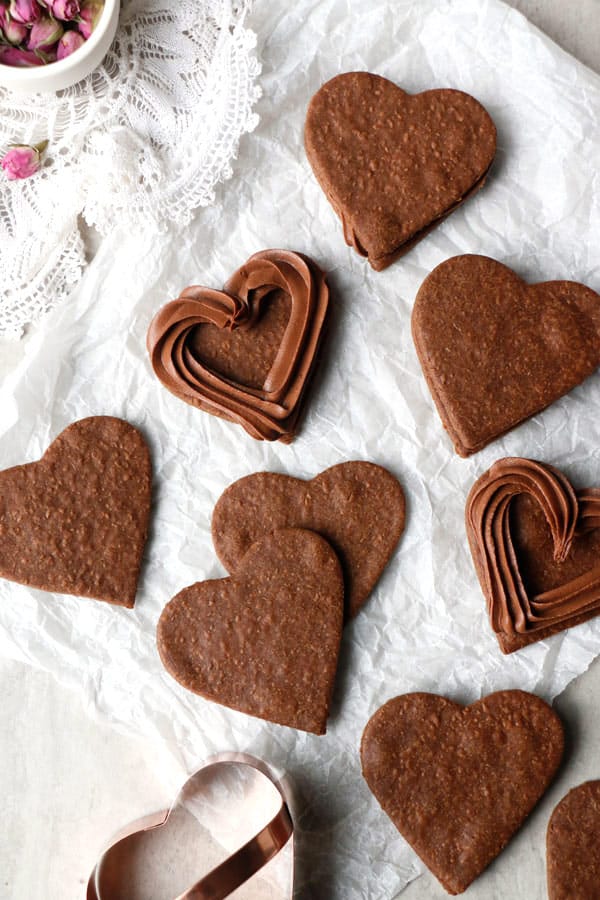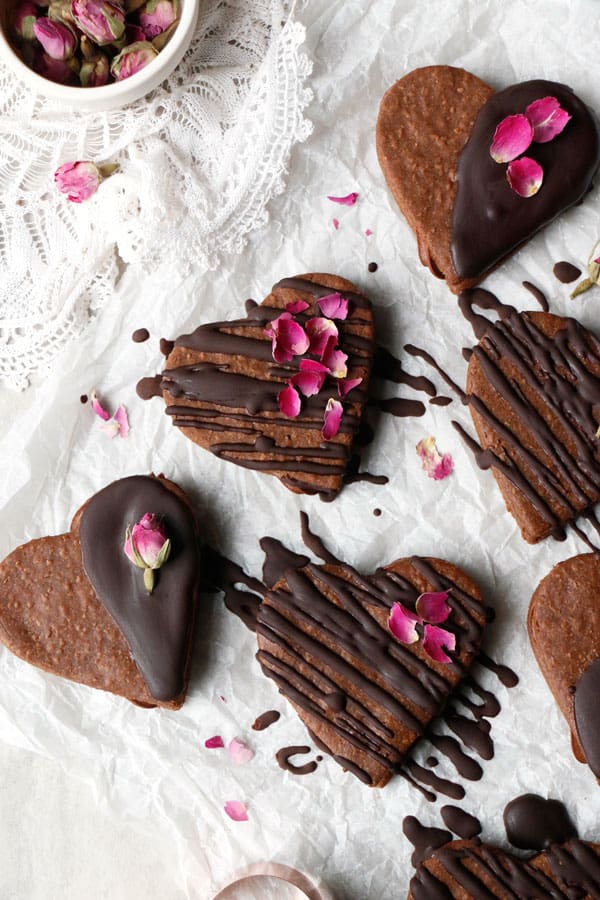 Now the filling I'm really excited about, it's so simple, super smooth and it pipes beautifully. It's similar to my teff frosting, but this time I've used quinoa flour. I really love the bitterness of quinoa with the dark chocolate, I think it's such perfect pairing. I've only added tiny bit of brown rice syrup so it's a very wholesome frosting, no icing sugar required in here.
And because it's Valentines Day, extra drizzle of chocolate is a must and a little sprinkle of rose petals.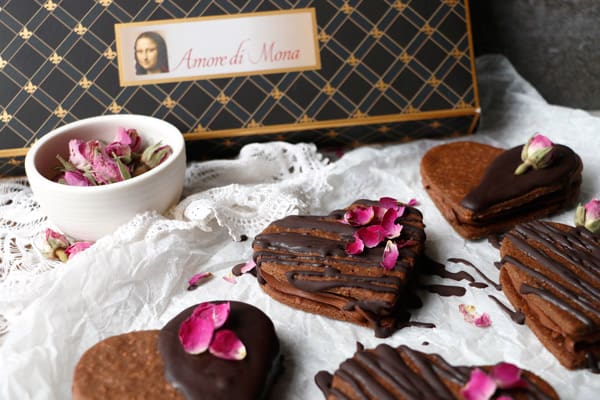 Yield: 7 sandwich cookies
Vegan Chocolate Quinoa Sandwich Cookies (gluten-free, nut-free)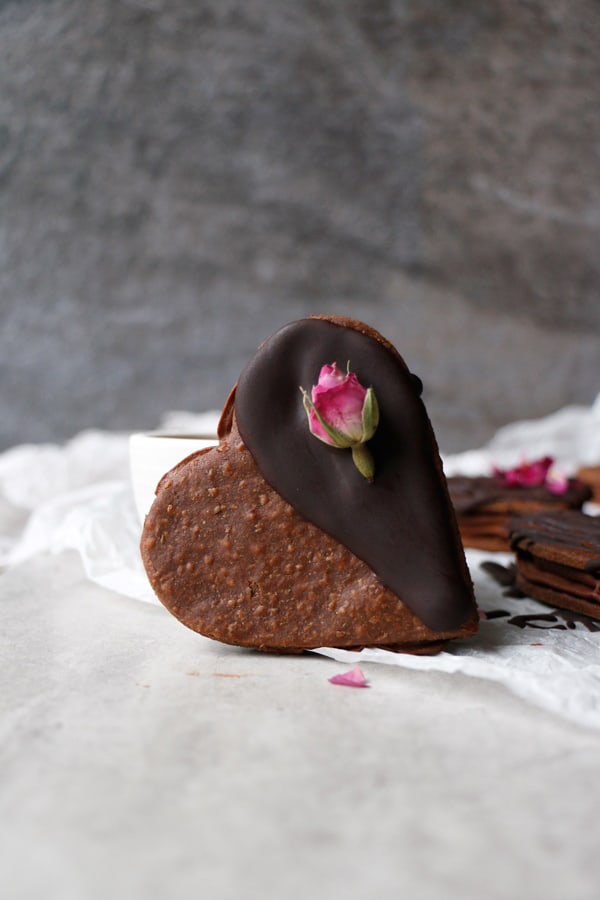 Ingredients
Chocolate cookies:
30g quinoa flour (1/4 cup)
35g brown rice flour (1/4 cup)
35g buckwheat flour (1/4 cup)
30g tapioca flour (1/4 cup)
2tbsp cacao powder
50g rapadura sugar (1/3 cup)
1/2tsp baking powder
1tsp psyllium husk + 1tbsp water
1tbsp ground flaxseed + 3tbsp water
60ml olive oil (1/4 cup)
Chocolate quinoa frosting:
30g quinoa flour (1/4 cup)
120ml rice milk (1/2 cup)
50g bulk chocolate (1 cube) or dark vegan chocolate (1.75oz)
1tbsp brown rice syrup
Topping:
50g bulk chocolate (1 cube) or dark vegan chocolate (1.75oz)
dried rose buds & rose petals
Instructions
Add 1tbsp of ground flaxseed with 1tsp of psyllium husk into a small bowl, add 4tbsp of water, stir and set aside to thicken.
In a large bowl whisk together quinoa flour, brown rice flour, buckwheat flour, tapioca flour, cacao, sugar and baking powder. Set aside.
Whisk olive oil into the flaxseed mixture and add to the dry mix.
Using a fork stir the mixture until it starts coming together and now use your hands to gently bring it into a smooth soft dough.
Shape the dough into a flat disk, wrap up in a cling film and refrigerate for at least 1 hour or overnight.
Preheat the oven to 180°C (350F)
Place the dough between 2 pieces of baking paper and roll out into 3-4mm thickness (just under 1/8"). Cut out heart shapes using a cookie cutter and using spatula knife carefully transfer each onto lined baking sheet.
Bake for about 12 minutes. It's tricky to tell when they are ready, remember they will harden as they cool down.
To make the frosting finely chop the chocolate and set aside. Measure 1/4 cup quinoa flour and place into a small pot with 1/2 cup (double the volume) of rice milk. Whisk well and gently heat on a low heat stirring constantly until the mixture gets really thick, continue to cook for couple more minutes, it should take no more than 5 minutes. Stir in brown rice syrup followed by chopped chocolate and stir until completely smooth. You should achieve frosting consistency. You can add another tbsp of rice syrup or warmed milk if it feels too thick. Leave to cool down and transfer into fridge until you are ready to sandwich the cookies.
Spoon the frosting into a piping bag fitted with a large nozzle. Pipe around the edge of each cookie and sandwich them together.
Gently melt the chocolate for the coating in a double boiler or microwave and stir until completely smooth. Dip, pour or drizzle each cookie generously. Sprinkle with few dried rose petals or rose buds.
Enjoy!
Notes
I've used quite large heart shape cookie cutter for this recipe, about 3". You can make the cookies in any shape or size.
If you don't have psyllium husk, you can replace it with 1tbsp of brown rice or maple syrup.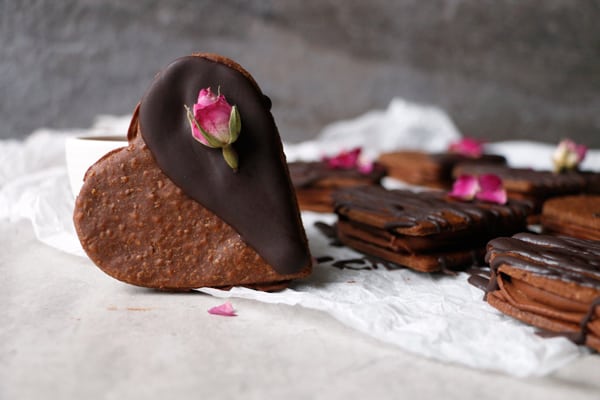 Similar Posts: