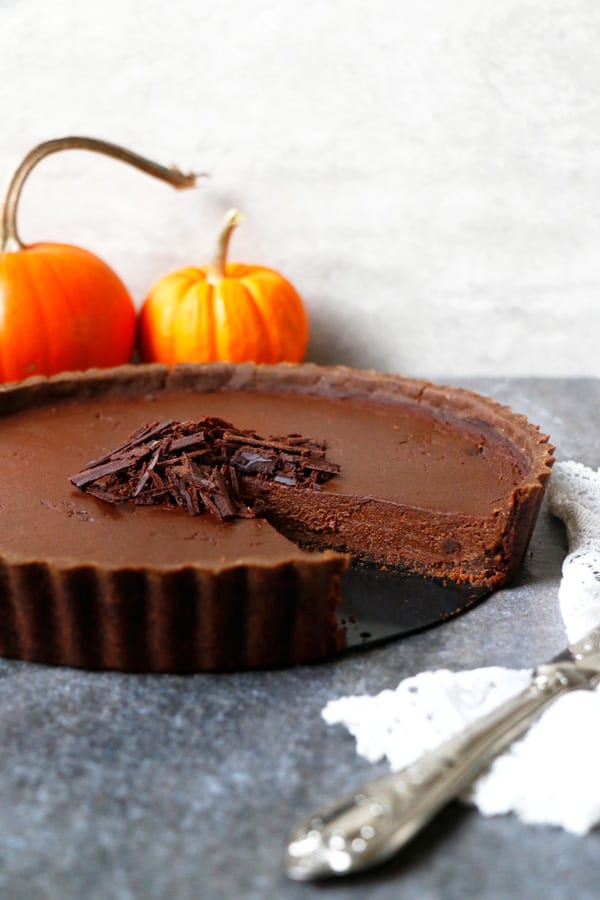 My first November post today and I've got just the right bake for you – Chocolate Pumpkin Tart. I've been working on this recipe for quite some time and it has been a challenge to say the least. I've been developing this recipe for Amore di Mona who has asked me to create a gluten-free, vegan, nut and coconut free Chocolate Pumpkin Pie.
In this recipe I really wanted to avoid using vegan butter and because I couldn't use coconut oil, which would have been a reliable choice I've decided to use olive oil. I've made some great dough with olive oil and pumpkin puree that was so easy to roll out, but once baked it was hard and gooey, not great. I've tried some recipes that I found online using olive oil, that absolutely didn't work. I was just about the give up and getting myself some vegan batter and then I remembered making olive oil and aquafaba chocolate pastry this summer that I came back to. And after few adjustments I've ended up with pastry that is soft and crumbly, just right. The perfectionist in me is still not completely satisfied, but the flavour, the right texture, it's there. Well, I most probably continue perfecting this dough for years to come and I will keep you updated.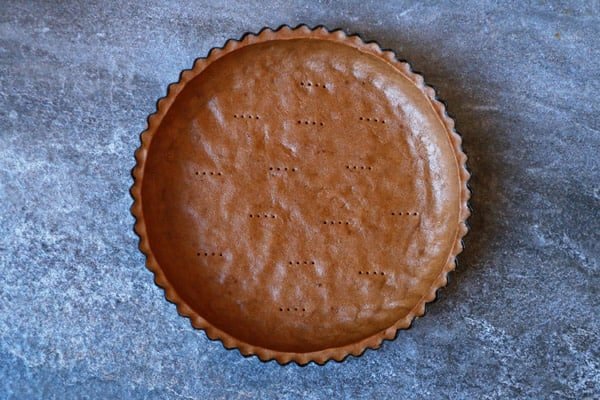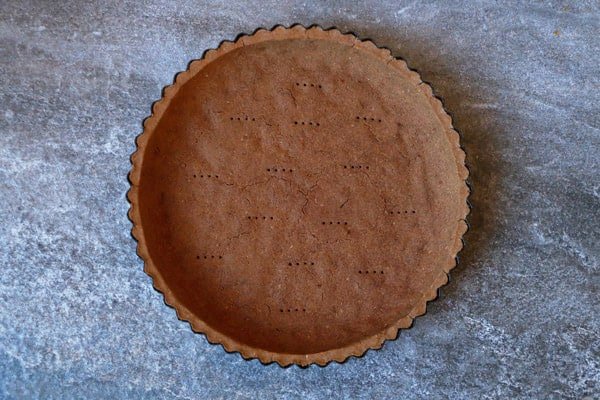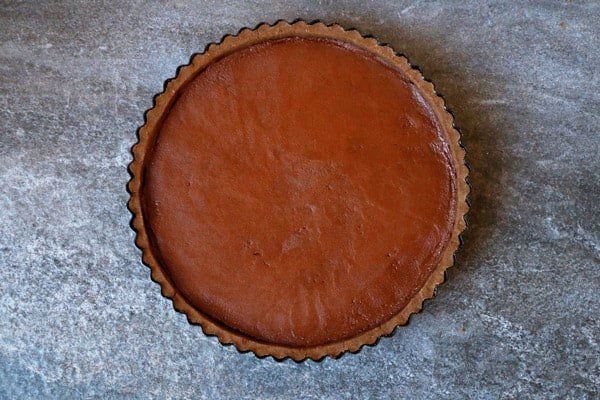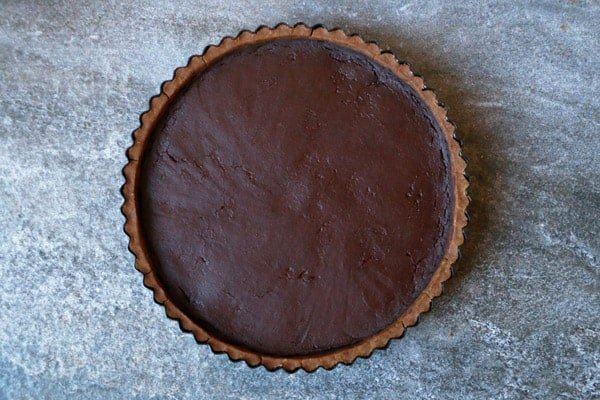 I've stack to using very wholesome ingredients and came back to using teff in this pastry which works really well. I've mixed the teff flour with some brown rice flour, tapioca and psyllium husk to make gluten-free mix. I've added apple cider vinegar with bicarbonate of soda to lift the dough and olive oil and aquafaba to bind it altogether. It's a nice dough and easy to press into your tin. Keep adding the aquafaba until you have moist, but not sticky dough, you want it as moist as possible, but not sticky. Although I've managed to roll it out the first time after about an hour in the fridge, I find it's the easiest to just press the dough into the tin right away. I've used a tart tin, but you can use a pie dish, whichever you prefer. Bake it on low temperature for 12 minutes, then add the filling and bake for another 15 minutes. Because the pastry has quite a few ingredients I've kept the filling very simple using quality Amore di Mona bulk chocolate, pumpkin puree, little maple syrup and spices. The flavour really is amazing, it's rich, chocolatey, yet delicate. The baked pumpkin and chocolate works like a dream making it the perfect Autumn dessert. I really hope you'll enjoy this recipe and please let me know what you think!
Special thank you to Amore di Mona for sponsoring this post.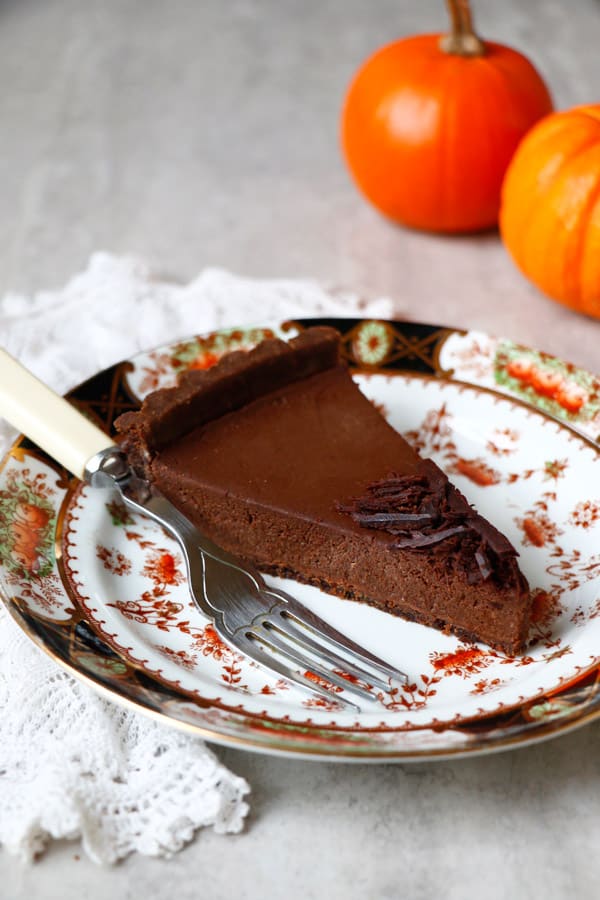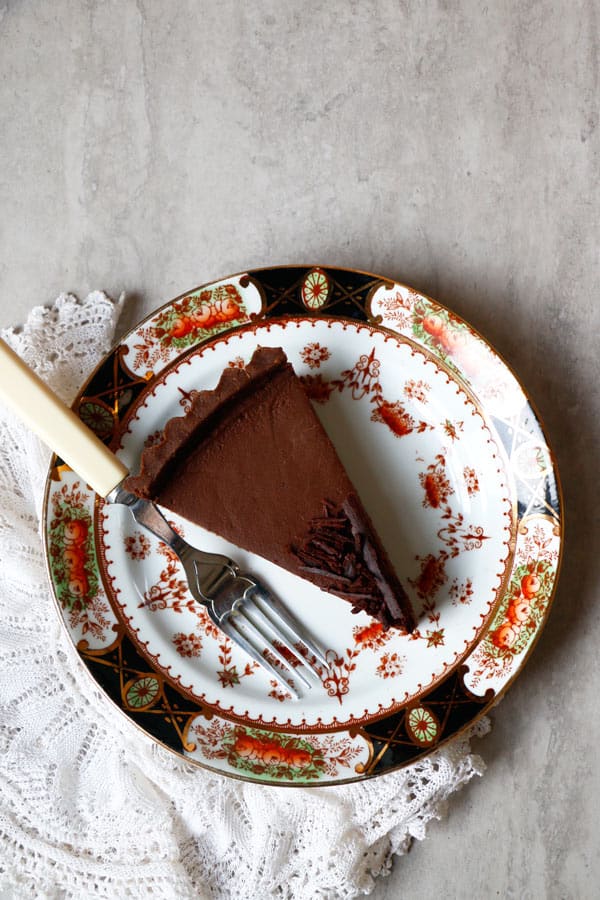 Yield: 9" tart
Chocolate Pumpkin Tart (vegan, gluten-free, nut-free)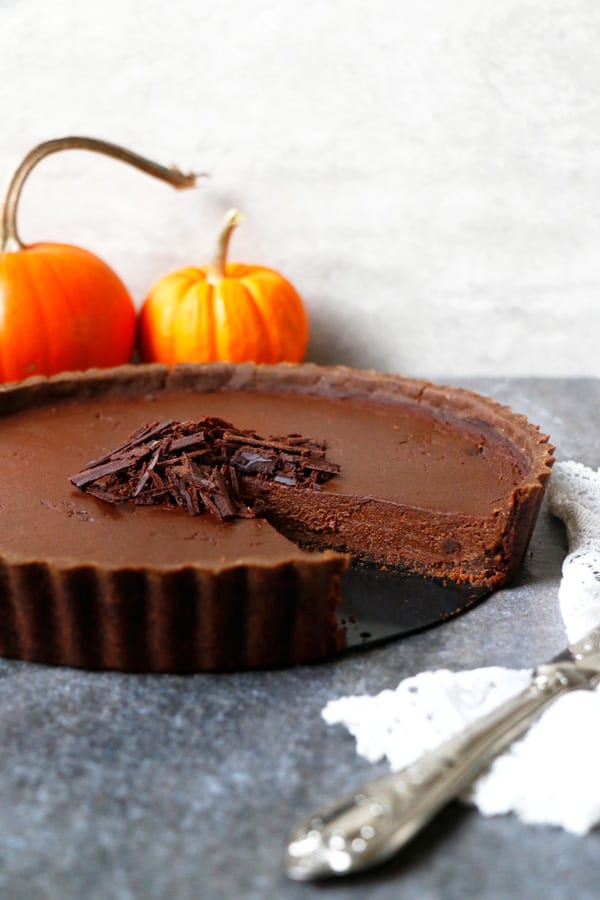 Ingredients
Crust:
70g teff flour (1/2 cup)
70g brown rice flour (1/2 cup)
30g tapioca flour (1/4 cup)
1tbsp raw cacao powder
1/2tbsp raw sugar
1tsp psyllium husk
1/2tsp bicarbonate of soda
pinch sea salt
60ml olive oil (1/4 cup)
1/2tsp apple cider vinegar
80ml aquafaba + 2tbsp as needed (1/3 cup)
Filling:
360ml pumpkin puree (1 1/2 cup)
2tbsp maple syrup
1tsp cinnamon
1/4tsp ground ginger
1/8tsp cloves
1/8tsp nutmeg
200g bulk chocolate (3 1/2 cubes) or dark vegan chocolate (7oz)
Instructions
Preheat the oven to 170°C (340F)
In a large bowl whisk together teff flour, brown rice flour, tapioca, cacao, sugar, psyllium husk, bicarbonate of soda and salt.
Mix olive oil with apple cider vinegar, add to the dry mix and stir until incorporated.
Slowly start adding aquafaba until the mix comes together into a dough. Add a little extra by 1/2tbsp at a time until the dough is moist enough, but not sticky. You want it as moist as possible without being sticky.
Lightly oil 9" tart tin or pie dish and evenly press the dough onto the base and up the sides to form a crust. Pierce the base few times with a fork and blind bake for 12 minutes.
Prepare the filling in the meantime. In a medium pot gently warm pumpkin puree with maple syrup and spices.
In a double boiler or microwave melt the chocolate, add to the pumpkin mix and stir until all incorporated.
Spoon the mix onto the partially baked crust and smooth out the top.
Return into the oven and bake for further 15 minutes.
Leave to cool down completely and transfer to the fridge for couple of hours.
Serve with some chocolate shavings or drizzle of melted chocolate.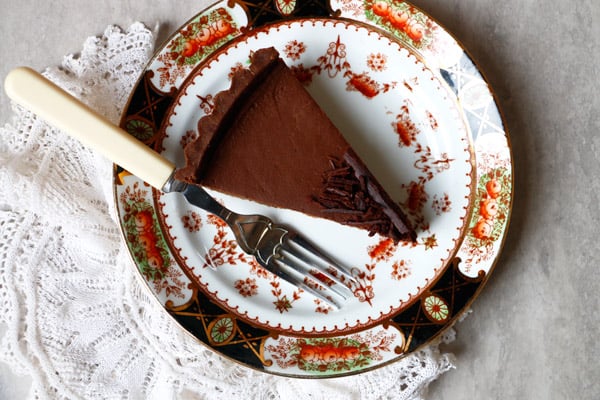 Similar Posts: