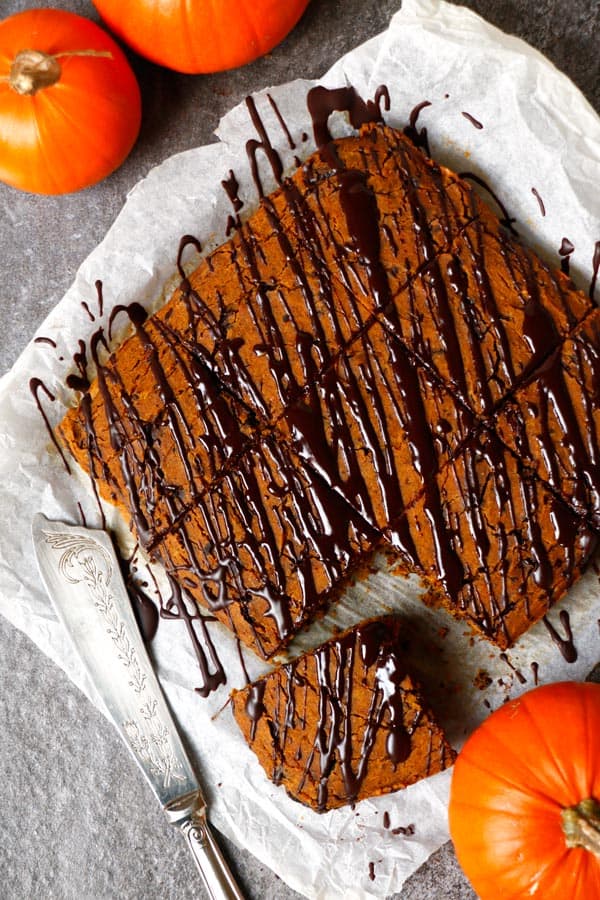 Autumn is in full swing now, Halloween around the corner and I have the first pumpkin bake for you today – Pumpkin Chocolate Bars. A very cozy Autumnal treat, wholesome and chocolate rich, just what we need at this time of a year. I love everything pumpkin and have been collecting the cutest pumpkins from my local Farmers market for a while now. I've made my own pumpkin puree for this recipe and it couldn't be simpler.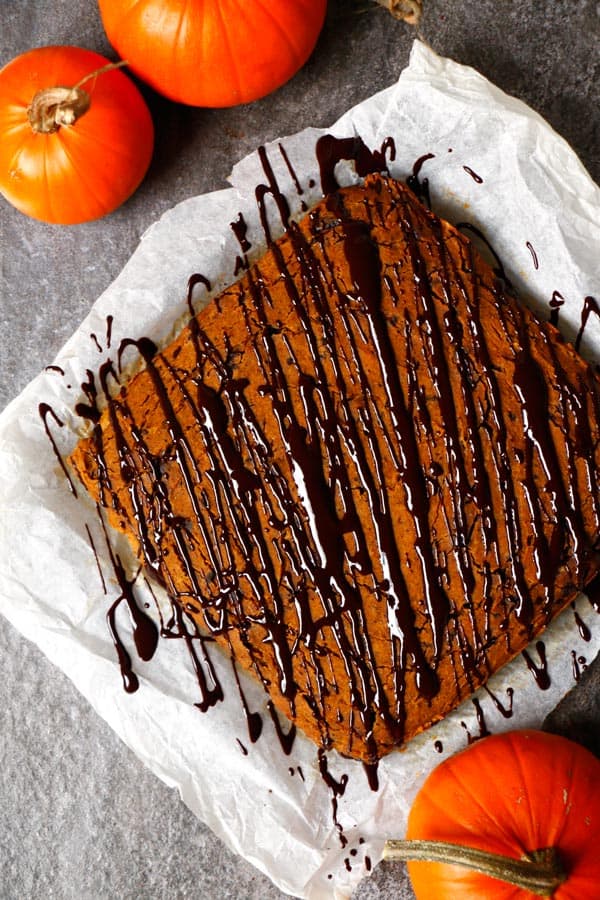 This recipe is another vegan, gluten-free, nut and coconut-free recipe from my collaboration with Amore di Mona chocolate and I've talked about their lovely chocolate in this post if you like to have a read. I'm collaborating on these recipes, because I also get asked for nut, oat and coconut-free recipes from my readers. Most of the vegan and gluten-free desserts rely heavily on nuts and coconut and as much as I love to use them I also love creating these wholesome allergy friendly recipes for you.
Now to this bake, the recipe is fairly simple, I've used lovely warming spices and brown rice, buckwheat and arrowroot gluten-free blend. The bars are quite high and you could get away by using larger baking dish if you like or even use the mix to bake some muffins, just adjust the baking time accordingly. If you like to make your own pumpkin puree, carefully cut your pumpkin in half, scoop out the seeds and place onto a baking tray. Bake on 200°C for about 45 minutes or until soft when pierced with a fork. Scoop out the flesh and blend until smooth. Refrigerate until ready to use and bake this yummy treat. Happy Autumn! x
Special thank you to Amore di Mona for sponsoring this post.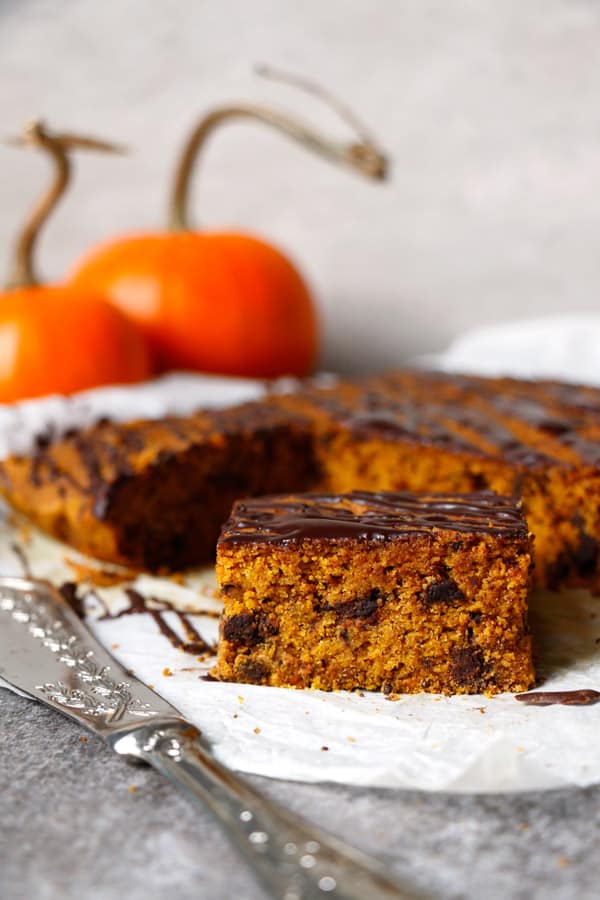 Yield: 9 large bars
Pumpkin Chocolate Bars (vegan, gluten-free, nut-free)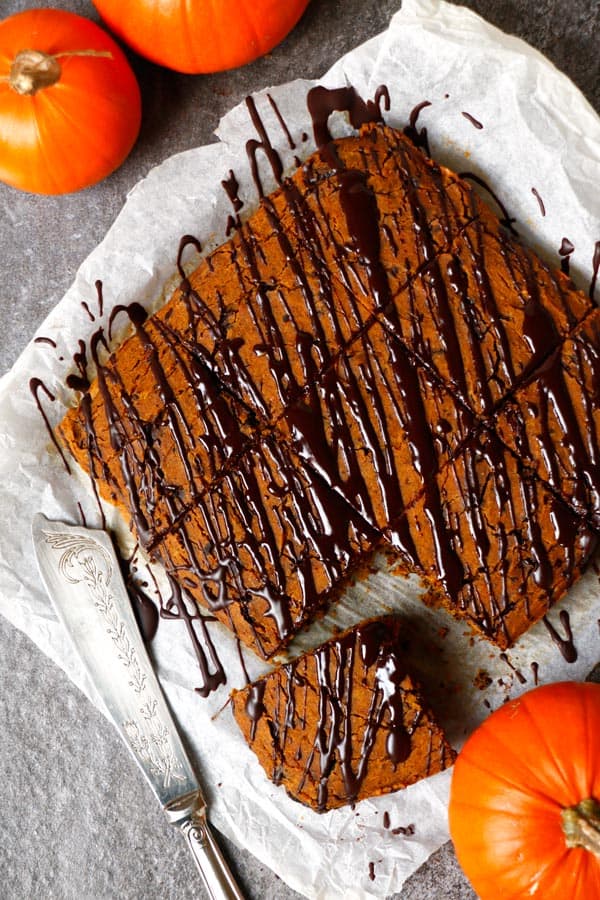 Ingredients
480ml pumpkin puree (1 cup)
140g brown rice flour (1 cup)
70g buckwheat flour (1/2 cup)
30g arrowroot (1/4 cup)
50g rapadura sugar (1/3 cup)
1tsp baking powder
1tsp bicarbonate of soda
1tsp cinnamon
1/2tsp ginger
1/8tsp cloves
1/8tsp nutmeg
pinch of sea salt
2tbsp ground flaxseed + 6tbsp water
80ml olive oil (1/3 cup)
60ml maple syrup (1/4 cup)
2tsp apple cider vinegar
2tbsp plus more if needed rice milk
100g bulk chocolate (2 cubes) or dark vegan chocolate (3.5oz)
Chocolate drizzle:
50g bulk chocolate (1 cube) or dark vegan chocolate (1.75 oz)
Instructions
Preheat the oven to 180°C (160°C fan)
Line 9" x 9" baking dish with baking paper.
Mix 2tbsp of ground flaxseed with water and set aside to thicken.
Chop the chocolate and set aside.
In a large bowl whisk together brown rice flour, buckwheat flour, arrowroot, sugar, baking powder, bicarbonate of soda, cinnamon, ginger, cloves, nutmeg and salt. Set aside.
In a small bowl whisk together flax eggs, olive oil, maple syrup and apple cider vinegar. Whisk in pumpkin puree.
Add the wet mix to the dry mix and mix until well combined. If the mix is too thick add 2tbsp of rice milk at a time. You want to achieve a moist muffin like consistency.
Gently fold in chopped chocolate.
Spoon the mixture into the prepared dish and smooth out the top.
Bake for about 30 minutes or until a cocktail stick comes out clean. Try not to over bake them so they don't get too dry.
Remove from the oven once ready and leave to cool down before removing from the tin.
Gently melt the chocolate in a double boiler or microwave and drizzle over the bars.
Cut into 9 bars.
Enjoy!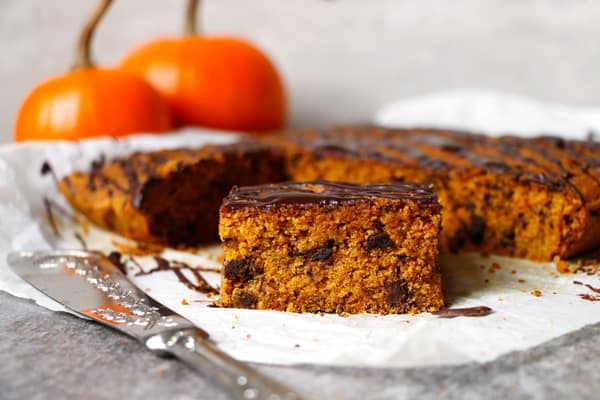 Similar Posts: