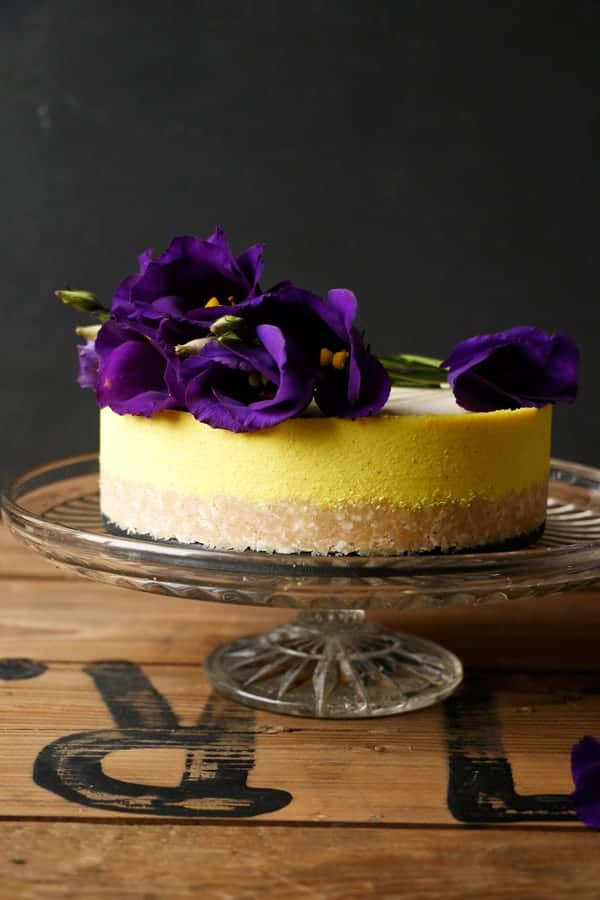 Since I've made my Golden Paste I've completely fell in love with the flavour and I absolutely had to make a Golden Milk Cake. One of you have reached out to me recently and asked me for a candida diet friendly cake and so I've created this cake especially for you if you're on a sugar-free diet.
This Golden Milk Macadamia Cheesecake is free from dried fruit and I've used candida diet friendly nuts – almonds, macadamias and coconut. The recommended sweetener for this type of diet is stevia. Now I'm not entirely sure about stevia and the way it's processed, so you will have to do your research and source the purest stevia you can find. I'm also including the option to use maple syrup or your favourite sweetener in the recipe to give you more choice.
For the crust I've used ground almonds, desiccated coconut and coconut oil with little bit of water to help to bind it together. You can add few drops of stevia to the mix, leave it unsweetened or add a tablespoon of your favourite sweetener.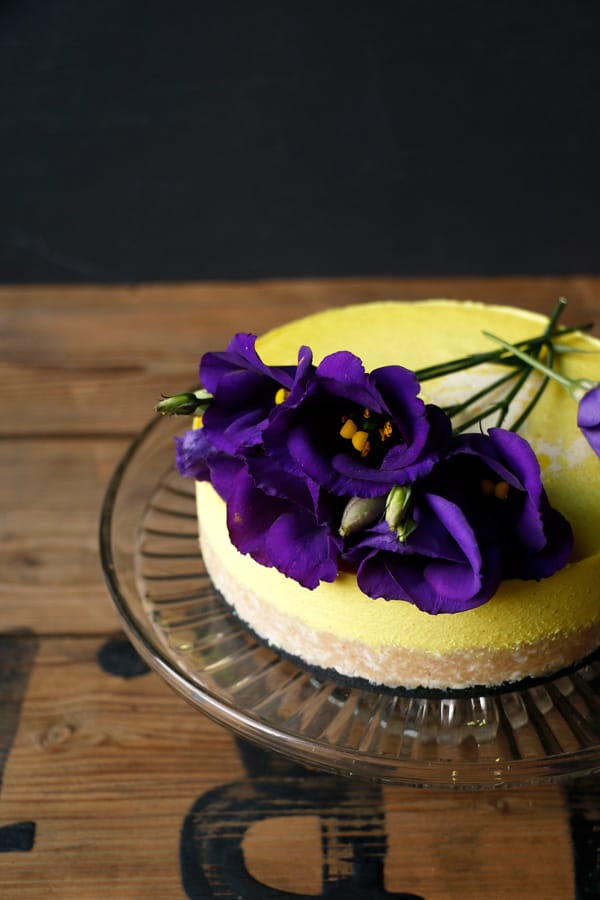 Same with the golden paste macadamia layer. I've used soaked macadamia nuts, coconut butter, golden paste, spices and water, to this you can add few drops of stevia or your favourite sweetener. Do customise the recipe to your preference. If you don't have golden paste (I do highly recommend that you try it and make some), you can add fresh or dried turmeric instead. But the flavour is just so much better with the paste plus the golden yellow colour which comes through is just stunning.
Hope this will do as a little treat :)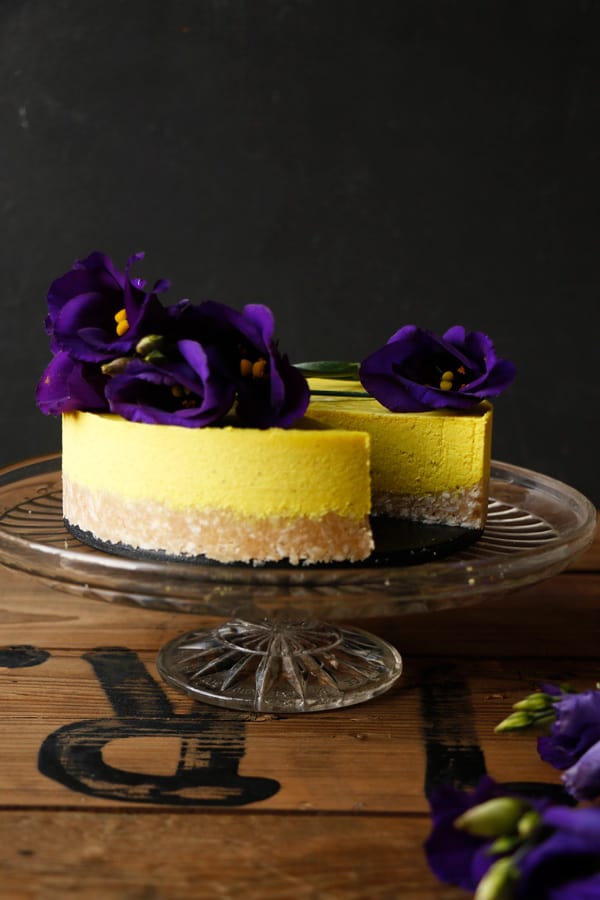 Yield: 6" cake
Golden Milk Macadamia Cheesecake (grain-free & vegan)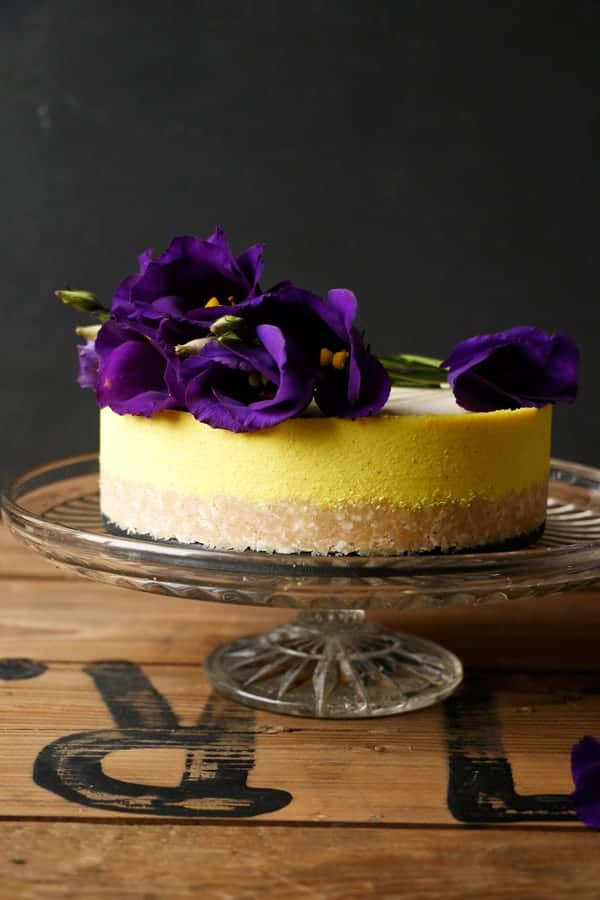 Ingredients
Crust layer:
100g ground almonds (1 cup)
50g desiccated coconut (1/2 cup)
1/2tsp cinnamon
pinch sea salt
4tbsp coconut oil, melted
few drops of stevia to taste or 1tbsp maple syrup
1tbsp water as needed
Golden milk layer:
120g macadamia nuts, soaked overnight (1 cup)
few drops of stevia to taste or 60ml maple syrup (1/4 cup)
120ml or more as needed water (1/2 cup)
200g coconut butter (1 cup)
1/2tsp cinnamon
1/2tsp cardamom
1/4tsp ginger
1tsp vanilla
Instructions
Prepare 6" round cake tin with removable base, no need to grease it.
In a large bowl whisk ground almonds, desiccated coconut, cinnamon and sea salt. Add melted coconut oil, few drops of stevia and up to 1tbsp of water to help the mixture to stick together. If you're using maple syrup you most probably don't need the water and you could also use less coconut oil. Spoon the mix into the tin, spread evenly onto the base and press tightly down. Place into a fridge.
In a double boiler gently melt coconut butter and set aside.
Rinse the soaked macadamia nuts under running water and place into high speed blender or food processor. Add few drops of stevia or maple syrup if using and enough water to blend until smooth. Now add coconut butter, golden paste, cinnamon, cardamom, ginger and vanilla and blend until incorporated into smooth creamy texture.
Spoon onto the crust layer and smooth out the top.
Place into a freezer overnight or for at least few hours to set.
Once set carefully remove from the tin.
Place onto a cake stand and decorate with toppings of your choice.
Store in a fridge or freezer. This cake will keep solid in fridge.
Enjoy!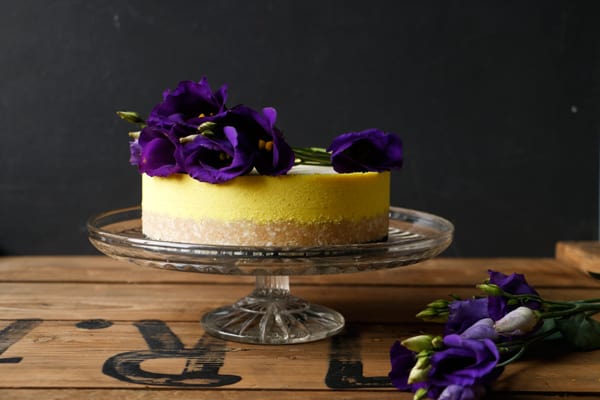 Similar Posts: