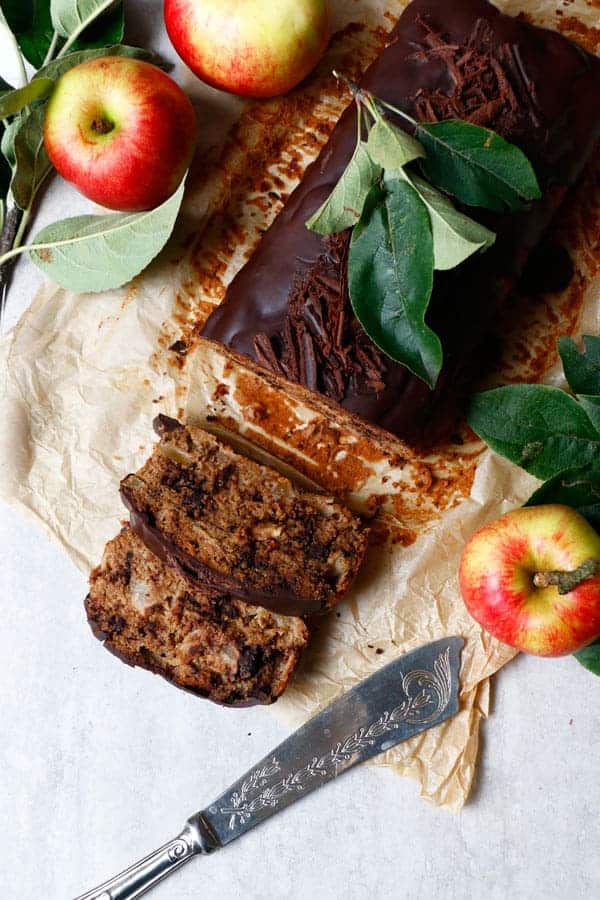 This Chocolate Apple Cake is another recipe in a series of vegan, gluten-free, nut-free and coconut-free recipes that I've been working on in my collaboration with Amore di Mona vegan and allergy friendly chocolate. It's an autumnal inspired cake that is beautifully moist and full of earthy flavours. The sweetness of apples mingle nicely with dark chocolate, quinoa, brown rice and cinnamon creating a beautiful autumnal baked treat.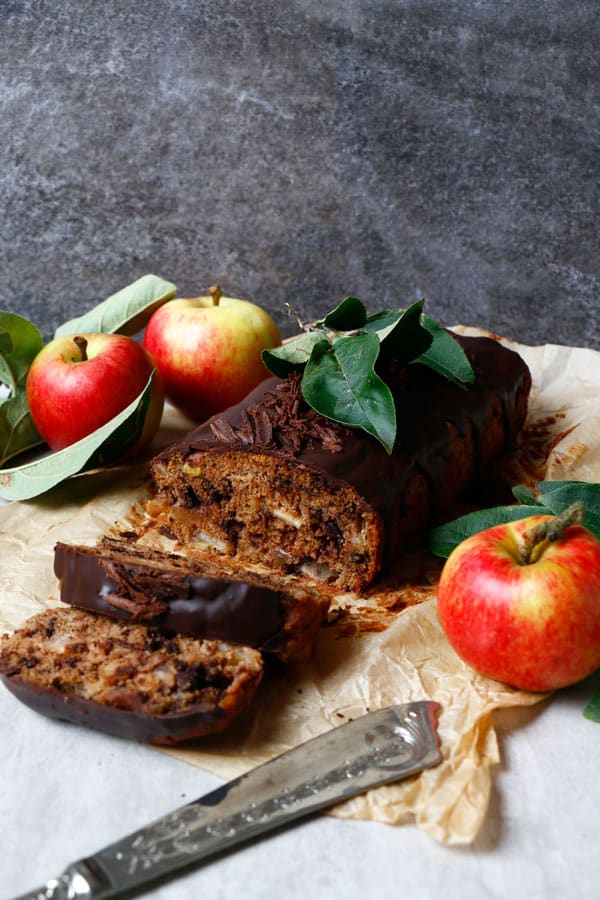 This time I've played with a mix of quinoa and brown rice flours to create a gluten-free mix, which pairs lovely with chocolate and apples. For the wet mix I've used home made apple sauce, flax eggs and olive oil which make the cake really moist. The apple and chocolate pieces in the cake make the structure slightly more fragile and so I've used a bread tin lined with a baking paper to bake this cake to keep it more sturdy. I don't like to add gums into my gluten-free mix and like to keep my cake batter as natural as possible. It's also best to slice the apples into small thin pieces and I also recommend cooling the cake in the tin and using sharp knife for slicing. This recipe would also make great muffins. The Amore di Mona melted dark chocolate coating brings it all together and makes the cake more special and fit for celebration. Enjoy:) x
Special thank you to Amore di Mona for sponsoring this post.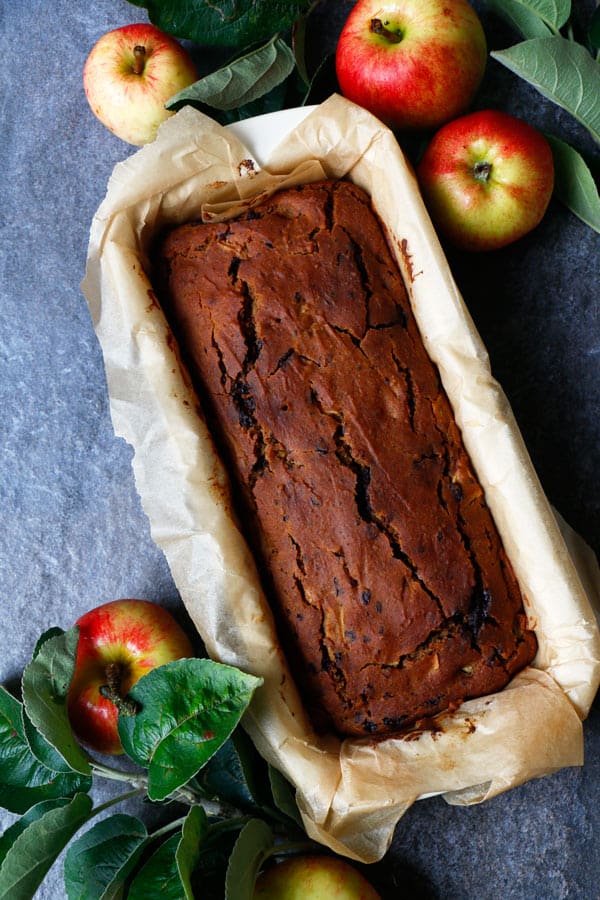 Yield: 10" loaf cake
Chocolate Apple Cake (vegan, gluten-free, nut-free)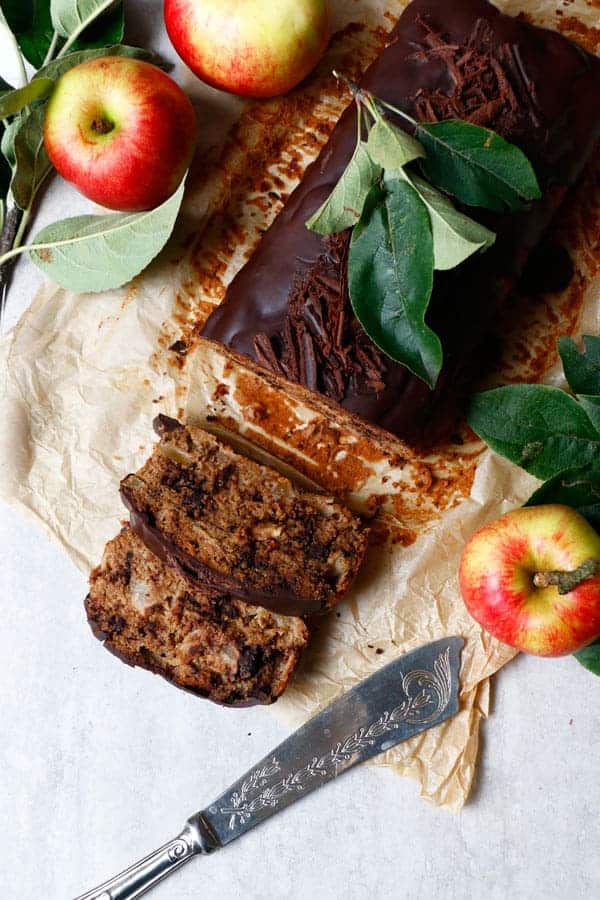 Ingredients
2 apples, sliced into small pieces
100g bulk chocolate (2 cubes) or dark vegan chocolate (3.5oz)
60g quinoa flour (1/2 cup)
140g brown rice flour (1 cup)
30g arrowroot (1/4 cup)
75g rapadura sugar (1/2 cup)
1tsp baking powder
1tsp bicarbonate of soda
1tsp cinnamon
pinch of sea salt
180ml apple sauce (3/4 cup)
2tbsp ground flaxseed + 6tbsp water
80ml olive oil (1/3 cup)
2tsp apple cider vinegar
1tsp vanilla
Coating:
100g bulk chocolate (2 cubes) or dark vegan chocolate (3.5oz)
Instructions
Preheat the oven to 180°C (160°C fan)
Line 10" x 4 1/2" loaf tin with baking paper.
Mix 2tbsp of ground flaxseed with water and set aside to thicken.
Peel, core and thinly slice the apples into small pieces and set aside.
Chop the chocolate and set aside.
In a large bowl whisk together quinoa flour, brown rice flour, arrowroot, sugar, baking powder, bicarbonate of soda, cinnamon and salt. Set aside.
In a small bowl whisk together flax eggs, olive oil, apple cider vinegar and vanilla. Whisk in 120ml (1/2 cup) of apple sauce.
Add the wet mix to the dry mix and mix until well combined. If the mix is too thick add the leftover apple sauce. You want to achieve a muffin like consistency. Depending on the consistency of the flour you've used you might need less or more.
Gently fold in apples and chocolate pieces.
Spoon the mixture into the prepared tin.
Bake for about 40-45min or until a cocktail stick comes out clean.
Remove from the oven once ready and leave to cool down in the tin.
Gently melt the chocolate in a double boiler or microwave and leave to cool down. Pour over to coat the cake, top with chocolate shavings.
Enjoy!
Notes
To make the apple sauce, peel, core and chop 3 apples. Place into a small pot, cover with water and boil for about 15 minutes until soft. Leave to cool down, strain and blend until smooth. Store in fridge until ready to use.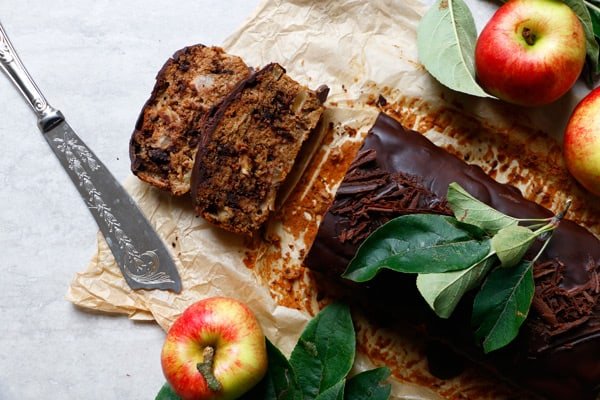 Similar Posts: