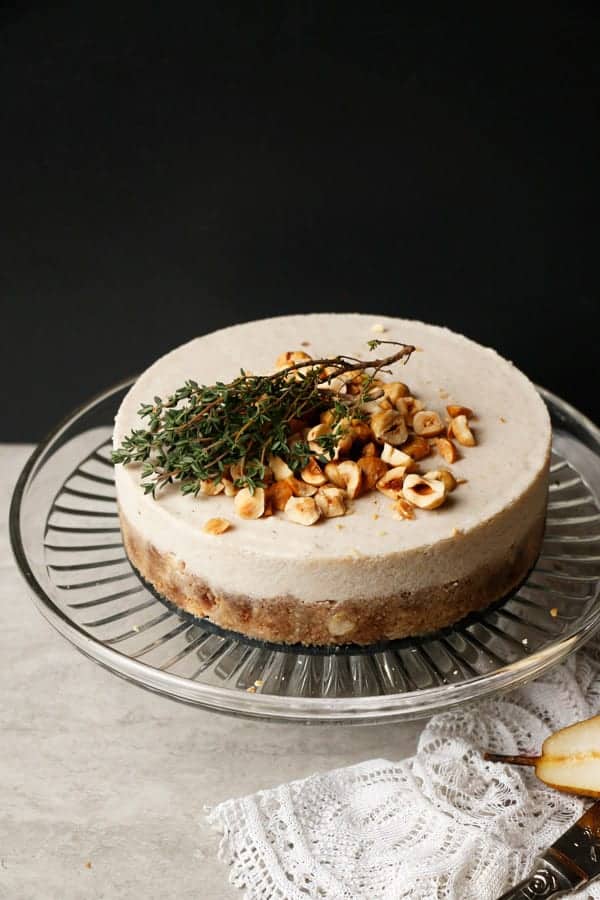 As promised I've got one delicious Parsnip Pear Hazelnut Cake recipe for you today. This is a raw cake that is inspired by a cake by Lily Vanilli that I used to bake few years back now.
I've always loved the combination of parsnips, pear, ginger and hazelnuts and I wanted to remake it in a raw cake. This is a lovely cake combination with soft gentle flavours and hints of ginger in between. Just beautiful.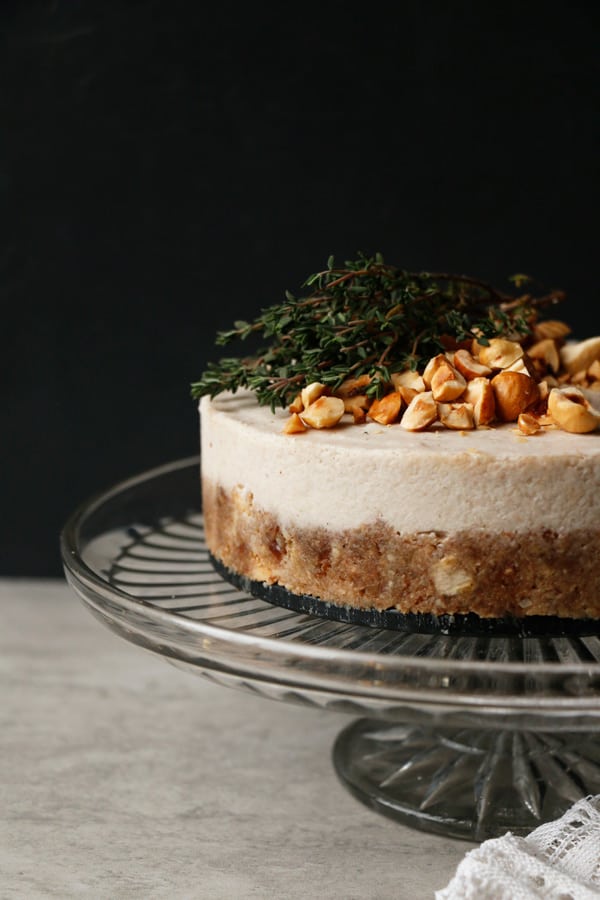 As with all raw cakes they are simple and quick to make but do take some time to set before you can enjoy them and are the best to make the night before.
The base layer is a similar mix to my Parsnip Pizza, but with the addition of medjool dates and fresh ginger. This mixture is so yummy, you could just eat it as it is! The creamy top layer is a mix of coconut butter, pureed pears and ginger. I've added ginger into both layers, but you don't have to, you could even leave it out if you like without affecting the recipe much.
You can decorate the cake any way you like, I wanted to keep it very simple and elegant because the colours are very soft and used chopped hazelnuts and a few thyme sprigs. Enjoy:)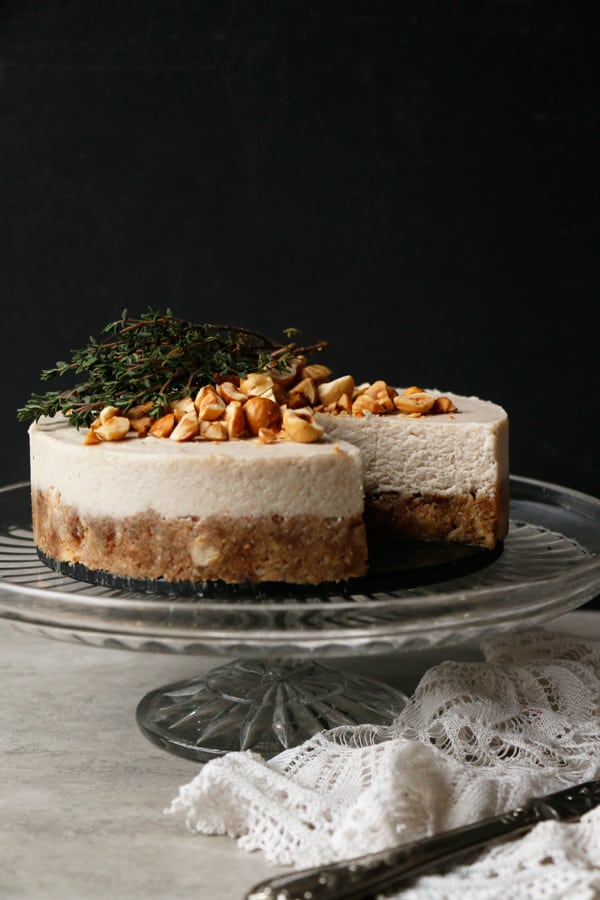 Parsnip Pear Hazelnut Cake (raw, vegan, grain-free)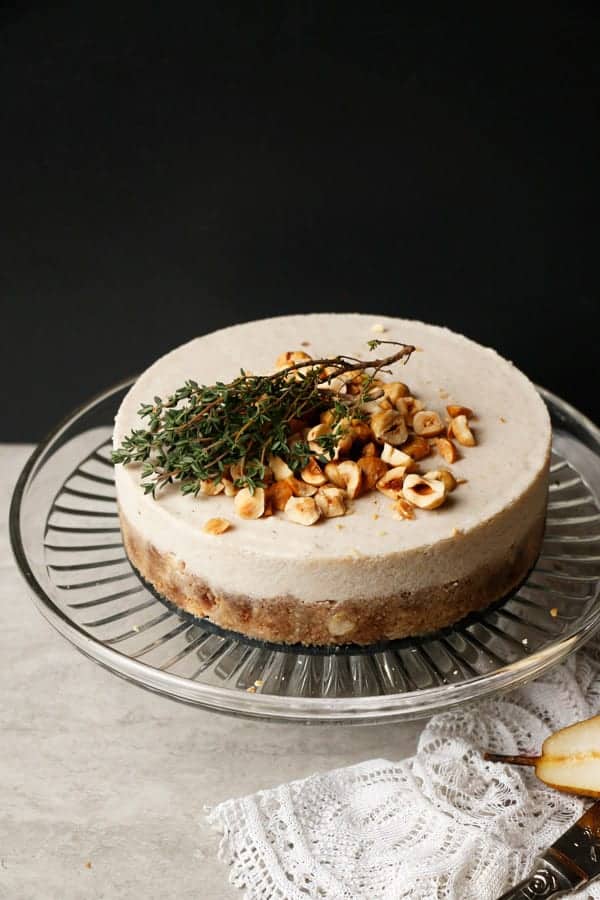 Ingredients
Parsnip hazelnut layer:
110g parsnips, peeled and coarsely grated (1 cup)
1tsp fresh ginger, peeled and grated
1tsp lemon juice
100g hazelnuts (3/4 cup)
30g sunflower seeds (1/4 cup)
1/2tsp cinnamon
pinch pink salt
6 medjool dates, pitted
Pear coconut layer:
2 large pears
1tsp fresh ginger, peeled and grated
1tsp lemon juice
200g coconut butter (1 cup)
2tbsp maple syrup
1/2tsp cinnamon
Topping:
chopped hazelnuts
fresh thyme sprigs
Instructions
You will need 6" round cake tin with removable base.
To make the base layer peel and roughly grate the parsnips, peel and finely grate ginger, squeeze lemon juice over, stir and set aside.
Place hazelnuts and sunflower seeds into a food processor or high speed blender and pulse until roughly ground.
Add cinnamon, salt and pitted medjool dates and pulse until the mixture comes together.
Scoop the mix into a bowl with the parsnip mix and stir together until incorporated. You can also add the parsnip mix into the food processor and pulse just until incorporated.
Spoon the mix into the tin, spread evenly onto the base and press down. Place into a fridge.
In a double boiler gently melt coconut butter, leave to cool down.
Stir in maple syrup and cinnamon.
Peel, quarter and core the pears, place into blender or food processor with ginger and lemon juice and blend until smooth. Stir into the coconut butter mix and spoon onto the crust layer.
Place into a freezer for about 1 hour to set, just enough so it's easy to remove from the tin. You can also leave it to set in fridge for at least 2 hours.
Once the cake is set, carefully remove from the tin, place onto a cake stand and top with chopped hazelnuts and fresh thyme sprigs.
Store in a fridge or slice leftovers to keep in freezer.
Enjoy!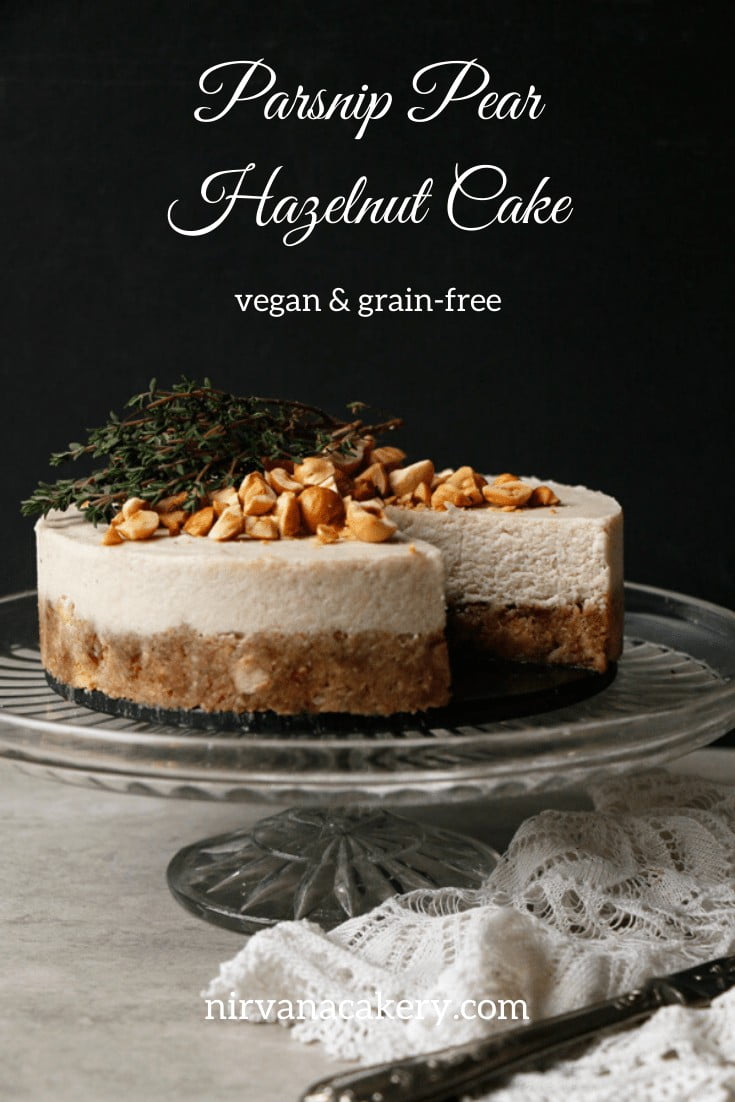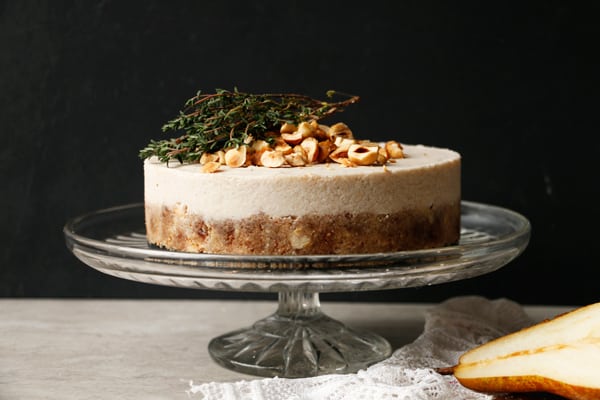 Similar Posts: