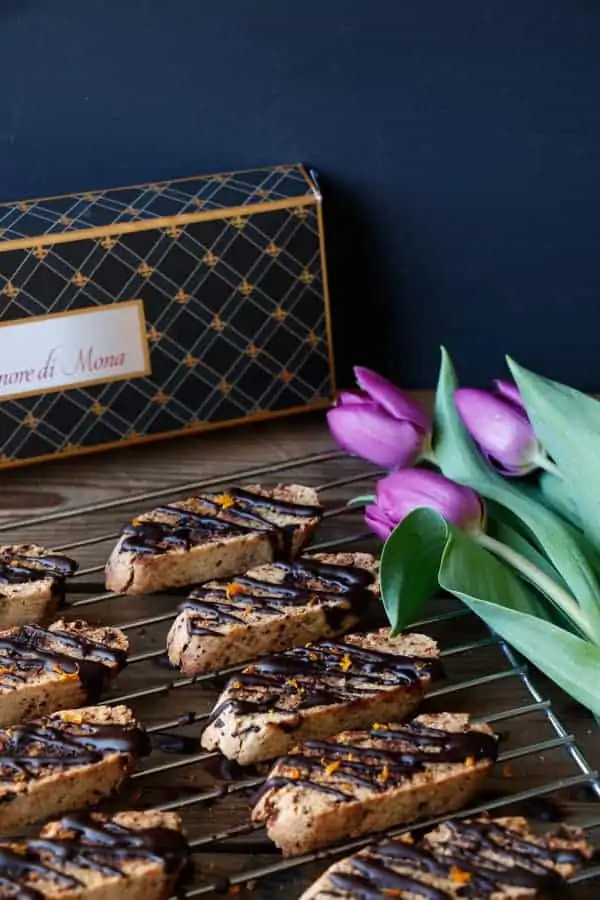 Special thank you to Amore di Mona for sponsoring this post.
This year I'm continuing my exciting collaboration with Amore di Mona vegan chocolate and I will be re-creating a series of traditional recipes from different countries that will be vegan, gluten-free and nut-free. These Vegan Gluten-Free Chocolate Biscotti is my first recipe from this series that I'm so excited to share with you today.
Biscotti meaning twice baked are traditional crunchy oblong-shaped Italian biscuits often eaten dipped in a drink, traditionally Vin Santo. Over the years I've tried many biscotti, but I've never baked any myself, let alone creating gluten-free vegan biscotti recipe.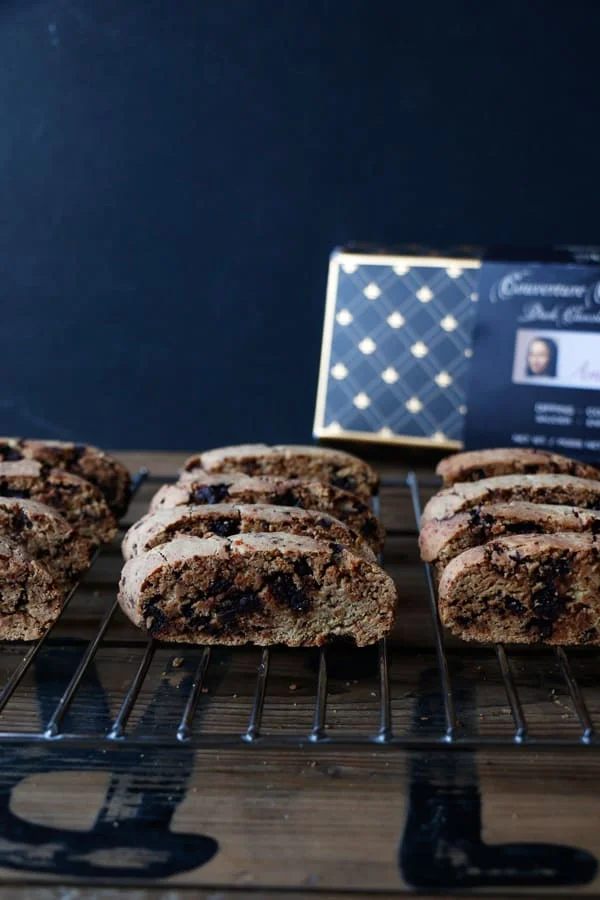 Baking biscotti is actually very simple, it's not more complicated than baking cookies and doesn't require ton of ingredients. The classic recipe is a mixture of flour, sugar, eggs and flavourings.
I've tried to stick to a traditional recipe and baked couple of different versions, one with flax eggs  and one with flax eggs and olive oil. I'm the happiest with the version using flax eggs only, these taste to me just like the traditional biscotti. I think it's also because I've added ground sunflower seeds to the dough that add the lovely nutty flavour you would get from almond biscotti.
With the baking time and temperature I've opted for lower temperature and longer bake, which is better for gluten-free bakes and ensures the biscotti get dry and crunchy.
The chocolate and orange zest add so much flavour to these biscotti and you don't want to know how many I've eaten over the past few days! They are just so scrumptious :)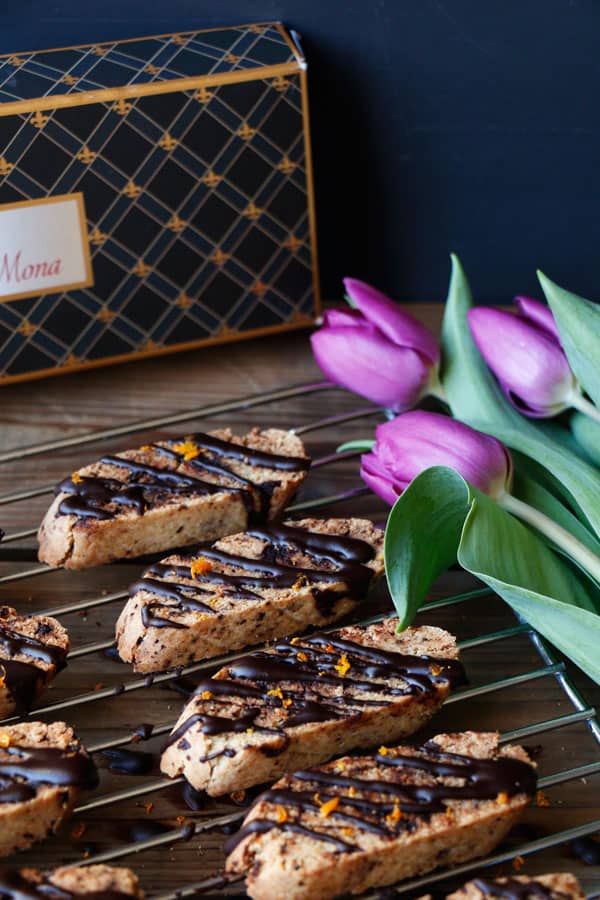 Yield: 14-16 biscotti
Vegan Gluten-Free Chocolate Biscotti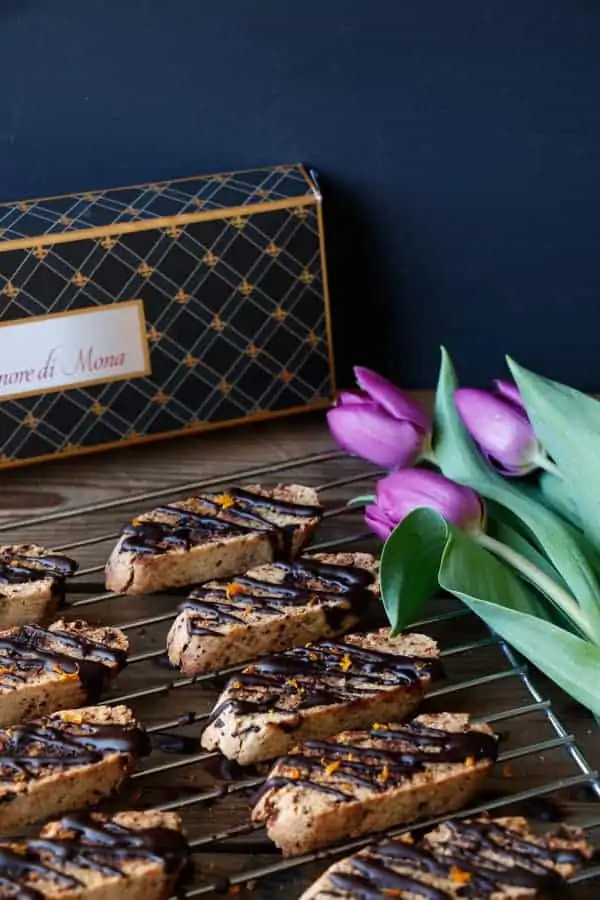 Ingredients
140g brown rice flour (1 cup)
30g tapioca flour (1/4 cup)
70g sunflower seeds (1/2 cup)
1/2tsp baking powder
pinch sea salt
3/4 orange, zest
60ml maple syrup (1/4 cup)
2tbsp ground flaxseed + 6tbsp water
50g bulk chocolate (1 cube) or dark vegan chocolate (1.75oz)
Optional topping:
30g bulk chocolate (1/2 cube) or dark vegan chocolate (1oz)
1/4 orange, zest
Instructions
Preheat the oven to 160°C (320F)
Line a baking sheet with baking paper.
Mix 2tbsp of ground flaxseed with 6tbsp of water and set aside to thicken.
Place sunflower seeds into high speed blender or food processor and blend until flour consistency.
In a large bowl whisk together brown rice flour, tapioca flour, ground sunflower seeds, baking powder and sea salt. Stir in orange zest and set aside.
Whisk maple syrup into the flaxseed mix and add to the dry mix.
Using a fork stir the mixture until it starts coming together and now use your hands to gently bring it into a smooth soft dough. If the dough feels sticky add more brown rice flour as needed.
Roughly chop the chocolate and fold into the dough.
Place the dough onto lightly floured surface and roll into long sausage about 10" long.
Place onto lined baking sheet.
Gently flatten the top to achieve rectangular shape about 10" x 2 1/2" size.
Place into the oven and bake for about 25 minutes.
Remove from the oven and leave to cool down for 10 minutes.
Transfer onto wooden board and using a serrated knife gently cut diagonally into about 1/2" slices.
Place slices cut size up back onto lined baking sheet and bake for another 30-45 minutes until golden brown and dry in the centre, turning them over halfway through. Longer you bake them, more crispy they will become.
Remove from the oven and place onto wire rack.
Once completely cooled, gently melt the chocolate for the topping and drizzle over the biscotti. Grate over zest from the remaining 1/4 orange.
Leave to set and enjoy!
Store in an airtight container.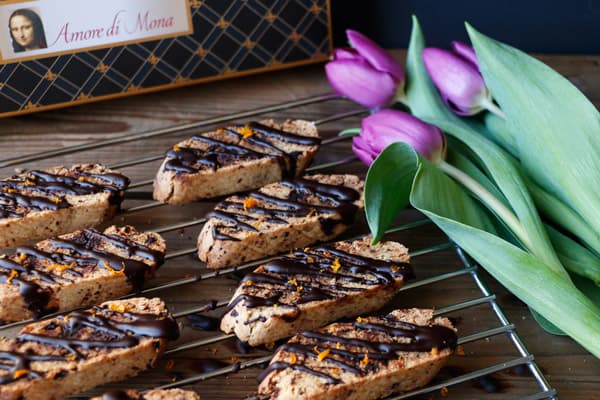 Similar Posts: