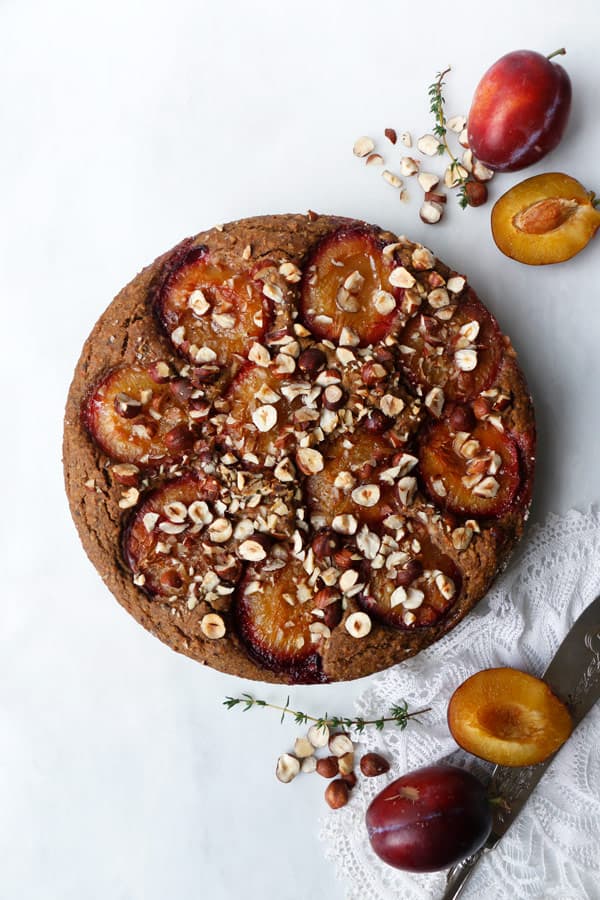 The Autumn is around the corner and with it an abundance of new seasonal fruit. Do you ever truly pause and appreciate how much abundance of plants the Earth is giving us? Isn't it miraculous the incredible amount of produce that we get to enjoy with all of our senses that we so often take for granted?
I really appreciate each farmer who takes the time to lovingly grow fruits and vegetables so we all can enjoy them. As someone who grew up in a family where we've always grown our own food, I know how much hard work and dedication it takes.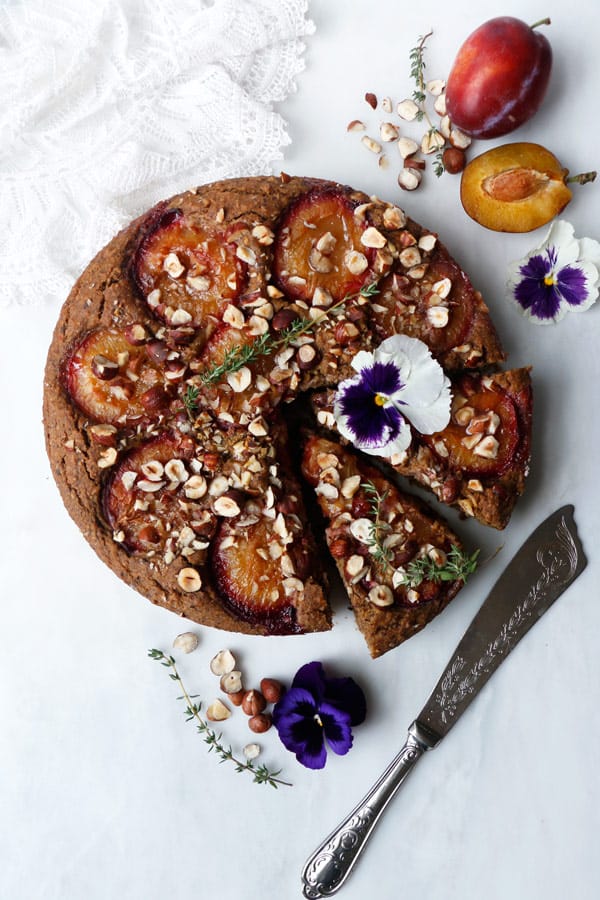 Now to my Spiced Plum Cake, I'm on a roll baking some good old fashioned cakes 'plantisized' and here's another one for you for the late summer, early autumn season.
This cake is a version of my Summer Berry Cake, which I really enjoyed so I had to bake it with another favourite of mine – plums.
This time I've used a mix of ground hazelnuts, brown rice and buckwheat flour for my gluten-free mix. If this doesn't work for you, substitute it with the gluten-free mix from my Summer Berry Cake or Raspberry Peach Crumb Cake, either of those would work well too.
I'm in Portugal now enjoying holidays with my family, eating lots of plums, peaches, melons and my favourite, figs! Wishing you beautiful end of summer holidays!
Yield: 9" cake
Spiced Plum Cake (vegan & gluten-free)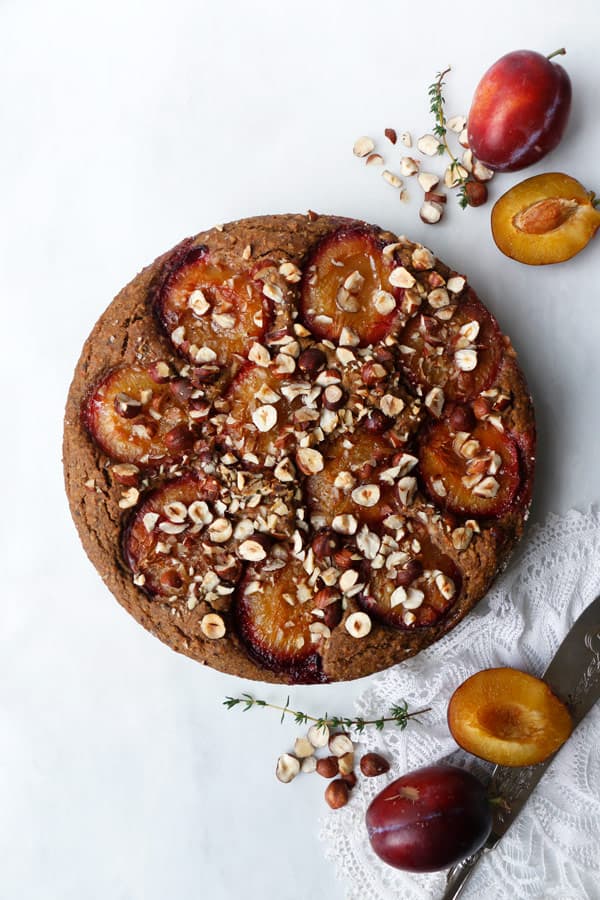 Ingredients
100g ground hazelnuts (1 cup)
70g brown rice flour (1/2 cup)
70g buckwheat flour (1/2 cup)
30g arrowroot (1/4 cup)
50g desiccated coconut (1/2 cup)
1½tsp baking powder
1tsp bicarbonate of soda
1tsp cinnamon
1/2tsp cardamom
1/2tsp ginger
pinch sea salt
100g coconut sugar (3/4 cup)
3tbsp ground flaxseed + 9tbsp water
120ml olive oil (1/2 cup)
120ml almond milk (1/2 cup)
1tbsp apple cider vinegar
Topping:
5 medium to large plums, halved
40g hazelnuts, chopped (1/3 cup)
Instructions
Mix 3tbsp ground flaxseed with 9tbsp water and set aside to thicken.
Preheat the oven to 180°C (350F)
Grease and line the base and dust the sides of one 9" round springform baking tin.
In a large bowl whisk together ground hazelnuts, brown rice flour, buckwheat flour, arrowroot, desiccated coconut, baking powder, bicarbonate of soda, cinnamon, cardamom, ginger, salt and sugar and set aside.
In a small bowl whisk together flax eggs, olive oil, almond milk and apple cider vinegar.
Add the wet mix to the dry mix and mix until well combined. You should have muffin consistency.
Spoon the mixture into your prepared tin and level out the surface.
Gently press sliced plums onto the top, cut-side up and sprinkle with chopped hazelnuts.
Bake for about 40-45 minutes or until a cocktail stick comes out clean.
Remove from the oven once ready and leave to cool down for 30 min before removing from the tin.
Enjoy!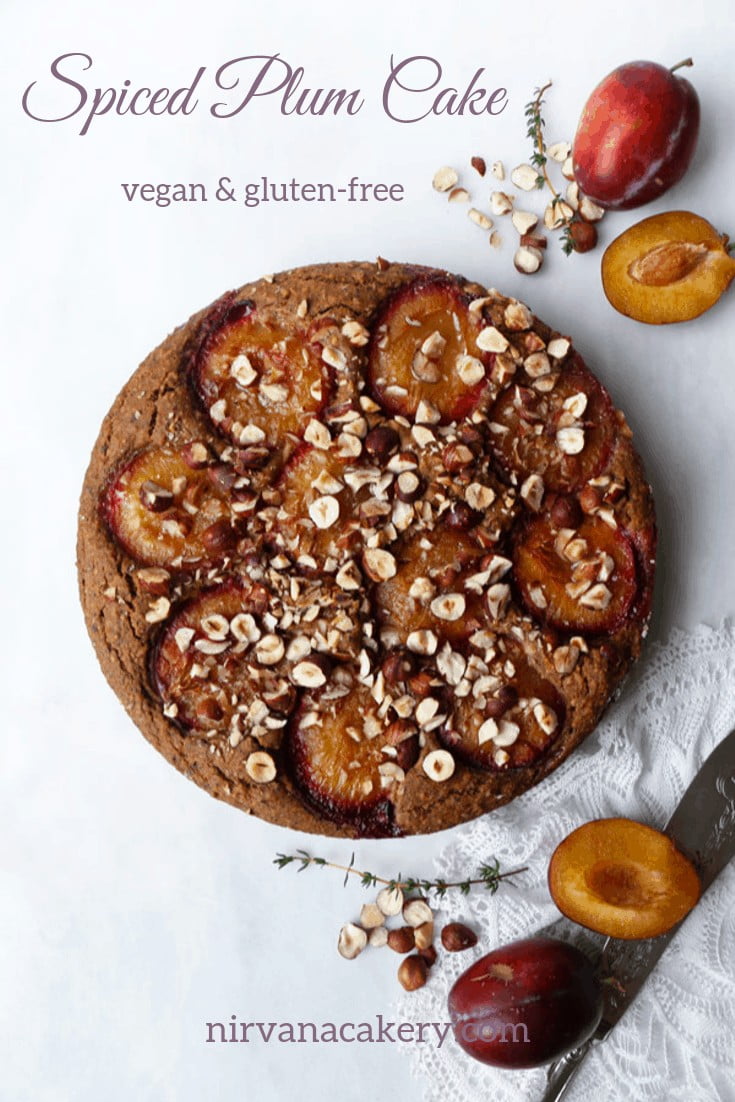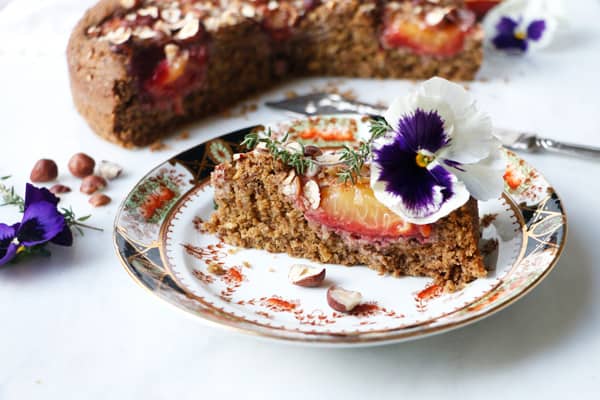 Similar Posts: