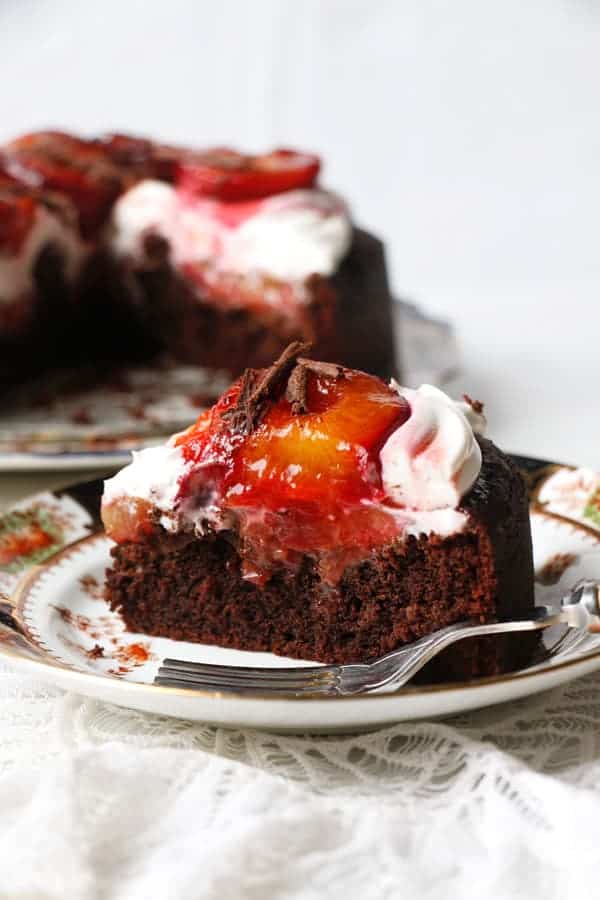 Special thank you to Amore di Mona for sponsoring this post.
This Chocolate Plum Cake is one of those recipes you absolutely have to try, it's that amazing. It makes me so happy when a recipe comes this beautifully together. The combination of the three elements – rich chocolate plum cake topped with creme fraiche and roasted plums are a match made in heaven.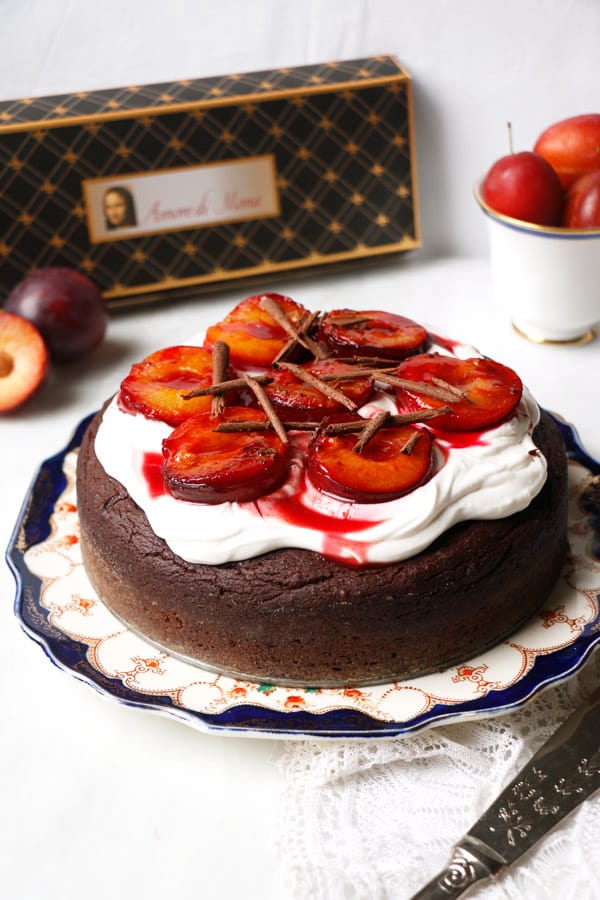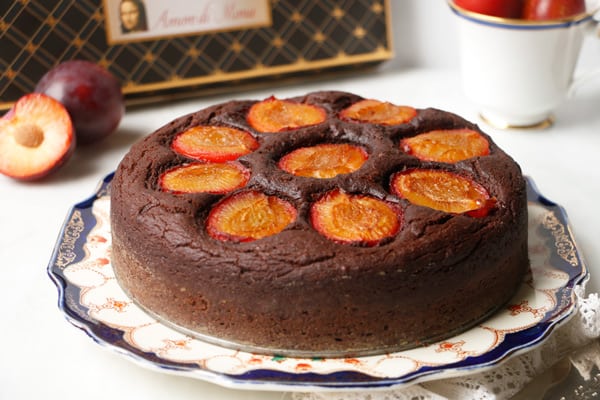 You can just bake the chocolate plum cake and it is a wonderful cake, but going the extra mile and adding some juicy roasted plums and creme fraiche takes this recipe to a whole new level. I've used two different plum varieties here, smaller Victoria plums in the cake and round red plums for roasting.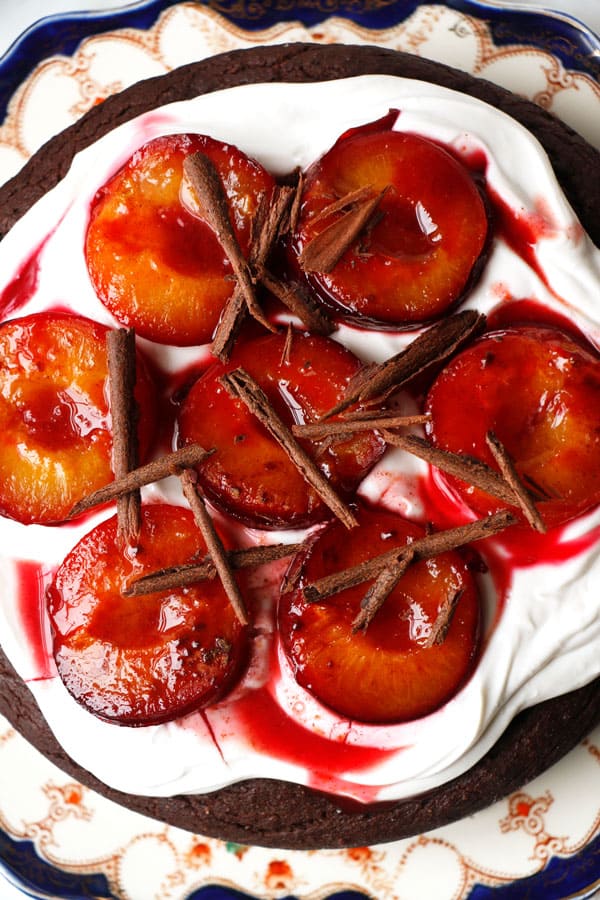 If you can't find a vegan creme fraiche you could use vegan whipped creme, but the sour flavour goes so well with the plums and chocolate that I strongly recommend it. Use a high-quality dark vegan chocolate in the recipe for the best results, I've used Amore di Mona lovely vegan chocolate.
You can serve this cake in different ways, warm with warm roasted plums on top and chilled creme fraiche on the side or leave to cool the cake completely and then frost with creme fraiche and top with cooled roasted plums. I was toying with the idea to drizzle some chocolate sauce on top too but then I decided to go with a few chocolate shards.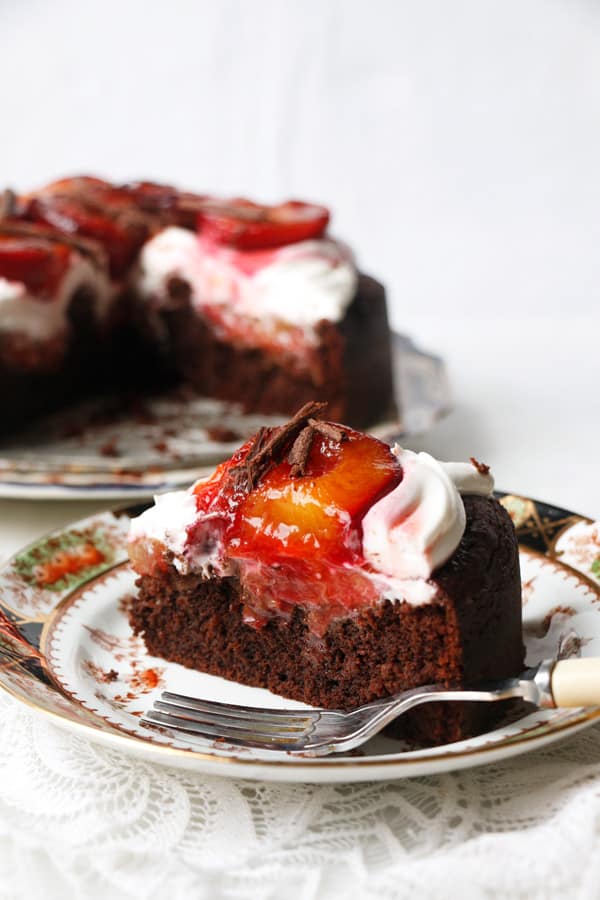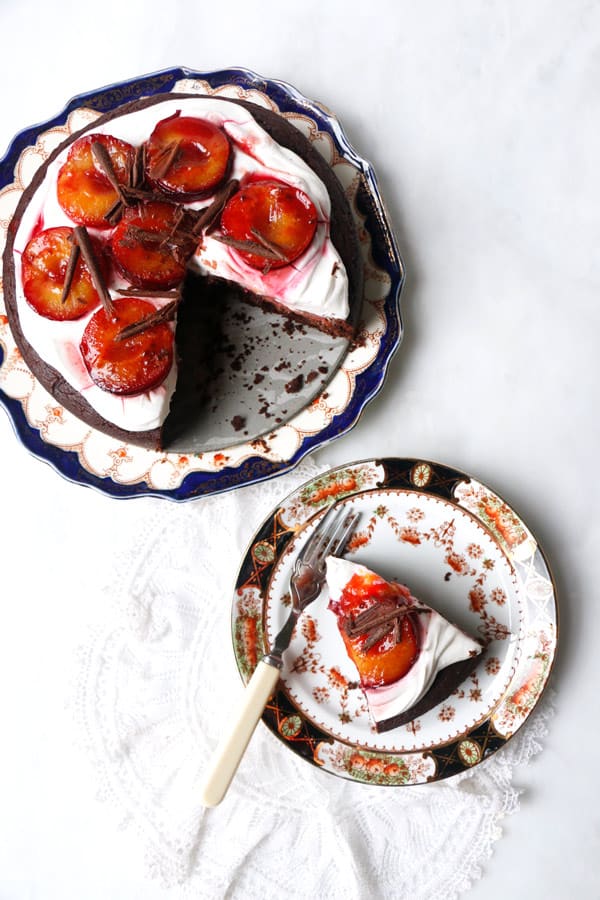 Yield: 8" cake
Chocolate Plum Cake (vegan & gluten-free)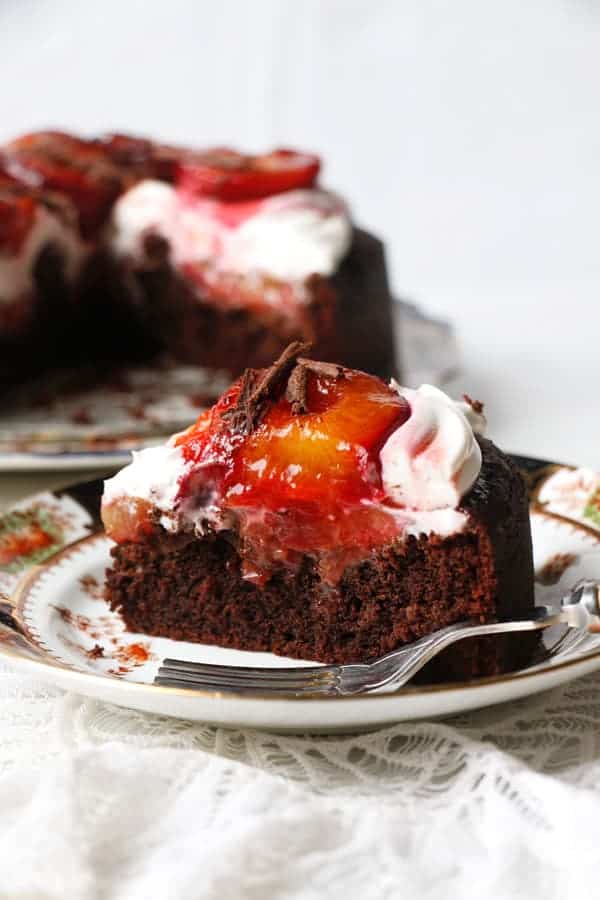 Ingredients
70g brown rice flour (1/2 cup)
35g teff flour (1/4 cup)
70g sunflower seeds (1/2 cup), ground into flour consistency
30g tapioca flour (1/4 cup)
75g rapadura sugar (1/2 cup)
1tsp baking powder
1tsp bicarbonate of soda
pinch sea salt
3tbsp ground flaxseed + 9tbsp water
80ml olive oil (1/3 cup)
80ml plant milk (1/3 cup)
2tsp apple cider vinegar
1tsp vanilla extract
150g dark vegan chocolate (5.3oz)
4-5 plums, halved and stoned
Roasted plums:
4-5 plums, halved and stoned
1tbsp maple syrup
2tbsp orange juice
1/4tsp cinnamon
Topping:
180ml vegan creme fraiche (3/4 cup)
roasted plums
chocolate shards
Instructions
Preheat the oven to 180°C (350F)
Mix 3tbsp ground flaxseed with 9tbsp water and set aside to thicken.
Grease and line the base and dust the sides of 8" round cake spring form baking tin.
In a large bowl whisk together brown rice flour, teff flour, ground sunflower seeds, tapioca flour, sugar, baking powder, bicarbonate of soda and salt.
In a small bowl whisk together flax eggs, olive oil, plant milk of your choice, apple cider vinegar and vanilla.
Roughly chop the chocolate, place into heatproof bowl and gently melt in a double boiler.
Add the wet mix to the dry mix and mix until well combined. Fold in the melted chocolate.
Spoon the mixture into the cake tin and level out the surface. Arrange halved plums onto the top and gently press in.
Bake for about 30 minutes or until a cocktail stick comes out with just few crumbs left on.
Remove from the oven and leave to cool down for 20 minutes before carefully moving onto a wire rack.
To make roasted plums place halved and stoned plums cut size up onto a baking dish. Brush tops with maple syrup and dust with cinnamon. Drizzle orange juice onto the base. Bake for 25 to 30 minutes in the oven on 180°C (350F) until plums are soft but still keep their shape.
You can serve this cake in different ways, warm with warm roasted plums on top and chilled creme fraiche on the side or frosted with creme fraiche and topped with cooled roasted plums.
Once the cake is completely cooled generously spread with some creme fraiche, arrange cooled roasted plums on top and drizzle with some of the plum syrup. Finish with few chocolate shards.
Serve immediately.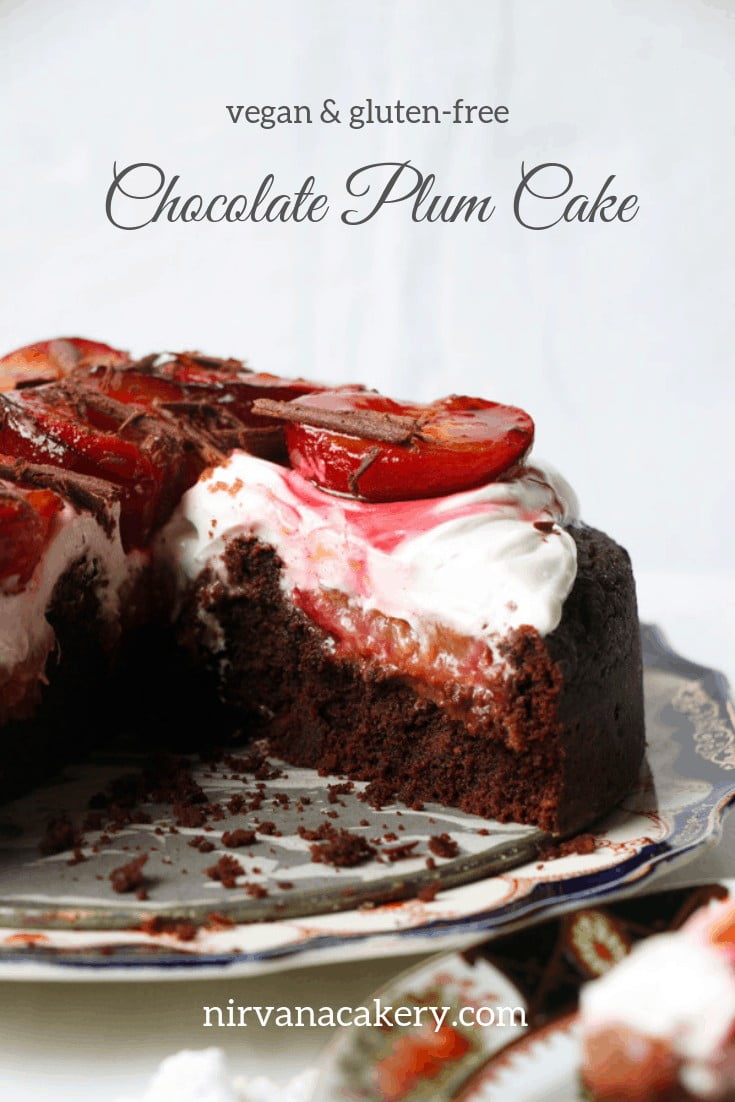 Similar Posts: