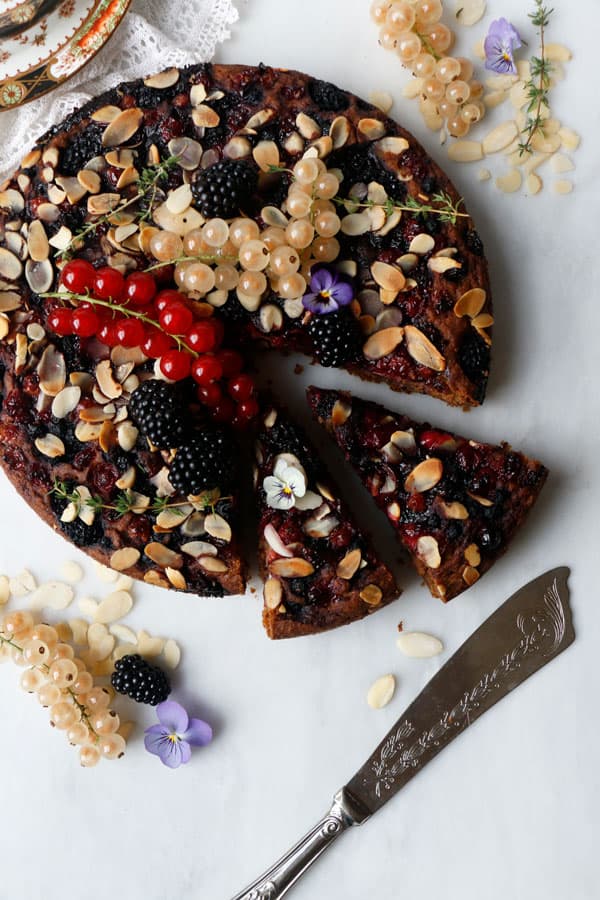 This Summer Berry Cake is yet another classic summer cake to bake this summer, bursting with flavour and beautiful summer berries it's another take on my Raspberry Peach Crumb Cake that was hugely popular with you and so many of you have already made this recipe.
And because some of you have asked me for variation without buckwheat flour and oat flakes I've decided to bake another version to make it easier for you. I really can't decide which one I prefer, they are both incredibly good!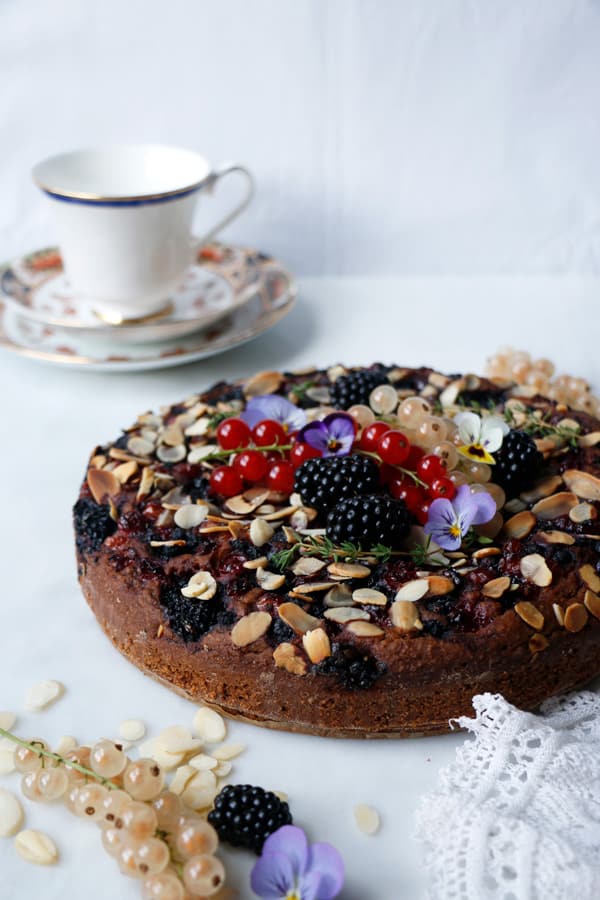 This time I've used a combination of blackberries, blueberries, red and white currants which gives this cake the right combination of sweetness and tartness. You could use any seasonal fruit that you have available – raspberries, cherries, blackcurrants would all work well.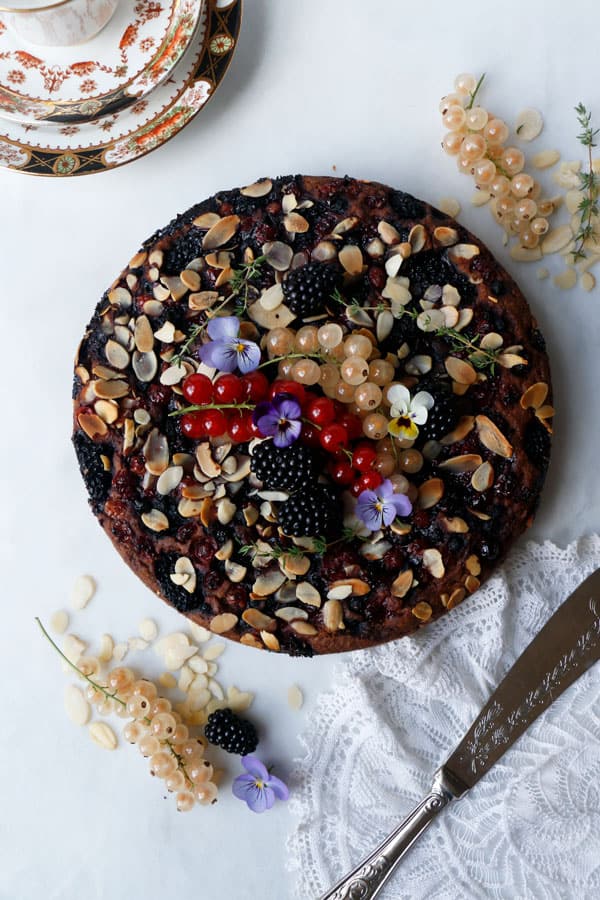 For the gluten-free flour mix I've simply used ground almonds, brown rice flour, tapioca flour and desiccated coconut. It's a lovely, moist sponge and even more so topped with juicy berries. I've also used coconut oil instead of my usual olive oil, the cake won't be as fluffy the next day baked with coconut oil, so if you prefer use olive oil in this recipe.
And if you're baking for an occasion it looks really beautiful topped with some extra fresh berries. Enjoy!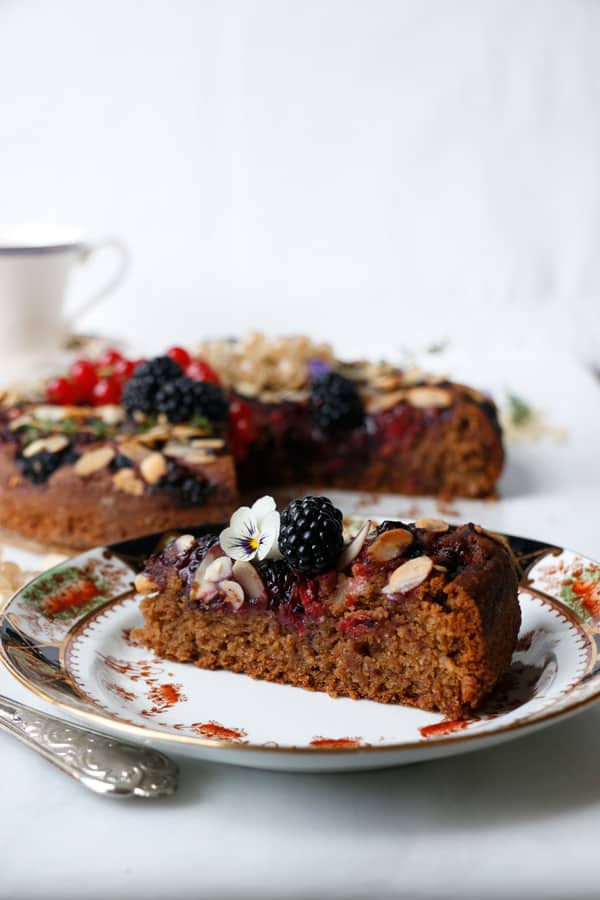 Yield: 9" cake
Summer Berry Cake (vegan & gluten-free)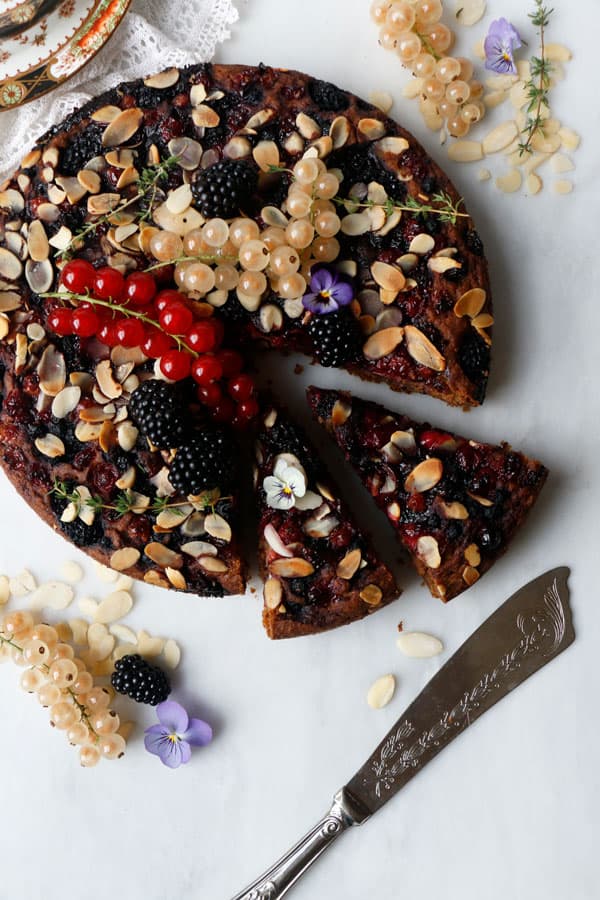 Total Time
1 hour
15 minutes
Ingredients
100g ground almonds (1 cup)
140g brown rice flour (1 cup)
30g tapioca flour (1/4 cup)
50g desiccated coconut (1/2 cup)
1½tsp baking powder
1tsp bicarbonate of soda
1tsp cinnamon
pinch sea salt
100g coconut sugar (3/4 cup)
3tbsp ground flaxseed + 9tbsp water
120ml melted coconut oil (1/2 cup)
120ml almond milk (1/2 cup)
1tbsp apple cider vinegar
1tsp vanilla
Topping:
300g fresh berries (any mix of blackberries, blueberries, raspberries, currants) (2 cups)
1tbsp coconut sugar
30g flaked almonds (1/3 cup)
Instructions
Mix 3tbsp ground flaxseed with 9tbsp water and set aside to thicken.
Preheat the oven to 180°C (350F)
Grease and line or dust one 9" round springform baking tin.
In a large bowl whisk together ground almonds, brown rice flour, tapioca flour, desiccated coconut, baking powder, bicarbonate of soda, cinnamon, salt and sugar and set aside.
In a small bowl whisk together flax eggs, melted coconut oil, almond milk (at room temperature), apple cider vinegar and vanilla.
Add the wet mix to the dry mix and mix until well combined. You should have muffin consistency.
Spoon the mixture into your prepared tin and level out the surface.
Toss berries with 1tbsp of coconut sugar, arrange on top and sprinkle with almond flakes.
Bake for about 45 minutes or until a cocktail stick comes out clean and the top is toasted and golden brown. Slightly increase the oven temperature if needed.
Remove from the oven once ready and leave to cool down for 30 min before removing from the tin.
Enjoy!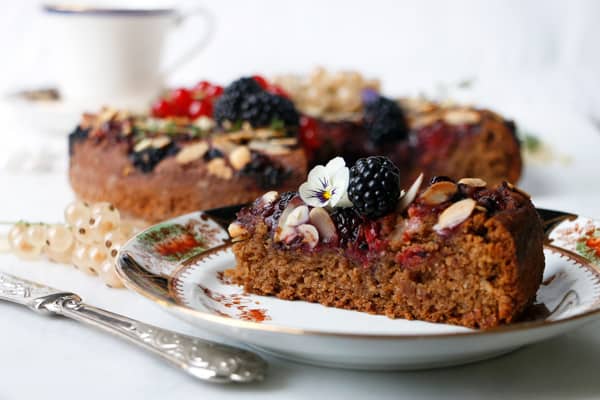 Similar Posts: