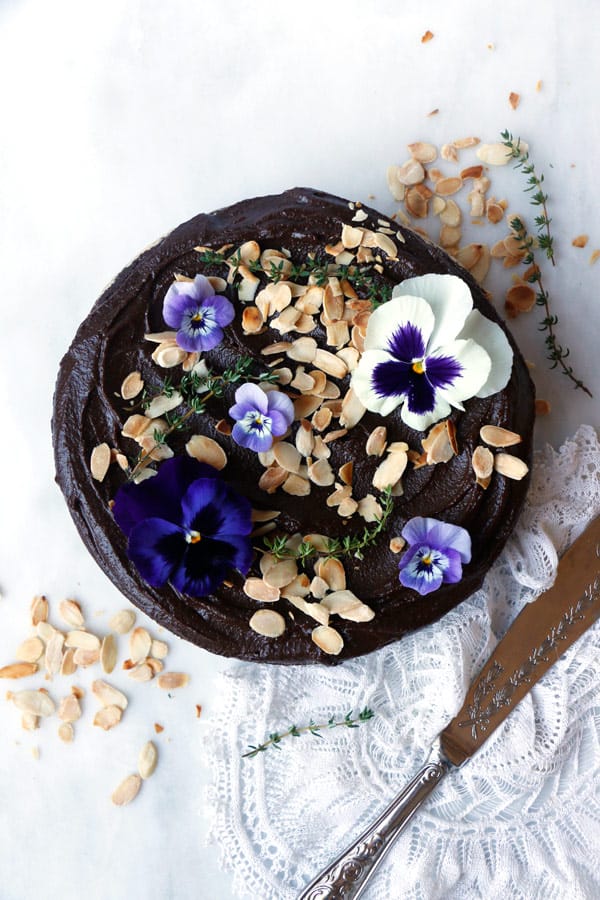 Sweet September! I'm back after late summer holidays and as always inspired by gorgeous Portugal and their wonderful ingredients and most yummy cakes. Visiting a local Artisan market I've spotted a carob and spaghetti squash cake which I just had to try and make my own version of. So here we go, very unusual, yet absolutely irresistible (at least to me) Spaghetti Squash Carob Fudge Cake as I call it :)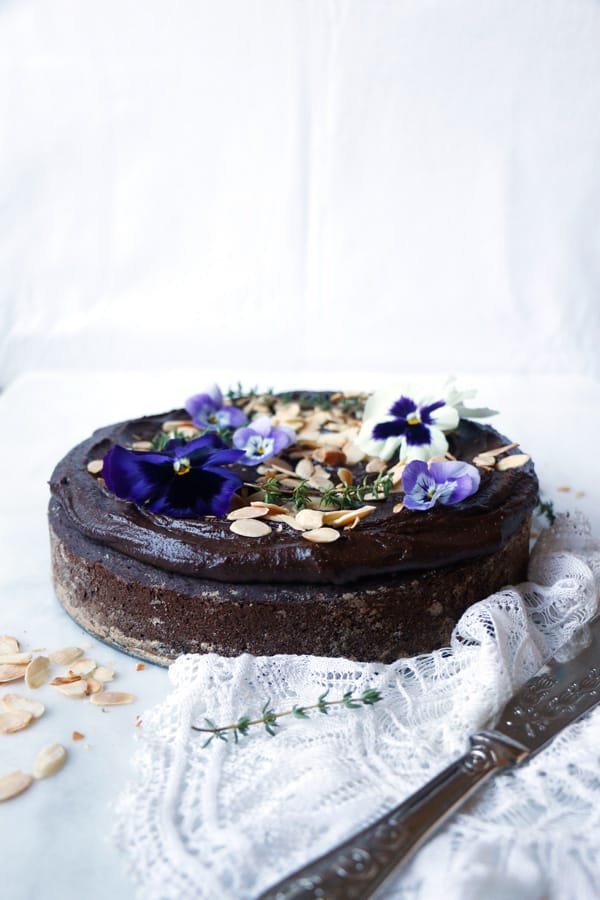 This is a heavy dense cake with lots of roasted spaghetti squash and most wonderful almond butter date carob frosting, rich and satisfying. It will taste even better the next day once the flavours develop and it's lovely served chilled.
This would be a perfect cake to make if you have a large spaghetti squash, just roast some for dinner and use leftovers to make this cake. No one will ever know what the secret ingredient is!
If you like to make this more like a sponge cake, reducing the spaghetti squash to half should do the job. And if you're not a fan of carob, you can easily use some cacao or cocoa powder to replace it for a different also delicious version.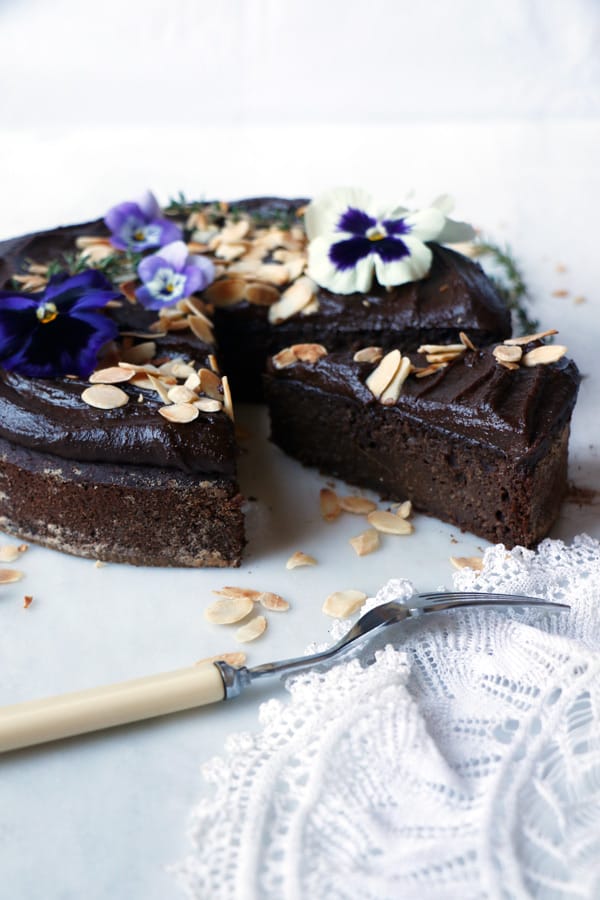 Yield: 8" cake
Spaghetti Squash Carob Fudge Cake (vegan & gluten-free)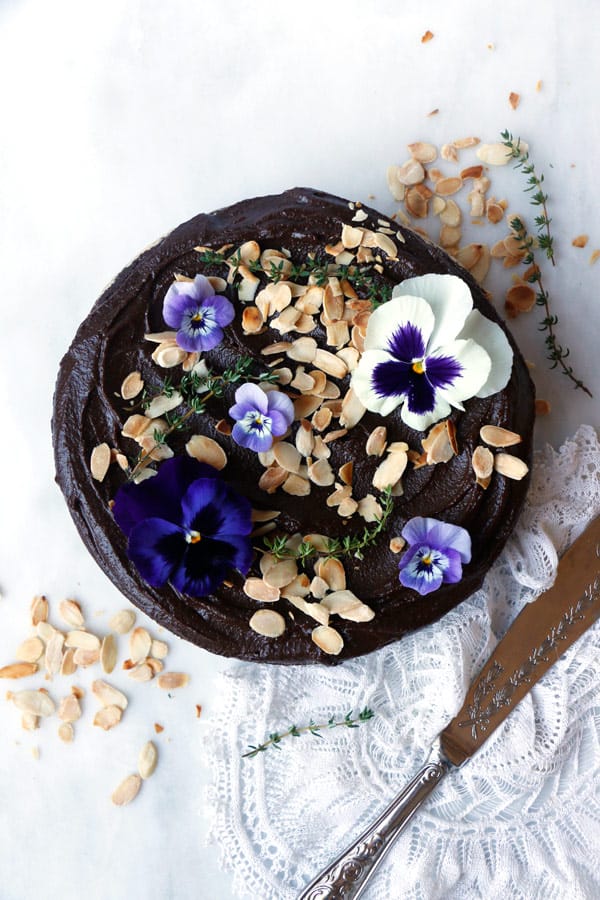 Ingredients
320g cooked spaghetti squash (2 cups)
100g ground almonds (1 cup)
70g brown rice flour (1/2 cup)
35g buckwheat flour (1/4 cup)
30g carob powder (1/4 cup)
75g coconut sugar (1/2 cup)
1tsp baking powder
1tsp bicarbonate of soda
1tsp cinnamon
pinch of sea salt
2tbsp ground flaxseed + 6tbsp water
80ml olive oil (1/3 cup)
120ml almond milk (1/2 cup)
2tsp apple cider vinegar
Carob frosting:
4 medjool dates, pitted
4tbsp almond butter
2 1/2tbsp carob powder
½tsp cinnamon
pinch of sea salt
80ml almond milk (1/3 cup)
Topping:
Instructions
Mix 2tbsp ground flaxseed with 6tbsp water and set aside to thicken.
Preheat the oven to 180°C (350F)
Grease and line the base and dust the sides of one 8" round springform baking tin.
In a large bowl whisk together ground almonds, brown rice flour, buckwheat flour, carob powder, baking powder, bicarbonate of soda, cinnamon, salt and sugar and set aside.
In a small bowl whisk together flax eggs, olive oil, almond milk and apple cider vinegar.
Add the wet mix together with the cooked spaghetti squash to the dry mix and mix until well combined. You should have muffin consistency.
Spoon the mixture into your prepared tin and level out the surface.
Bake for about 45 - 50 minutes or until a cocktail stick comes out sticky. It will not get completely dry, because of the amount of spaghetti squash, it will have a slightly wet texture.
Remove from the oven once ready and leave to cool down for 30 min before removing from the tin.
To make the frosting simply add all of the ingredients into food processor or blender and blend until you have smooth frosting consistency.
Once the cake is completely cooled, place onto a serving dish and using spatula spread with carob frosting. Sprinkle with some toasted almond flakes.
Tastes lovely chilled. Enjoy!
Notes
To prepare the spaghetti squash:
Preheat the oven to 200°C (400F)
Carefully trim spaghetti squash on each end and cut into half. Scrape out the seeds with a spoon. Place cut size down onto a baking sheet filled with little water and bake for 30-40 minutes until the flesh is soft when pierced with a fork.
Once the spaghetti squash is soft, take a fork and gently pull the inside of the squash to create spaghetti like strands.
Set aside the required amount for the recipe and enjoy the rest.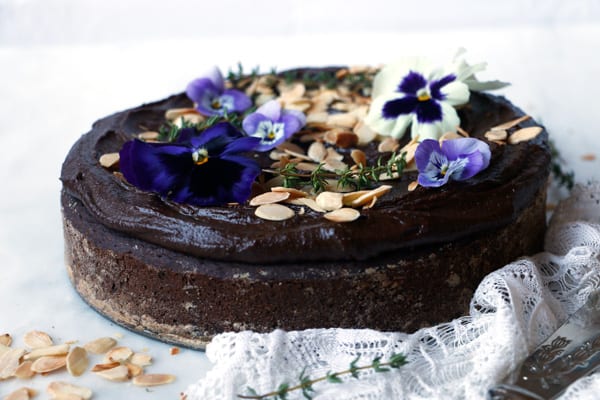 Similar Posts: