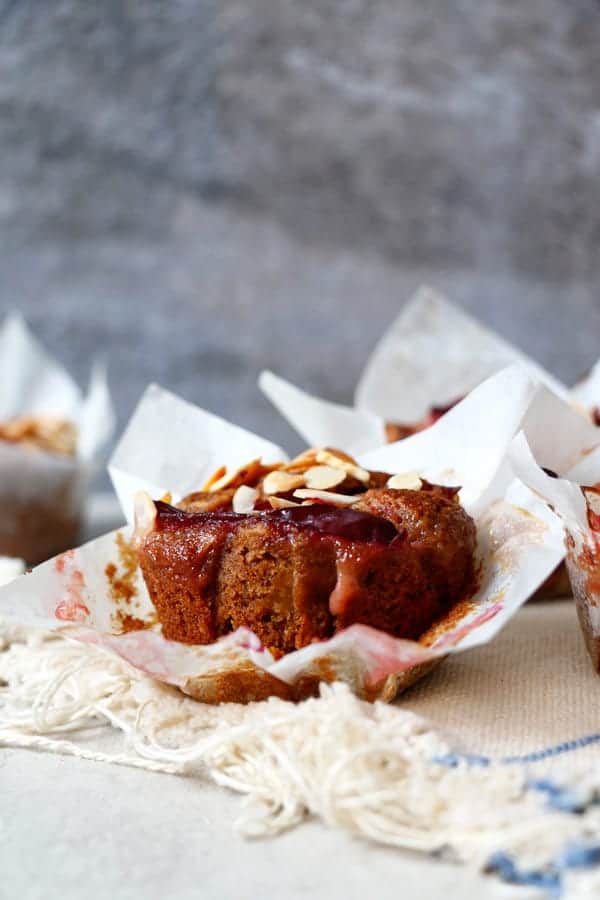 I've got the perfect Autumn muffin recipe for you today using juicy plums that are abundantly available and at their best at the moment. I've spent the last week of my son's summer holidays visiting my family and my father has two plum trees choc a full with the most delicious plums in his garden, how I wished to take them all with me to London.
Luckily UK has an abundance of amazing plums right now and some baking is an absolute must! How about Healthy Gluten-Free Plum Muffins?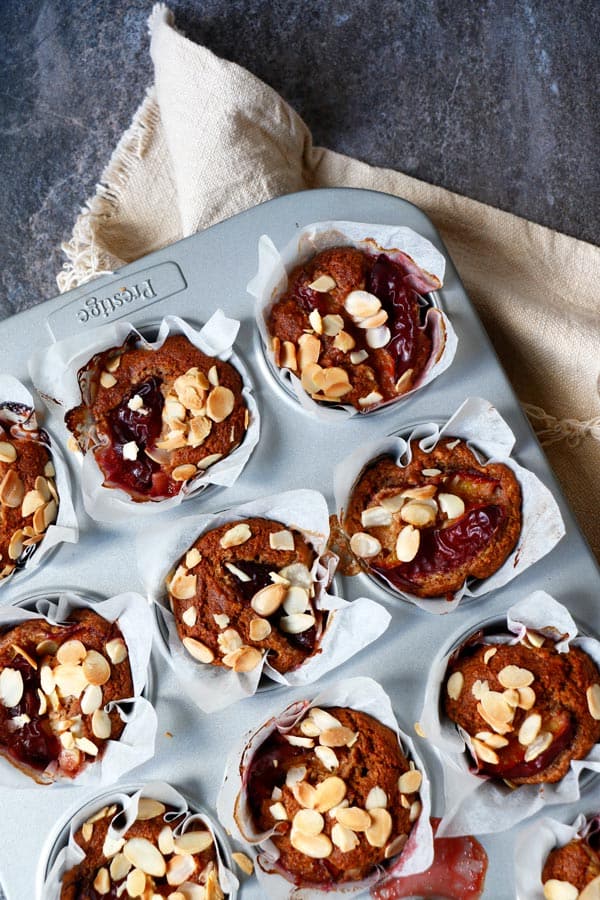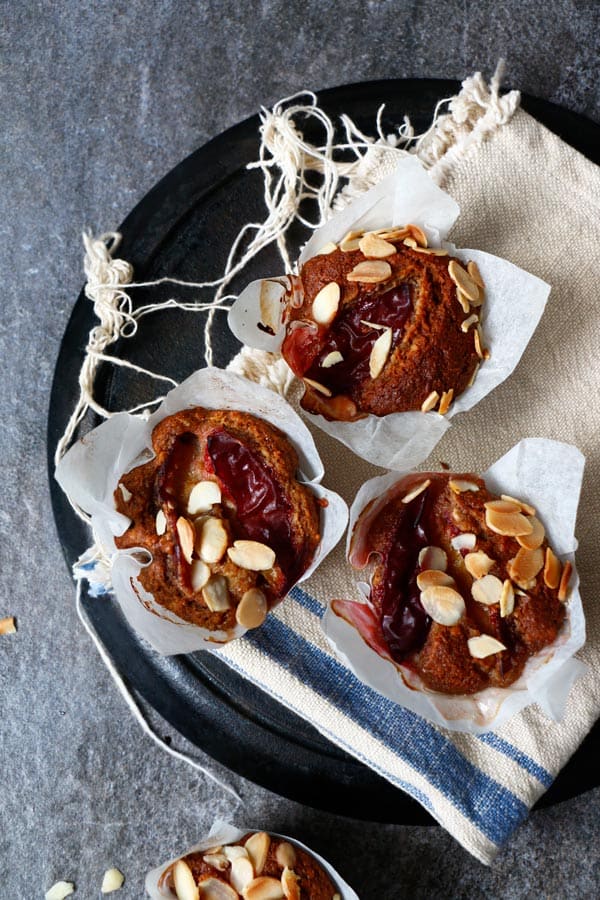 I've made these muffins yesterday and they really are amazing, I'm so happy with this recipe and I can't even tell you how many I ate. Be warned if you're making these, they are especially good still warm from the oven. I've used my usual favourite buckwheat, ground almonds combo with some arrowroot and desiccated coconut for the gluten-free mix and flax eggs, olive oil and almond milk to make them vegan.
I've used 6 medium plums in the mix, so each muffin has a good half a plum in which makes them super moist and moreish. I think you could add extra plums if you like to make them even more fruity. I hope you enjoy this recipe and do let me know how you like them:) x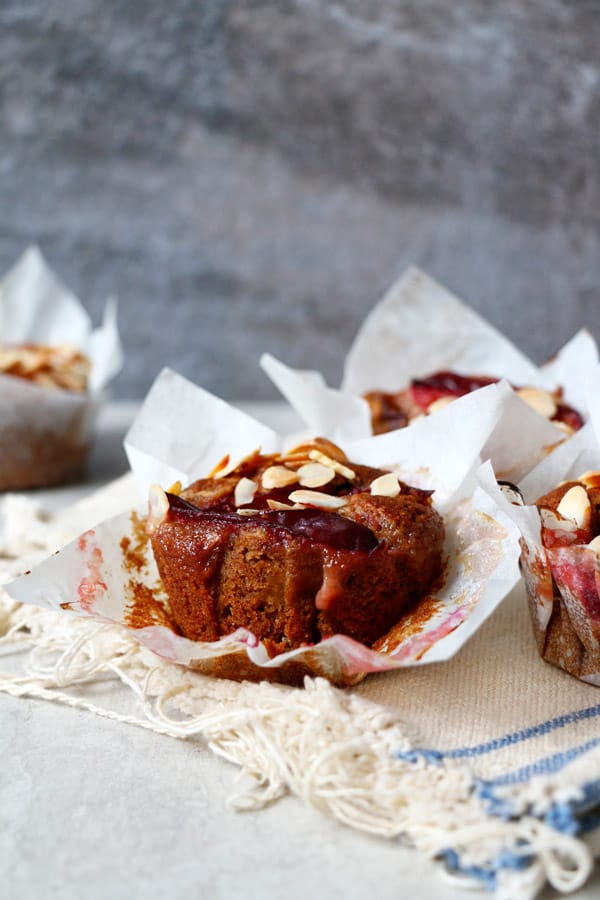 Yield: 12 muffins
Healthy Gluten-Free Plum Muffins (vegan)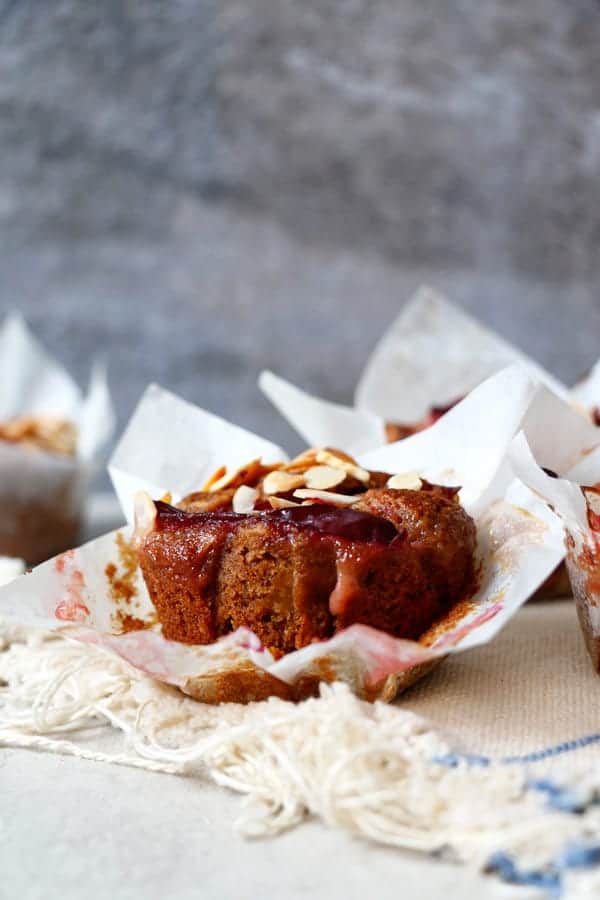 Ingredients
6 medium plums (330g without stones)
70g buckwheat flour (1/2 cup)
100g ground almonds (1 cup)
30g arrowroot (1/4 cup)
50g desiccated coconut (1/2 cup)
75g coconut sugar (1/2 cup)
1tsp baking powder
1tsp bicarbonate of soda
1tsp cinnamon
pinch of sea salt
2tbsp ground flaxseed + 6tbsp water
80ml olive oil (1/3 cup)
120ml almond milk (1/2 cup)
2tsp apple cider vinegar
25g flaked almonds for topping (1/4 cup)
Instructions
Preheat the oven to 180°C (160°C fan)
Prepare 12 hole cupcake size tin with cases.
Mix 2tbsp of ground flaxseed with water and set aside to thicken.
Slice the plums into 6 slices each and set aside.
In a large bowl whisk together buckwheat flour, ground almonds, arrowroot, desiccated coconut, coconut sugar, baking powder, bicarbonate of soda, cinnamon and salt. Set aside.
In a small bowl whisk together olive oil, almond milk, apple cider vinegar and flax eggs.
Add the wet mix to the dry mix and mix until well combined. Gently fold in plums.
Spoon the mixture into the prepared cases distributing evenly. Sprinkle with flaked almonds.
Bake for about 30-35min or until a cocktail stick comes out clean.
Remove from the oven once ready and leave to cool down for 10 min before moving onto a wire rack.
Enjoy!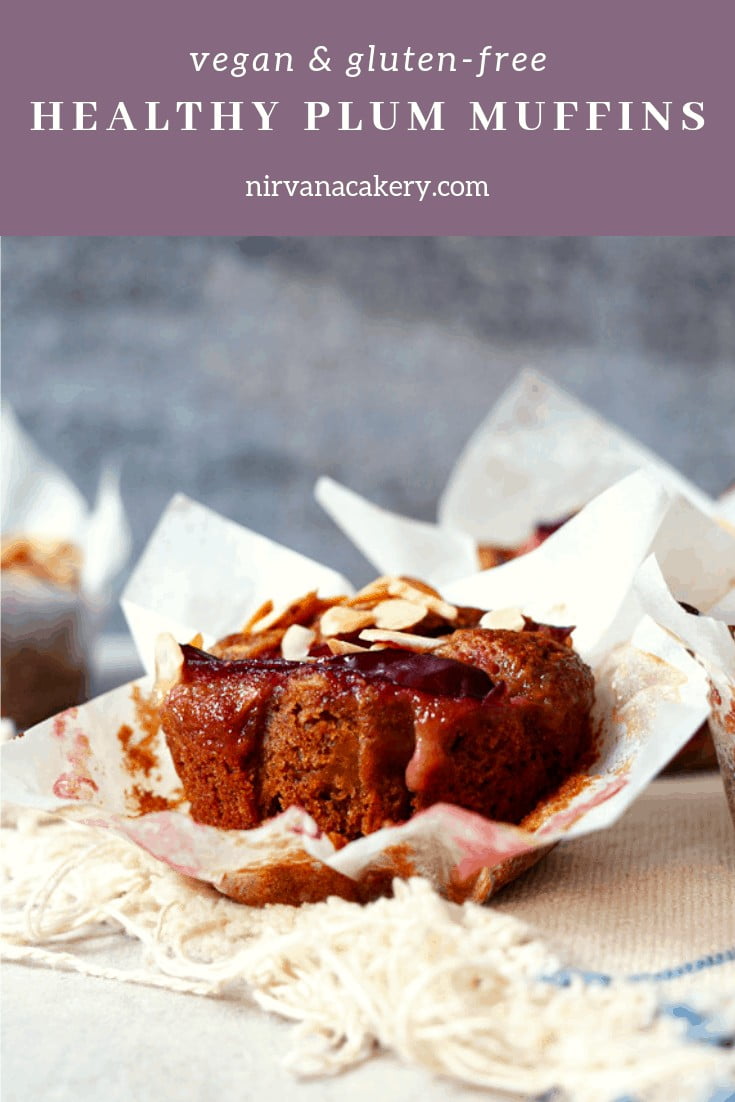 Similar Posts: