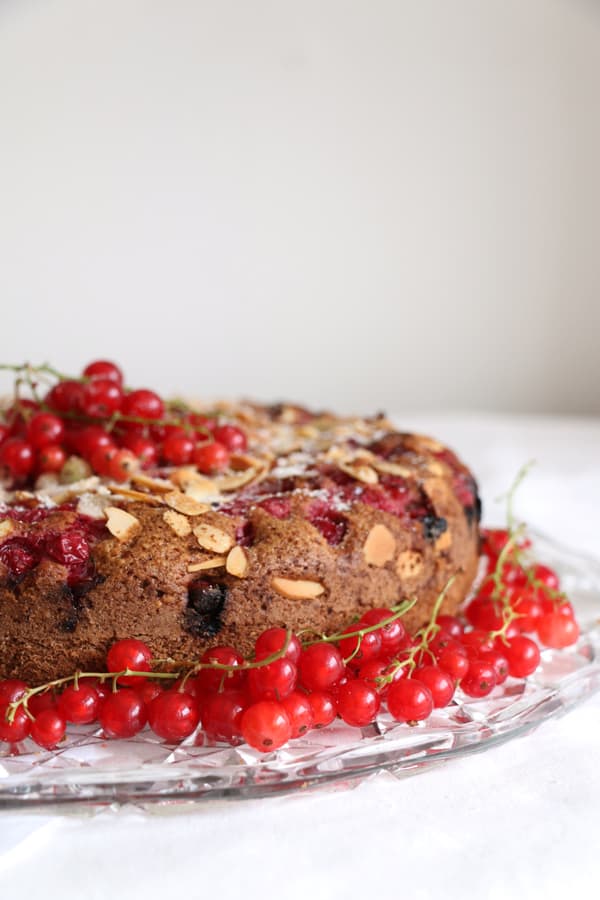 Last week my lovely yoga teacher Dina has invited me around to pick some redcurrant from her garden and all that lovely redcurrant has made it into this beautiful seasonal cake. Inspired by my Rhubarb and Strawberry Hazelnut Cake recipe this is a lovely wholesome and moist gluten-free cake fit for a summer party. So in case you'll find yourself with some redcurrant this summer not knowing what to do with it, this might just be the recipe to try:)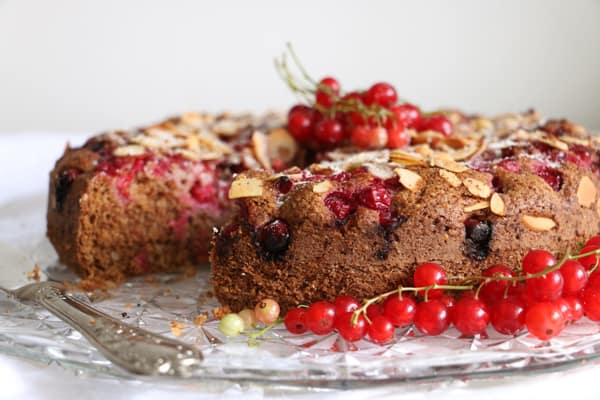 I have used a mix of buckwheat flour, ground almonds and desiccated coconut to create a gluten-free mix and maple syrup to naturally add just enough sweetness. The redcurrant gives this cake a lovely edge and a very interesting flavour. You can make this cake look extra special by arranging some more redcurrant on top and around the cake and dusting with some coconut flour for a lovely finish.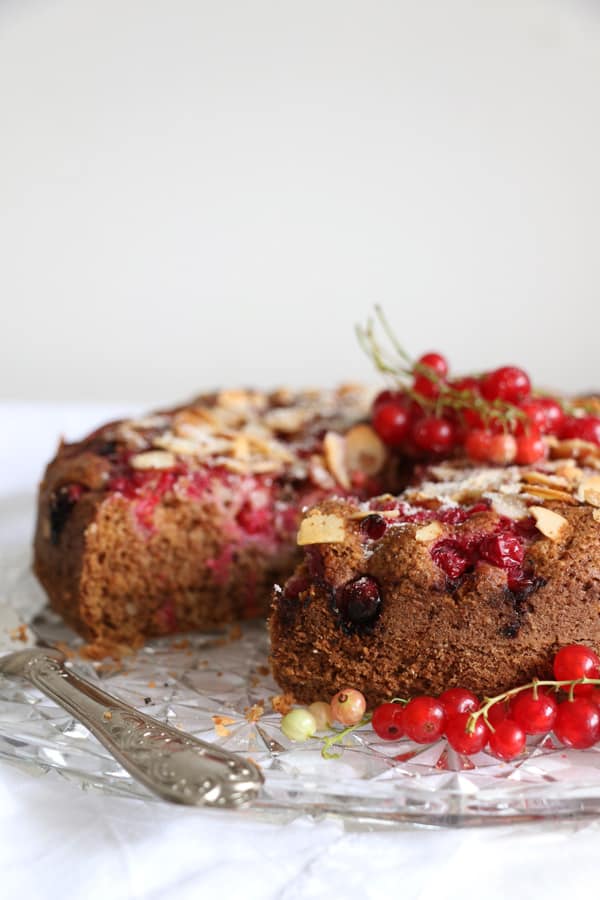 Redcurrant, Almond and Buckwheat Cake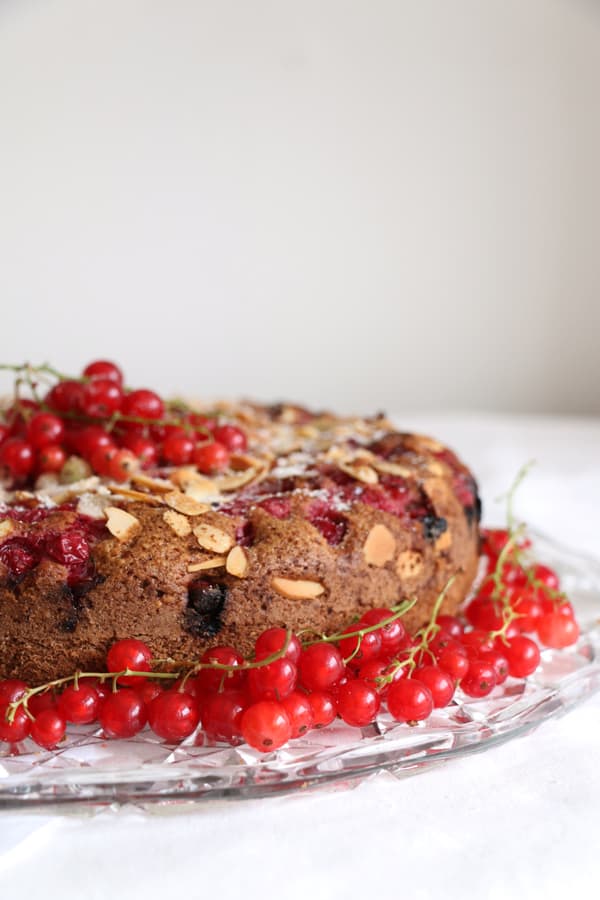 Ingredients
140g buckwheat flour (1 cup)
100g ground almonds (1 cup)
50g desiccated coconut (1/2 cup)
1tsp baking powder
1tsp bicarbonate of soda
pinch of sea salt
2 eggs
120ml maple syrup (1/2 cup)
120ml olive oil (1/2 cup)
1tsp vanilla
Topping:
250g redcurrant (1 1/2 cups) plus extra for decoration
30g flaked almonds (1/3 cup)
1tbsp coconut sugar
Instructions
Preheat the oven to 200°C (180°C fan)
Grease and line 9" round spring form cake baking tin.
In a bowl whisk together buckwheat flour, ground almonds, desiccated coconut, baking powder, bicarbonate of soda and salt and set aside.
In a electric hand or stand up mixer whisk the eggs and maple syrup for about 5 min until double in volume, add olive oil and vanilla and mix for 2 more min.
Add the dry ingredients to the mixture and mix until combined.
Spoon the mixture into your prepared tin and level the surface.
Top with redcurrant, flaked almonds and sprinkle with coconut sugar.
Bake for about 40-45 min or until a cocktail stick comes out clean.
Remove from the oven once ready and leave to cool down for 30 min before removing from the tin.
Place on a cake platter and arrange some redcurrant on top if you wish.
Dust with coconut flour or icing sugar.
Enjoy!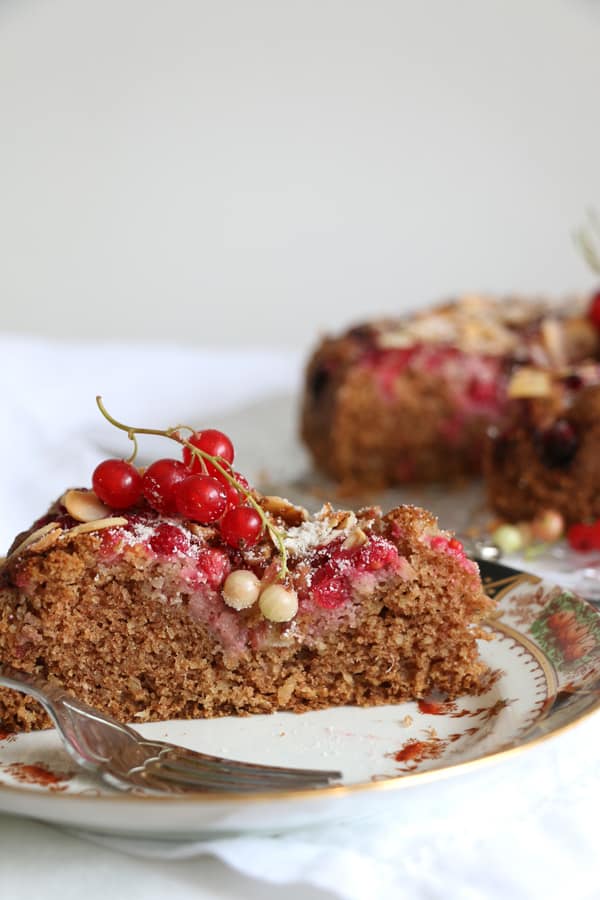 Similar Posts: