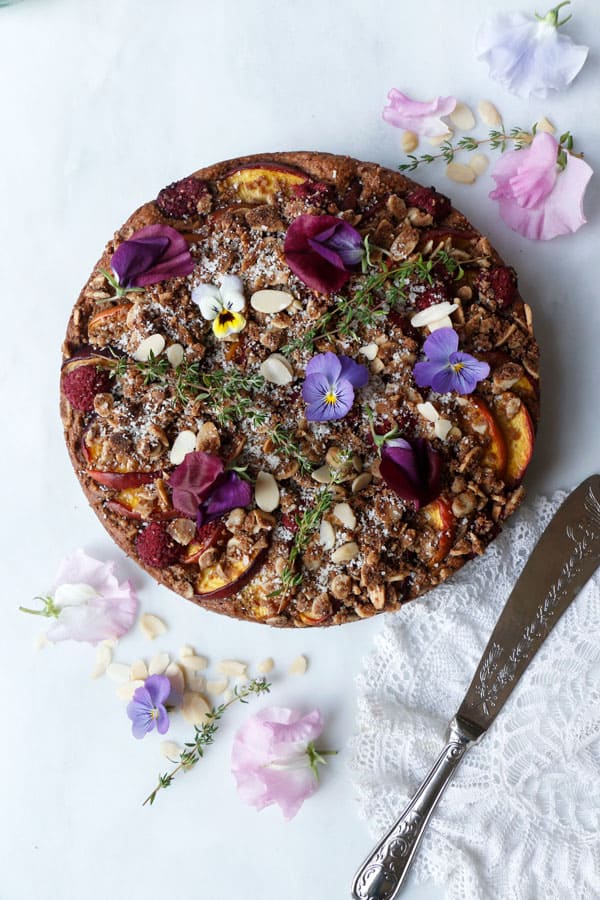 And so I fancied little bit of an old fashioned kind of a cake last Sunday with lots of summer fruit and I came up with this deliciously moist Raspberry Peach Crumb Cake.
It's a lovely plantbased cake with a really moist sponge topped with peaches, raspberries and crumble topping. A perfect recipe to put your own spin onto and use with any of your favourite summer fruit combos.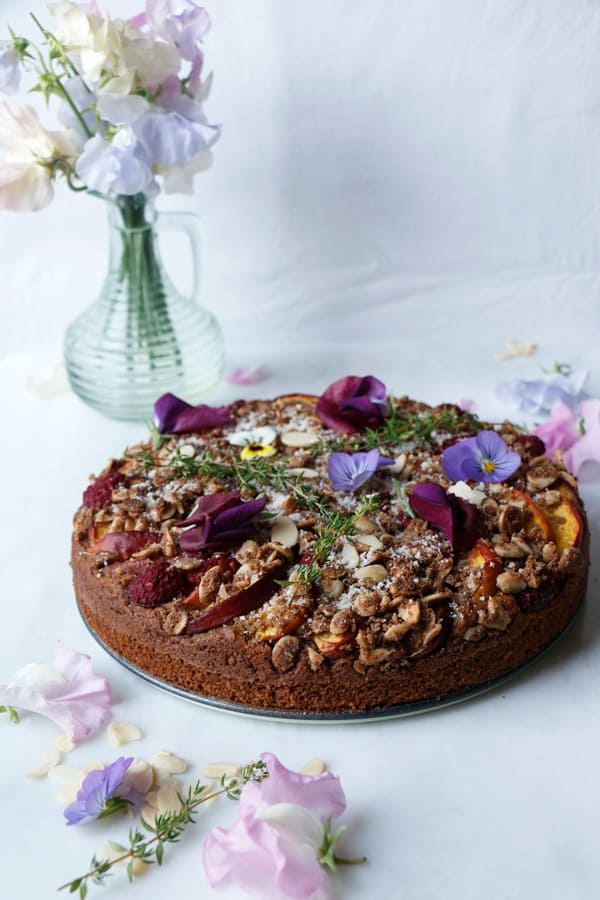 I've made a gluten-free mix with ground almonds, buckwheat flour, ground oats and desiccated coconut. If you don't like buckwheat flour, you can replace it with brown rice, millet or teff flour. Gluten-free oats can be replaced with quinoa flakes if you can't tolerate them, but use brown rice flour instead of buckwheat as it has more neutral taste.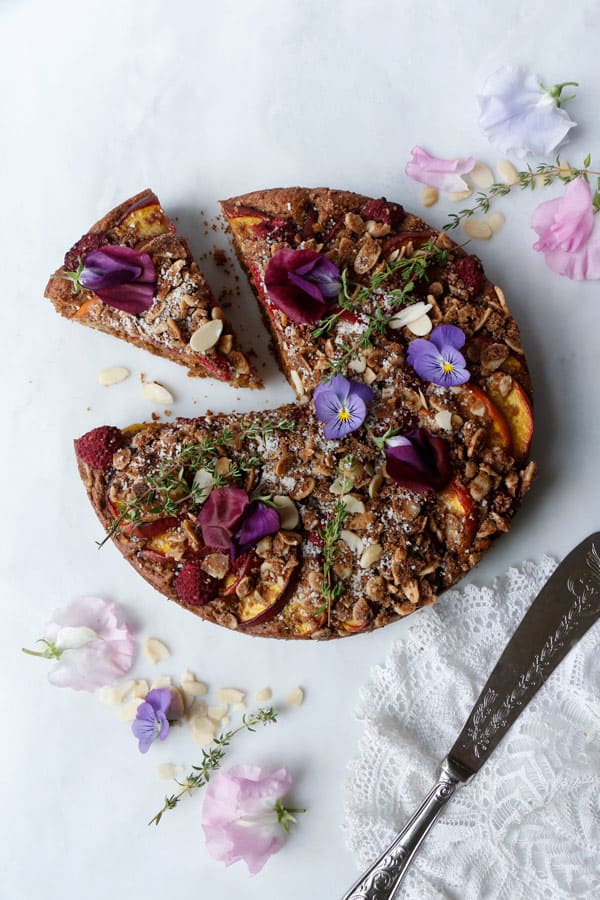 I've called this cake Raspberry Peach Crumb Cake, but I've actually used nectarines. It's just that everyone is more likely to search for peach rather than a nectarine cake :) Two nectarines and a handful of raspberries were sufficient for this recipe and it perfectly covered the whole surface.
I did decorate my cake with few blooms and thyme sprigs to make the photos more pretty and eye catching, but it's a beautiful cake on it's own and perfect for your summer celebrations.
Yield: 9" cake
Raspberry Peach Crumb Cake (vegan & gluten-free)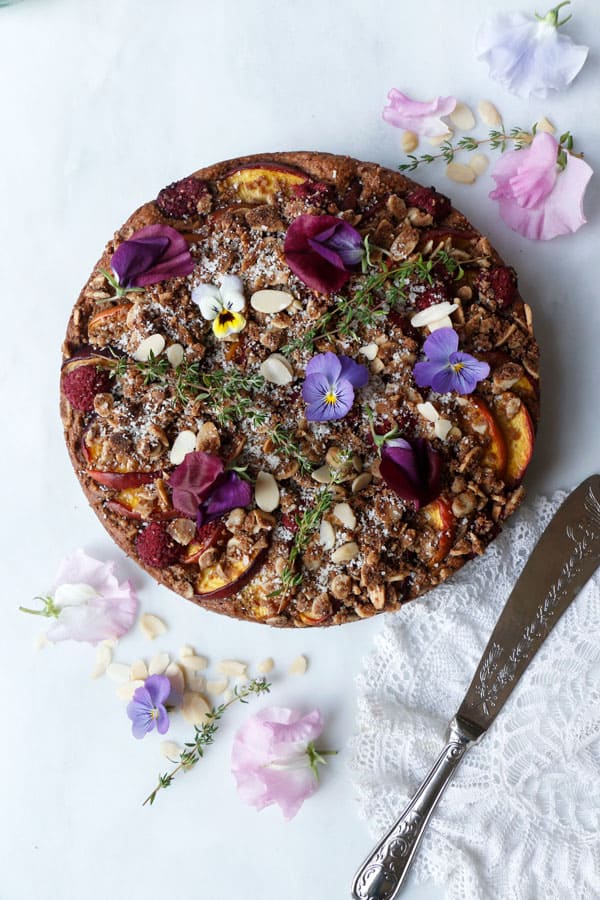 Ingredients
2 peaches or nectarines, sliced
100g raspberries (3/4 cup)
100g ground almonds (1 cup)
95g buckwheat flour (3/4 cup)
50g gluten-free oats, ground into flour consistency (1/2 cup)
50g desiccated coconut (1/2 cup)
1 1/2tsp baking powder
1tsp bicarbonate of soda
1tsp cinnamon
1/2tsp cardamom
pinch sea salt
100g coconut sugar (3/4 cup)
3tbsp ground flaxseed + 9tbsp water
120ml olive oil (1/2 cup)
120ml almond milk (1/2 cup)
1tbsp apple cider vinegar
1tsp vanilla
Crumble topping:
30g flaked almonds (1/3 cup)
35g buckwheat flour (1/4 cup)
2tbsp coconut sugar
1/4tsp cinnamon
1/4tsp cardamom
1tbsp coconut oil
Instructions
Mix 3tbsp ground flaxseed with 9tbsp water and set aside to thicken.
Place all of the dry ingredients for crumble topping into a medium bowl and whisk together. Add coconut oil and rub together into crumbly consistency. Set aside.
Preheat the oven to 180°C (350F)
Grease and line one 9" round springform baking tin.
In a large bowl whisk together ground almonds, buckwheat flour, oat flour, desiccated coconut, baking powder, bicarbonate of soda, cinnamon, cardamom, salt and sugar and set aside.
In a small bowl whisk together flax eggs, olive oil, almond milk, apple cider vinegar and vanilla.
Add the wet mix to the dry mix and mix until well combined. You should have muffin consistency.
Spoon the mixture into your prepared tin and level out the surface.
Arrange sliced peaches and raspberries on top and sprinkle with the crumble topping.
Bake for about 40-45 minutes or until a cocktail stick comes out clean.
Remove from the oven once ready and leave to cool down for 30 min before removing from the tin.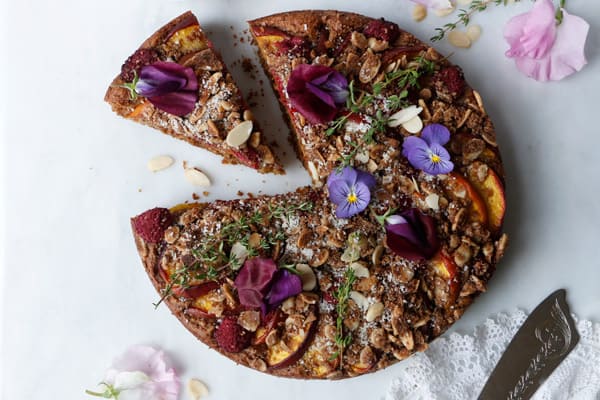 Similar Posts: