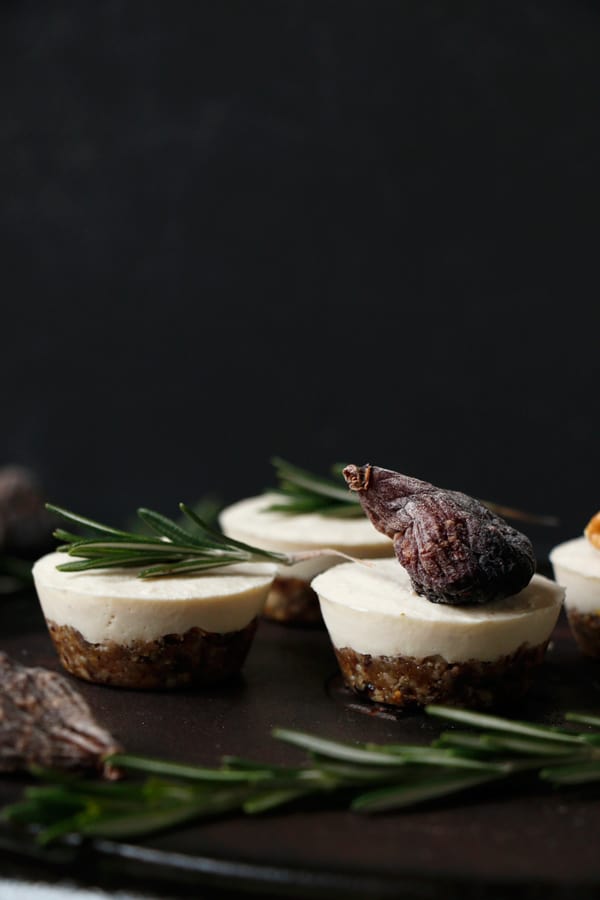 As we're coming to the end of the year I've got the perfect party food for your New Year's Eve celebration. I always thought my Fig Walnut Rosemary Crackers would taste amazing with some cashew cheese and so in these Raw Savory Mini Vegan Cheesecakes I have combined the two – fig, walnut, sunflower seeds and rosemary base with creamy cashew cheese topping. So simple and so delicious.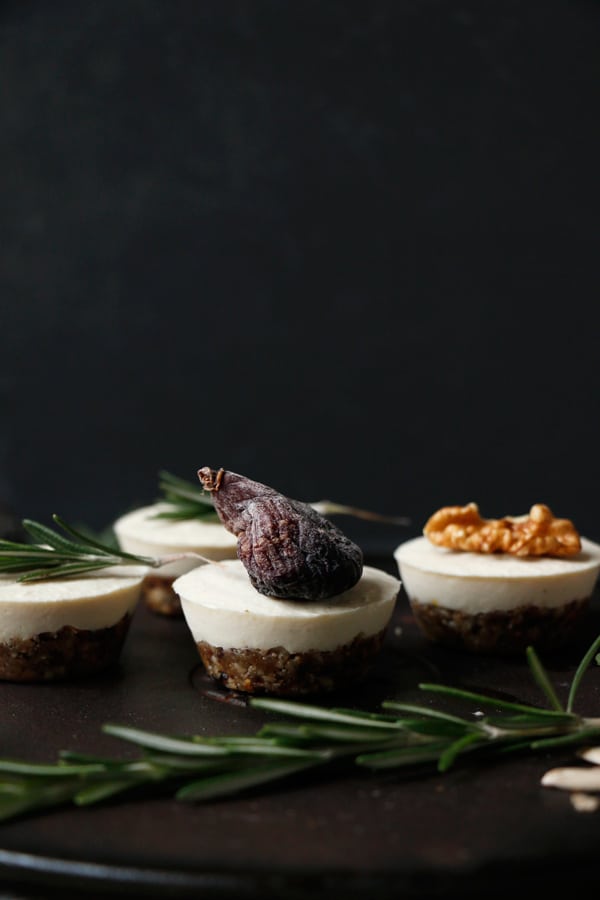 These cheesecakes are perfect to make ahead and keep in freezer, because of their small size they will defrost quickly. They are quick to make, you just have to remember to soak the cashews overnight. I often only soak cashews for 4 hours, but soaking them overnight will make the cashew layer extra creamy and much easier to blend. Blend the topping into creamy cheese consistency so it holds it's shape well. Press them straight into mini cupcake tin, they are easy to pop out once frozen. And if you love the idea of savory cheesecake I have another recipe from this summer for this Raw Spinach Cheesecake with Sundried Tomato and Sunflower Seed Crust that you could make into mini ones too:)
And finally I would love to wish you Happy New Year 2017! Thank you from the bottom of my heart for being here, reading my posts and trying out my recipes. It really is my bliss and I am so grateful for you.
Wishing you the most incredible new beginnings, …. write it, live it, without fear and with passion!!!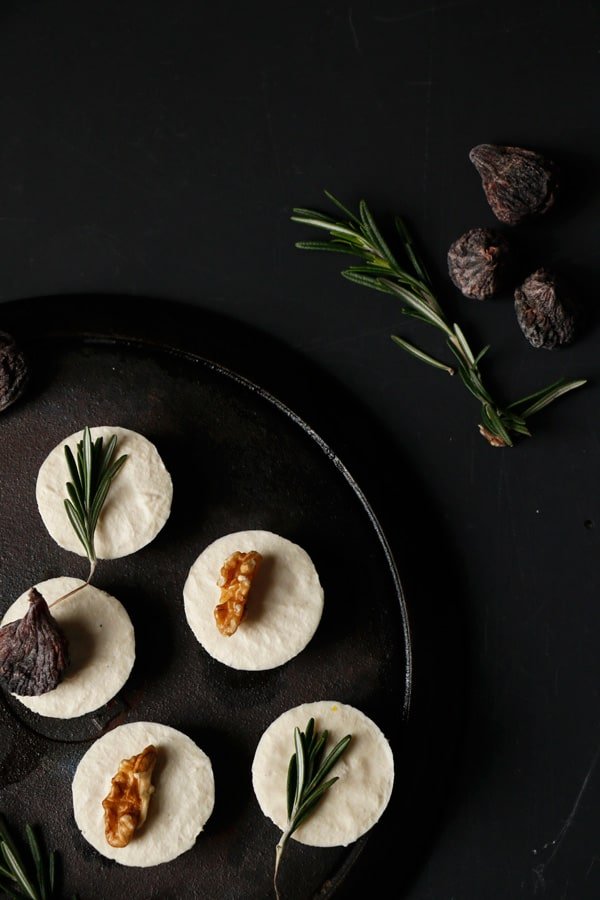 Yield: 24 mini cheesecakes
Raw Savory Mini Vegan Cheesecakes (grain-free)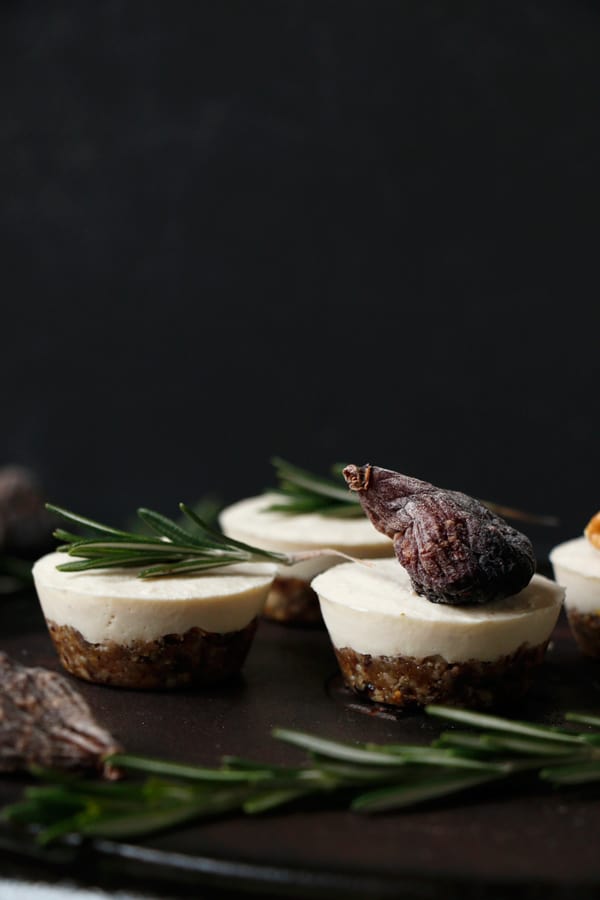 Ingredients
Crust layer:
100g walnuts (1 cup)
60g sunflower seeds (1/2 cup)
100g dried figs (1 cup)
½tbsp chopped fresh rosemary
½tsp sea salt
1tsp olive oil
1/4 lemon, zest (optional)
Cashew cheese layer:
200g cashews, soaked overnight (1 3/4 cup)
1/2 lemon, juice
1/2tsp garlic powder
2tbsp nutritional yeast
1/2tsp sea salt
120ml water
Instructions
Place walnuts and sunflower seeds into high speed blender or food processor and blend until coarsely ground. Add figs, rosemary, sea salt and olive oil and blitz few times until the mixture comes together. Divide the mix evenly into 24 mini cupcake size holes and press tightly down. Place into a fridge to firm up while making the topping.
Rinse the soaked cashews under running water and place into blender. Add lemon juice, garlic, nutritional yeast, sea salt and enough water to blend until smooth. You might don't need all of the water, just enough to blend, try to keep it as thick as you can. Spoon on top of the crust layer and gently tap the tin to smooth out the top.
Place into a freezer for at least 2 to 3 hours or overnight to set.
Once set use knife to pop them out of the tin.
Decorate with some figs, walnuts or fresh rosemary.
Enjoy!
Notes
You can replace garlic powder with garlic clove and add extra nutritional yeast if you like. If your figs feel too dry, soak them in warm water for about 20 minutes first.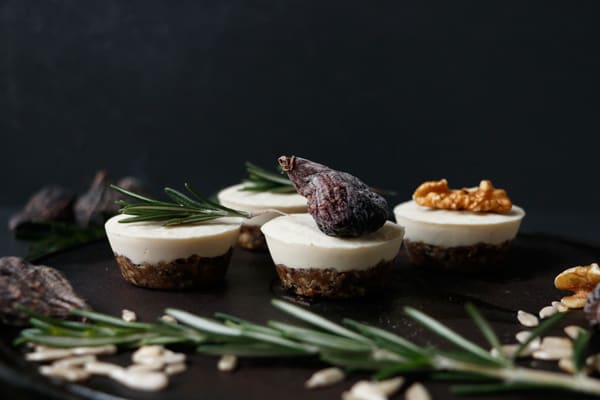 Similar Posts: