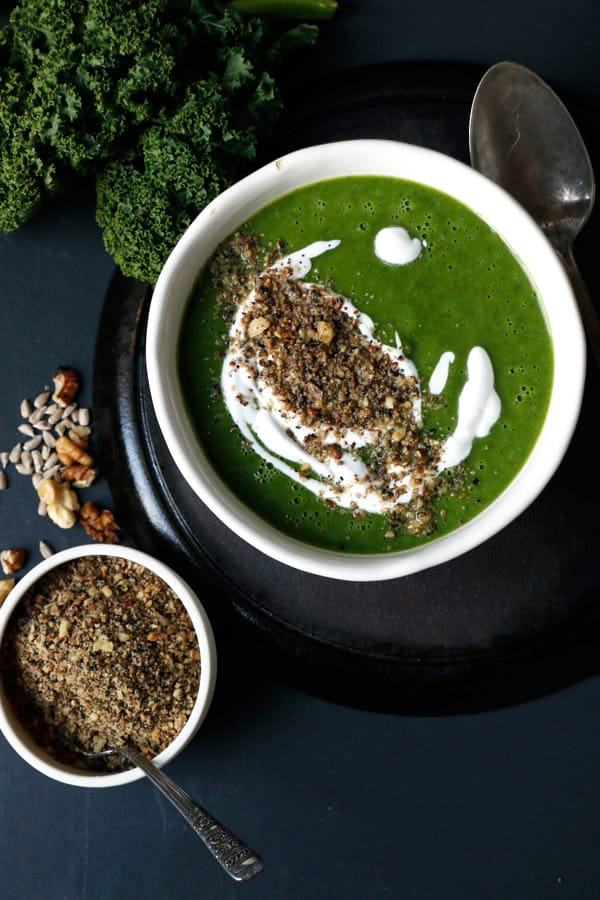 Happy January! I'm sure you are expecting something green for my first 2017 post and I'm not here to disappoint! This Celeriac Apple Kale Soup with Walnut Dukkah is the perfect January recipe, it's warm, cozy, delicious, yet healthy and full of plant power. It's a yummy seasonal soup.
To create this recipe I played with classic celeriac apple soup recipe and gave it a little twist by adding kale and making some walnut dukkah to add more flavours and texture.
You can customise this recipe to your personal preference, adding more apples will give the soup more sweetness, more kale adds more vibrant green colour.
This is the first time I've made dukkah and I absolutely love it. I've used couple of recipes from which I've adapted mine, one from Ottolenghi and one from My New Roots. I have used walnuts instead of more traditional hazelnuts and lightened up the spices, so it's not as strong as traditional dukkah. This way I can happily add generous amount to my soup. It's such a lovely spice mix and you should have plenty left over to sprinkle on soups, salads and stews. Enjoy:) x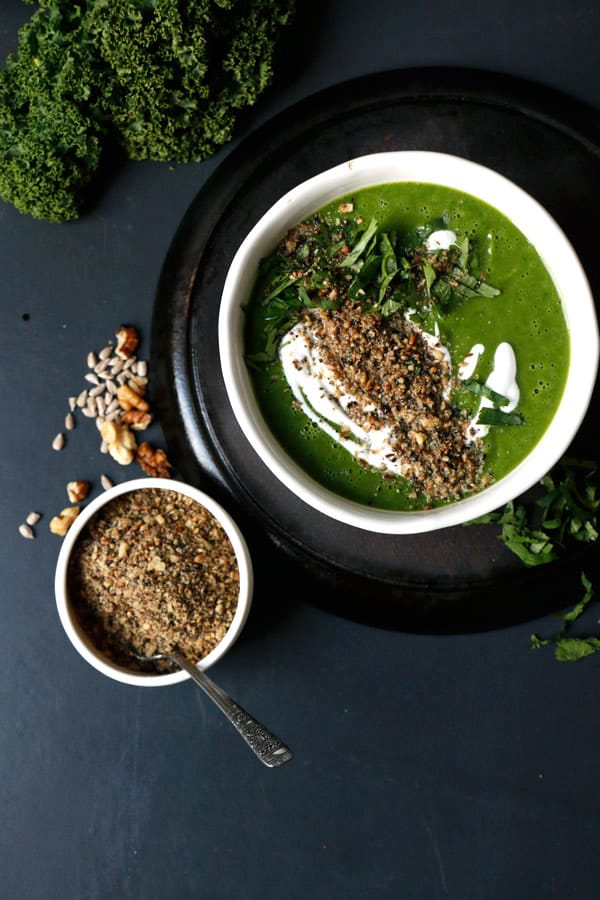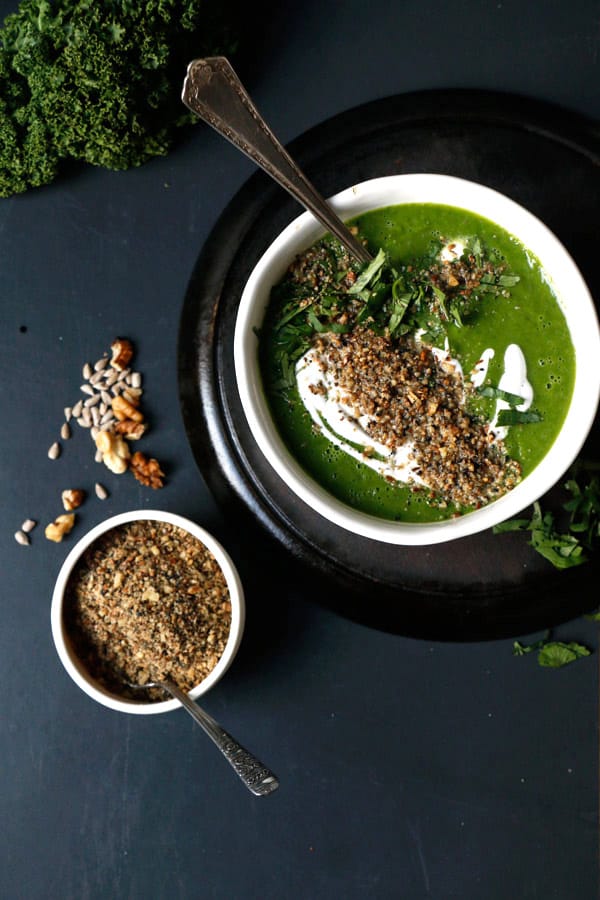 Yield: 6 servings
Celeriac Apple Kale Soup with Walnut Dukkah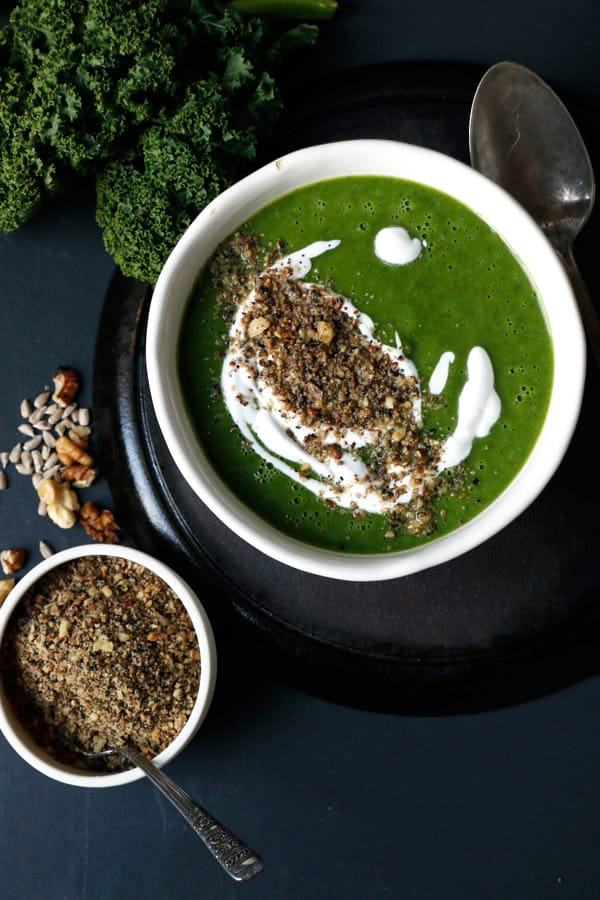 Ingredients
Celeriac Apple Kale soup:
1 large celeriac, peeled and chopped
2 apples, cored and quartered
2tbsp olive oil
1 medium onion, chopped
1 celery stick, chopped
1 garlic clove, chopped
1,25l vegetable broth, stock or water (5 cups)
large bunch of kale
sea salt & pepper
Walnut dukkah:
100g walnuts (1 cup)
3tbsp sunflower seeds
2tbsp sesame seeds
2tbsp coriander seeds
1tbsp cumin seeds
1/2tbsp black peppercorns
1/2tsp sea salt
Instructions
In a large pot gently heat about 2tbsp of olive oil, add chopped onion and celery and saute for about 5 minutes, add garlic, celeriac and apples and cook for 2 more minutes. Add your choice of liquid, bring to a boil and leave to simmer for about 15 minutes until the celeriac is soft. Tear the kale leaves from the hard stems, wash well and add to the pot. Cook for couple more minutes until just wilted. Ideally you want to keep that vibrant green colour.
Take off the heat and carefully blend until smooth. Season with sea salt and freshly ground black pepper.
To make the dukkah preheat cast iron or heavy bottomed pan on a medium heat, add sesame seeds, toast until fragrant and lightly toasted, scoop into a bowl.
Now add coriander seeds and toast until they start to pop, about 30 seconds. Repeat the process with cumin seeds and black peppercorns. They all take around the same time.
Scoop all of the seeds together with sea salt into high speed blender or processor and blitz few times until coarsely ground. You can use pestle and mortar if you have one instead. Scoop into a bowl.
In the same pan toast the walnuts until fragrant and slightly toasted, about 5 minutes. Scoop into blender. Add sunflower seeds to the pan and toast until fragrant and slightly toasted, about 2 minutes. Add to the walnuts. Pulse until broken down into small pieces, very roughly ground.
Add to the bowl with crushed seeds and mix together.
Laddle the soup into bowls. Serve with walnut dukkah and optional coconut cream and chopped fresh coriander.
Store the remaining dukkah in a glass jar.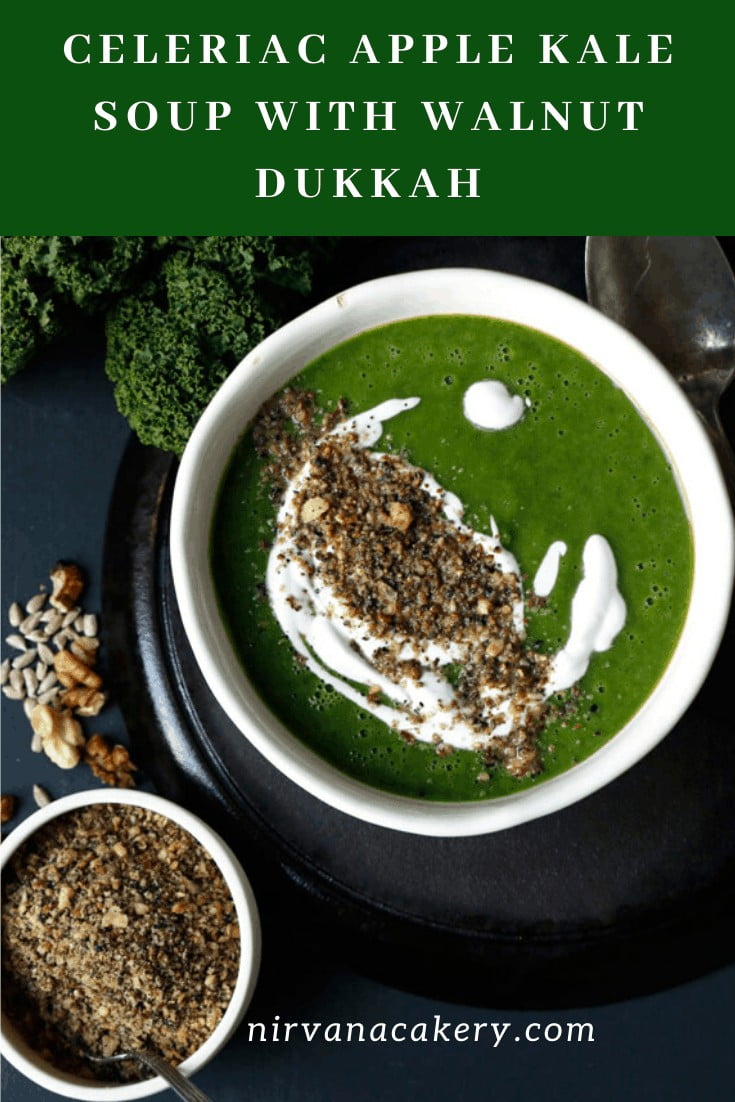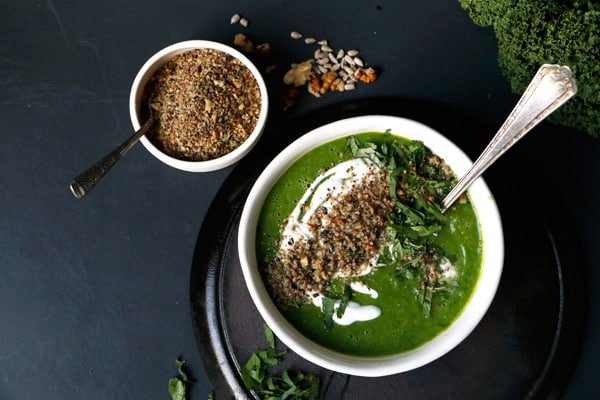 Similar Posts: