Vegan, gluten-free and grain-free cheesecake with Italian inspired seasoning.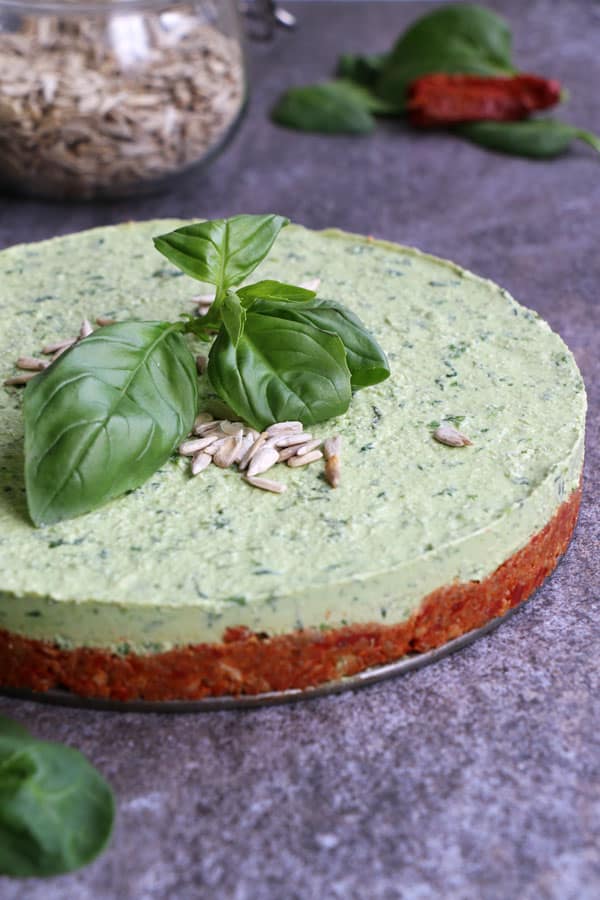 The other day I was looking for a savory vegan cheesecake recipe and couldn't find one single recipe and so I took on the challenge and made my own. A complete experiment that turned out amazing, yay! Don't you just love when that happens! And so let me introduce you to my first savory raw cake with Italian inspired seasoning that tastes utterly amazing.
The crust is made with sunflower seeds, flaxseed, sun-dried tomatoes and oregano. The sun-dried tomatoes help the mixture to stick together which creates the base for the cheesecake.
The filling is a basic cashew cheese recipe that I've adapted from Kris Carr's Crazy Sexy Kitchen and I've added some baby spinach and fresh basil to the mix. And this gorgeous creamy cheesy filling goes on top of the crust and altogether is such a dream. I've used dry sun-dried tomatoes in this recipe, which I soaked in hot water to soften.
You could also buy ones already soaked in olive oil and then they wouldn't need further soaking. If you don't have the nutritional yeast, it'll be okay to leave it out, but it does add that cheesy flavor to the cashews.
The cake took about 3 hours to set in freezer, you don't want it completely frozen, only around the edges and firm in the center, so you can easily remove it from the tin. It's lovely served with some fresh green salad.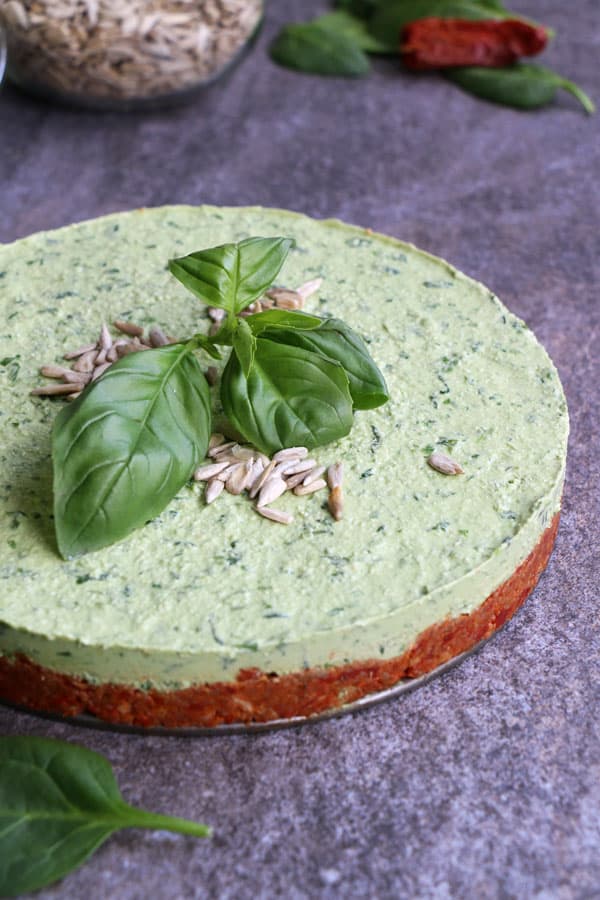 Yield: 8" round cake
Raw Spinach Cheesecake with Sundried Tomato and Sunflower Seed Crust (grain-free & vegan)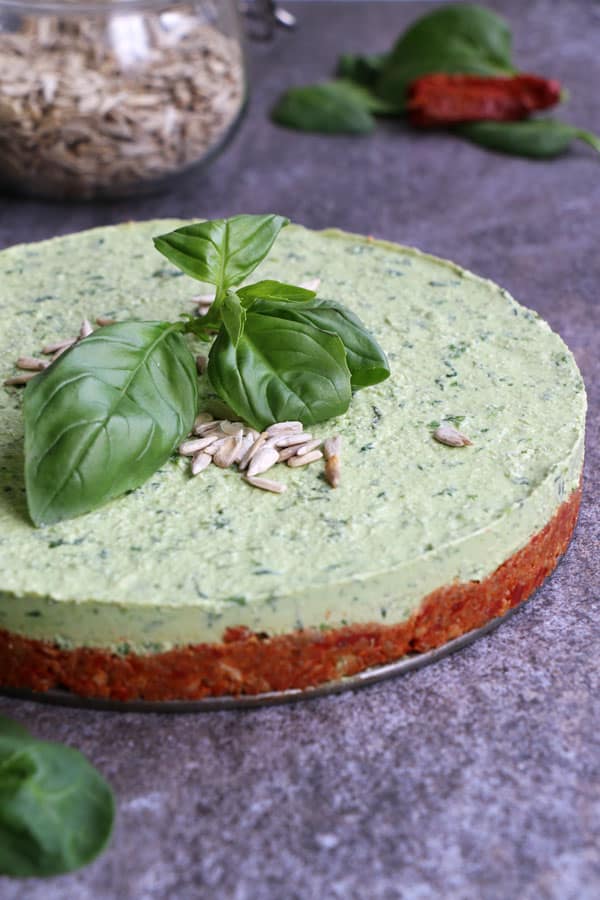 Vegan, gluten-free and grain-free cheesecake with Italian inspired seasoning.
Ingredients
Crust:
120g sunflower seeds (1 cup)
30g flaxseed (1/4 cup)
85g sundried tomatoes (1 cup)
1/2tsp oregano
1/4tsp sea salt
1tbsp olive oil
Cheese layer:
250g cashews (2 cups) soaked for 3 hours
120ml water (1/2 cup)
2tbsp lemon juice
1tbsp nutritional yeast
1 garlic clove
1/2tsp sea salt
freshly ground black pepper
100g baby spinach (2 cups)
fresh basil, small bunch
Instructions
Place cashews into bowl, cover with water and leave to soak for 3 hours. Rinse well under running water and drain.
Place the sundried tomatoes into bowl, cover with boiling water and leave to soak for about 20-30 minutes. Drain once soft.
In a food processor or high speed blender process sunflower seeds until broken down, but not completely ground. Add drained sundried tomatoes, flaxseed, oregano, sea salt and olive oil and process until the mixture sticks together.
Press the mixture evenly onto bottom of 8" spring form round cake tin and set aside.
Place cashews into high speed blender with water and lemon juice and blend until smooth and creamy. Add nutritional yeast, garlic, sea salt and black pepper and blend again. Finally add washed spinach and basil and blend just until incorporated.
Spoon the mixture onto the crust layer and smooth out the top. It will be thick consistency.
Place into freezer for about 3 hours to set.
Remove from the tin once set and serve.
You can slice the leftovers and store in freezer.
Enjoy!
Nutrition Information:
Yield:
6
Serving Size:
1
Amount Per Serving:
Calories:

204
Total Fat:

15g
Saturated Fat:

2g
Trans Fat:

0g
Unsaturated Fat:

12g
Cholesterol:

0mg
Sodium:

1525mg
Carbohydrates:

14g
Fiber:

6g
Sugar:

6g
Protein:

8g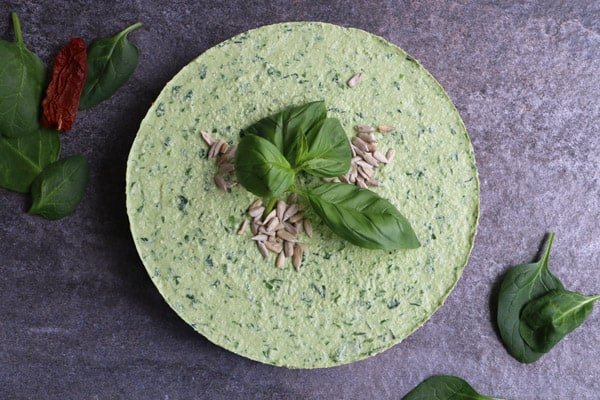 Similar Posts: