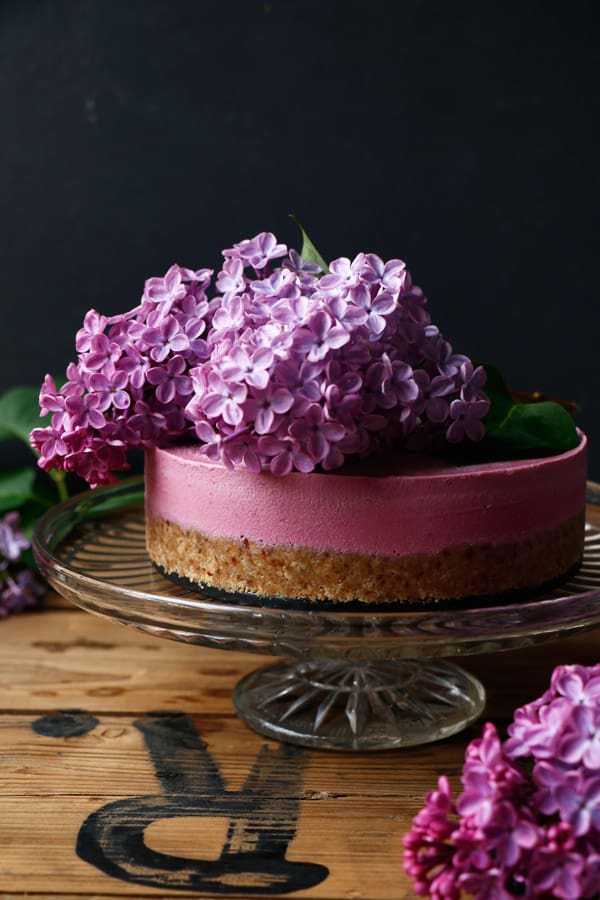 If I had to choose my favourite flowers they would be forget-me-knot (they will always be my no 1), lilac, hyacinth, tulip, all wild flowers and my recent favourite sweet pea. I would love to hear yours?!
I was quite tempted to make a lilac cake as the petals are edible, but those delicate petals are just way too gorgeous to be blended into a cake, although I'm not saying I'm not going to try:) And so today it is a Raspberry Cheesecake, deep pink delicious adored with beautiful fragrant lilac.
It's a simple cheesecake with sunflower seed tahini crust and creamy cashew coconut raspberry filling. It's fairly closely adapted from my Raspberry White Chocolate Bars if you like to check them out.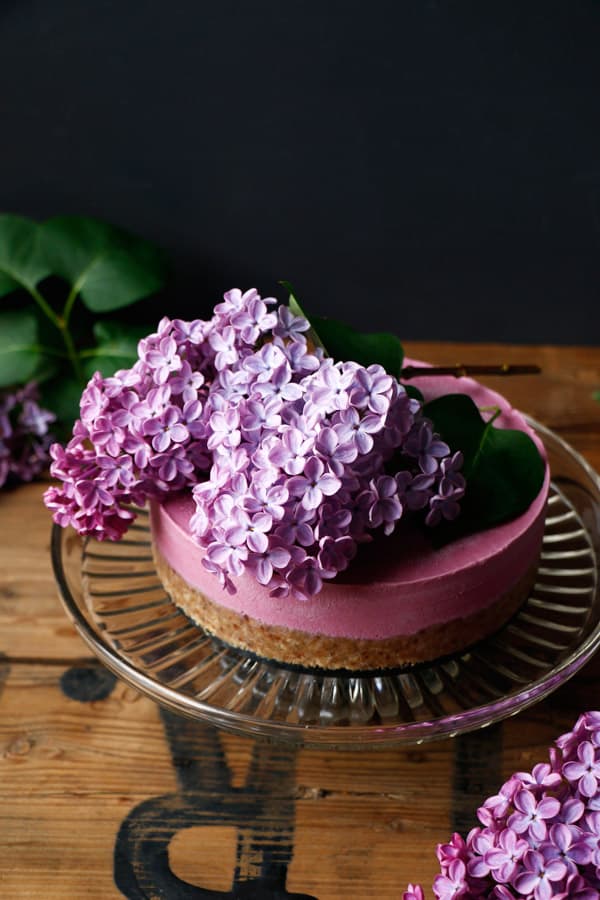 Originally I wanted to make the cake completely nut free, but somehow I've ended up using cashews in the filling. However you can replace the cashews with another 100g (1/2 cup) of coconut butter to make it nut-free if you like. It will still be delicious.
Frozen raspberries give beautiful deep pink colour to this cake and I love the combination with lilac on top, true food for the soul. Enjoy!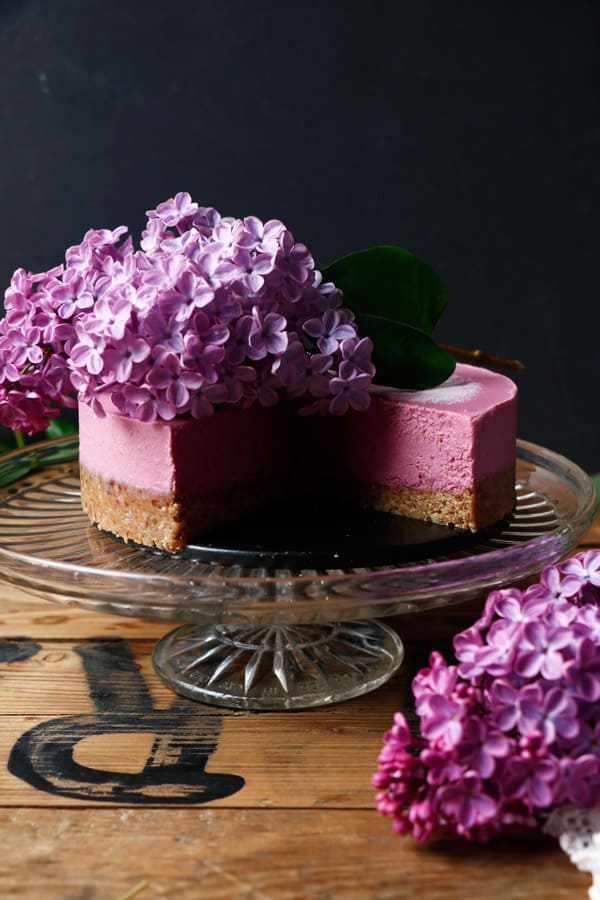 Yield: 6" cake
Raw Vegan Raspberry Cheesecake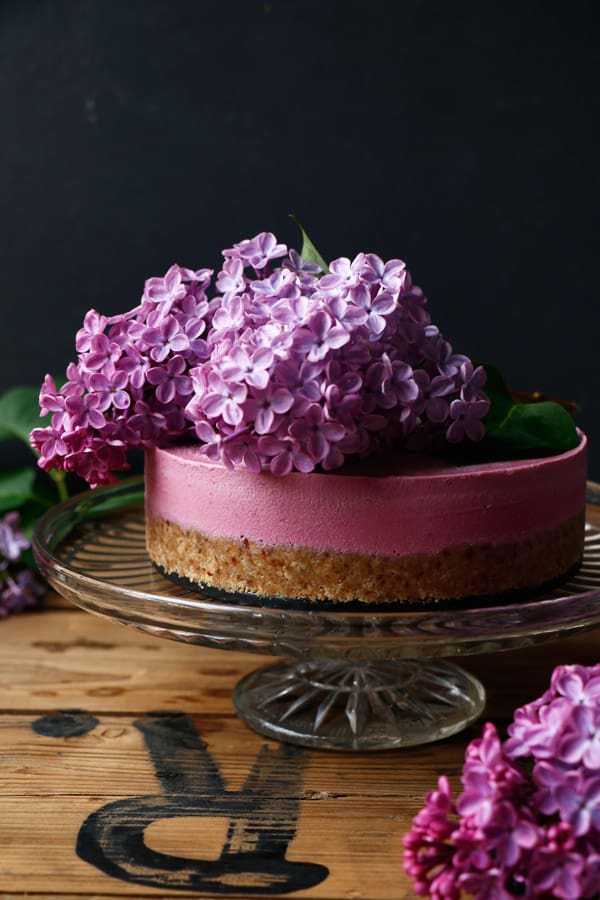 Ingredients
Crust layer:
120g sunflower seeds (1 cup)
5 medjool dates, pitted
2tbsp tahini
1/2tsp cinnamon
pinch Himalayan pink salt
Raspberry layer:
120g cashews, soaked for 4 hours (1 cup)
60ml maple syrup (1/4 cup)
1tbsp lemon juice
200g frozen raspberries, thawed (2 cups)
100g coconut butter (1/2 cup)
2tbsp coconut oil
Instructions
Prepare 6" round cake tin with removable base, no need to grease it.
Place sunflower seeds into a food processor or high speed blender and pulse few times until coarsely ground. Add pitted dates, tahini, cinnamon and salt and blend until the mixture comes together. Add an extra date or tahini if needed.
Spoon the mix into the tin, spread evenly onto the base and press tightly down. Place into a fridge.
In a double boiler gently melt coconut butter with coconut oil and set aside.
Rinse the soaked cashews under running water and place into blender. Add maple syrup, lemon juice and thawed raspberries and blend until smooth. Slowly add melted coconut butter and blend until incorporated. Make sure the mixture is at room temperature before adding the coconut butter.
Spoon onto the crust layer and smooth out the top.
Place into a freezer overnight or for at least few hours to set.
Once set carefully remove from the tin.
Place onto a cake stand and decorate with lilac or toppings of your choice.
Store in a fridge or freezer.
Enjoy!
Notes
Frozen raspberries give the cake deeper pink colour than fresh raspberries. If using fresh raspberries 2 cups weight about 300g.
Have all of the ingredients for the filling at room temperature before blending in the coconut butter.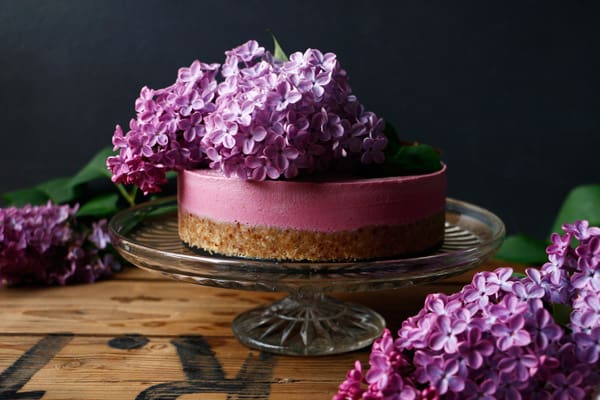 Similar Posts: