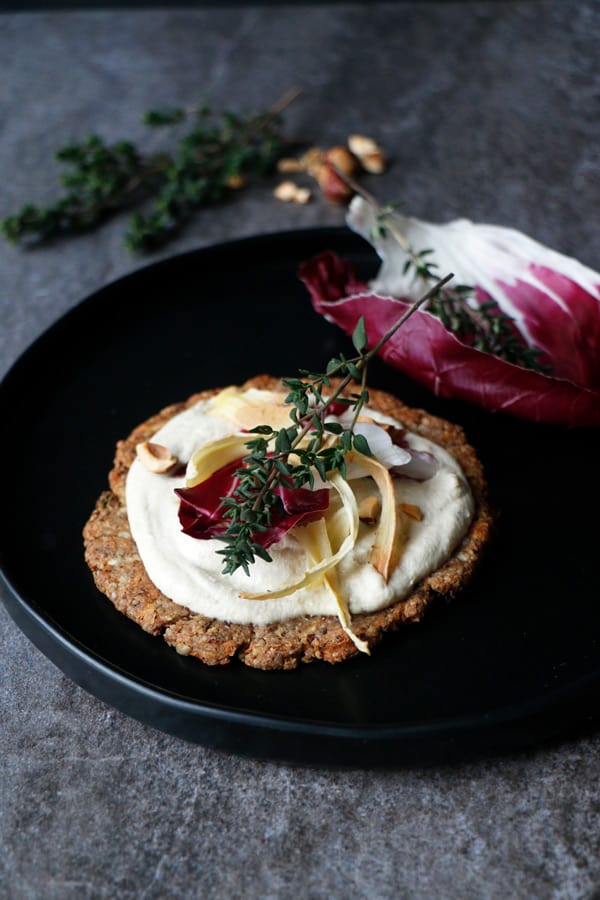 I think of this recipe as a 'deep in the winter'. Not that it's a hearty stew or a soup, but the ingredients, the colors, the mood I've created.
I've started making celeriac apple rustic tart and this is what I've ended up with, Parsnip Celeriac Grain-Free Mini Pizzas topped with cashew cheese, radicchio and parsnip celeriac crisps.
It's one of the most delicious savory meals I've ever eaten and it would make an incredible starter to a plant-based dinner party.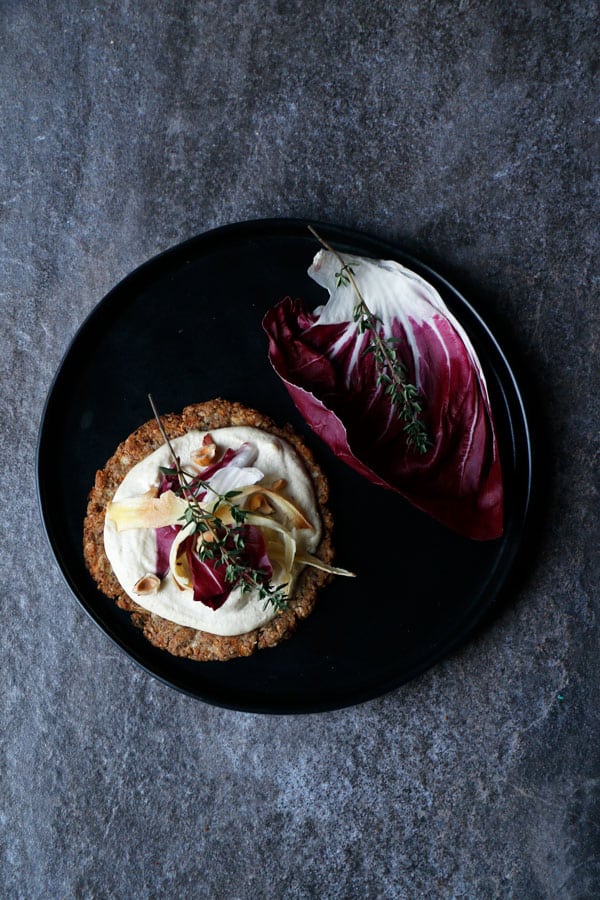 This mini pizzas recipe is very closely adapted from my Parsnip Pizza with Roasted Carrot Parsnip Hummus, another amazing winter recipe.
The base has no flour, no oil, only ground hazelnuts and sunflower seeds and the grated root veggies which act as a binder to help the dough come together. Wonderful recipe if you're following a grain-free diet.
You could make these any size you like, I've made six about 4″ mini pizzas from this recipe, they would be lovely even smaller too.
I've topped them with simple cashew cheese, some parsnip and celeriac crisps and radicchio and fresh thyme for little colour. I think these could potentially be made raw and you could use dehydrator to make these, although I haven't tried that.
Enjoy and let me know how you like these :)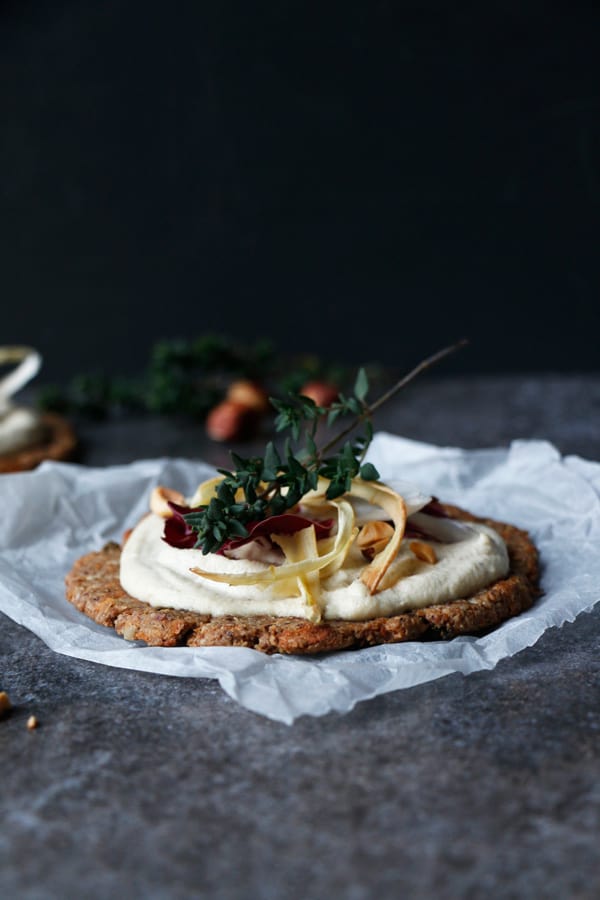 Yield: 6 mini pizzas
Parsnip Celeriac Grain-Free Mini Pizzas (vegan)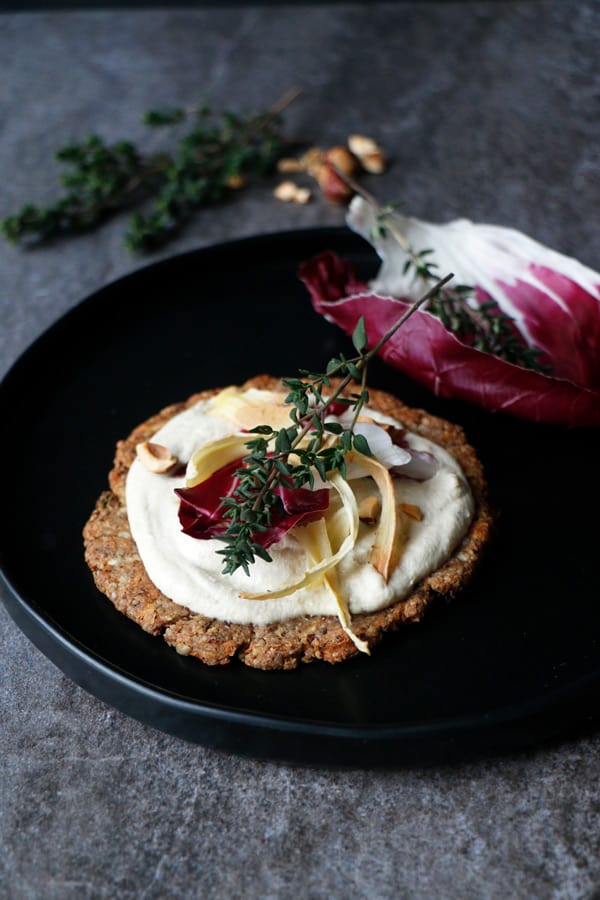 Ingredients
Parsnip celeriac pizzas:
160g mix of celeriac and parsnips, peeled and coarsely grated (1¼ cup)
1tsp lemon juice & little lemon zest
½ tbsp fresh thyme
100g ground blanched hazelnuts (1 cup)
80g sunflower seeds (1/2 cup)
1tbsp ground flaxseed
1tsp sea salt
freshly ground black pepper
Cashew cheese:
200g raw cashews, soaked for at least 4 hours or overnight (1 1/2 cup)
1 small garlic clove
1/2 lemon, juice
1/2tsp sea salt
freshly ground black pepper
80ml water (1/3 cup)
2tbsp nutritional yeast
Topping:
celeriac & parsnip crisps
radicchio
fresh thyme sprigs
chopped hazelnuts
Instructions
Preheat your oven to 150°C (300F)
Peel parsnips and celeriac. Using julienne peeler shave few strips along to make the crisps. Line a baking sheet with baking paper and arrange the veggie strips on top so they are not touching. Place into the oven and bake for about 10-15 minutes checking frequently so they don't burn until lightly golden brown and crispy.
Coarsely grate parsnips and celeriac, squeeze lemon juice over, add fresh thyme and set aside.
Place the sunflower seeds into a food processor or high speed blender and process until finely ground.
Scrape into a bowl, add ground hazelnuts, flaxseed, sea salt and pepper and whisk until combined.
Add the parsnip celeriac mixture and using your hands mix until it just comes together into a dough.
Shape the dough into 6 balls and roll each one between two sheets of baking paper into about 4" round shape, just under ¼" thickness. Use your hands to even out the edges as you are rolling the dough out. This part can be fiddly, so have patience with it. You could even flatten them with the palm of your hand.
Increase the oven temperature to 200°C (400F)
Transfer the pizzas onto a flat tray lined with baking paper and bake for about 20 minutes until golden brown and baked at the bottom. It should be slightly crispy around the edges, but still retain some softness in centre.
To make the cashew cheese, rinse the soaked cashews under running water and place into high speed blender. Add garlic, lemon juice, sea salt, black pepper and water and blend until smooth. Add little more water if needed to achieve creamy smooth spreadable consistency. Finally add nutritional yeast and blend until incorporated. Taste for seasoning.
Once the pizzas are ready spread generous amount of cashew cheese on top and top with radicchio, parsnip and celeriac crisps, fresh thyme sprig and chopped hazelnuts.
Enjoy warm or cold! Delicious either way.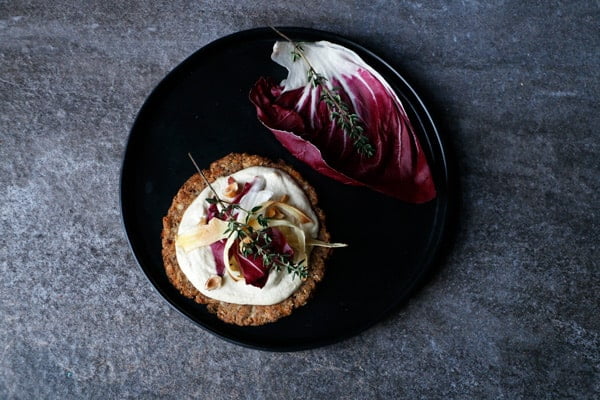 Similar Posts: