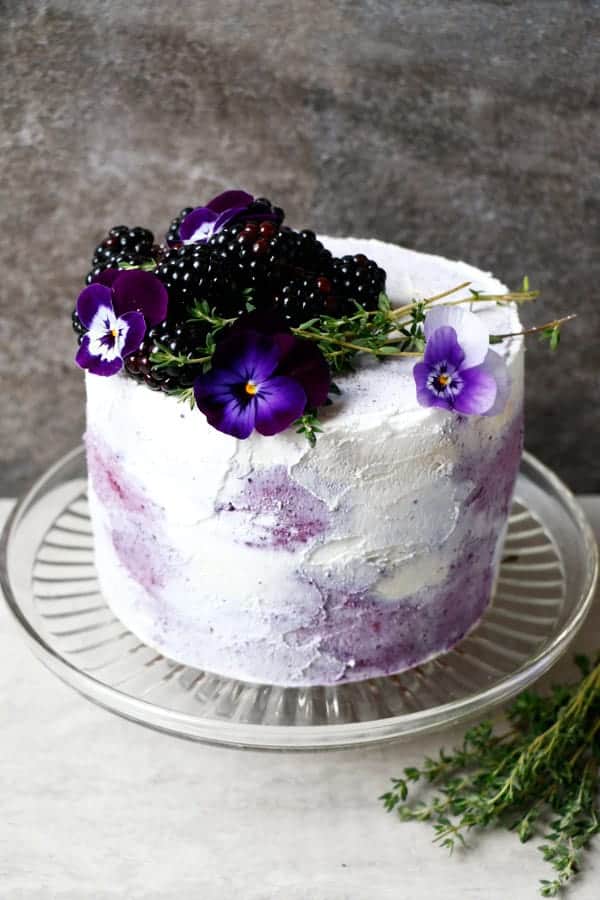 Last week was my Birthday and I would love to share with you the recipe for my Plantbased Birthday Cake today. I can't remember my Birthday cake from last year and so I'm making sure that I'll remember this one by dedicating this post to it.
I'm hoping it'll bring me some lovely memories in years time and that getting one year older can be great if you have a good cake and some wonderful people around to share it with.
This cake is a mix of all of my favourite ingredients – beetroot, carrot, buckwheat, teff, cinnamon, cardamom, coconut and walnuts. I've used the same frosting as in my most popular Blueberry Cake with Coconut Frosting recipe. It's super wholesome and got some great reviews from my friends and family, so it can't be that bad!
For decoration I wanted something girly and simple and have used few blackberries, thyme sprigs and pansies to top the cake. One thing worth mentioning is that the pigment from the root vegetables seem to come through into the frosting after some time and the white part of the frosting became peachy after few hours. I thought it looked pretty, but you might not like that.
The cake on the pictures is three layer cake, but the recipe below is for two layers, because I wanted to make it easier for you if you only want to bake two layer cake or have two 6″ tins. Happy baking & let me know what you think!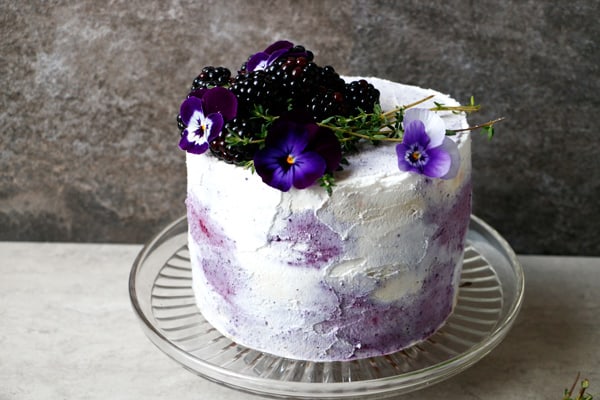 Yield: 2 layer 6" cake
Plantbased Birthday Cake (gluten-free & vegan)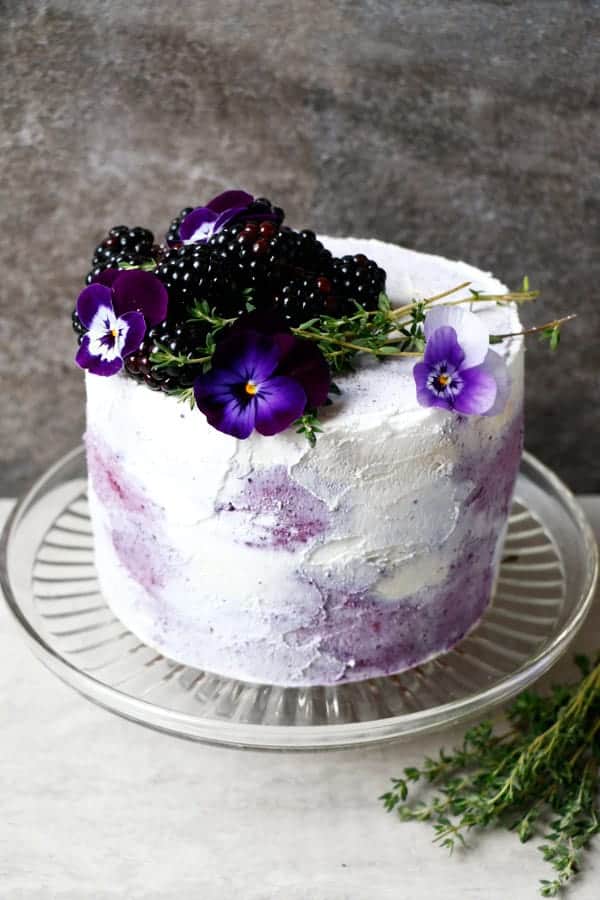 Ingredients
200g mixed beetroot and carrot, grated (1 1/4 cup packed)
1/2 orange, zest
95g teff flour (3/4 cup)
70g buckwheat flour (1/2 cup)
50g ground walnuts (1/2 cup)
50g desiccated coconut (1/2 cup)
75g coconut sugar (1/2 cup)
1tsp baking powder
1tsp bicarbonate of soda
1tsp cinnamon
1/2tsp cardamom
pinch of sea salt
2tbsp ground flaxseed + 6tbsp water
80ml olive oil (1/3 cup)
60ml almond milk (1/4 cup)
60ml orange juice (1/4 cup)
2tsp apple cider vinegar
Coconut frosting:
1x 400ml can full fat coconut milk (refrigerated overnight)
250g coconut yoghurt (1 cup)
1/2tbsp blueberry powder
Topping:
blackberries
fresh thyme sprigs
edible flowers
Instructions
Place the can of full fat coconut milk into a fridge, preferably overnight.
Preheat the oven to 180°C (350°F)
Grease and line 2 x 6" round cake baking tin.
Peel and roughly grate beetroot and carrots, stir in orange zest and set aside.
Mix 2tbsp of ground flaxseed with 6tbsp of water and set aside to thicken.
In a large bowl whisk together teff flour, buckwheat flour, ground walnuts, desiccated coconut, coconut sugar, baking powder, bicarbonate of soda, cinnamon, cardamom and salt. Set aside.
In a small bowl whisk together olive oil, almond milk, orange juice, apple cider vinegar and flax eggs. Set aside.
Stir the beetroot mix to the dry mix and now add the wet mix and mix until combined. If the mixture is too dry add extra almond milk to achieve moist muffin consistency.
Evenly divide the mixture between the two cake tins and level out the surface.
Bake for about 30min or until a cocktail stick comes out clean.
Remove from the oven once ready and leave to cool down for 30 min before carefully moving onto a wire rack.
To make the frosting scoop the solid part of the coconut milk into a bowl, add coconut yoghurt and whip until smooth and thick. You can add 1/2tbsp of sweetener if you like. Keep in a fridge until you're ready to frost the cake.
Once the cakes are completely cool, place one layer onto a cake stand and spread with some coconut frosting, top with the other layer. Using spatula frost the top and the sides of the cake. Place about 2tbsp of frosting into a small bowl, add the blueberry powder and mix well. With spatula add the purple frosting to some parts of the cake as you like. You can add more white to other parts.
Finish with fresh blackberries, thyme sprigs, edible flowers,...
Store in a fridge and enjoy!
Notes
This recipe is for 2 layer cake. If you like to make 3 layer cake like the one on the pictures, please increase the ingredients by 1/2 the amount and use three 6" tins.. The frosting will be just enough for 3 layers.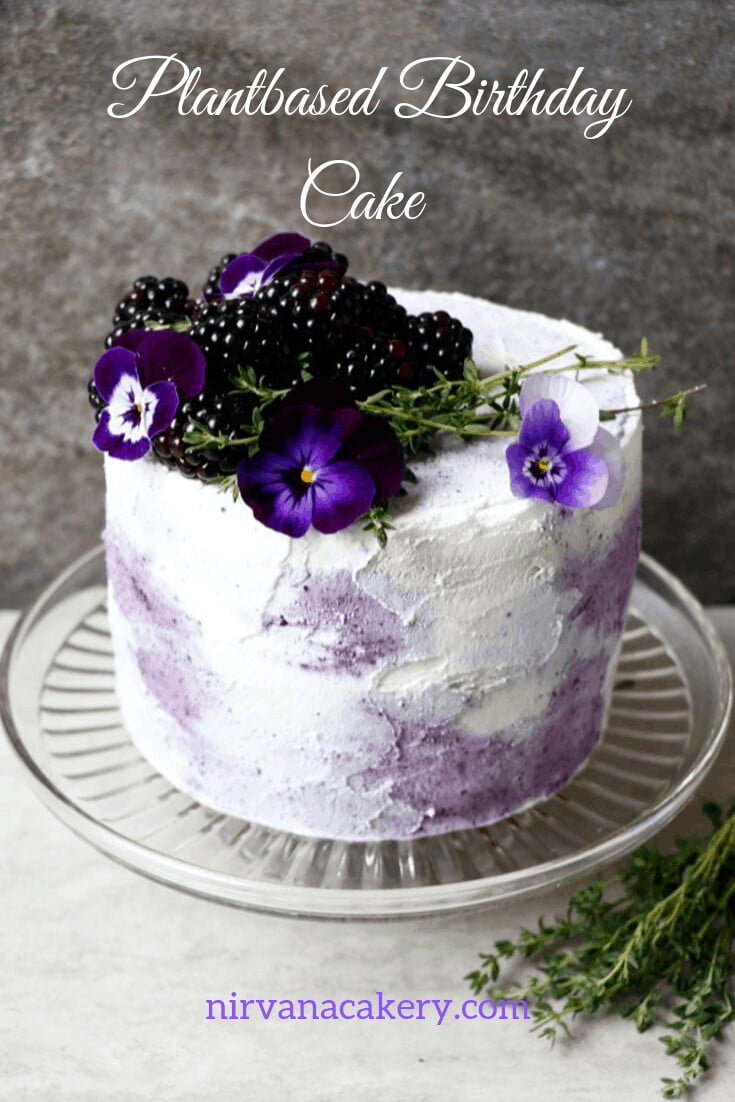 Similar Posts: