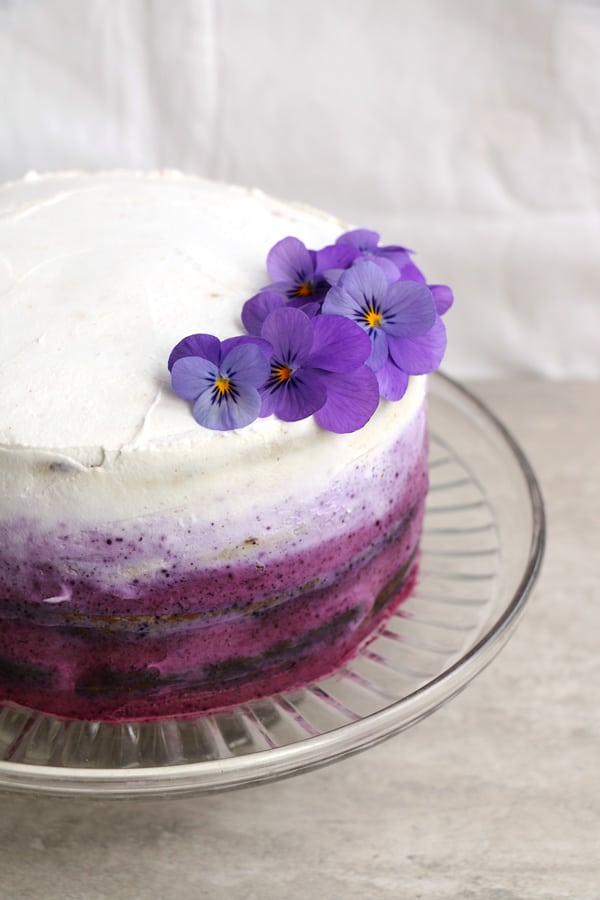 It's been a year since I've launched Nirvana Cakery into the world and so I've made a little celebration cake to mark the occasion. It's been a year full of learning, ups and downs and most importantly my own personal growth. I've grown so much this year, not just as a blogger, but as a person and I'm immensely grateful to you for all of your loving support and presence. Thank you.
And so this cake is for all of you to celebrate you and your dreams, to follow your heart and to have the strength to keep going even if it gets tough and you feel like you hit the wall. And when that happens as it will when you're dedicated to your growth, you run really hard and jump right through it! I believe in you!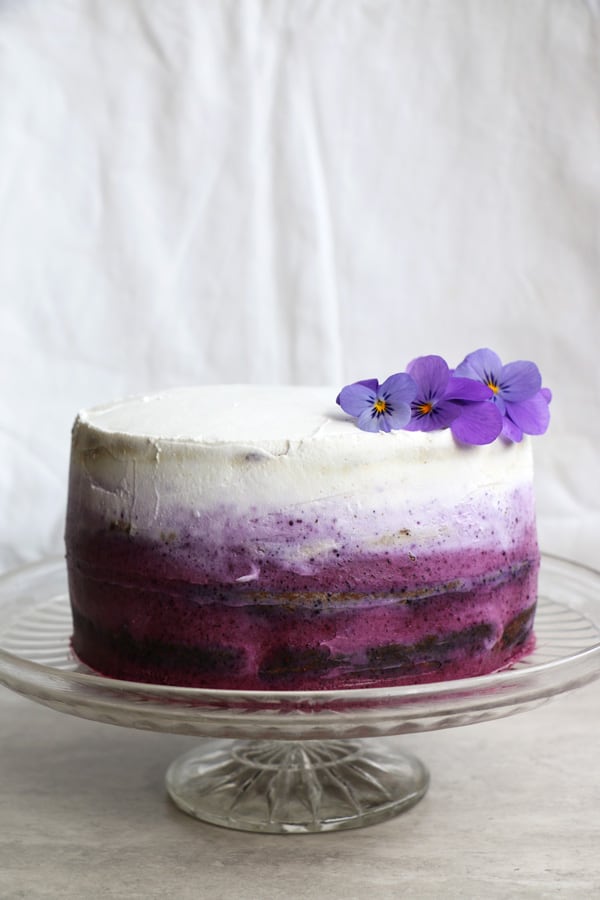 Now to the cake, you could say this cake is as healthy as it gets in the world of cakes, it's gluten-free and vegan and it's a combination of the skills that I've been learning so I can share them with you. I've used my Banana Blueberry Muffins recipe with couple of changes, so it's not a completely new recipe, but it's so good that I wanted to see how it works in a cake.
The frosting is a combination of coconut cream and coconut yogurt that works like a dream. It's basically dairy-free version of a frosting I used to make which was a blend of Mascarpone and Greek yogurt. I've never liked frostings loaded with sugar, especially for children, because that's the only thing that they eat and so this used to be my frosting to go to. For the colour I've used freeze dried blueberry powder that you can get on Amazon or health food store. I just couldn't help myself, but put few violets on top, it's a Spring after all:)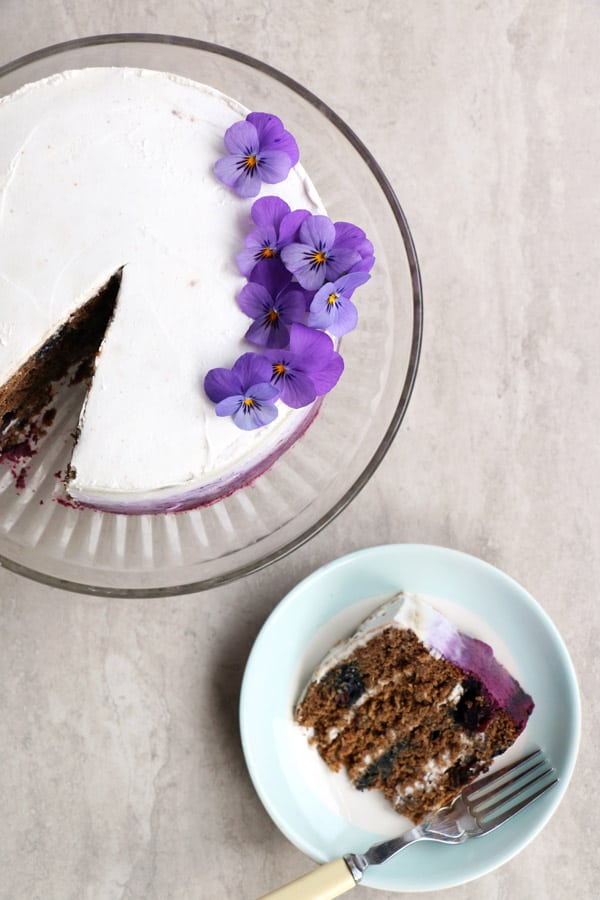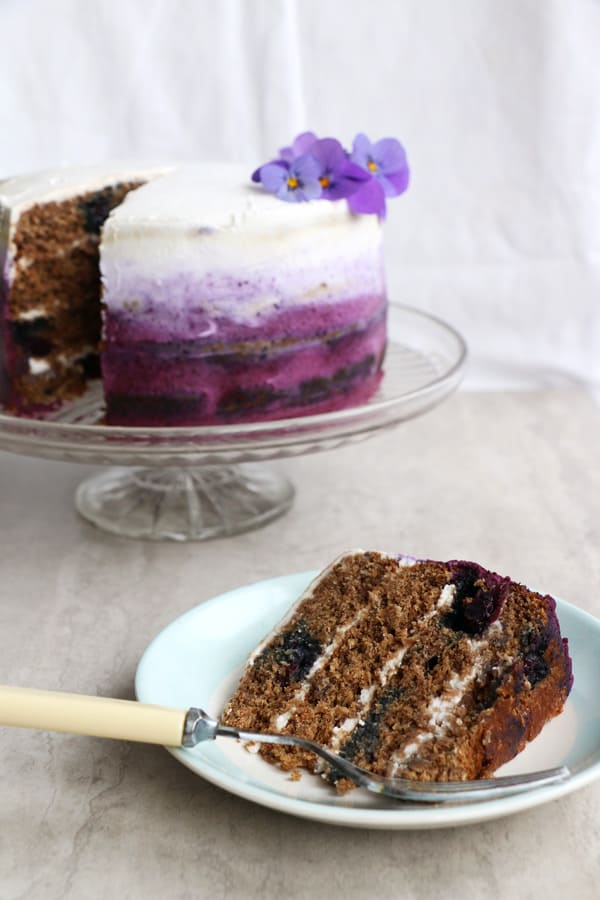 Yield: 6" cake
Blueberry Cake with Coconut Frosting (gluten-free & vegan)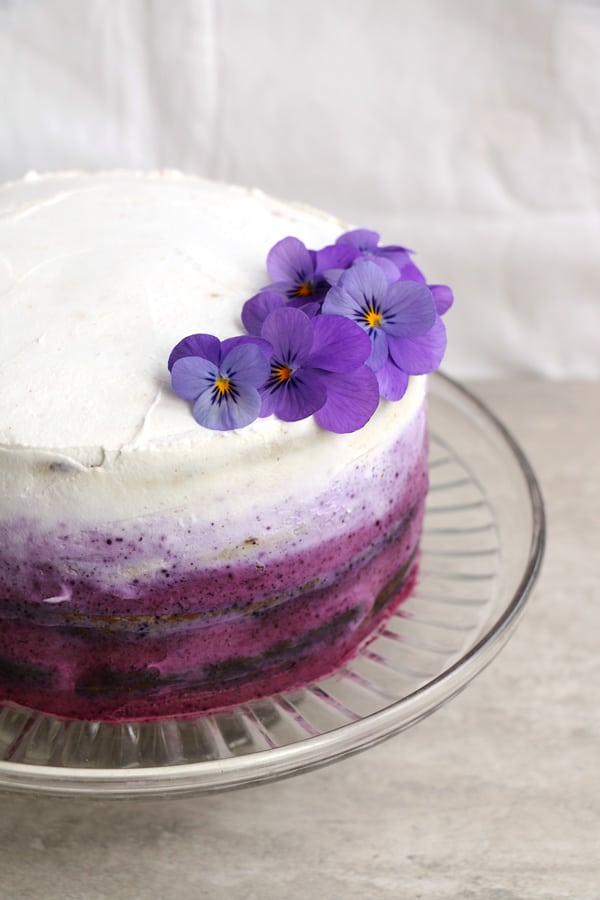 Ingredients
95g teff flour (3/4 cup)
70g buckwheat flour (1/2 cup)
50g desiccated coconut (1/2 cup)
75g coconut sugar (1/2 cup)
1tsp baking powder
1tsp bicarbonate of soda
1tsp cinnamon
pinch of sea salt
80ml coconut oil, melted (1/3 cup)
120ml almond milk (1/2 cup)
2tsp apple cider vinegar
2 medium bananas, mashed
150g blueberries (1 cup)
Coconut frosting:
1x 400ml can full fat coconut milk
250g coconut yoghurt (1 cup)
1tbsp maple syrup
1/2tbsp freeze dried blueberry powder
Instructions
Place the can of full fat coconut milk into a fridge, preferably overnight.
Preheat the oven to 200°C (180°C fan)
Grease and line 2 x 6" round cake baking tin.
In a large bowl whisk together teff flour, buckwheat flour, desiccated coconut, coconut sugar, baking powder, bicarbonate of soda, cinnamon and salt. Set aside.
In a small bowl whisk together coconut oil, almond milk and apple cider vinegar. Have the almond milk at room temperature so the coconut oil doesn't get solid once mixed together.
Add the wet mix together with the mashed bananas to the dry mix and mix until well combined.
Finally gently fold in blueberries.
Evenly divide the mixture between the two cake tins and level out the surface.
Bake for about 30min or until a cocktail stick comes out clean.
Remove from the oven once ready and leave to cool down for 30 min before carefully moving onto a wire rack.
To make the frosting scoop the solid part of the coconut milk into a bowl, add coconut yoghurt and maple syrup and whip until smooth. Keep in a fridge until you're ready to frost the cake.
Once the cakes are completely cool, cut each into half carefully so they don't break.
Place one layer onto a cake stand and spread with some coconut frosting and continue with the other layers. Now frost the top of the cake and the sides of the top half. Keep about 2tbsp of frosting on the side in case you need some more white later. Add the blueberry powder to the rest and mix well. Frost the bottom half of the cake and then you can blend in the two colours in the middle or mix a lighter purple by adding the rest of the white frosting. If you don't have enough frosting you can just add more coconut yoghurt.
Finish with fresh blueberries, edible flowers,...
Store in a fridge and enjoy!
Notes
Use fresh blueberries, if you're using frozen ones, thaw them first, because of the coconut oil.
You can replace coconut oil with olive oil if you like.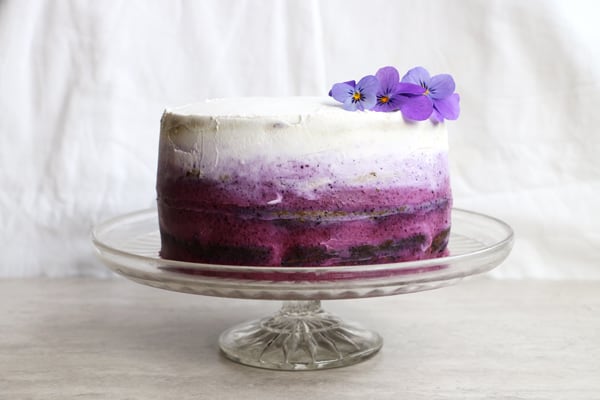 Similar Posts: