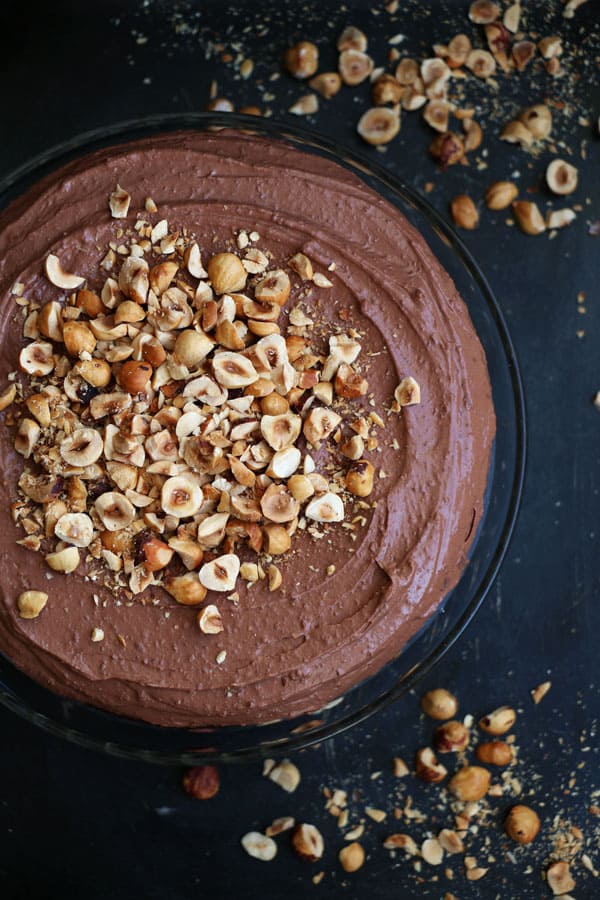 This Chocolate and Hazelnut Teff Cake has been a bit of a challenge for me, but well worth it. For a while, I wanted to test teff flour, but the price has always put me off, well until now.
Teff is a gluten-free grain native to Ethiopia high in fiber, iron, protein and calcium and you can buy teff flour in most health shops these days. The flour is dark in colour and I would describe the taste as quite earthy, nutty with a gritty texture.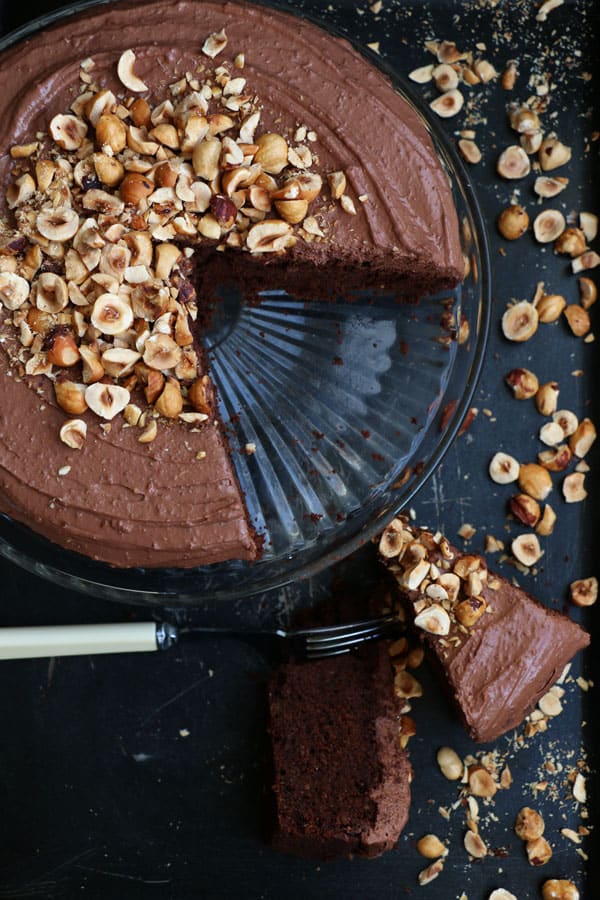 I've made two versions of this cake, one without the banana, although the taste was great, the cake was too crumbly and it needed a bit more structure. I wanted the recipe to be vegan as well as gluten-free and so in the second version, I've opted for bananas to build the body. The bananas make the cake more moist and sturdy. It's a great cake on its own and you can just leave it plain without the frosting as it's got enough flavour already.
The chocolate hazelnut frosting and roasted hazelnuts on top make it just that little bit more special and perfect if you like something more indulgent. Enjoy :)
Yield: 8"round cake
Chocolate and Hazelnut Teff Cake (gluten-free & vegan)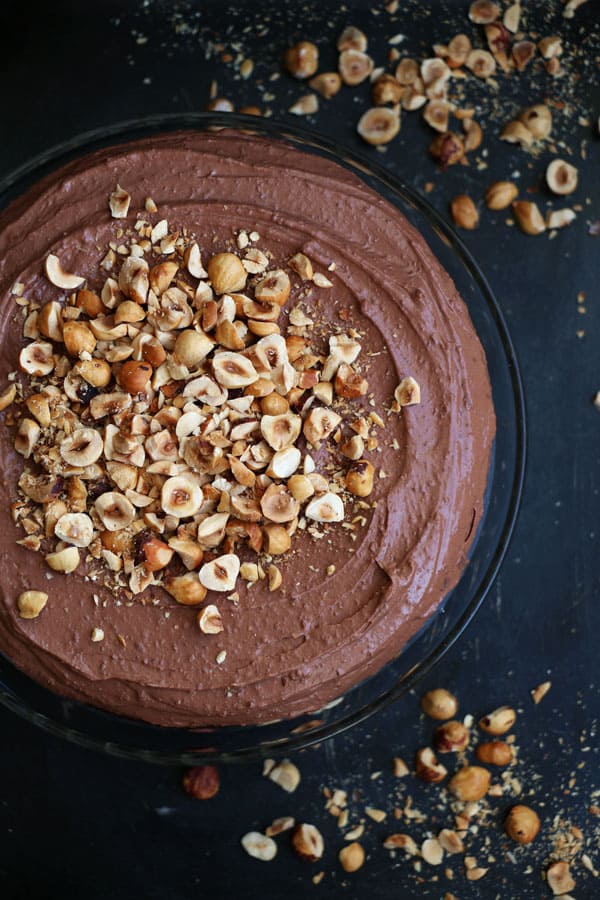 Ingredients
140g teff flour (1 cup)
100g ground roasted hazelnuts (1 cup)
30g arrowroot (1/4 cup)
30g cacao powder (1/4 cup)
1tsp baking powder
1tsp bicarbonate of soda
1tsp cinnamon
pinch of sea salt
75g coconut sugar (1/2 cup)
2 bananas, mashed
120ml olive oil (1/2 cup)
120ml coconut milk (1/2 cup)
1tbsp apple cider vinegar
1tsp vanilla
Chocolate Hazelnut Frosting:
100g dark chocolate
240ml coconut cream (1 cup)
1tbsp maple syrup
30g ground hazelnuts (1/4 cup)
extra hazelnuts for topping
Instructions
If you can make the chocolate and coconut frosting the night before to set.
Chop the dark chocolate and put into a small bowl. In a pan heat coconut cream on a low fire until it comes to a boiling point. Pour over the chopped chocolate and stir until all melted. Stir in the maple syrup and leave to cool down a bit. Transfer to a fridge to set into a spreadable consistency. Stir in the ground hazelnuts before frosting the cake to thicken the frosting.
Preheat the oven to 180°C (160°C fan)
Grease and line 8" round cake baking tin.
In a large bowl whisk together teff flour, ground hazelnuts, arrowroot, cacao powder, baking powder, bicarbonate of soda, cinnamon, salt and coconut sugar and set aside.
In a different bowl whisk together olive oil, coconut milk, apple cider vinegar and vanilla.
Add the wet mix together with mashed bananas to the dry mix and stir together until well combined. Add couple more tablespoons of coconut milk if the mix feels too dry, but it shouldn't be runny, rather more thick batter.
Spoon into your prepared tin and level the surface.
Bake for about 45min or until a cocktail stick comes out clean.
Remove from the oven once ready, leave to cool down for 20 min before moving onto a wire rack.
Once the cake is cooled place onto a cake stand and spread the chocolate and hazelnut frosting on top. Chop some hazelnuts and sprinkle on top.
Store in a fridge.
Enjoy!
Notes
Roasting hazelnuts is an additional step, but well worth the taste. You can roast hazelnuts in their skin and than remove the skin or buy blanched hazelnuts already.
Preheat the oven to 180°C and arrange the hazelnuts on a baking sheet. Roast for 10-15 min stirring in between until the skin looks cracked. Remove from the oven and place hazelnuts onto a cotton towel and leave to cool. Bunch the towel and rub the hazelnuts inside the towel until the skin comes off. It's pretty messy:) remove from the towel and ground enough for the cake and frosting and leave some whole for the top of the cake.
The chocolate hazelnut frosting makes a good amount, enough for 2 layers. If you prefer less, make only half the amount.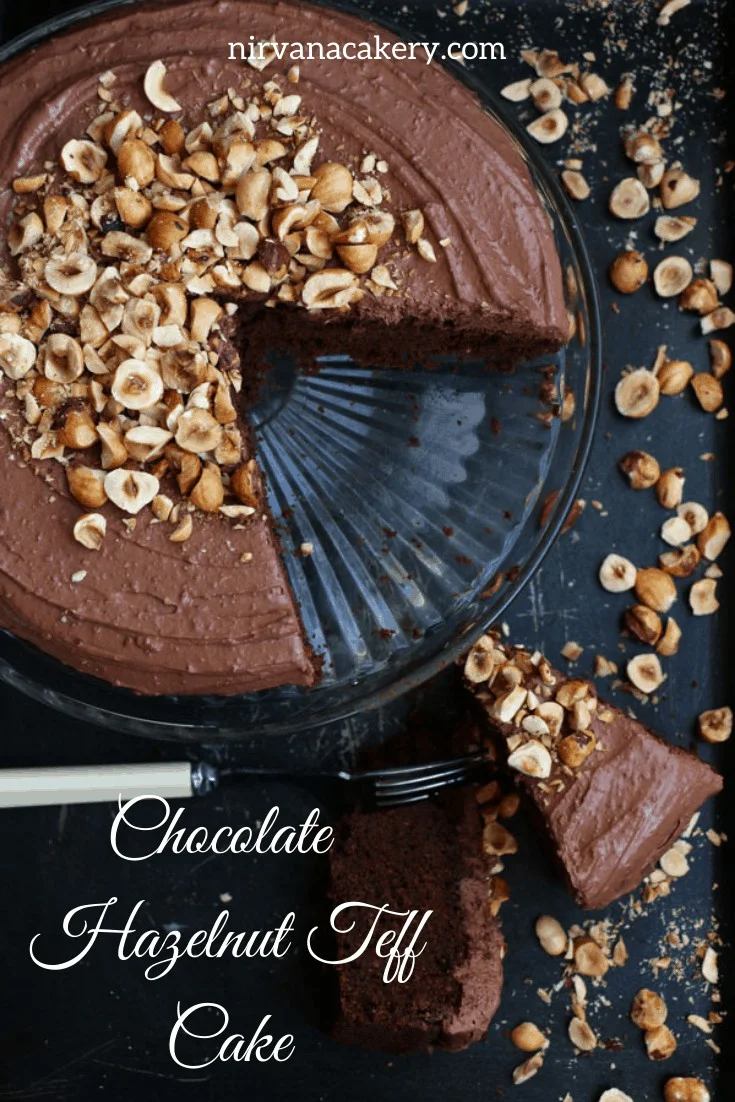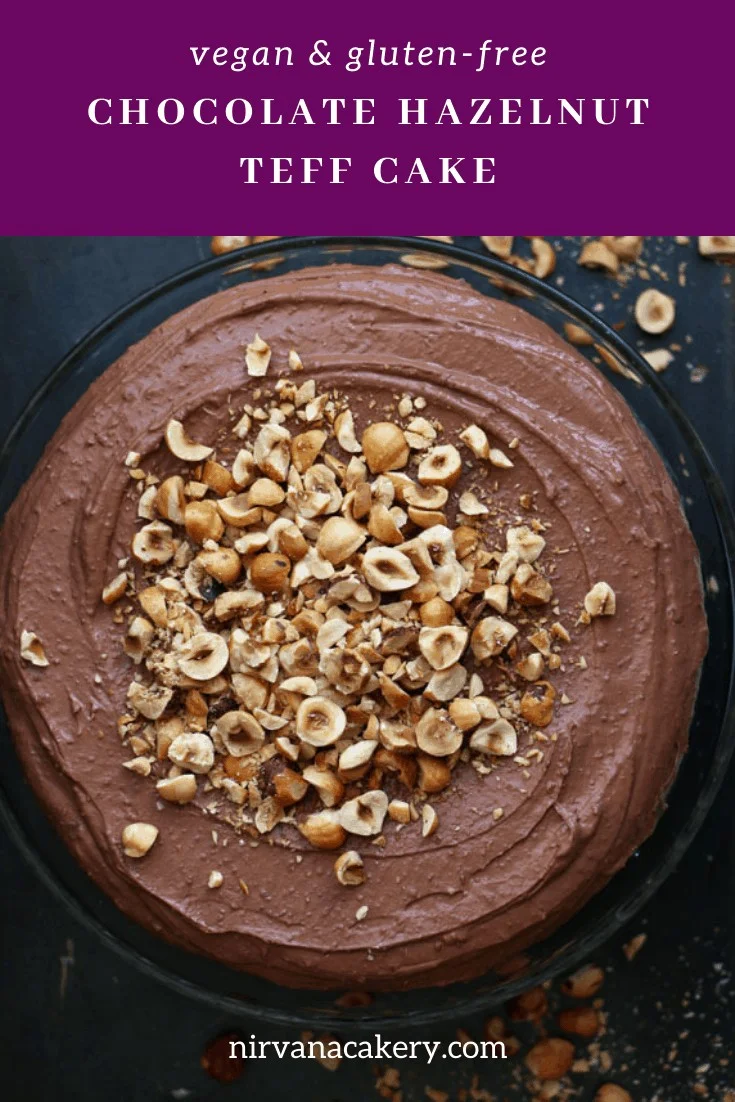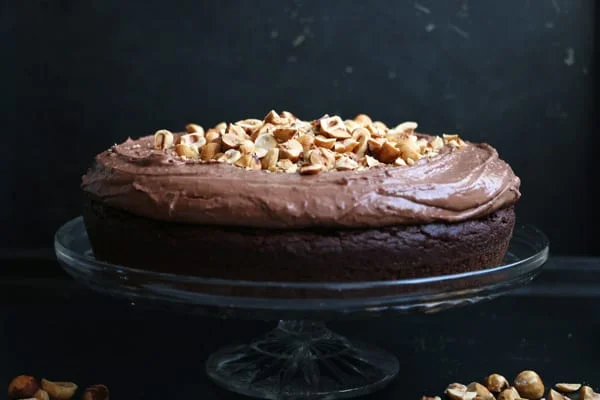 Similar Posts: