Wholesome delicious beetroot and red cabbage soup that is quick and easy to make and super nourishing.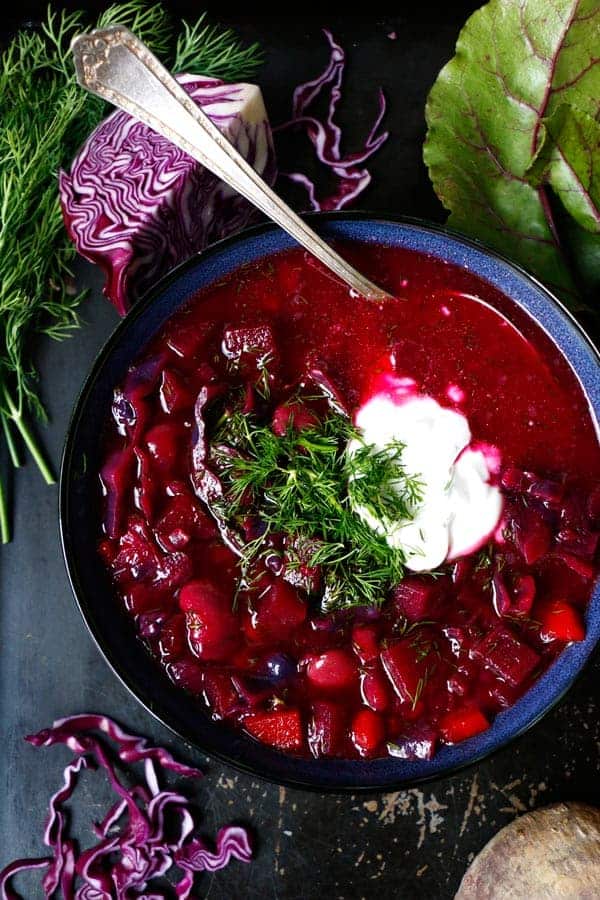 I hope this recipe will live up to its name because for me it really is The Best Vegan Borscht. I've had a Borscht soup on my list of recipes for the blog for way too long now. And since I always have beetroot in my fridge and had some lovely red cabbage that really needed using I've finally made a pot, a pretty huge one too.
It was amazingly good and I'm making one again soon. Borscht is not a typical soup in my country, but I remember my auntie making an amazing borscht that I used to love as a child. I must have been obsessed with beetroot already then!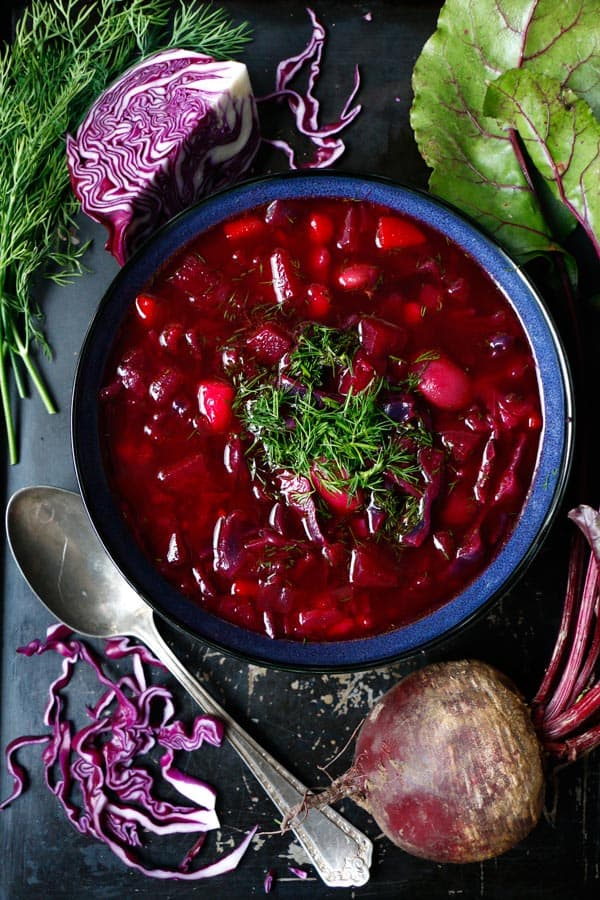 I packed this soup with plenty of veggies and made it really filling so you can happily have a bowl full for dinner and feel completely satisfied. The recipe is open to your own interpretation and you can leave out or add ingredients to your like. I've used red cabbage, but white cabbage would be more traditional. I've also added white butter beans to make the soup more substantial, cannellini or kidney beans would work too.
You will need plenty of dill to serve and something sour like apple cider vinegar or lemon juice, which really ties it all together. If you have beet greens, you can add them in towards the end of the cooking time, or just top your bowl with some freshly chopped ones. And finally, a dollop of coconut yogurt makes it even better. Enjoy!
Yield: 6 servings
The Best Vegan Borscht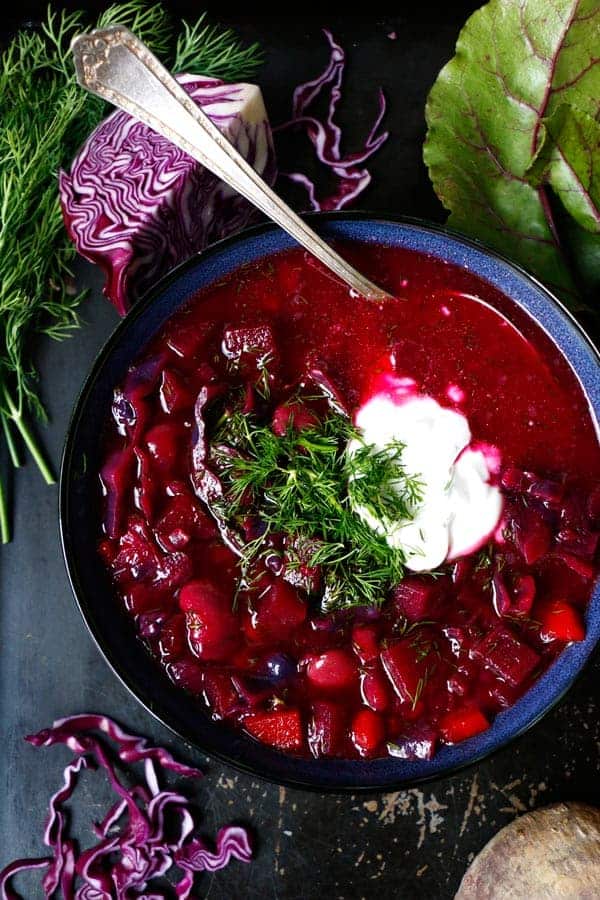 Wholesome delicious beetroot and red cabbage soup that is quick and easy to make and super nourishing.
Ingredients
2 tablespoons olive oil (30 ml)
1 onion, chopped
2 celery sticks, chopped
1 leek, chopped
2 medium carrots, cubed
1 bay leaf
1 teaspoon caraway seeds
2 garlic cloves, chopped
3 medium beetroot, peeled and cubed
2 medium potatoes, peeled and cubed
6 cups water/vegetable stock/broth (1 1/2 liters)
1 small red cabbage, shredded
1 1/2 cups butter beans (350 ml)
sea salt & black pepper
2 tablespoons raw apple cider vinegar
To serve:
bunch of dill, chopped
vegan sour cream or coconut yogurt
raw apple cider vinegar or lemon juice
Instructions
In a large pot heat 2 tablespoons of olive oil, add chopped onion, celery, leek, carrots and bay leaf and leave to soften for about 10 minutes stirring frequently.
After 10 minutes add garlic, caraway seeds, beetroot, potatoes and water. Bring to a boil and leave to simmer for about 15-20 minutes.
Add cabbage and beans and simmer for 10-15 minutes until everything is soft.
Season with sea salt and black pepper and stir in 2 tablespoons of apple cider vinegar.
Serve with plenty of chopped fresh dill, extra apple cider vinegar, and a dollop of vegan sour cream or coconut yogurt.
Enjoy!
Nutrition Information:
Yield:
6
Serving Size:
1
Amount Per Serving:
Calories:

264
Total Fat:

7g
Saturated Fat:

2g
Trans Fat:

0g
Unsaturated Fat:

4g
Cholesterol:

2mg
Sodium:

324mg
Carbohydrates:

44g
Fiber:

9g
Sugar:

16g
Protein:

10g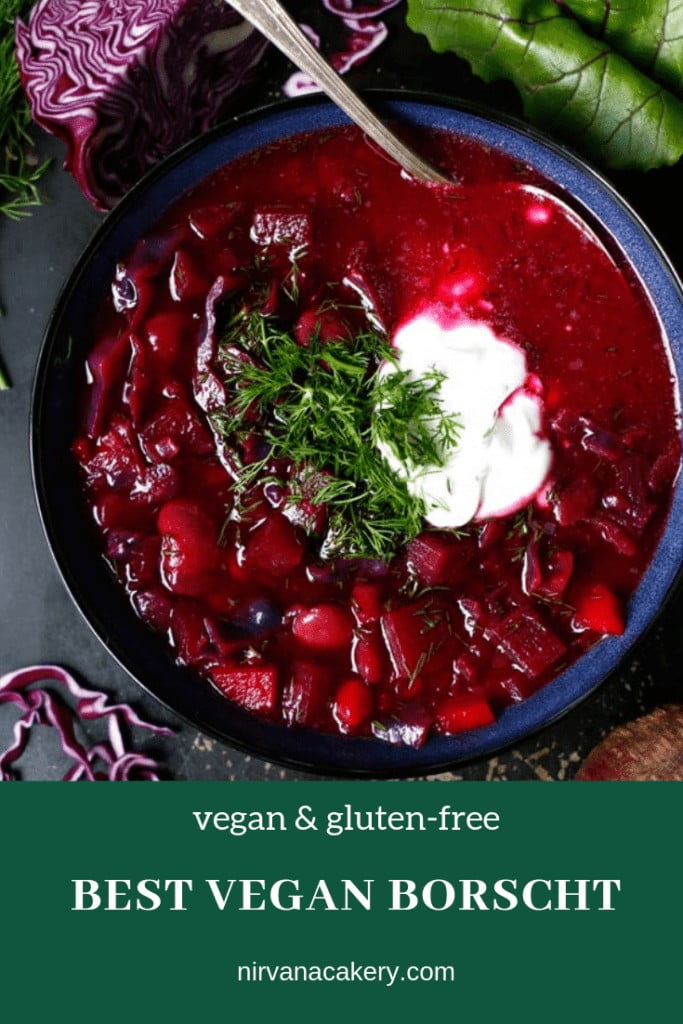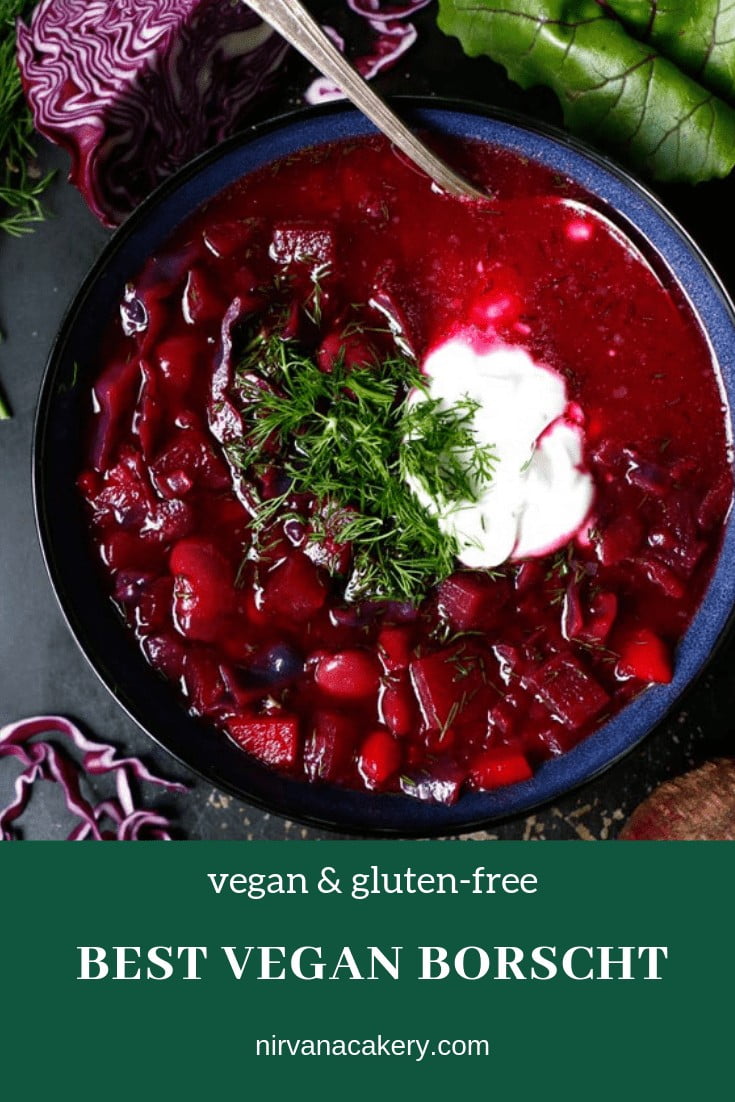 Similar Posts: