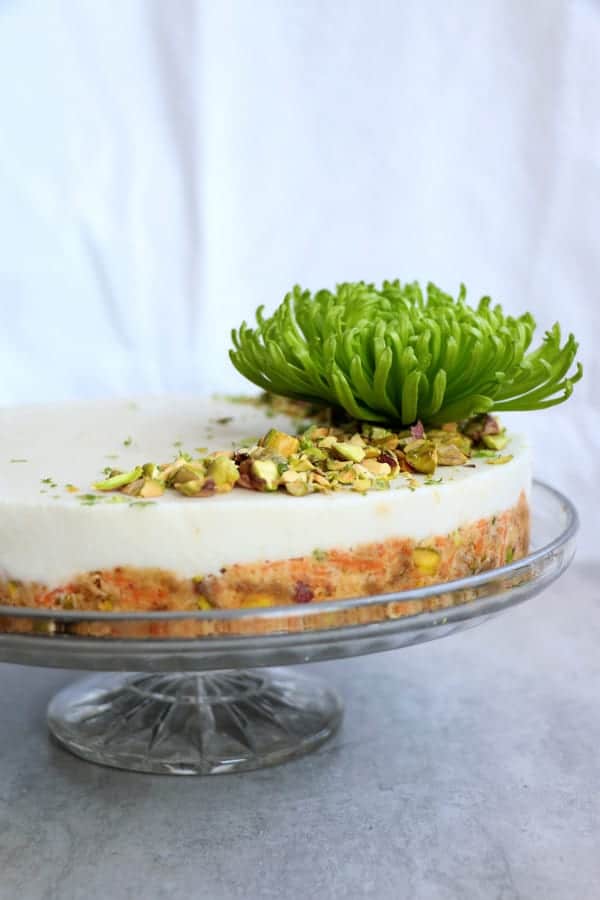 And so I set to make a carrot cake last week, a healthy carrot cake version that is gluten, dairy and refined sugar free. The carrot cake I've always used to make was with spelt flour and mascarpone frosting and now being on gluten, dairy and refined sugar-free diet makes it a little bit of a challenge. My first version was baked, but somehow I can't find the right frosting to go with my baked cake. This is my second version, i just went raw. Oh boy, it's so much simpler and quicker too!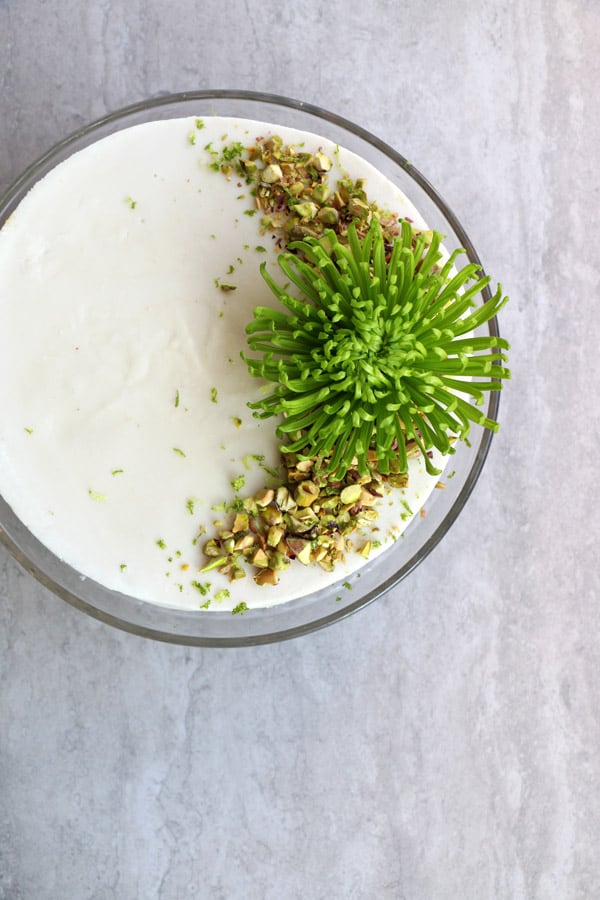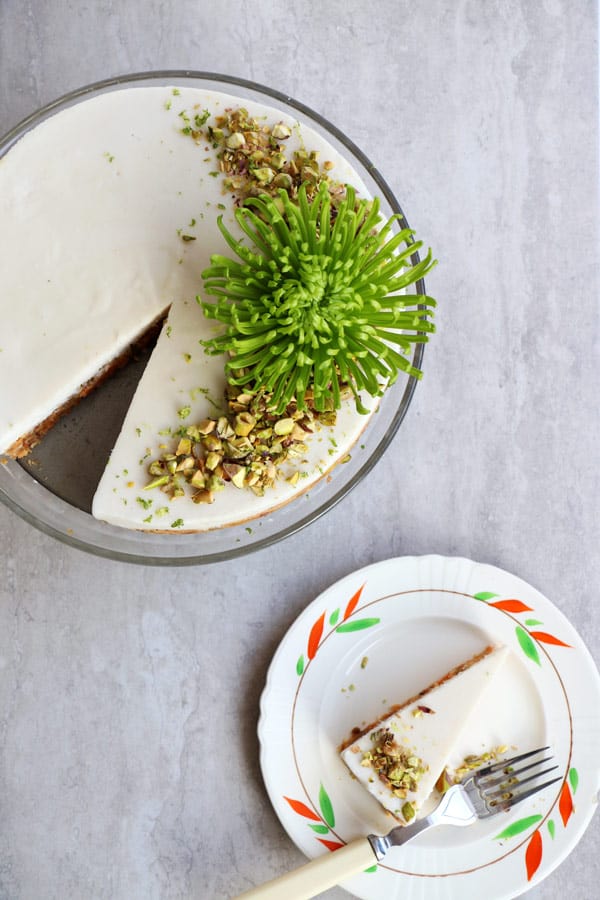 For the carrot cake I've used ground almonds, chopped pistachios and desiccated coconut mixed with carrot, medjool dates, lime, cardamom and cinnamon. The creamy layer is a mix of creamed coconut and coconut milk with lime juice, maple syrup and vanilla. It's a pretty wholesome cake, definitely not sweet or loaded with sugar, just lots of lovely ingredients creating soft flavours. With Spring and Easter almost here I wanted my cake to have a lovely fresh feel and I topped it with lots of greenery. It's a perfect little treat to satisfy those sweet cravings and hopefully bring some Spring to your plate:)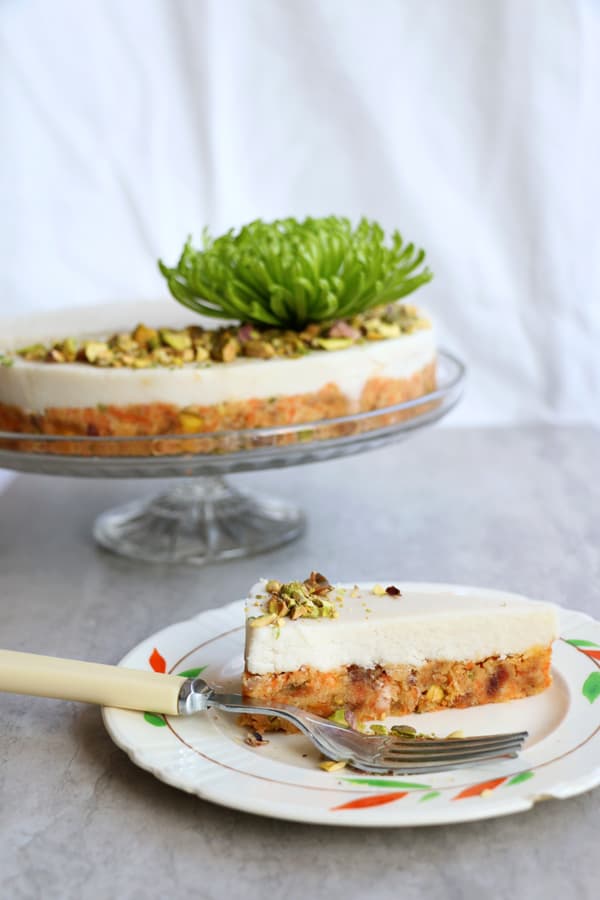 Yield: 8" cake
Raw Carrot Cake with Pistachios and Lime Coconut Frosting (grain-free & vegan)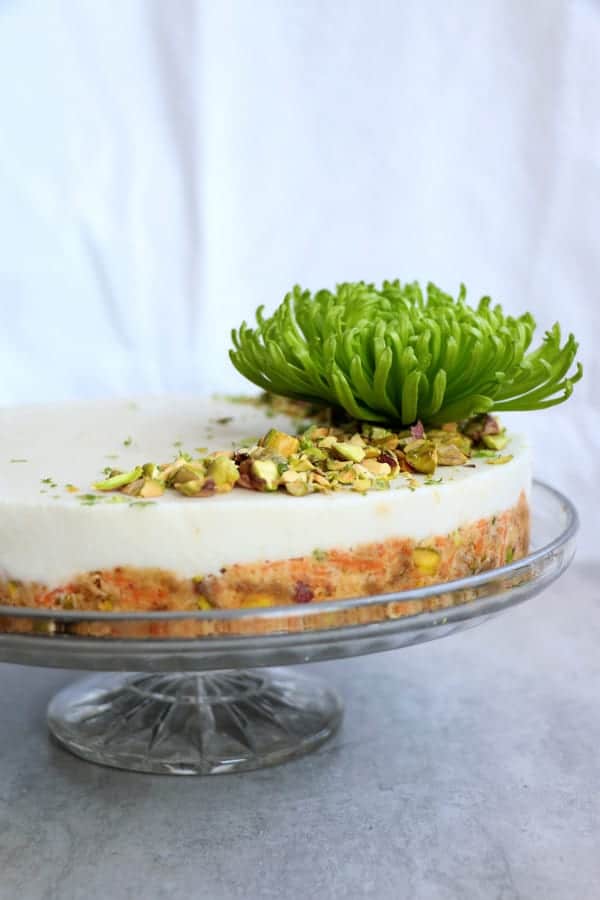 Ingredients
200g carrots, grated (1 1/2 cups)
1/2 lime, zest
8 medjool dates
100g ground almonds (1 cup)
75g desiccated coconut (3/4 cup)
1/2tsp cinnamon
1/2tsp cardamom
pinch of sea salt
40g pistachios, chopped (1/3 cup)
Lime coconut frosting:
200g bar creamed coconut or coconut butter (1 cup)
240ml full fat coconut milk (1 cup)
2tbsp maple syrup
1tbsp lime
1tsp vanilla
Topping:
chopped pistachios
lime zest
fresh flowers
Instructions
Prepare 8" round spring form cake tin.
Make the frosting first as it needs time to set. In a small pot gently melt creamed coconut with coconut milk, maple syrup, lime and vanilla stirring frequently. Pour into a small bowl, leave to cool down for 5 min and transfer to a fridge while you're making the cake.
To make the carrot cake you can simply add all of the ingredients into a food processor and mix until you have a sticky consistency and mixture comes together adding pistachios at the end.
You can also mix everything by hand in a large bowl. Mash medjool dates first with a fork and then mix with the rest of the ingredients until you have a sticky texture. If the medjool dates are not soft enough, soak them in some warm water for 10 minutes first.
Scoop the mix into a tin, even out the surface and press down firmly.
Pour the frosting onto the cake and smooth out the top.
Transfer to a fridge or freezer to set until the top feels firm. It will take about 2 hours in the fridge, less time in the freezer.
Carefully remove from the tin and place onto a cake stand.
Top with some chopped pistachios, lime zest and fresh flowers if you like.
This cake will keep solid in the fridge.
Enjoy!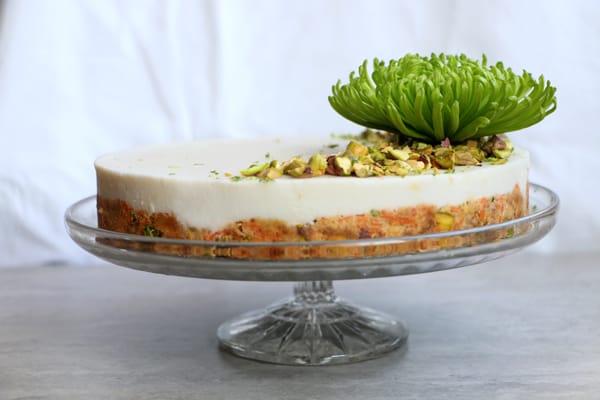 Similar Posts: