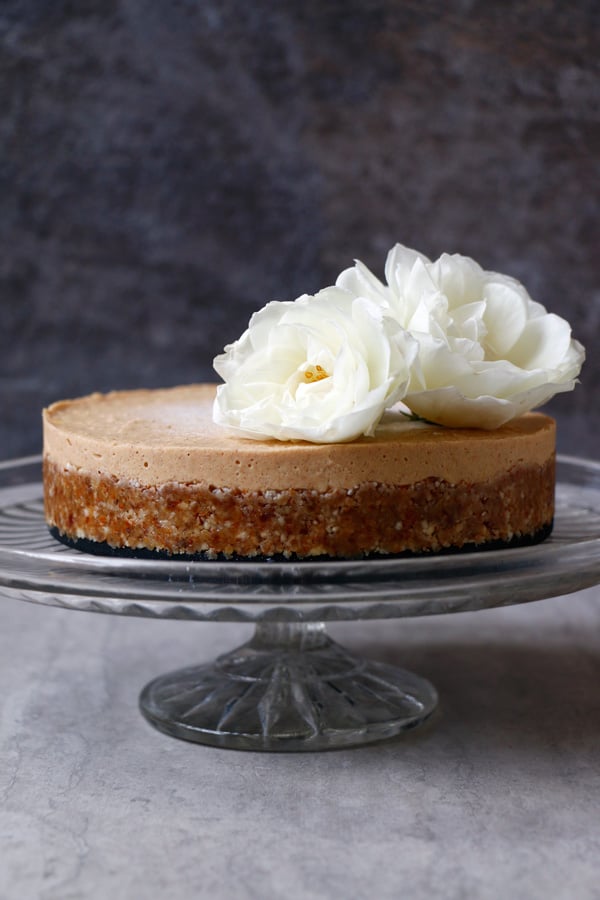 Today I have a cake recipe for all of you who love hummus – Chickpea Almond Cake aka Sweet Hummus Cake. This is a recipe I fancied trying for a while and that totally exceeded my expectations. It actually tastes amazing!
I've already tried Almond, chickpea and cinnamon combination in my Chickpea and Almond Cookies recipe and know that it works great, but this cake deliciousness is taking it to a whole new level.
This is an easy and quick cake to make, but takes time to set, so it's best to make in advance. The flavours will also develop better after they had some time to mingle.
Crust is made simply with almonds, dates and coconut oil. The rich chickpea filling is pretty much a hummus recipe that I've changed into a sweet one by adding maple syrup, cinnamon and vanilla together with some lemon zest, lemon juice and tahini. I've used a little almond milk to help with the blending into a smooth creamy consistency. Smooth the filling on top of the crust layer and freeze until set, it took me about 3 hours.
They are enough flavours in the cake, I don't think it needs any more toppings, but do feel to get creative. I've kept the decoration very simple by adding few garden roses. Enjoy & Happy Summer!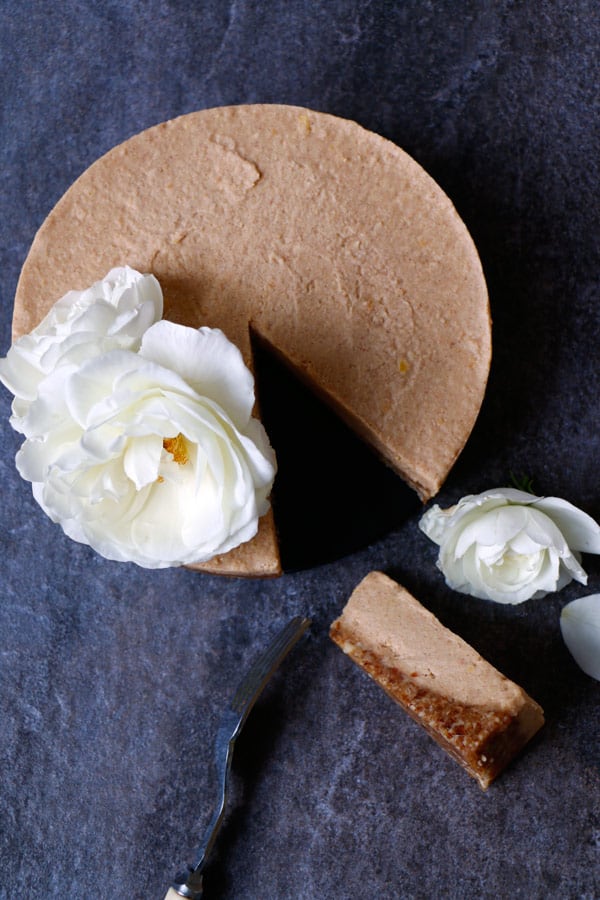 Yield: 6" cake
Chickpea Almond Cake (gluten-free & vegan)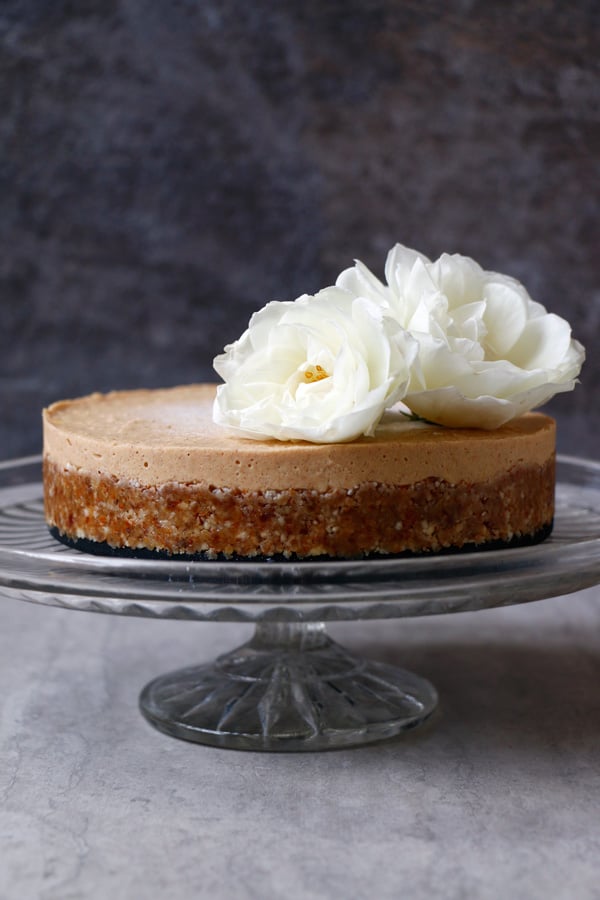 Ingredients
Almond crust:
100g almonds (3/4 cup)
6 medjool dates, pitted
1tbsp coconut oil
pinch sea salt
Chickpea layer:
1x400g can chickpeas (1 1/2 cups)
2tbsp tahini
2tbsp maple syrup
1tbsp coconut oil
1tsp cinnamon
pinch sea salt
1/2 lemon, zest & juice
1tsp vanilla
2tbsp almond milk
Instructions
Prepare 6" round cake tin, no need to grease it.
Place almonds into high speed blender or food processor and blend until coarsely ground. Add pitted medjool dates, coconut oil and sea salt and blend until the mixture comes together. Spoon the mix into the tin, spread evenly onto the base and press tightly down. Place into a fridge.
Drain chickpeas. Place all of the ingredients for the chickpea layer into high speed blender or food processor and blend until smooth.
Spoon onto the crust layer and smooth out the top.
Place into freezer for about 3 hours to set.
Once set carefully remove from the tin.
Place onto a cake stand, leave to thaw and serve.
Store in freezer.
Enjoy!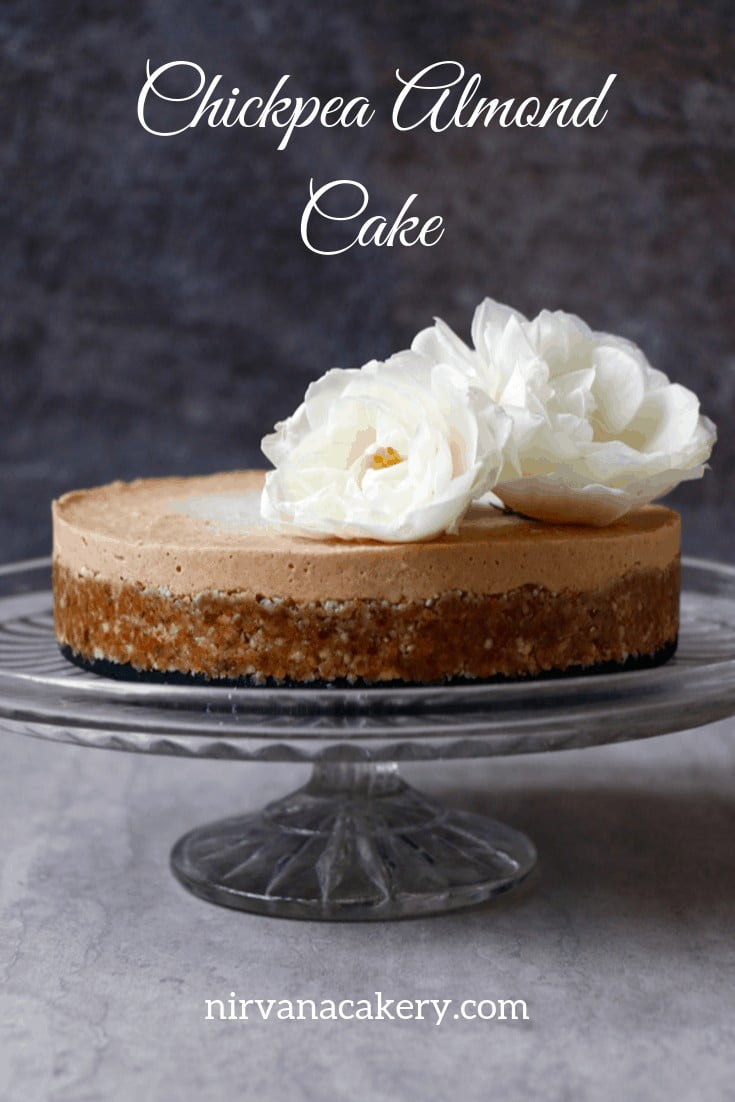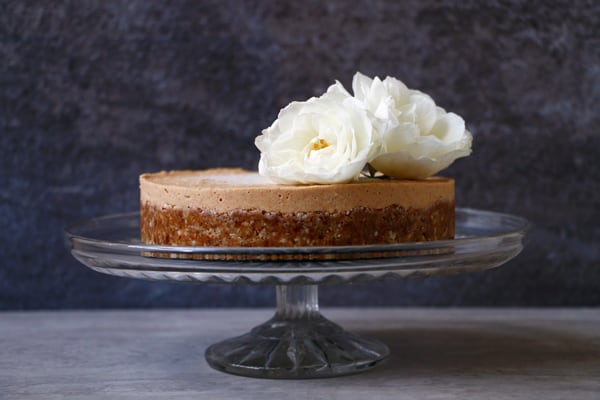 Similar Posts: