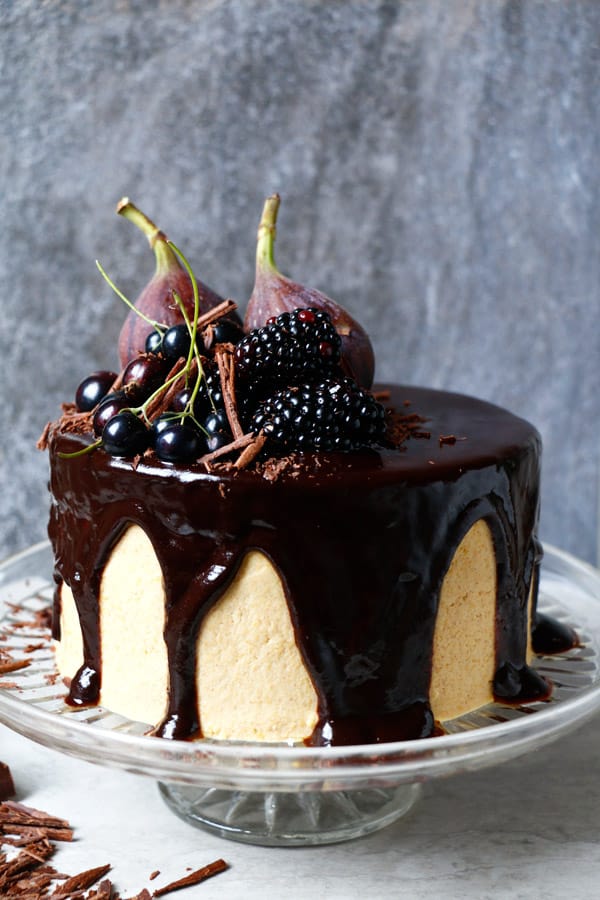 This recipe is sponsored by Amore di Mona.
This Vegan Chocolate Cake with Chickpea Tahini Frosting is the ultimate plantbased cake. The chocolate sponge is made with a mix of teff and buckwheat flour, the frosting with chickpeas and tahini and it's covered with luscious chocolate glaze and beautiful fresh summer fruit.
It's a rich indulgent cake packed with some wholesome power ingredients and you could even have a slice of this cake for breakfast if you choose to. Who says cakes can't be healthy?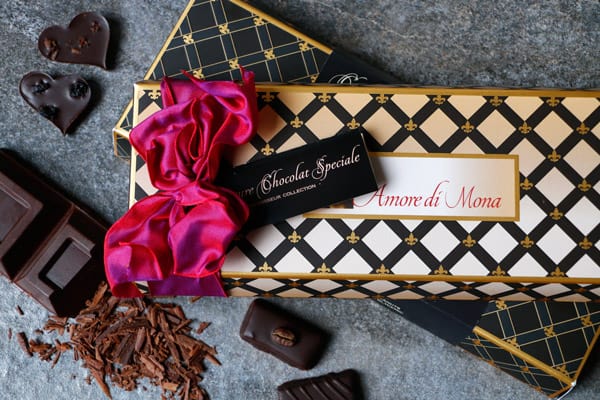 This cake is covered with luscious Amore di Mona chocolate. Their gorgeous chocolate is completely vegan, gluten, soy and nut free and the cocoa content is nearly 80%. Amore di Mona specialize in creating luxury chocolate for those with special dietary needs and with food allergies.
Receiving their chocolate in the post has been an exciting experience and a very special treat. The packaging is luxurious and stunning and the parcel has arrived with a personalized beautifully handwritten note in a sealed envelope. In this recipe I've used their 20oz Dark Chocolate Bulk Bar, which is perfect for coating and that has completely transformed the cake. I've also had a pleasure sampling their gift chocolate collection that is even more impressive.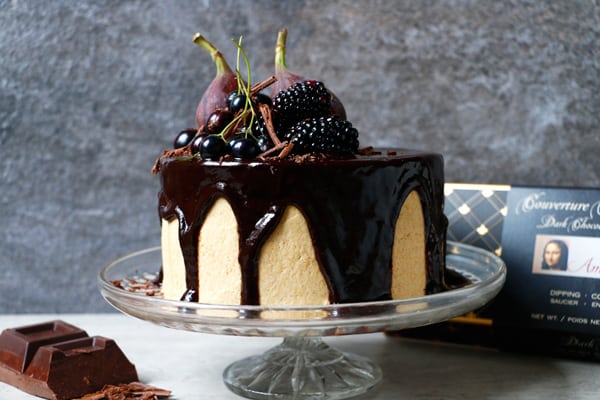 Now to the cake, there are quite a few elements in this cake including the rather unusual chickpea tahini frosting. But may I just say that the frosting works so beautifully with the chocolate glaze on top that I can hopefully inspire you to give it a go. Who would have thought?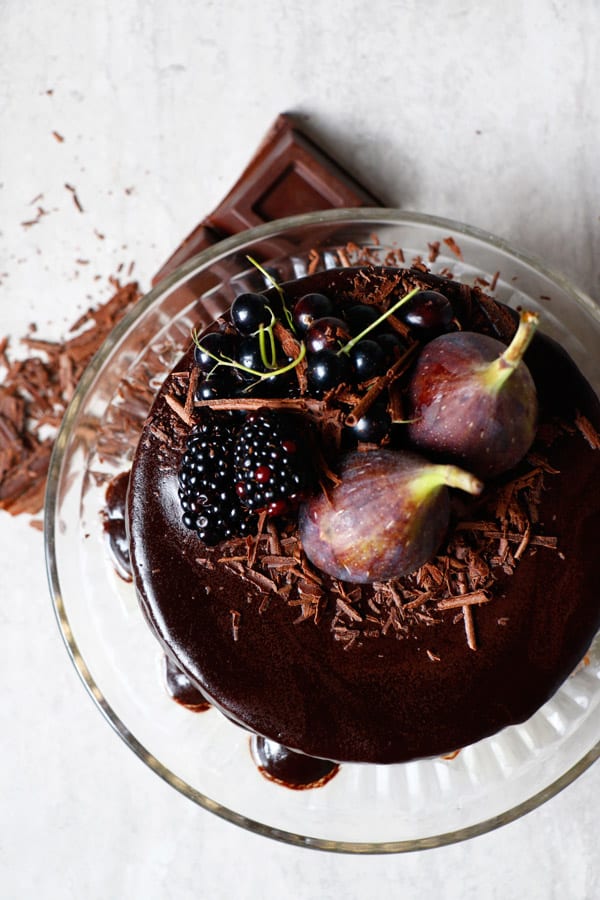 Frosting the cake does require a bit of patience and you have to smooth it out using a spatula, but it's not your traditional buttercream! I loved creating a cake that is quite different and not so ordinary. I've made two versions of this cake, one completely tree nut free with arrowroot which is more gooey and moist and one with desiccated coconut which is moist, but a bit more dry. I've also tried the sponge with coconut oil, but find that olive oil works better and keeps the cake more moist. If you decide to bake this cake make the one that appeals to you more. Hope you like it:)
Special thank you to Amore di Mona for sponsoring this post. Your chocolate is divine.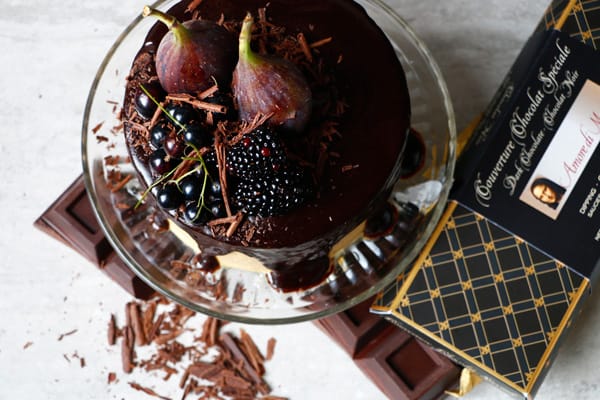 Yield: 6" cake
Vegan Chocolate Cake with Chickpea Tahini Frosting (gluten-free)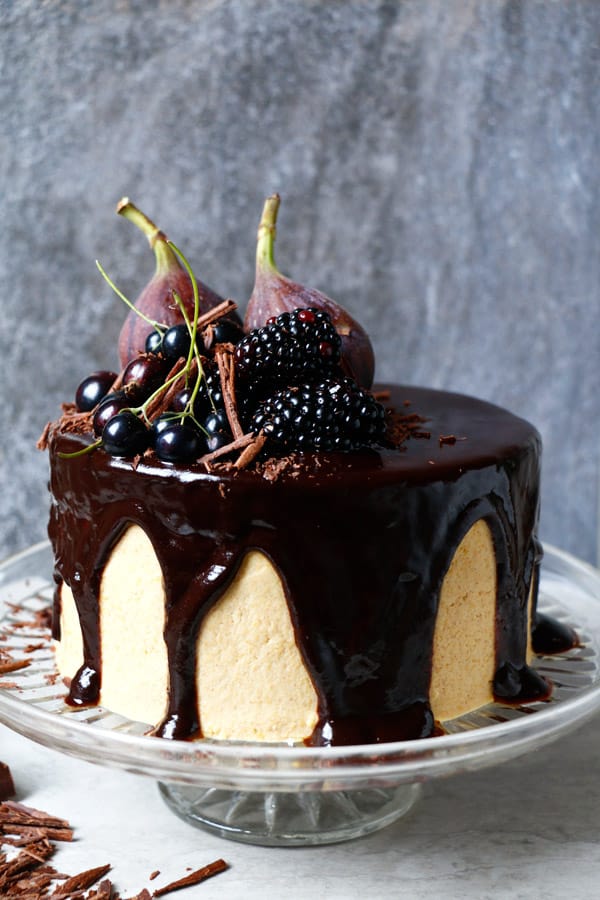 Ingredients
Chocolate cake:
70g teff flour (1/2 cup)
70g buckwheat flour (1/2 cup)
30g raw cacao powder (1/4 cup)
50g desiccated coconut (1/2 cup)
75g coconut sugar (1/2 cup)
1tsp baking powder
1tsp bicarbonate of soda
1tsp cinnamon
pinch of sea salt
80ml olive oil (1/3 cup)
120ml almond milk (1/2 cup)
2tsp apple cider vinegar
2 medium bananas, mashed
Chickpea tahini frosting:
360g cooked chickpeas (2 1/4cups)
3tbsp tahini
3tbsp maple syrup
1 1/2tbsp coconut oil
1tsp cinnamon
pinch sea salt
1 small lemon, zest & juice
1tsp vanilla
Chocolate glaze:
100g bulk chocolate (2 cubes) or dark vegan chocolate (3.5oz)
Toppings:
fresh figs
blackberries
blackcurrants
bulk chocolate or dark vegan chocolate shavings
Instructions
Preheat the oven to 180°C (160°C fan)
Grease and line 2 x 6" round cake baking tin.
In a large bowl whisk together teff flour, buckwheat flour, cacao, desiccated coconut, coconut sugar, baking powder, bicarbonate of soda, cinnamon and salt. Set aside.
In a small bowl whisk together olive oil, almond milk and apple cider vinegar.
Add the wet mix together with the mashed bananas to the dry mix and mix until well combined. Add a little bit more almond milk if the mixture feels too dry. It should be of a muffin batter consistency.
Evenly divide the mixture between the two cake tins and level out the surface.
Bake for about 25min or until a cocktail stick comes out with just few crumbs on. Do not over bake.
Remove from the oven once ready and leave to cool down for 5 min before carefully moving onto a wire rack.
To make the frosting place all of the ingredients for the chickpea layer into a food processor and blend until smooth. Add more lemon juice or 1tbsp of almond milk if it feels too thick.
To make the chocolate glaze gently melt roughly chopped chocolate in a double boiler and stir until smooth. Set aside and leave to cool down while frosting the cake.
Place first of the cooled cakes onto a cake stand and spread generously with the frosting. Place the second one on the top and using spatula frost the top and sides of the cake. Have a bit of patience and keep going until the surface is nice and smooth.
Pour the cooled chocolate glaze on top and gently smooth out to the sides so the glaze runs over the edge.
Decorate with some fresh fruit and chocolate shavings.
Enjoy!
Notes
If you like to make this cake completely tree nut free, substitute 30g (1/4 cup) of arrowroot for desiccated coconut, rapadura sugar for coconut sugar and rice milk for almond milk. Omit the coconut oil in the frosting.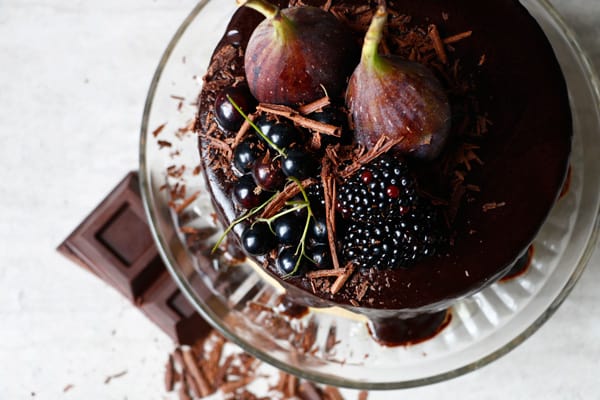 Similar Posts: