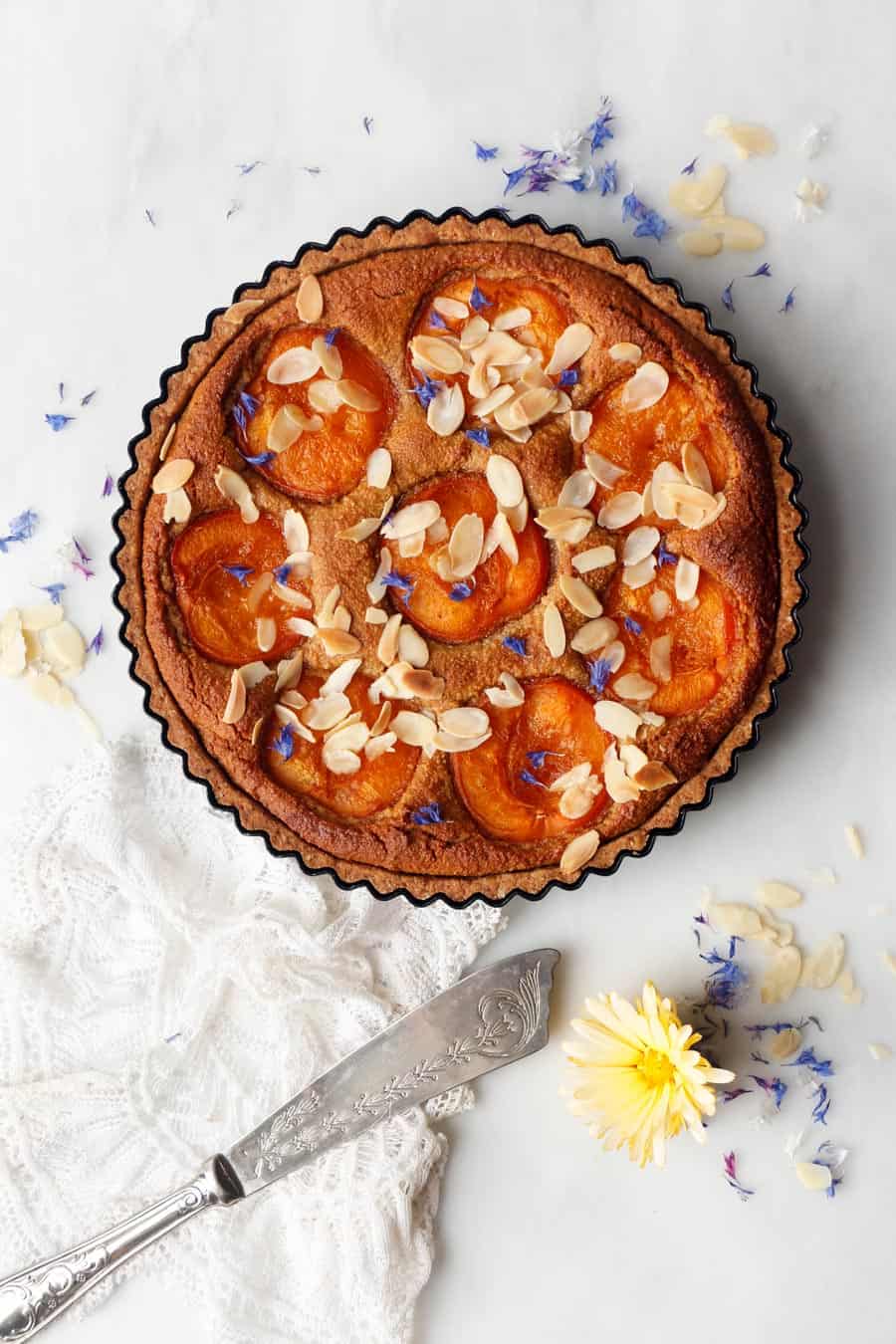 Last week I've been playing with pastry. I'm sure you will agree with me that it's one of the trickiest parts to get right when it comes to wholesome gluten-free vegan baking. I finally got pastry for a rustic galette right and then I went and experimented with another pastry and created this amazing Apricot Frangipane Tart that I'm sharing with you today.
The tart crust is probably the best I've made so far. It's not easy to roll and better to press in a type of dough but the texture once baked is so good and has that lovely crumbly texture which is so difficult to achieve gluten-free vegan without using artificial ingredients.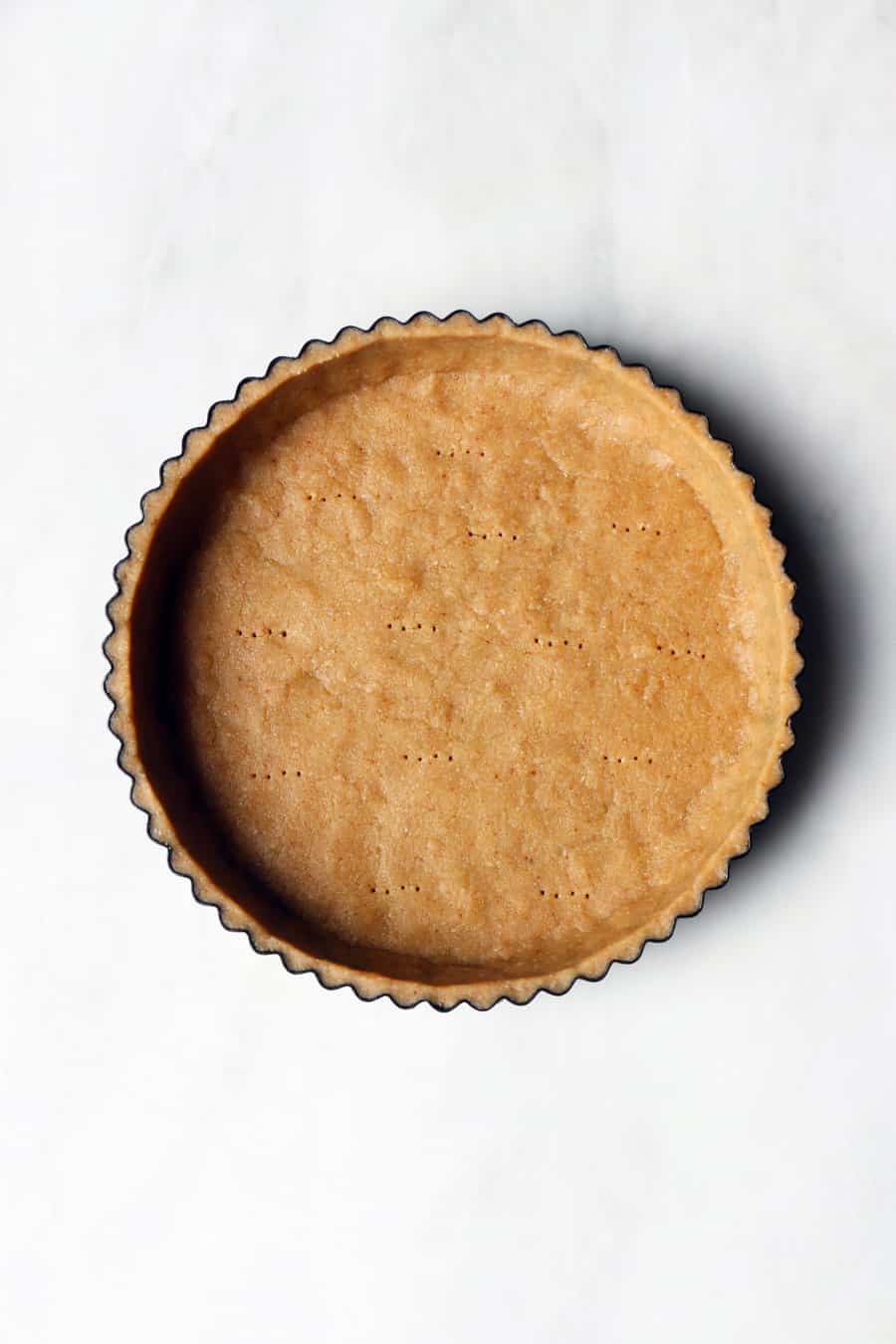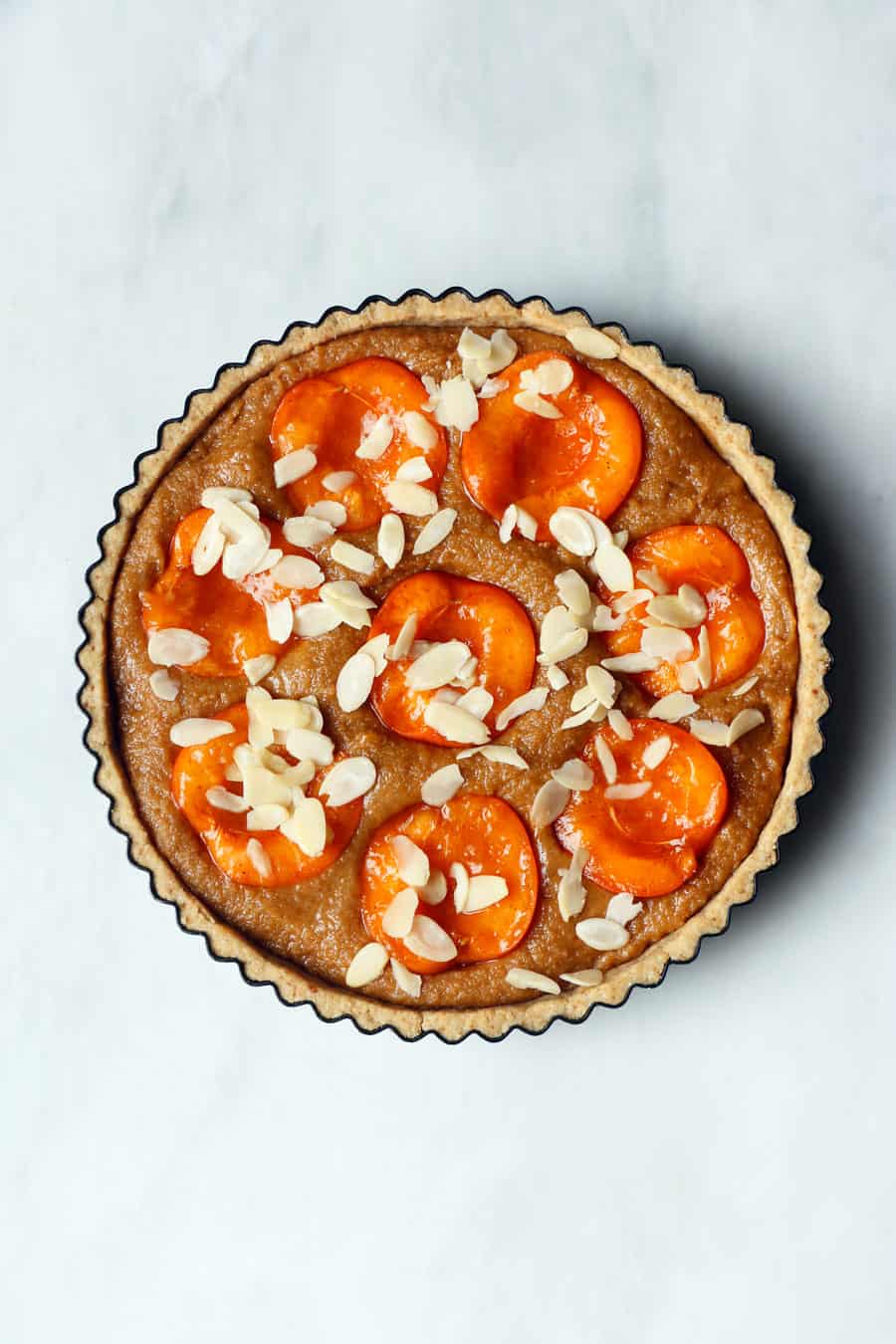 What I find is that you either have an amazing roll out dough but not the most amazing crumbly texture or good texture but not easy to roll out dough. Hopefully one day I achieve both!
The tart crust is actually grain-free made with ground almonds, chickpea and tapioca flours, little coconut sugar, coconut oil and water. I have rolled it out and although it cracked quite a bit when moving it into the tin it was faster doing it that way than pressing it in. You can use whichever technique you prefer.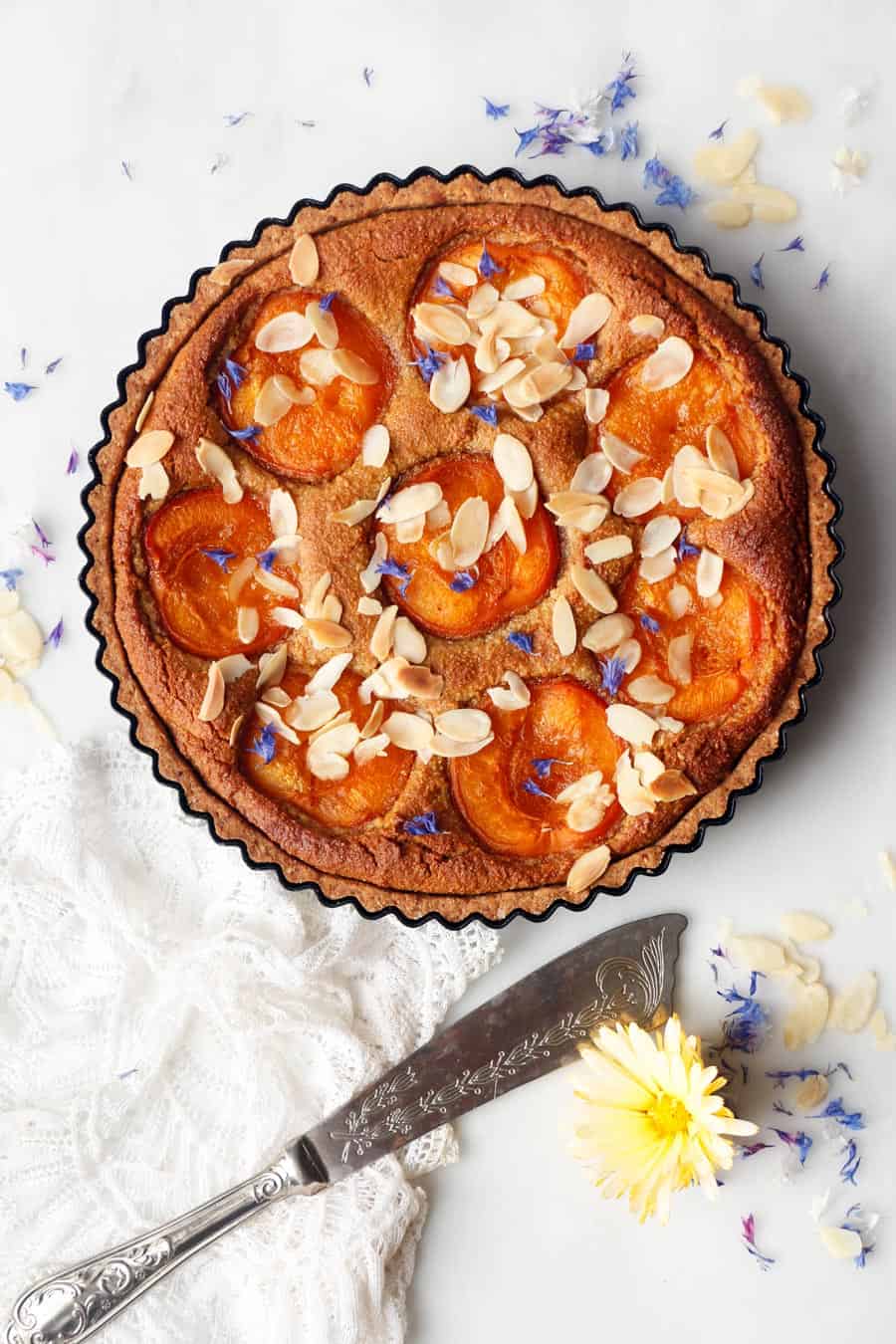 The frangipane filling is very simple to make and together with the apricots is just so lovely. The traditional frangipane is a mix of sugar, butter, eggs and ground almonds. Sometimes little flour is added.
I've used a mix of ground almonds, little chickpea flour, coconut sugar, flax eggs, coconut oil and almond milk. I've used about 80ml of milk but reduced it slightly in the recipe because I thought it could have been a little less moist. Delicious nevertheless.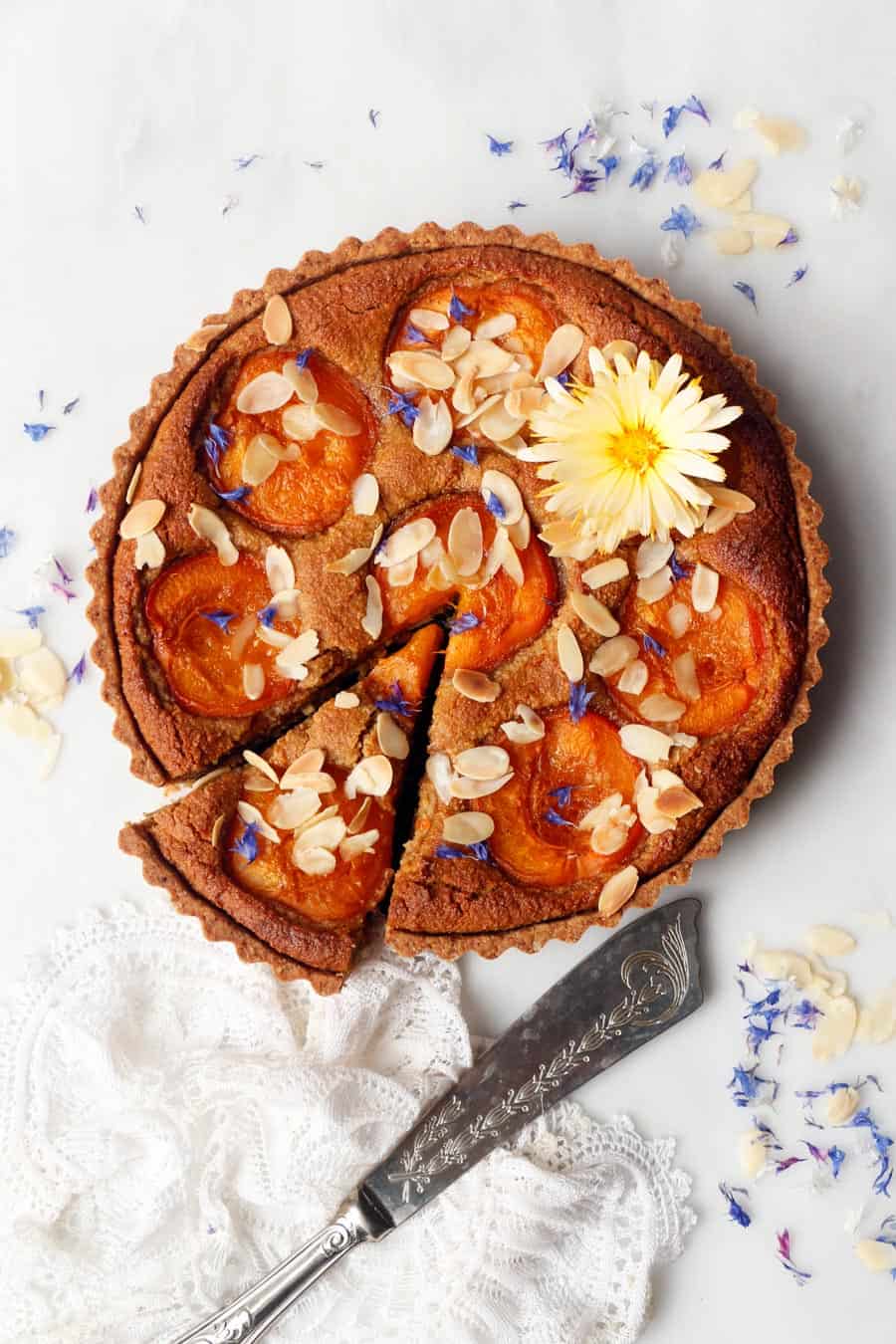 I've realised how much this tart reminds me of my childhood summers and my mums baking. And after 5 years of sharing recipes here with you, I can't believe this is my first apricot cake here!
Hope you love this Apricot Frangipane Tart as much as me :)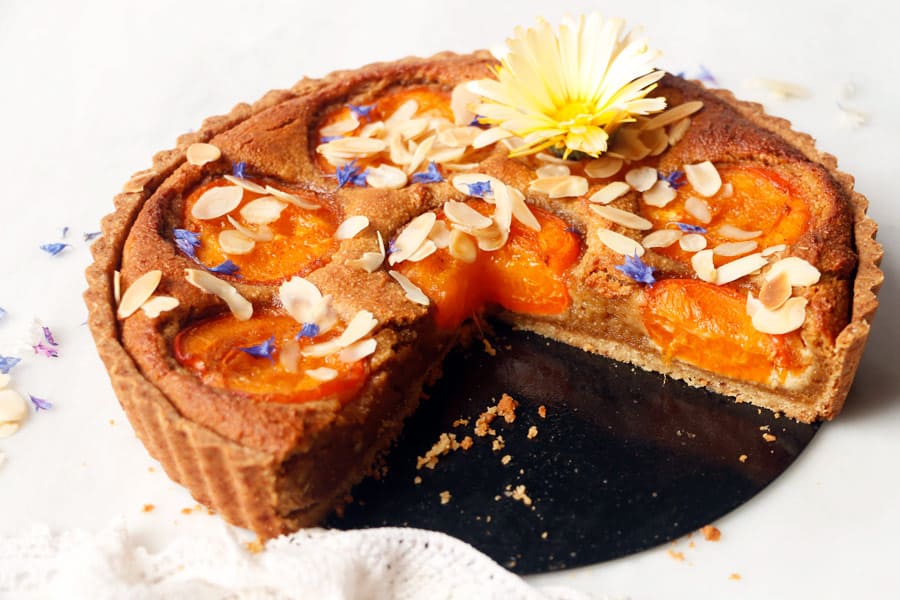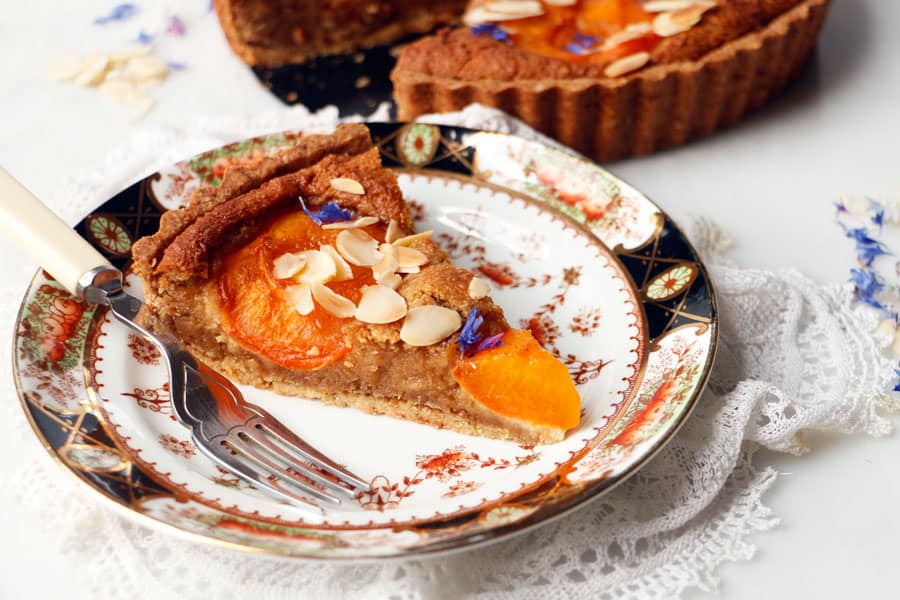 Yield: 9" tart
Apricot Frangipane Tart (vegan & grain-free)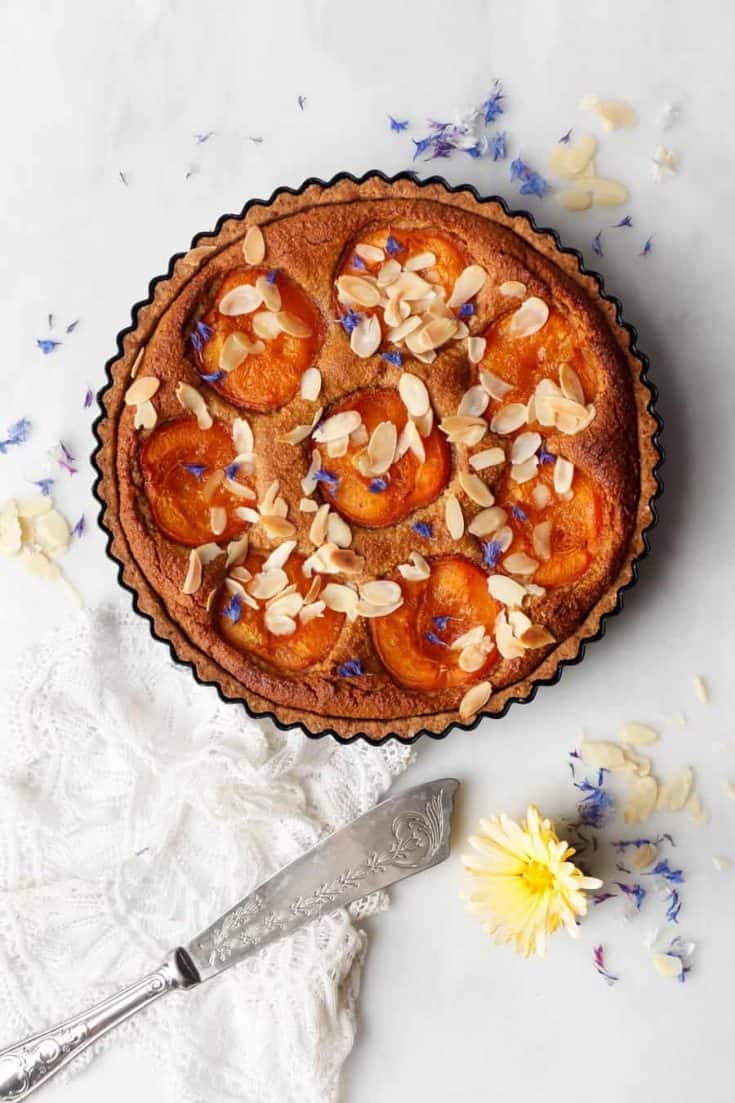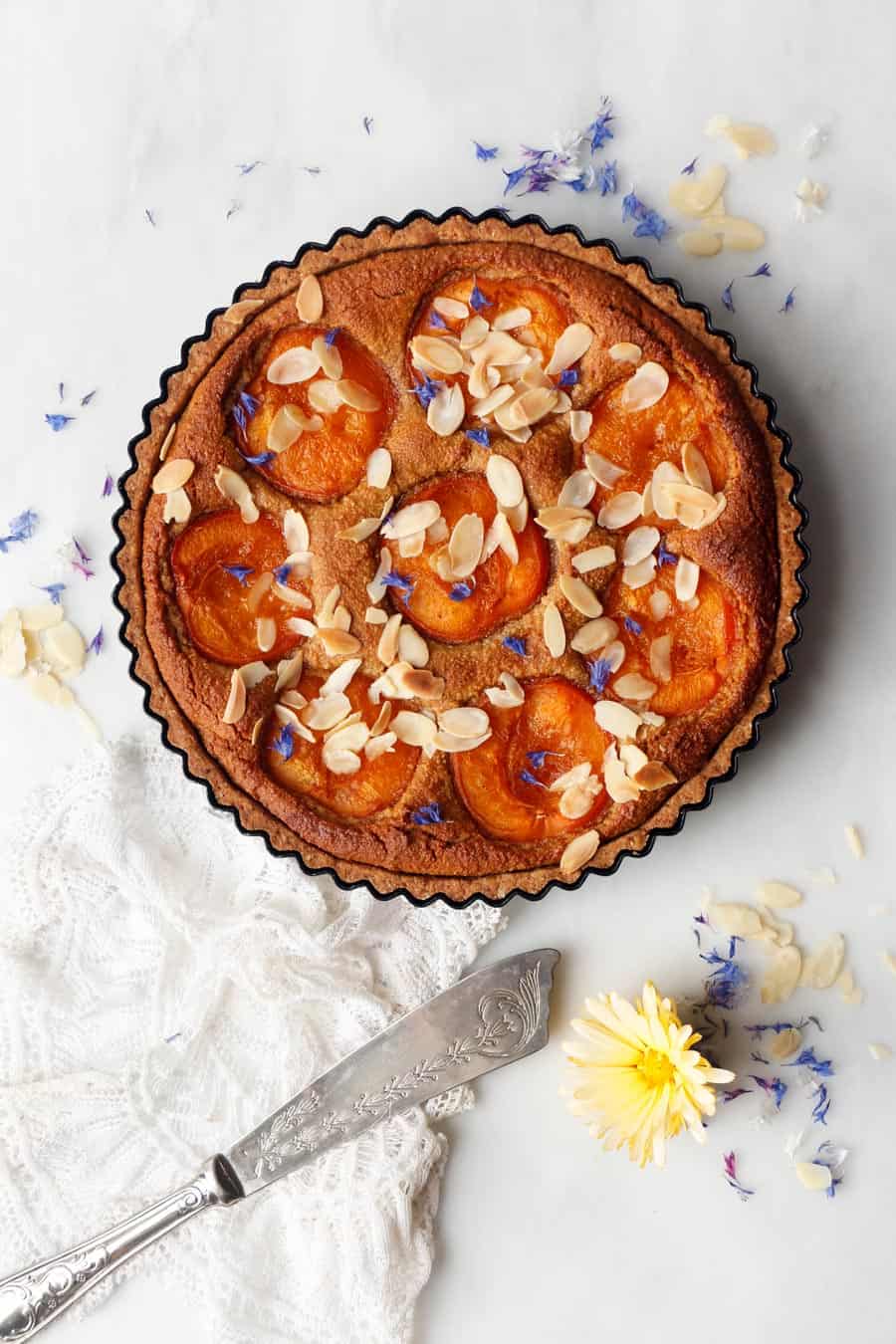 Ingredients
Tart crust:
100g ground almonds (1 cup)
60g chickpea flour (1/2 cup)
30g tapioca flour (1/4 cup)
2tbsp coconut sugar
pinch sea salt
4tbsp solid coconut oil
1-2tbsp water as needed
Frangipane filling:
200g ground almonds (2 cups)
2tbsp chickpea flour
1tsp baking powder
75g coconut sugar (1/2 cup)
2tbsp ground flaxseed + 6tbsp water
80ml melted coconut oil (1/3 cup)
60ml almond milk, room temperature (1/4 cup)
For the top:
4 to 8 apricots (depending on the size)
1tbsp coconut sugar
1/4tsp cinnamon
flaked almonds
Instructions
Preheat the oven to 180°C (350F)
Prepare 9" tart tin with removable base. You can grease and line the base, but the pastry is quite greasy and it's not necessary. It will easily come out.
In a medium bowl whisk together ground almonds, chickpea flour, tapioca flour, coconut sugar and sea salt.
Using your hands rub in the coconut oil until mixed in. Now add 1/2tbsp of water at time until you have a smooth soft dough.
You can press the dough directly into the tart tin and work your way around the base and up the sides to form a crust. Or you can roll it out between two sheets of baking paper. It is fragile when rolling but I find it's faster to create the crust even if it breaks.
Pierce the base few times with a fork and bake for 8 minutes.
Remove from the oven and leave to cool down.
Frangipane filling:
Mix 2tbsp ground flaxseed with 6tbsp water and set aside to thicken.
In a large bowl whisk together ground almonds, chickpea flour, baking powder and coconut sugar.
Stir in the gelled flax eggs, melted coconut oil and half of the almond milk. Aim for a thick mix, add more almond milk as needed.
Spoon the frangipane onto the base of the crust.
Halve the apricots and remove the pits. Toss them with 1tbsp of coconut sugar and little cinnamon and press them flesh side up into frangipane filling. Top with few flaked almonds.
Bake for about 45 minutes until the frangipane is set. Keep an eye on the top and cover with foil if needed.
Remove from the oven and leave to cool down for about 20 minutes before removing from the tart tin.
Serve warm or cold.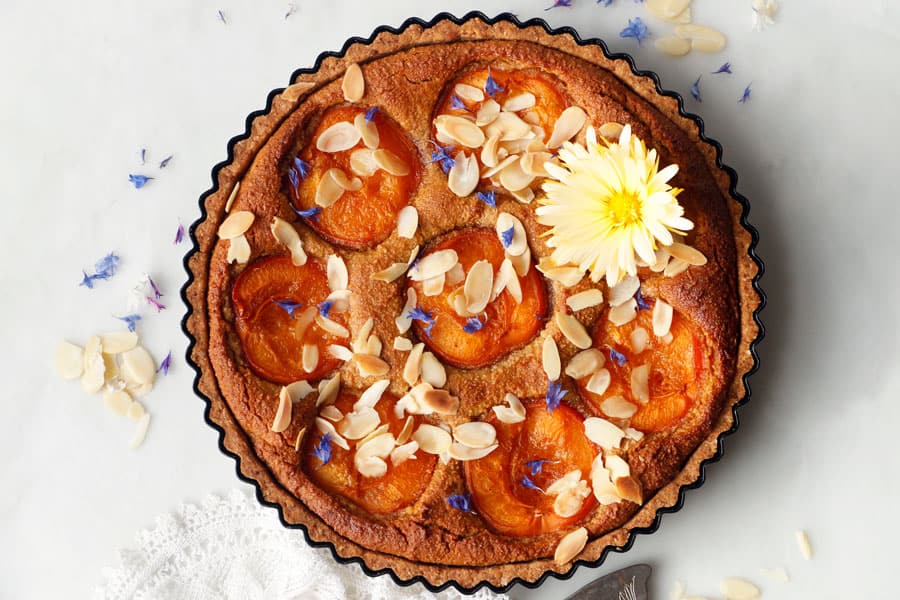 Similar Posts: