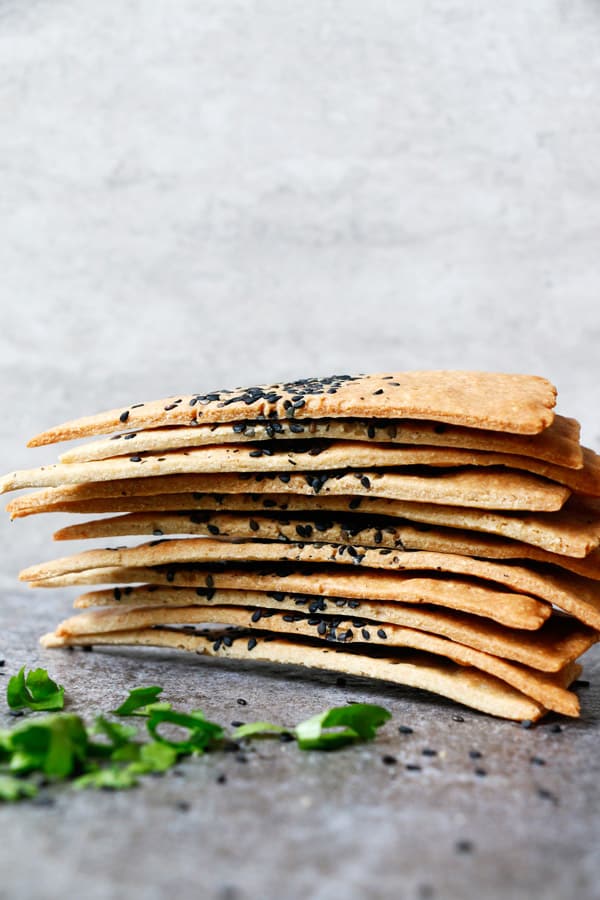 Lately I've been craving cheese and so the other day I got my pot of nutritional yeast and baked some crackers. Totally scrumptious and cheese craving satisfying crackers.
The only problem that I have now is wanting to eat the whole lot in one go! While my second batch is still in the oven my first is almost gone. So now you're going to have to bake some of these Cheezy Vegan Crackers and let me know if you love them as much as me.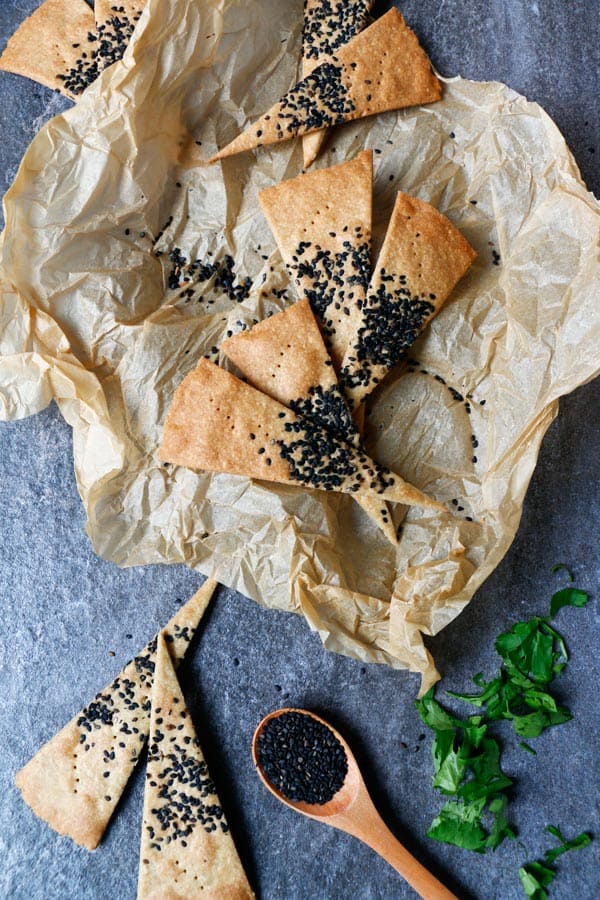 I've adapted these from my Buckwheat and Rosemary Crackers recipe, because they are so simple to make and totally amazing too. These crackers have a bit more ingredients layered in to get that vegan cheezy flavour – nutritional yeast, garlic, sea salt and apple cider vinegar, but the base of buckwheat flour, ground almonds and ground flaxseed remains the same.
To make the crackers, simply whisk all of the dry ingredients, add the wet ingredients and mix until you have a nice smooth dough. You might have to add more water or flour depending on the ingredients you are using to achieve the right pliable consistency so you can roll it out without sticking to the baking paper. I've made this recipe twice and it worked beautifully each time. Try them with one of my Simple Beetroot Dip 3 Ways or Tuscan Kale Hummus with Dill recipes. Enjoy:) x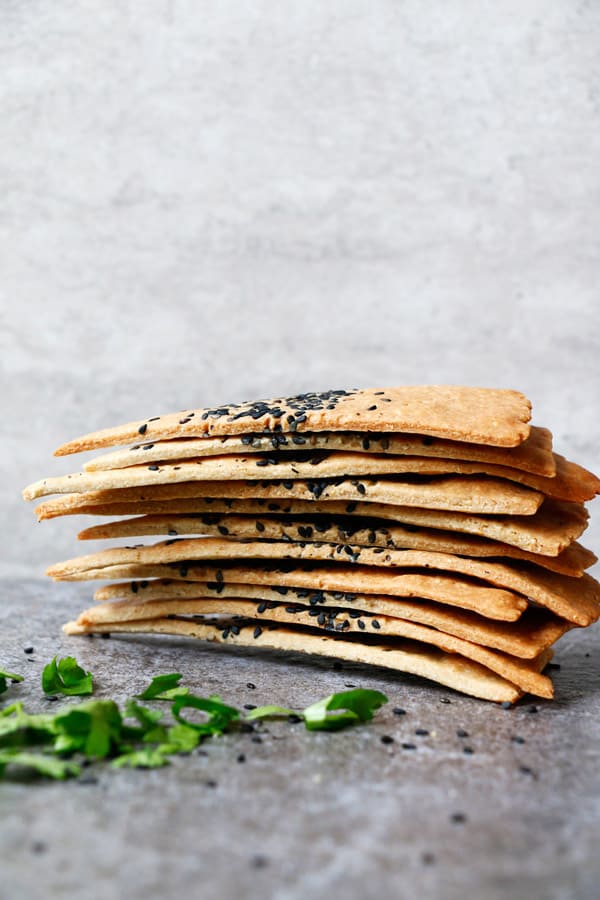 Yield: 32 crackers
Cheezy Vegan Crackers (gluten-free)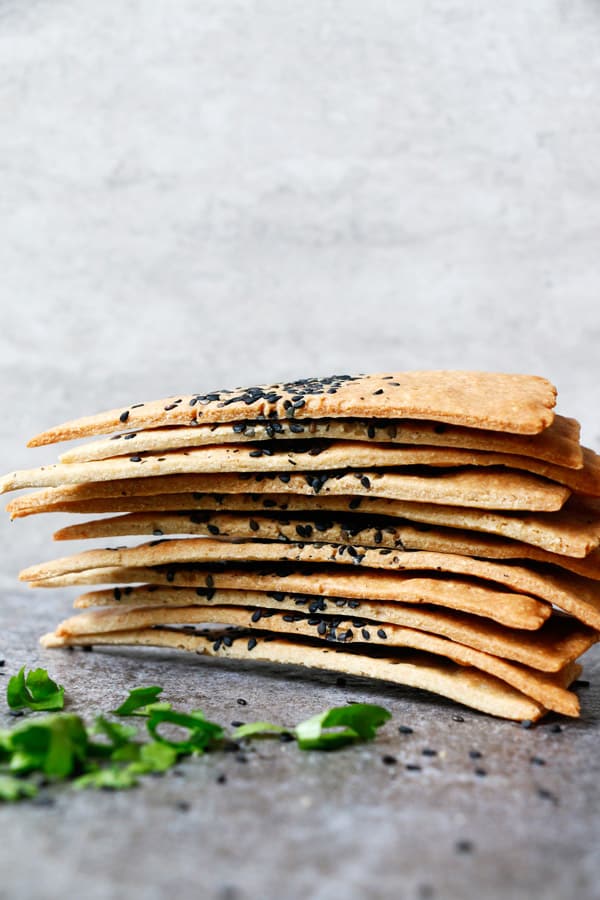 Ingredients
140g buckwheat flour (1 cup)
100g ground almonds (1 cup)
1tbsp ground flaxseed
3tbsp nutritional yeast
1/2tsp garlic powder
1 tsp sea salt
2 tbsp olive oil
1tsp apple cider vinegar
90ml water (1/3 cup+2tsp)
black sesame seeds for topping (optional)
Instructions
Preheat the oven to 200°C (180°C fan)
Prepare 2 baking sheets.
In a bowl whisk together buckwheat flour, ground almonds, ground flaxseed, nutritional yeast, garlic powder and sea salt. Set aside.
In a small bowl mix olive oil, apple cider vinegar and water and add to the dry ingredients.
Bring together into a dough and knead on a surface until smooth. If needed add a little water or flour, the dough should be nice and smooth, not sticky or too dry.
Separate the dough into 2 balls.
Place one ball between 2 sheets of greaseproof baking paper and roll out until about 2mm thickness.
Remove the top layer of baking paper, sprinkle sesame seeds on top and gently roll over them with the rolling pin to press them in. Cut the dough into 16 wedges like you would cut a pizza and prick each cracker with a fork few times.
Transfer onto a baking tray keeping the bottom layer of paper.
Bake for 10-15 min. Keep an eye on the crackers as the outer edges always bake quicker. You might have to move them around, so they bake evenly.
Repeat with the rest of the dough.
Store in an airtight container for up to a week.
Enjoy with your favourite dip or on its own.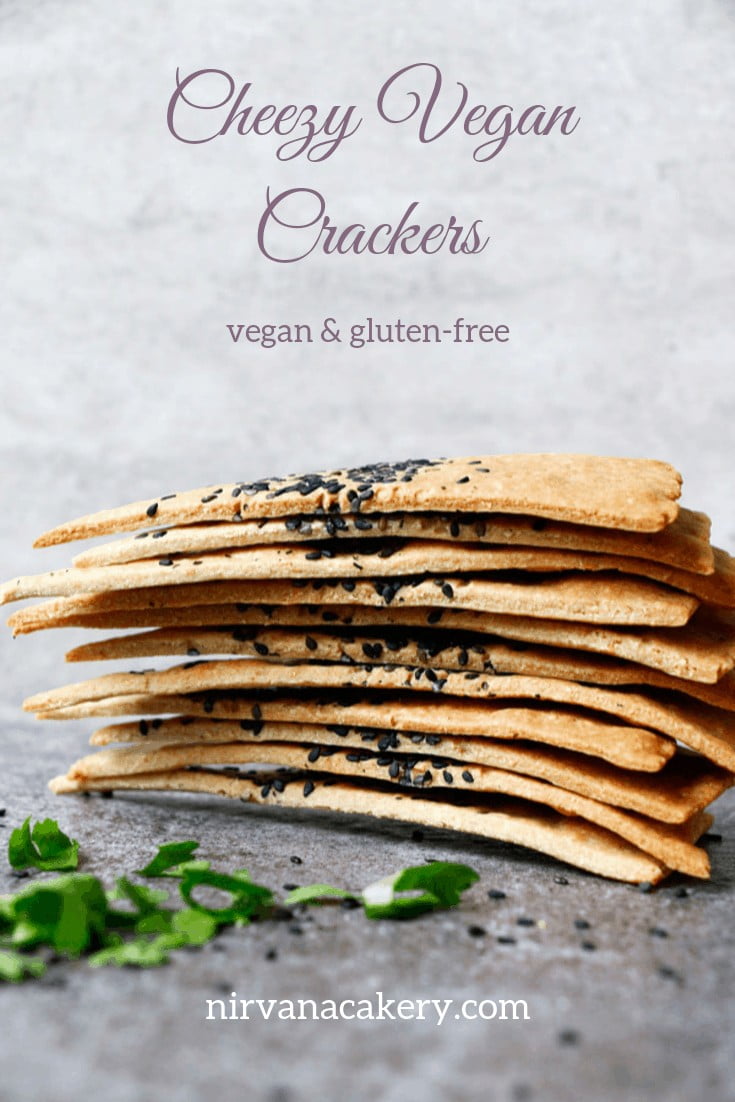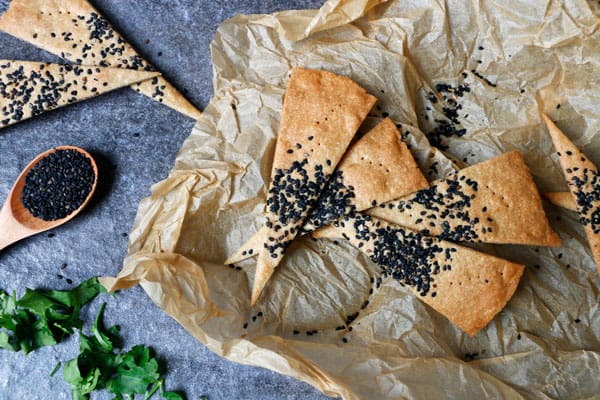 Similar Posts: