Impress your loved ones and prepare the brunch of your dreams with these wholesome satisfying Vegan Brunch Recipes.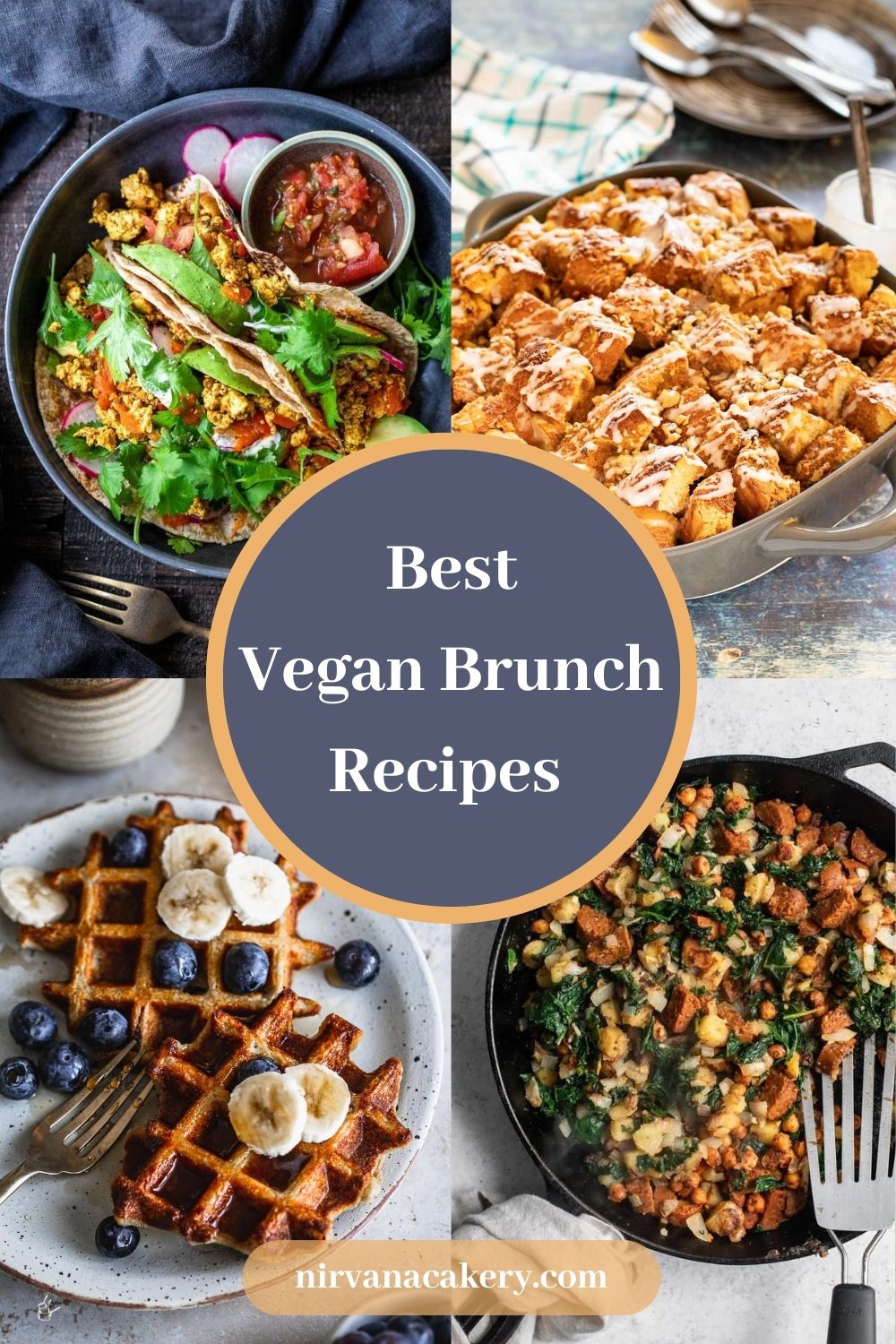 Love to brunch? Welcome to this amazing Vegan Brunch Recipes round-up with the best savory and sweet recipe ideas to enjoy vegan brunch in style.
How do you love to start your day? Do you love savory, sweet, or a bit of both? If you delight in savory food, tofu scramble is one of the vegan classics and can take part in exciting breakfast bowls, breakfast tacos, burritos and sandwiches. Or how about baked beans, frittata or pimped avocado toast?
Or do you prefer sweet brunch classics like baked oatmeal, pancakes, waffles or French toast? Find them all in this fabulous vegan recipe collection and get brunching.
1. Vegan Brunch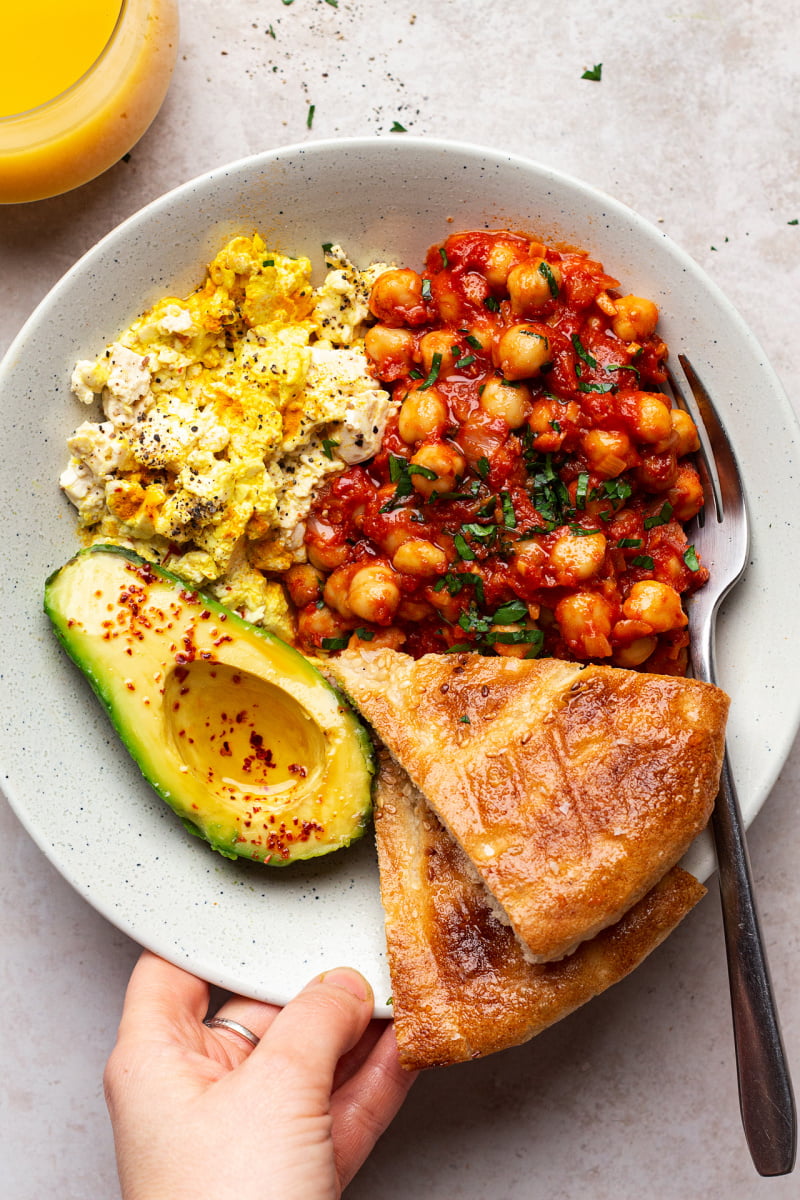 Enjoy all the favorites in this yummy Vegan Brunch by Lazy Cat Kitchen. This recipe features smoky chickpeas in a rich tomato sauce, a quick tofu scramble and avocado served with your favorite toasted bread.
2. Vegetable Vegan Frittata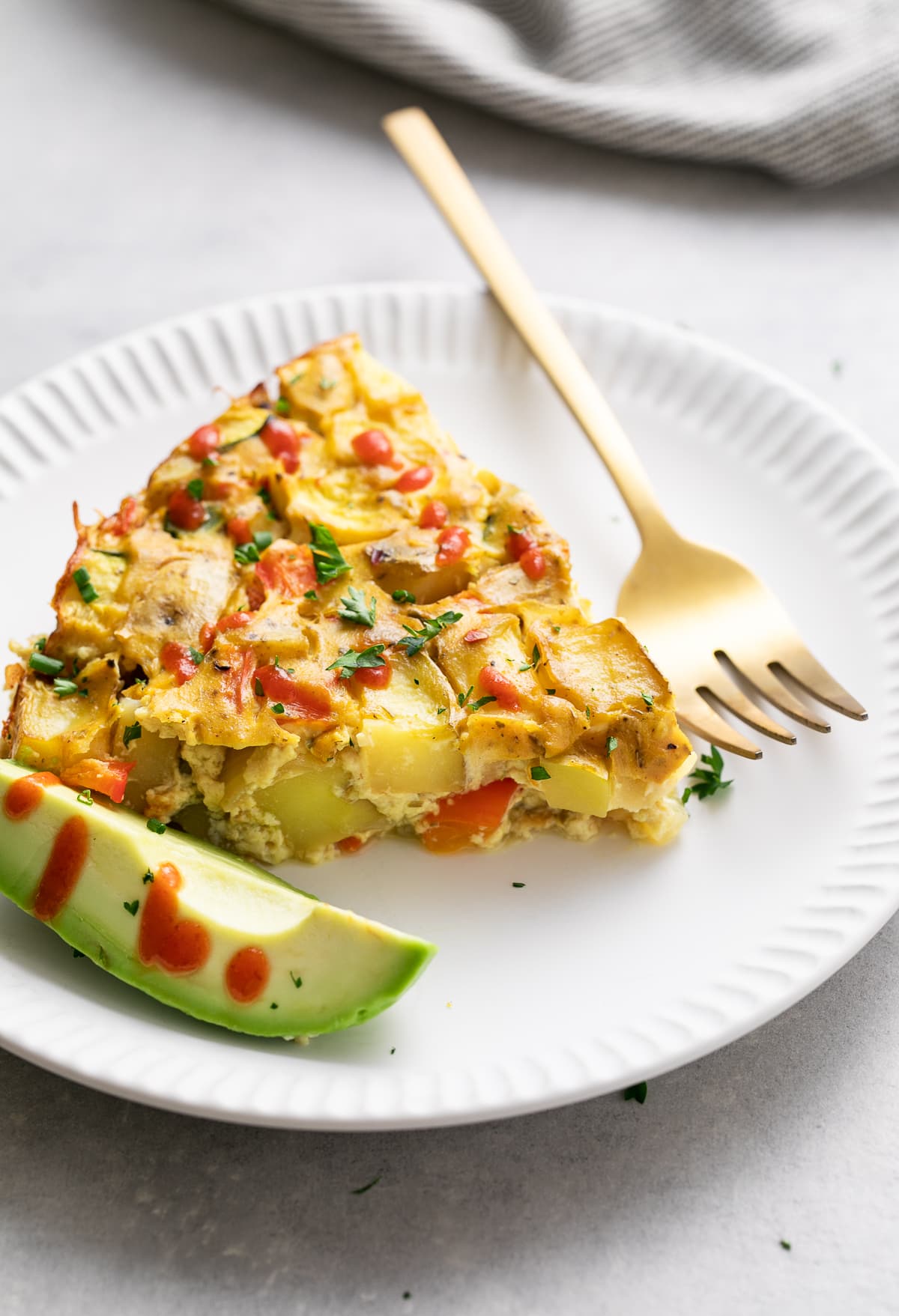 This flavorful Vegetable Vegan Frittata by The Simple Veganista is a filling brunch recipe. In this dish, an amazingly flavorful tofu base 'egg' mixture is teamed with potatoes, bell pepper, zucchini and tomatoes and served with avocado and a drizzle of sriracha.
3. Balsamic Roasted Tomato and Hummus Toast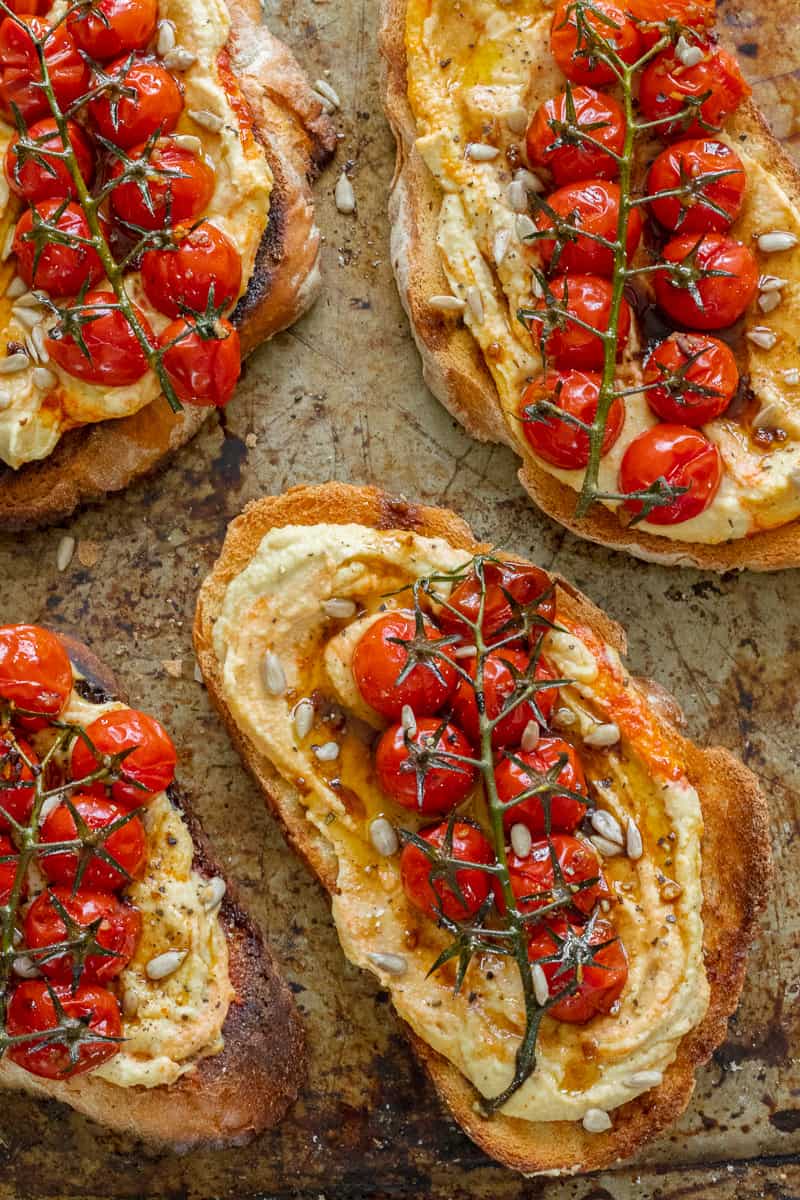 Brunch with these delish Balsamic Roasted Tomato and Hummus Toasts by Georgie Eats. In this simple rustic recipe, crusty sourdough toast is smothered with velvety hummus and topped with sweet garlic balsamic roasted tomatoes.
4. Vegan Eggs Benedict with Homemade Hollandaise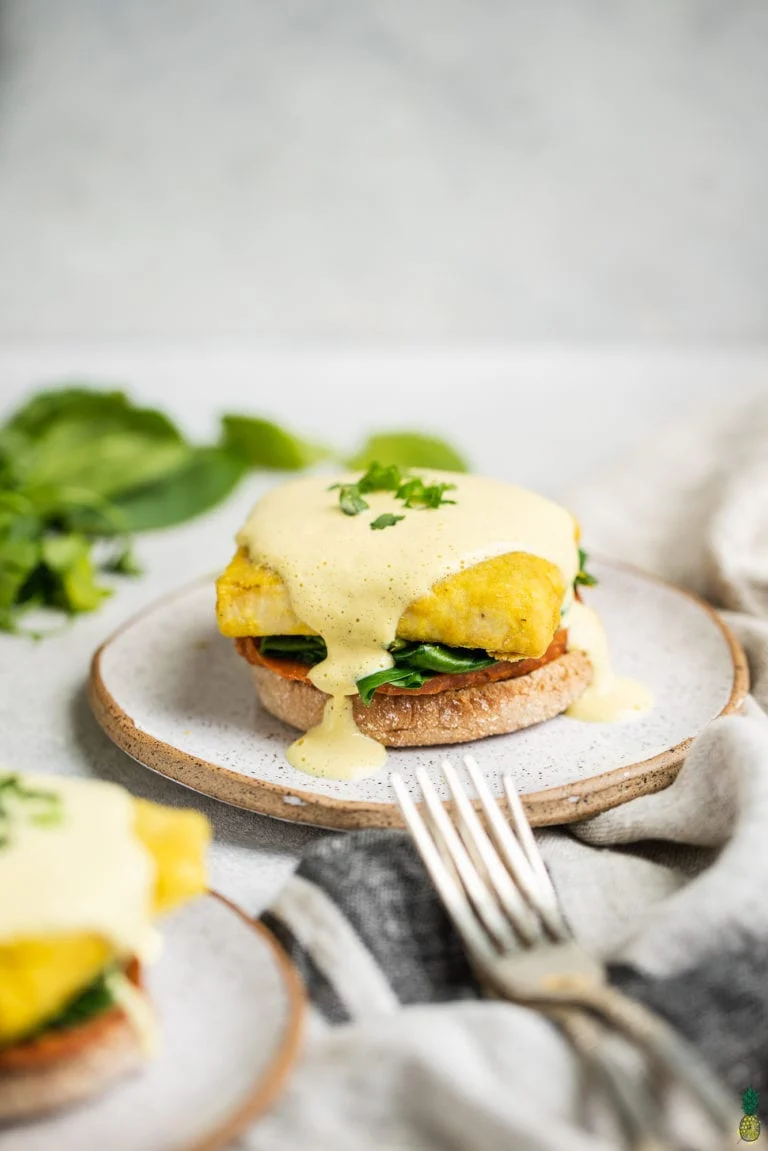 Ready for brunch? These Vegan Eggs Benedict with Homemade Hollandaise by Sweet Simple Vegan are a tasty alternative to the traditional version. English muffins are layered with a slice of vegan ham, steamed spinach, a tofu patty and a rich plant-based hollandaise sauce.
5. The Best High-Protein Vegan Avocado Toast with Edamame Beans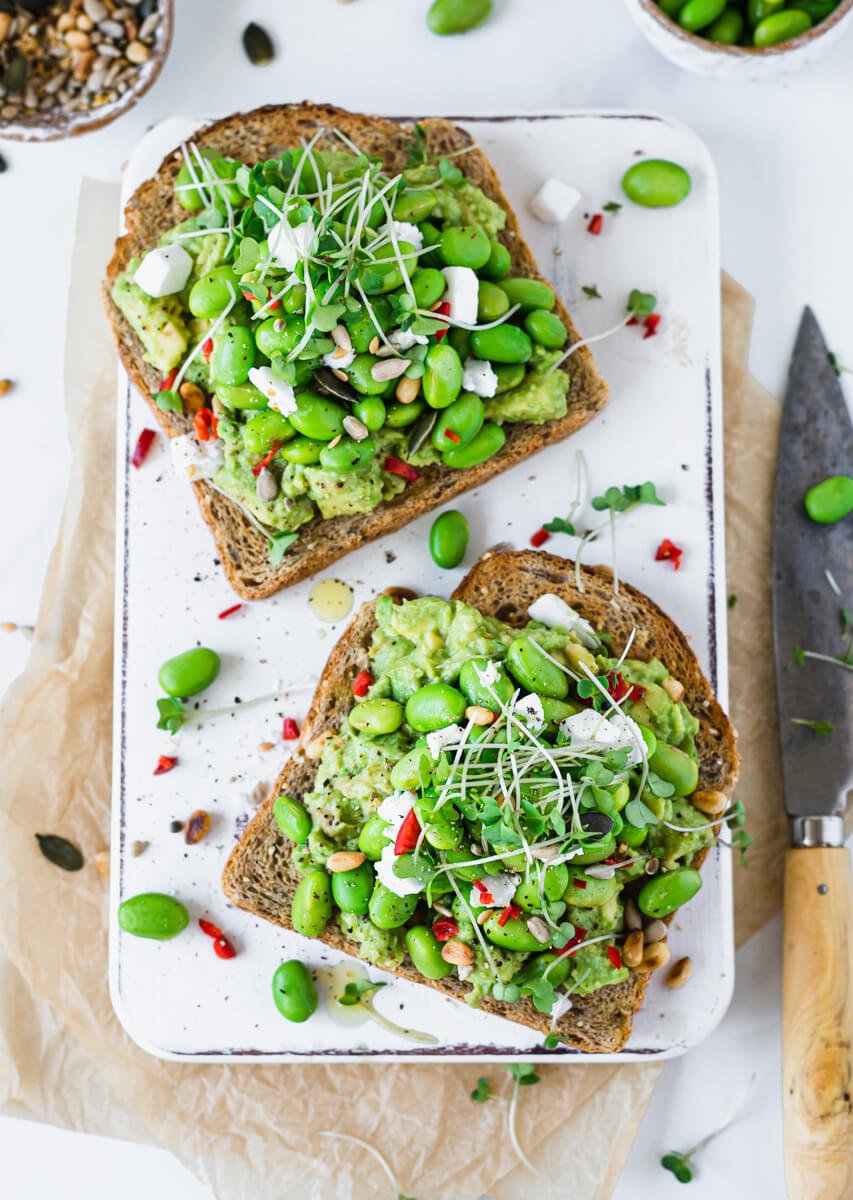 This Best High-Protein Vegan Avocado Toast with Edamame Beans by Fit Foodie Nutter is your next-level avocado toast. Plant-based and wholesome with amazing fresh flavors this nutritious breakfast will make your belly happy.
6. Savory Vegan Breakfast Bowls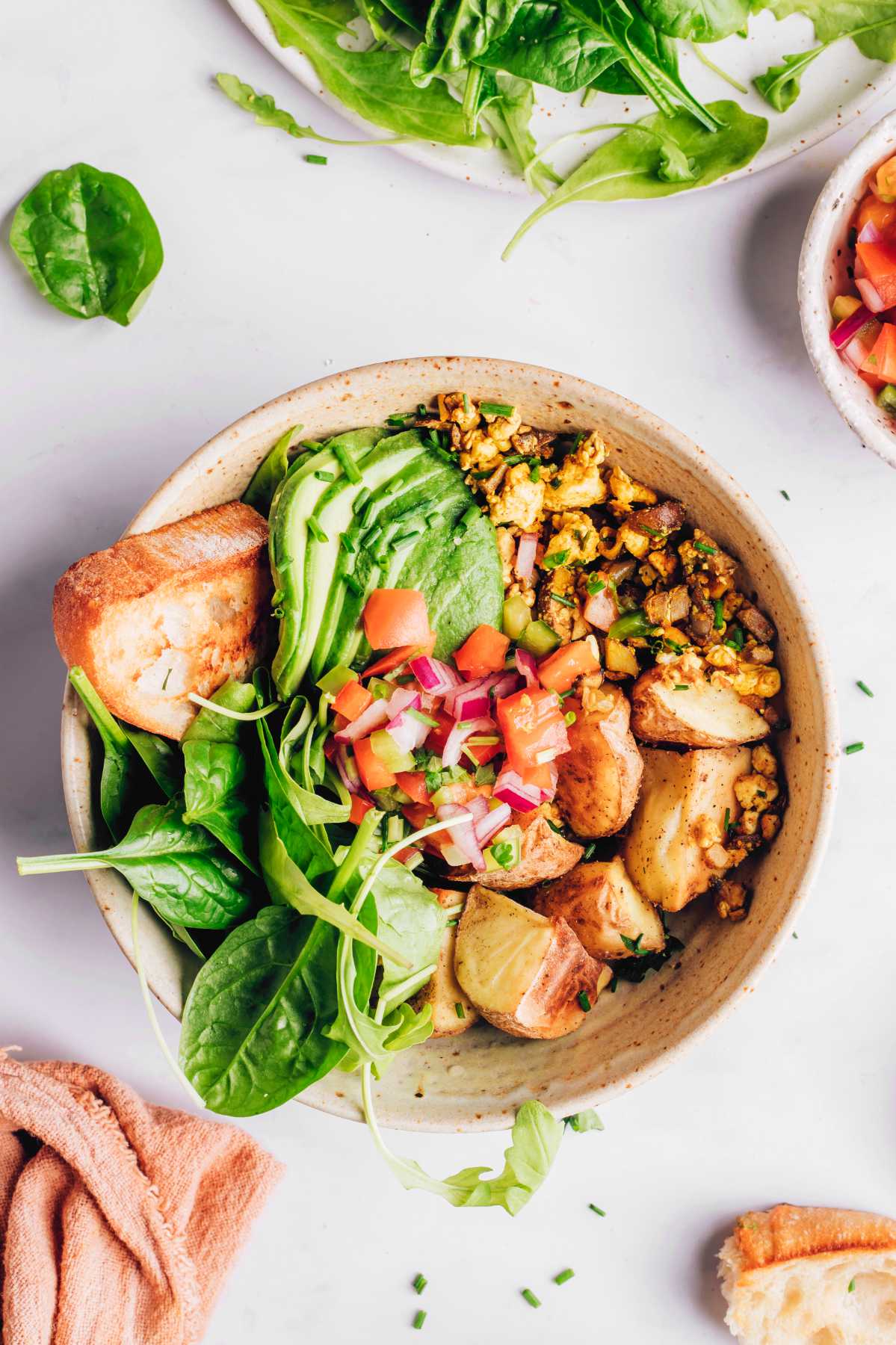 These Savory Vegan Breakfast Bowls by Nutriciously are bursting with texture and flavor. Make this nutritious dish with roasted potatoes, scrambled tofu, fresh salsa, avocado, arugula and baby spinach.
7. Vegan Baked Oatmeal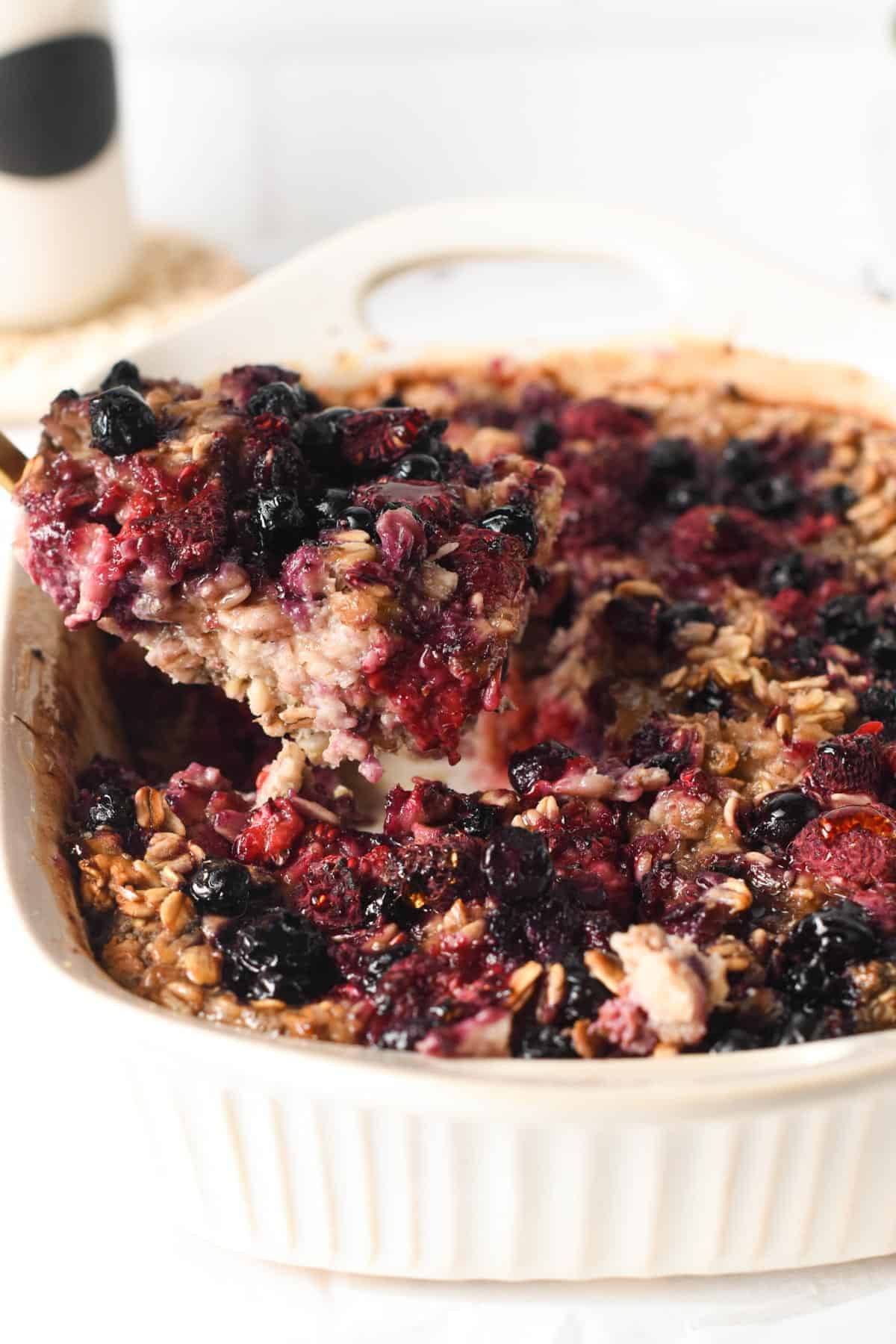 Feed a crowd with this delish Vegan Baked Oatmeal by Conscious Plant Kitchen. This hearty nourishing oatmeal with berries is sweetened with bananas and cinnamon.
8. Vegan French Toast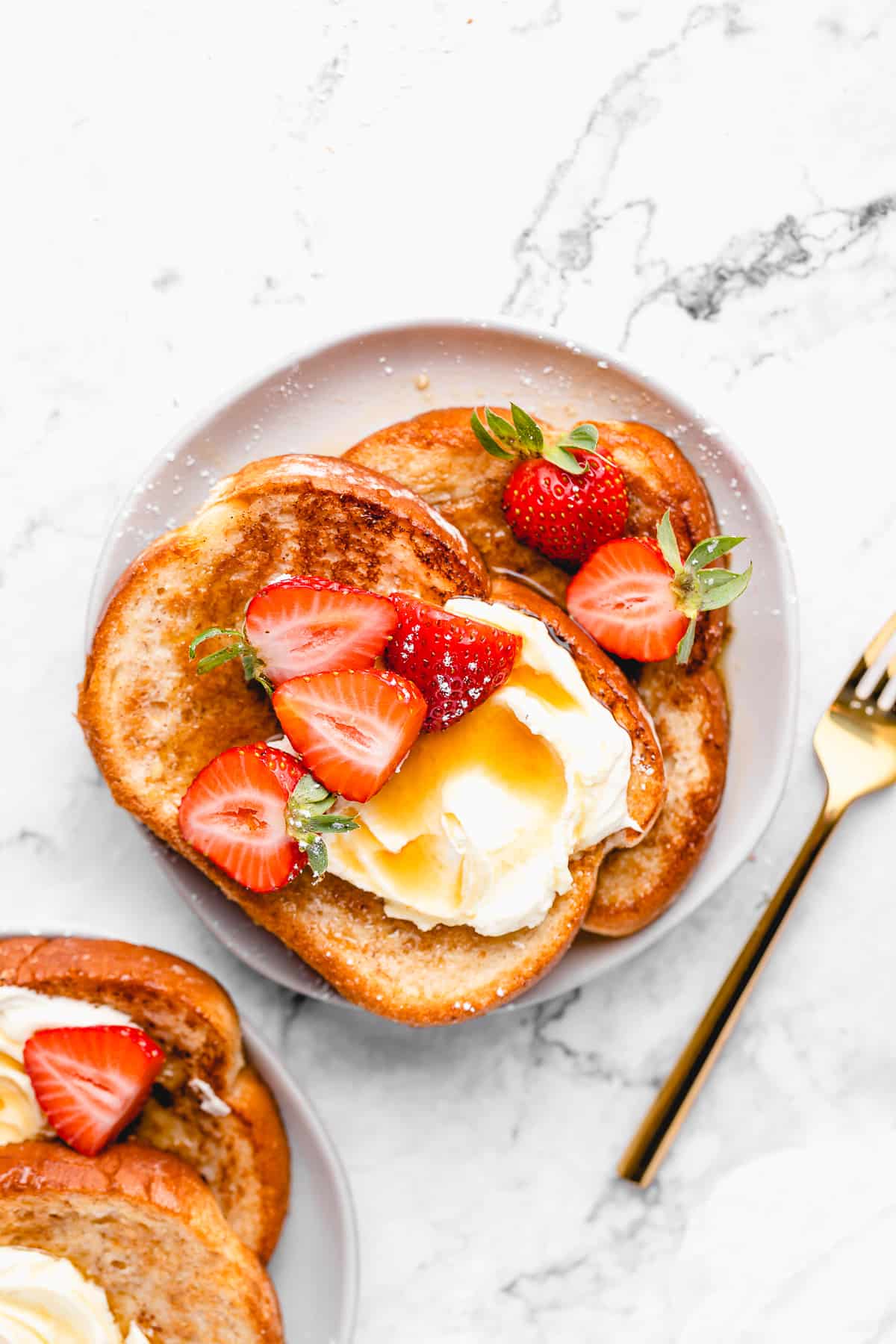 Who'd love to start a day with this Vegan French Toast by Jessica in the Kitchen? This deliciously crisp on the outside and soft on the inside French toast makes a yummy sweet brunch option.
9. Mango Turmeric Amaranth Parfait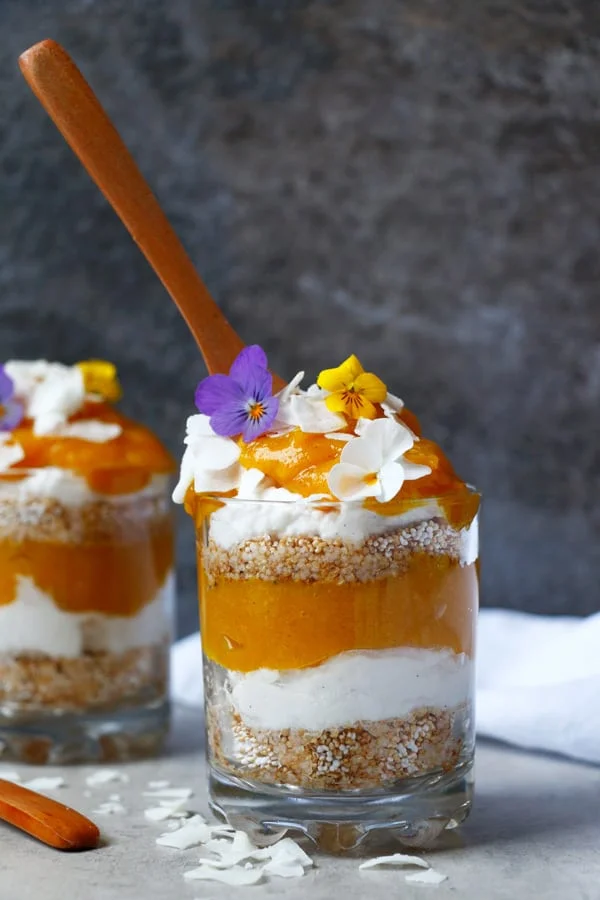 If you fancy something fresh, light and healthy then this Mango Turmeric Amaranth Parfait by Nirvana Cakery is for you. In this recipe, puffed amaranth is layered with mango, turmeric and ginger puree and a luscious mixture of coconut yogurt and coconut cream.
10. Cheezy Vegan Breakfast Pizza with Smoky Tempeh Bacon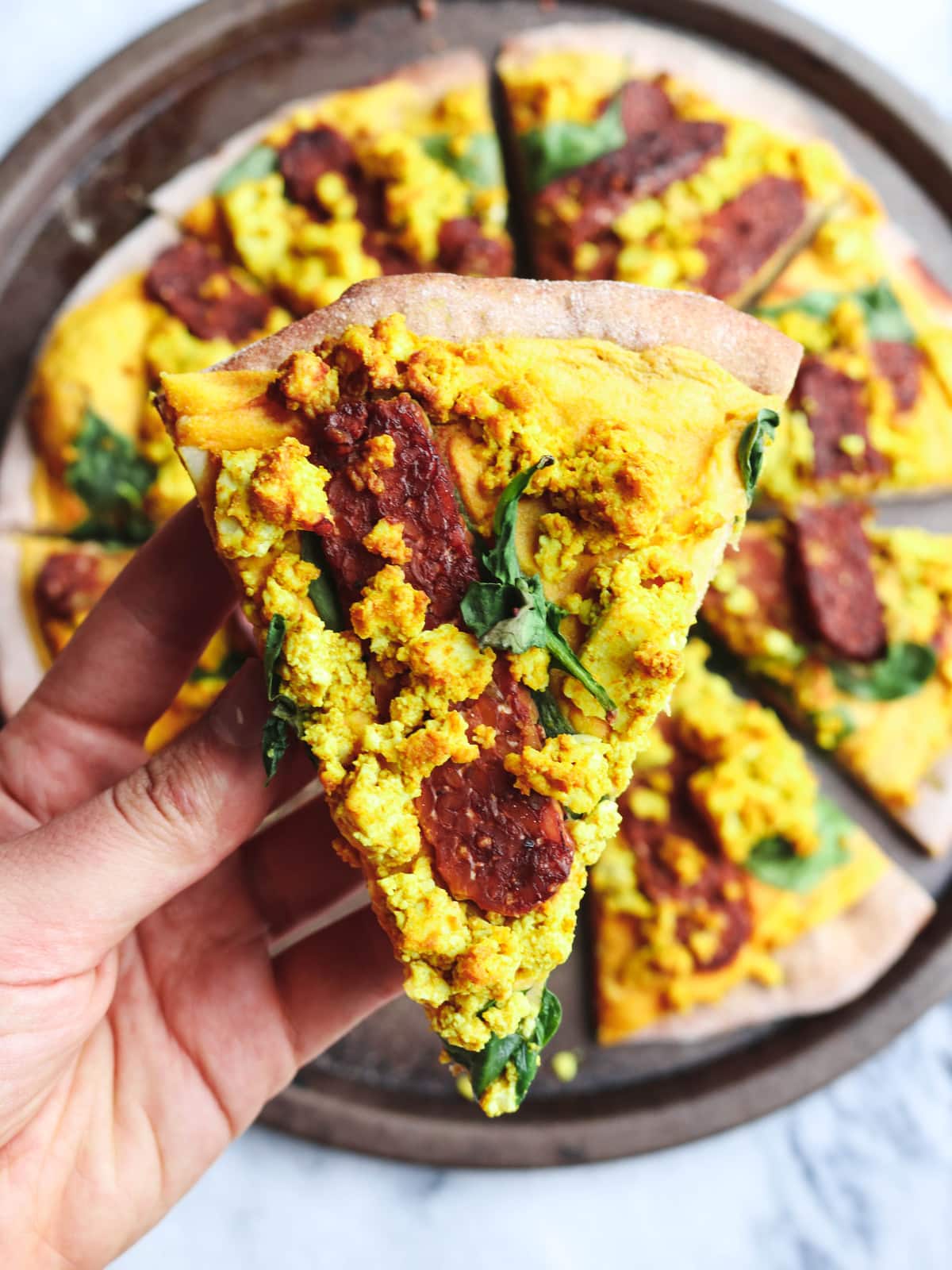 This yummy Cheezy Vegan Breakfast Pizza with Smoky Tempeh Bacon by From My Bowl makes the perfect brunch. In this recipe, homemade whole wheat pizza dough is smothered with cheezy sauce and topped with tofu scramble, homemade smoky tempeh bacon and spinach.
11. The Best Vegan Breakfast Burritos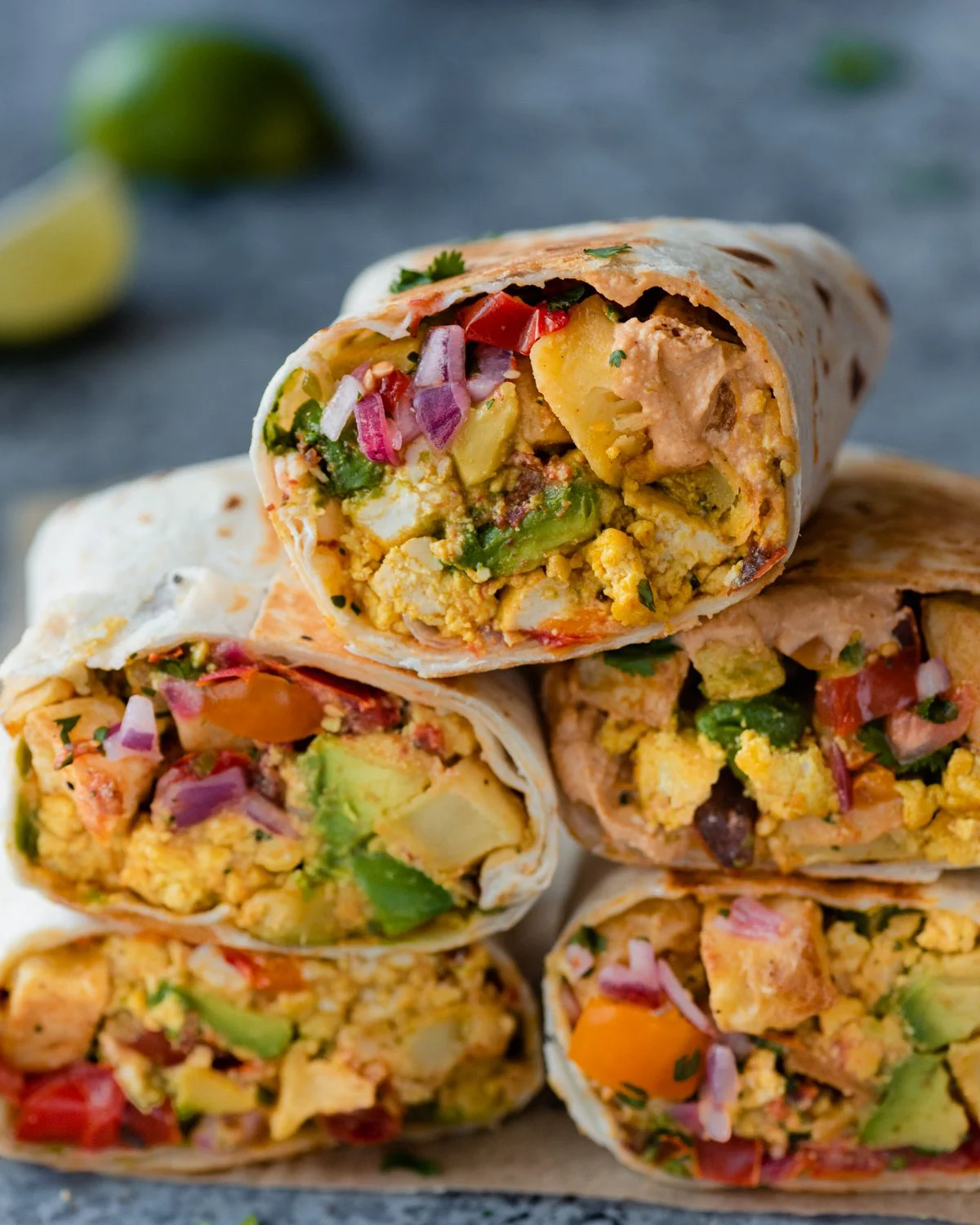 Create an epic brunch with these delicious Vegan Breakfast Burritos by Rainbow Plant Life. This recipe features griddled tortilla filled with an eggy tofu scramble, crispy roasted potatoes, vegan queso sauce, pico de gallo and avocado.
12. Easy Homemade Vegan Baked Beans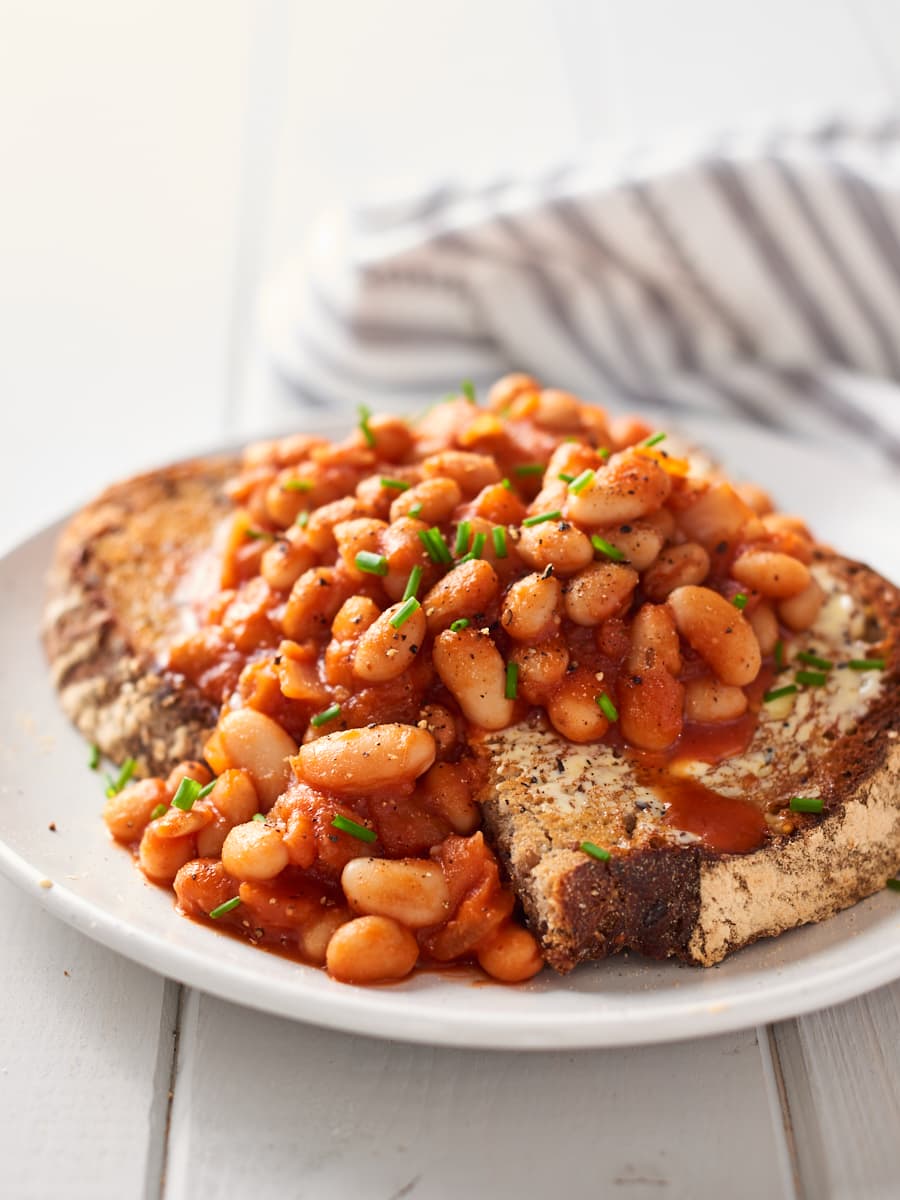 Love baked beans? You will love these Easy Homemade Vegan Baked Beans by Forkful of Plants. Filled with a rich sauce and natural sweetness from sweet paprika they're much healthier and tastier than the canned varieties.
13. Scrambled Tofu and Avocado Breakfast Sandwich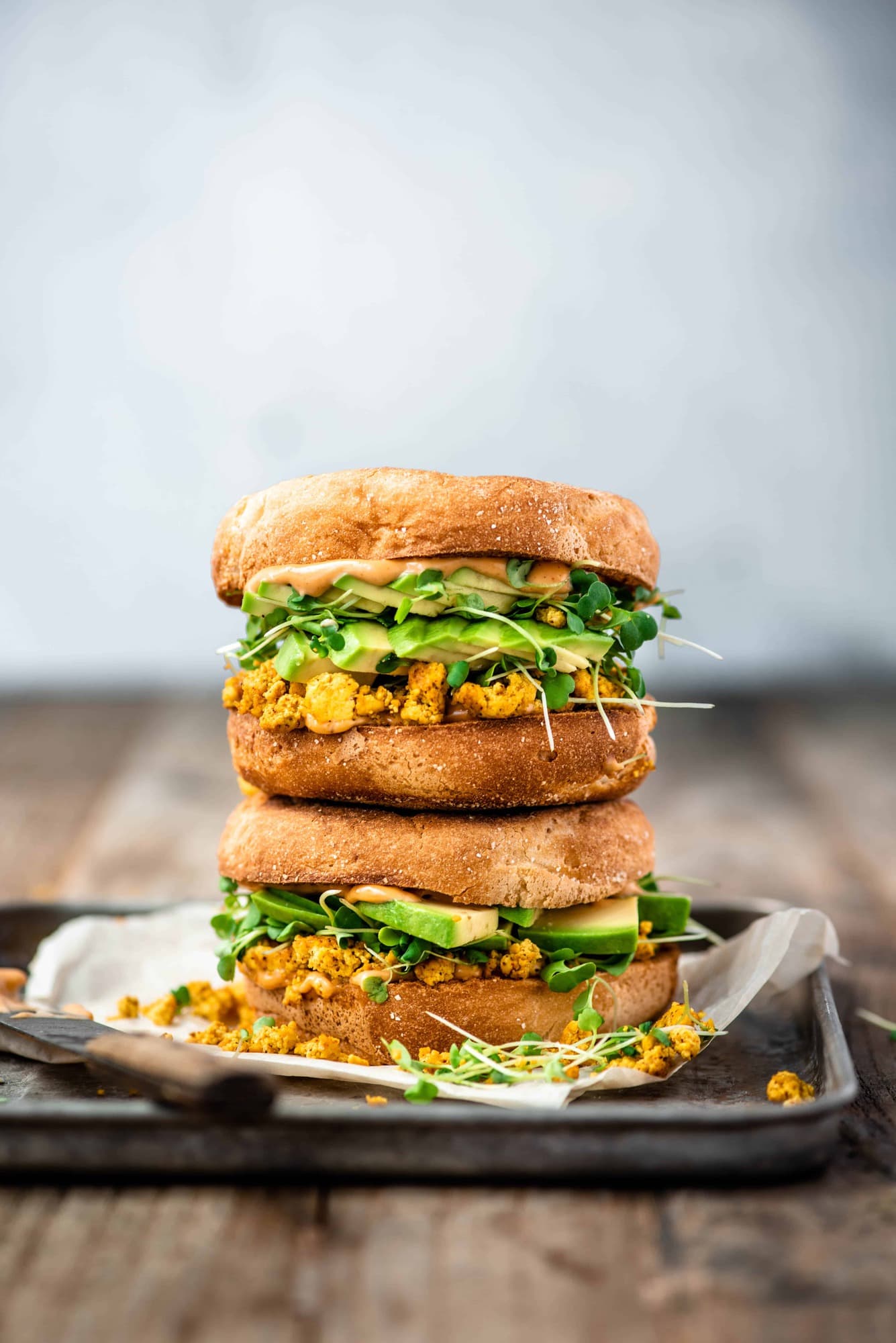 This delish Scrambled Tofu and Avocado Breakfast Sandwich by Crowded Kitchen is definitely worth the effort. English muffins are filled with tasty scrambled tofu, spicy vegan mayo, avocado and micro greens for a satisfying flavor in every bite.
14. Carrot Cake Breakfast Muffins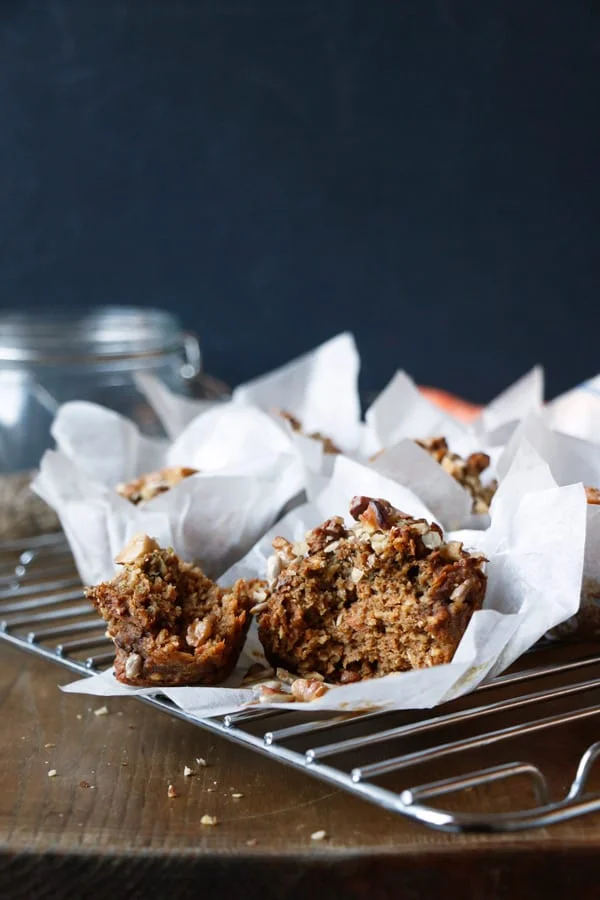 Treat yourself to these wholesome Carrot Cake Breakfast Muffins by Nirvana Cakery. These healthy muffins with sunflower seeds, ground almonds, buckwheat flour and coconut gluten-free mix are sweetened with maple syrup and flavored with orange zest, cinnamon, cardamom, ginger and cloves.
15. 3 Ingredient Vegan Waffles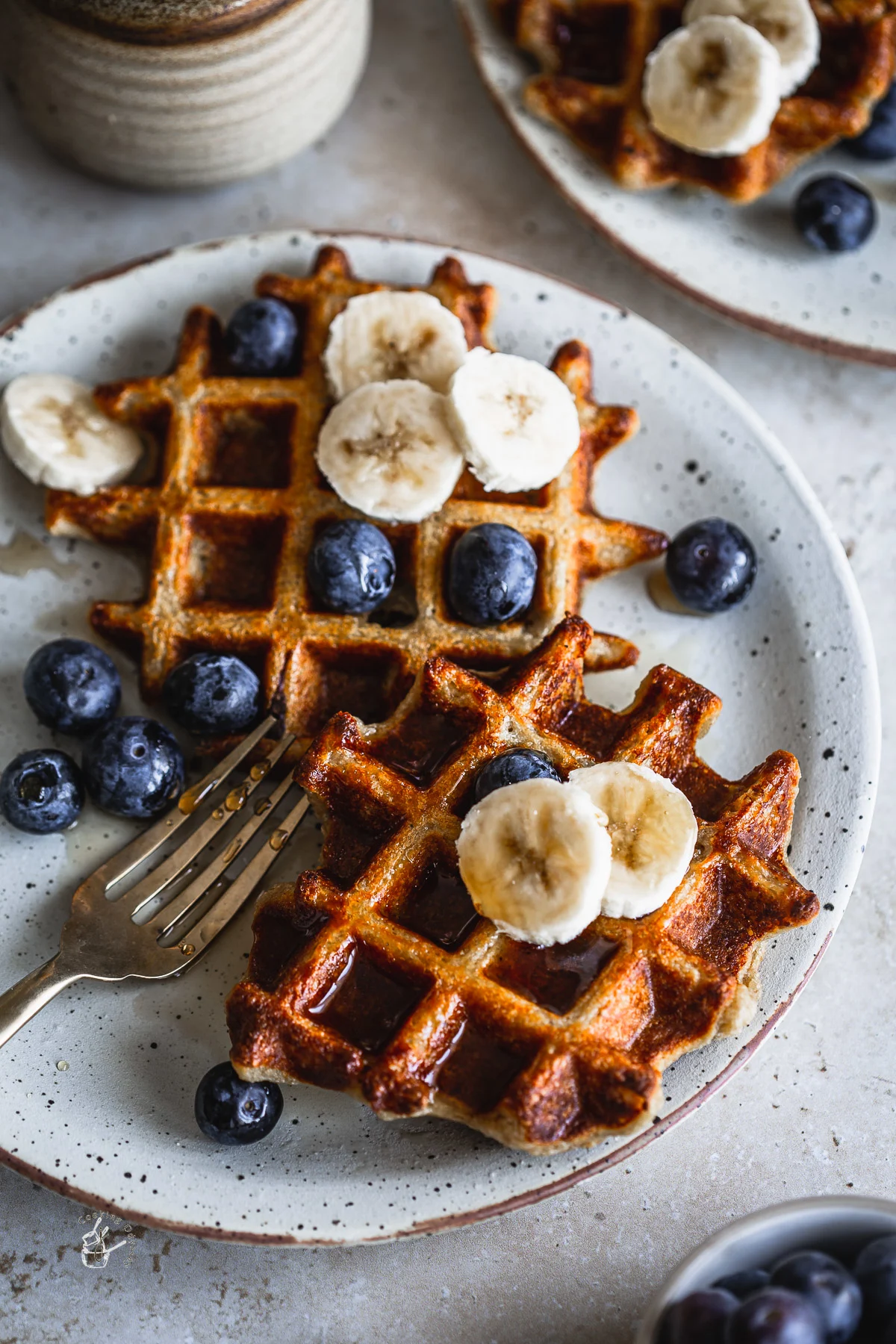 How about 3 Ingredient Vegan Waffles by J Cooking Odyssey? Made with oats, bananas and plant milk this simple healthy recipe will guarantee you the perfect waffles every single time.
16. Unbelievably Plush Gluten Free Vegan Cinnamon Rolls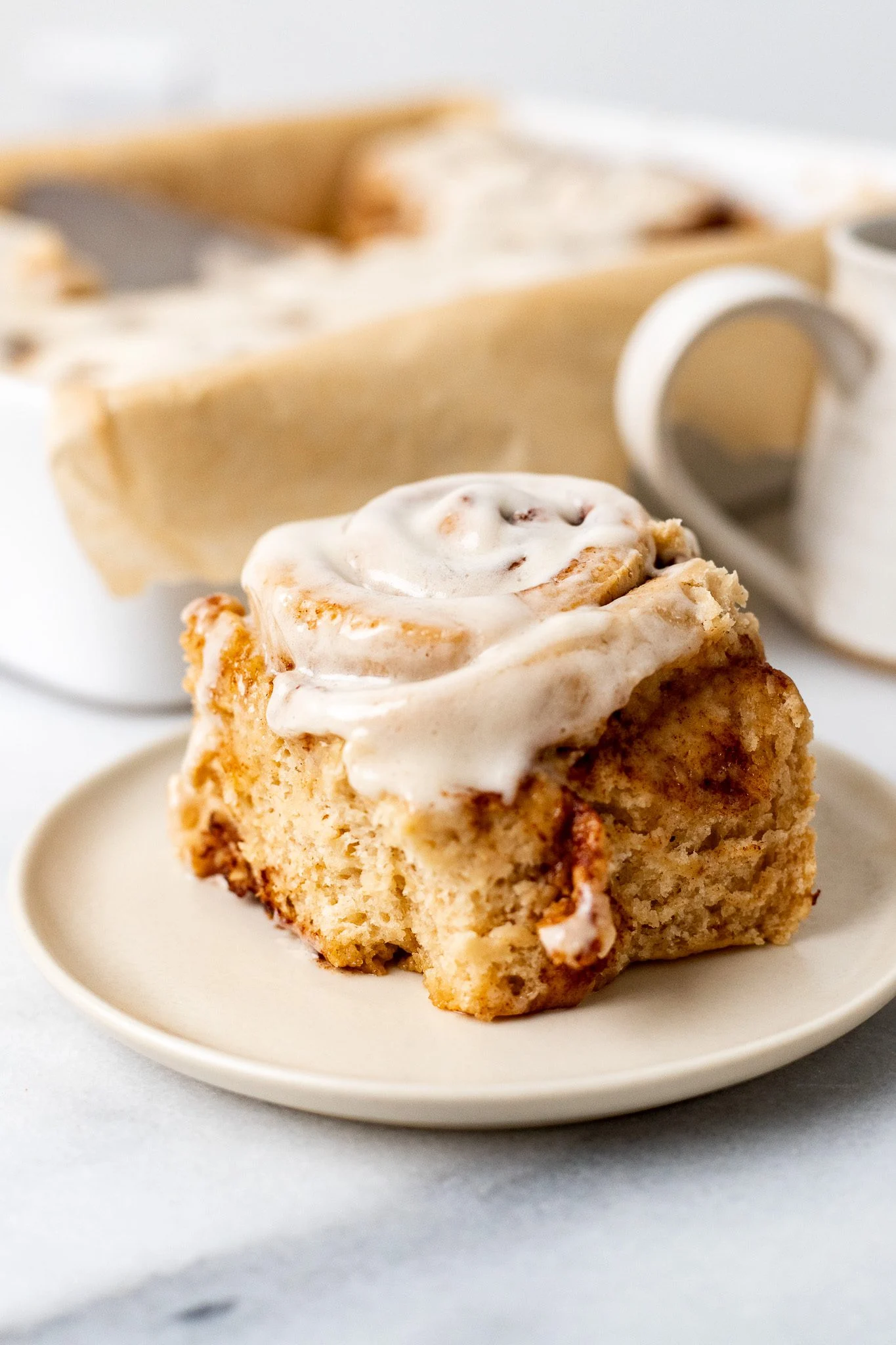 These Unbelievably Plush Gluten Free Vegan Cinnamon Rolls by The Banana Diaries look and taste just like a classic cinnamon roll. This gluten-free easy recipe made with millet flour with sweet notes of vanilla and cinnamon has a soft chewy texture that pulls apart just like bread.
17. Pumpkin and Oat Breakfast Bars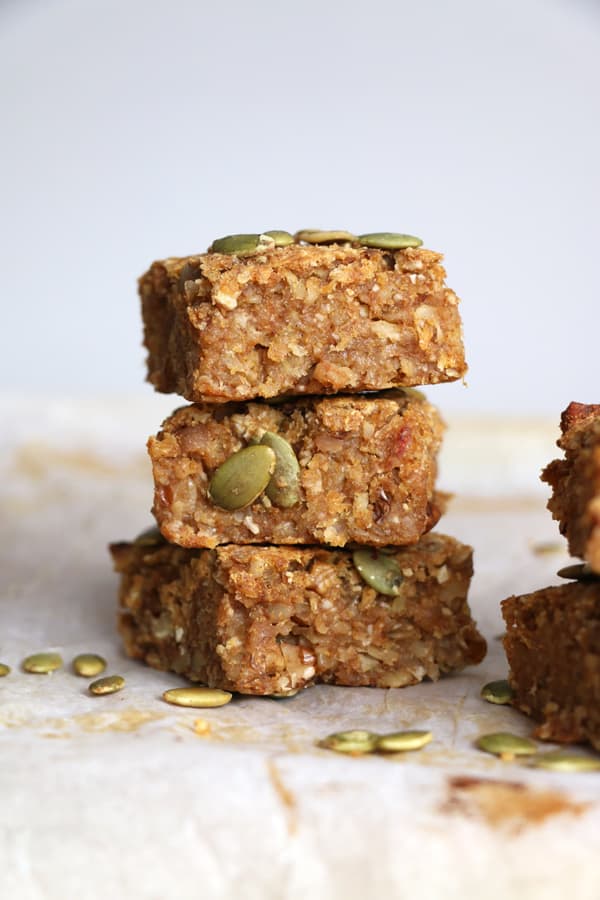 Make ahead these delicious Pumpkin and Oat Breakfast Bars by Nirvana Cakery. This healthy recipe is made with fresh pumpkin, oats, walnuts, pumpkin seeds and warming spices and sweetened with a few Medjool dates.
18. Vegan Eggs Benedict Casserole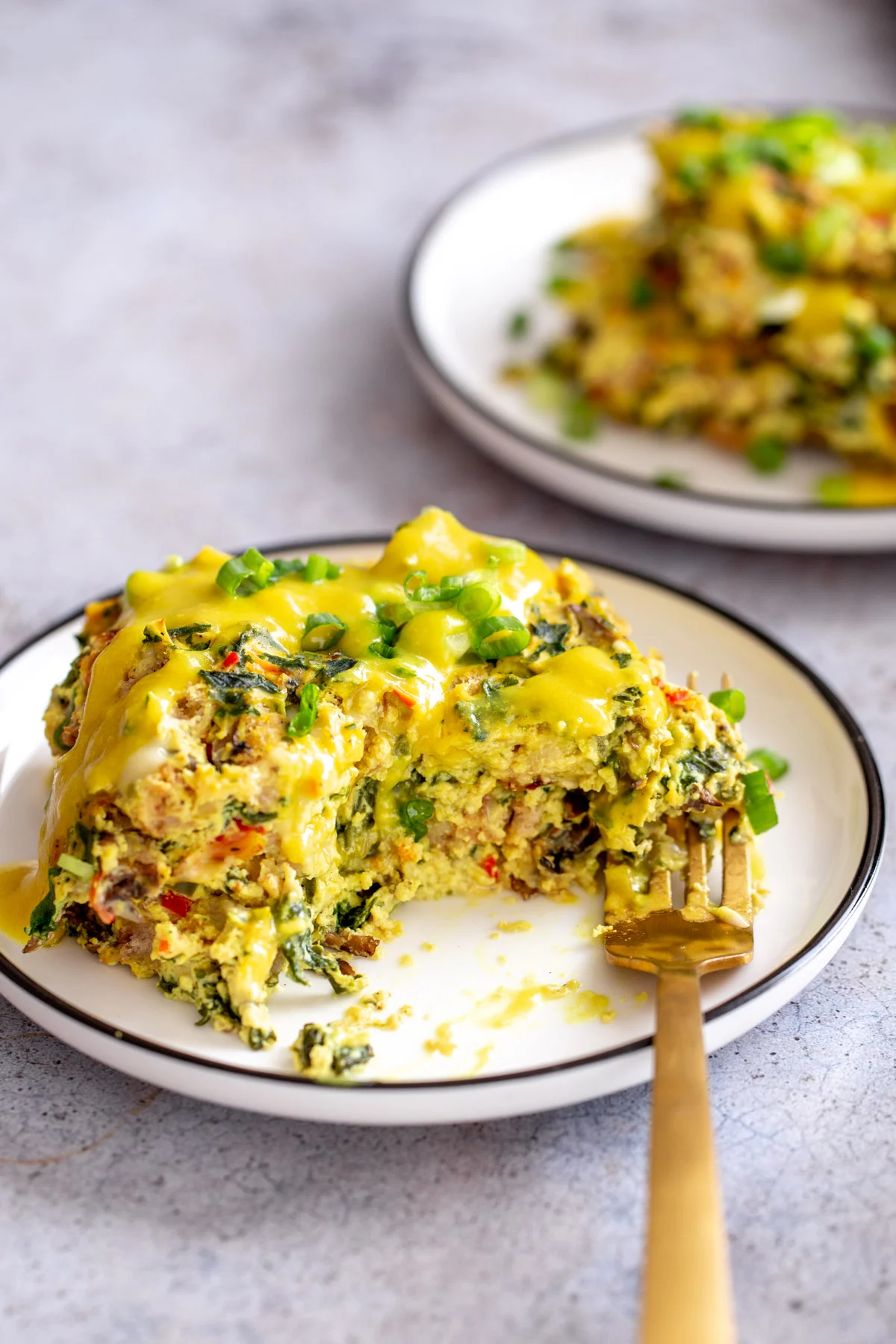 This mouth-watering Vegan Eggs Benedict Casserole by Vegan Richa could be the star of your brunch. Baked in one pan this tasty recipe with vegan "egg", mushrooms, spinach, red bell peppers and green onions served with a quick vegan hollandaise will make a satisfying savory meal.
19. Vegan Chickpea Pancakes With a Creamy Pesto Dressing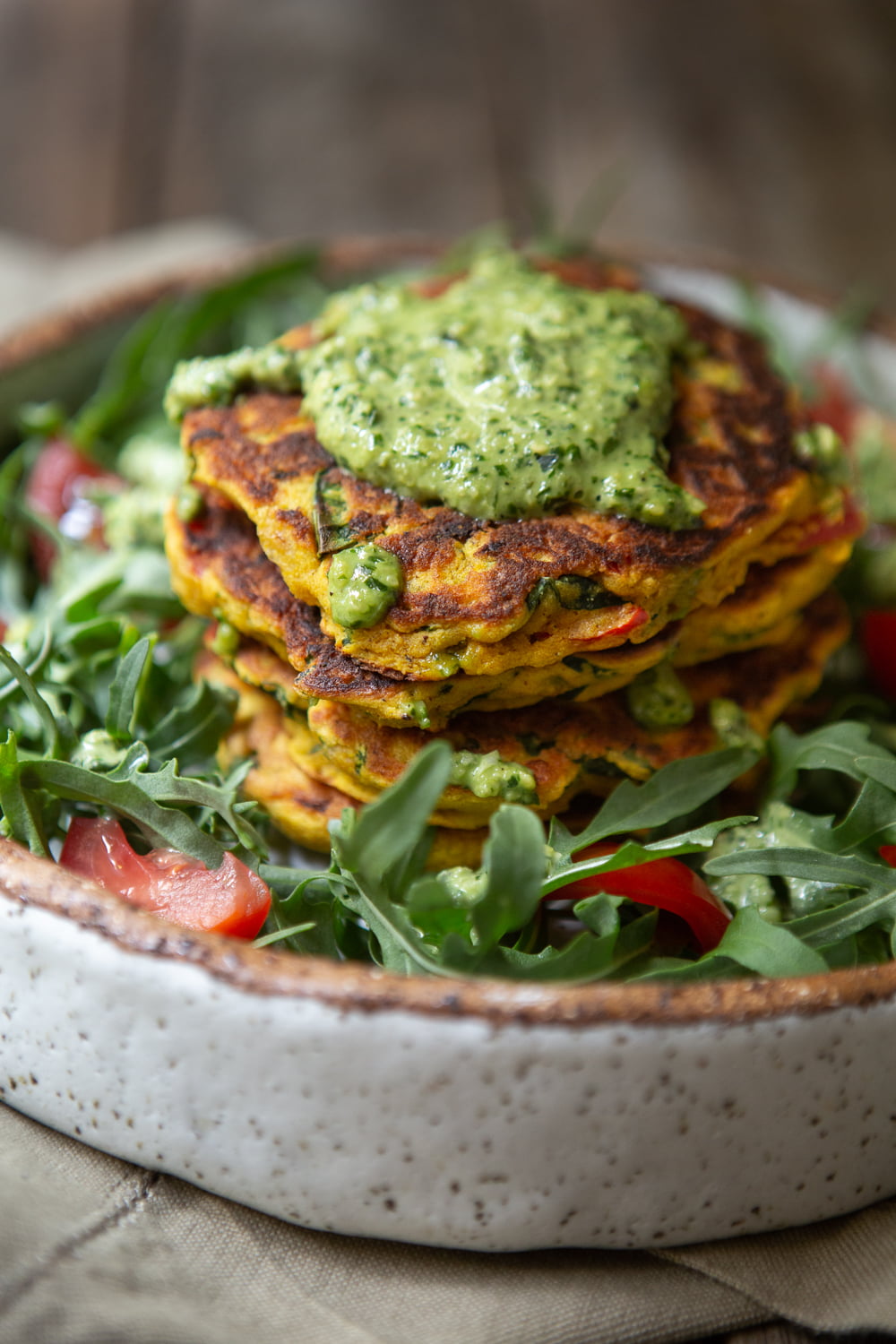 Impress your vegan guests with these delightful Vegan Chickpea Pancakes With a Creamy Pesto Dressing by Heartful Table. These fluffy golden chickpea pancakes made with zucchini, red peppers and greens are paired with a delicious earthy pesto dressing, rocket and tomato salad.
20. Mediterranean Picnic Muffins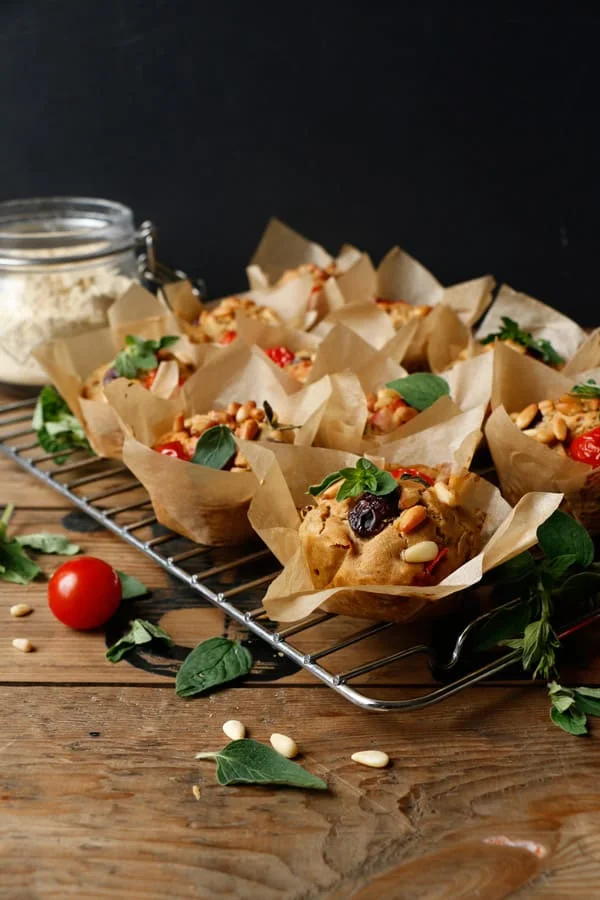 Add these yummy healthy Mediterranean Picnic Muffins by Nirvana Cakery to your brunch feast. These high-protein muffins packed with flavors of sundried tomatoes, roasted red pepper, olives, fresh oregano and pine nuts are a vegan and gluten-free recipe.
21. Vegan Breakfast Hash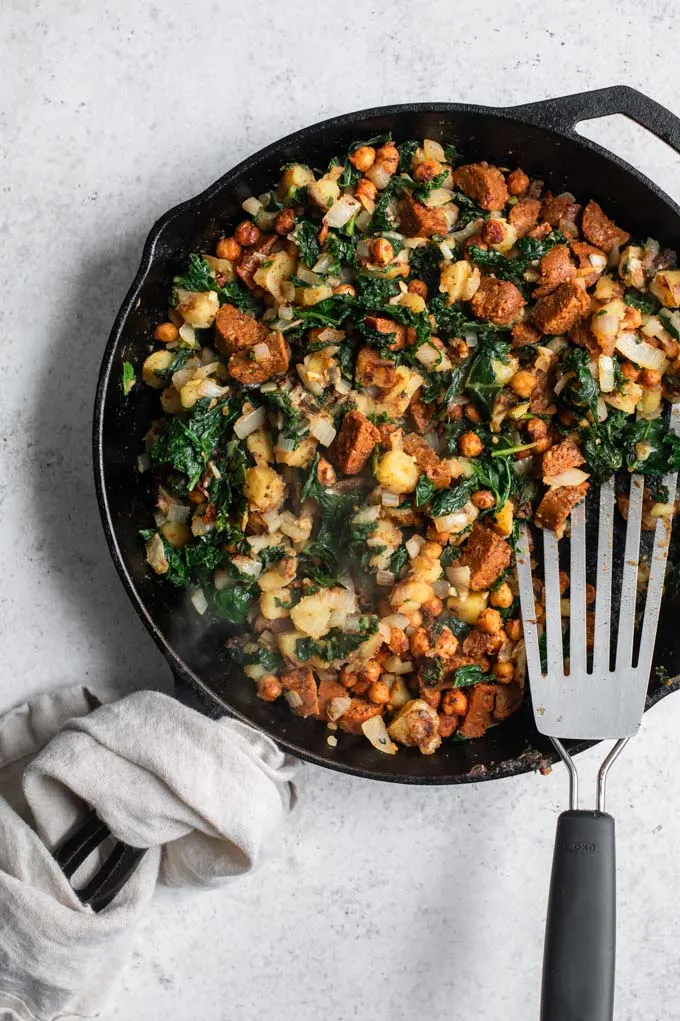 This scrumptious Vegan Breakfast Hash by The Curious Chickpea is packed with exciting flavors. In this yummy recipe, potatoes are teamed with chorizo spiced chickpeas, vegan sausage and leafy kale.
22. The Ultimate Vegan Breakfast Tacos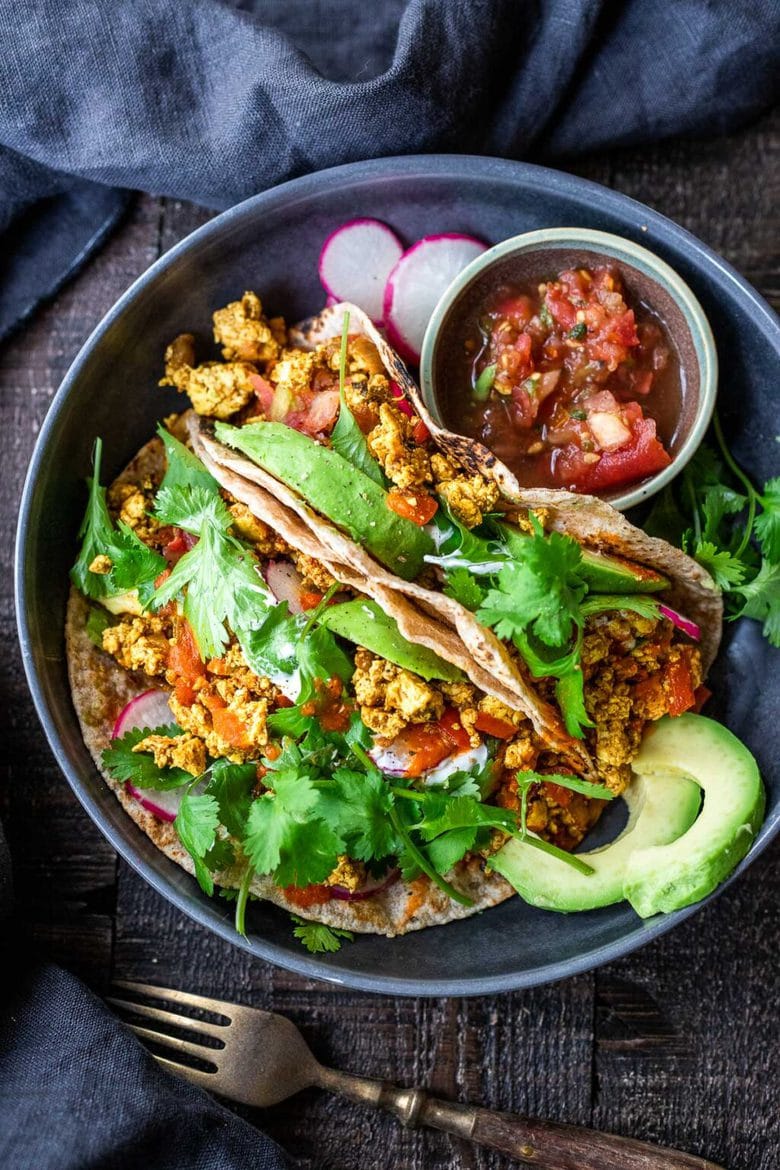 Surprise your guests with The Ultimate Vegan Breakfast Tacos by Feasting at Home. In this tasty dish, Mexican spice scrambled tofu is served with avocado, radishes, salsa and cilantro inside warm tortillas.
23. Vegan Omelette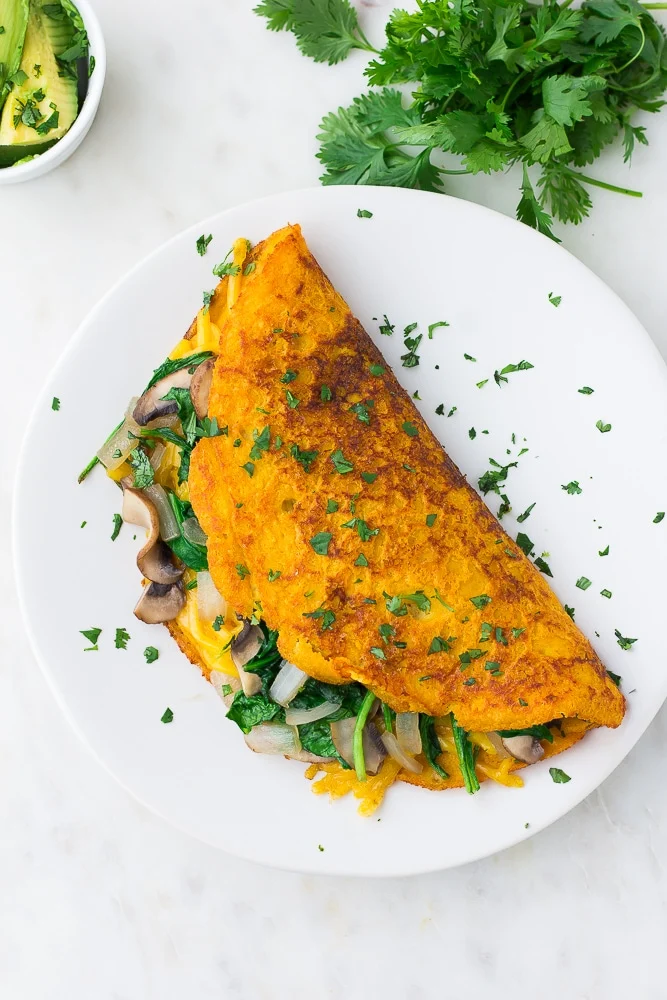 Start your day with this flavorful Vegan Omelette by Nora Cooks. This fluffy gluten-free omelette with silken tofu, brown rice flour, nutritional yeast, spices and black salt can be made in just 10 minutes.
24. Mexican Style Tofu Scramble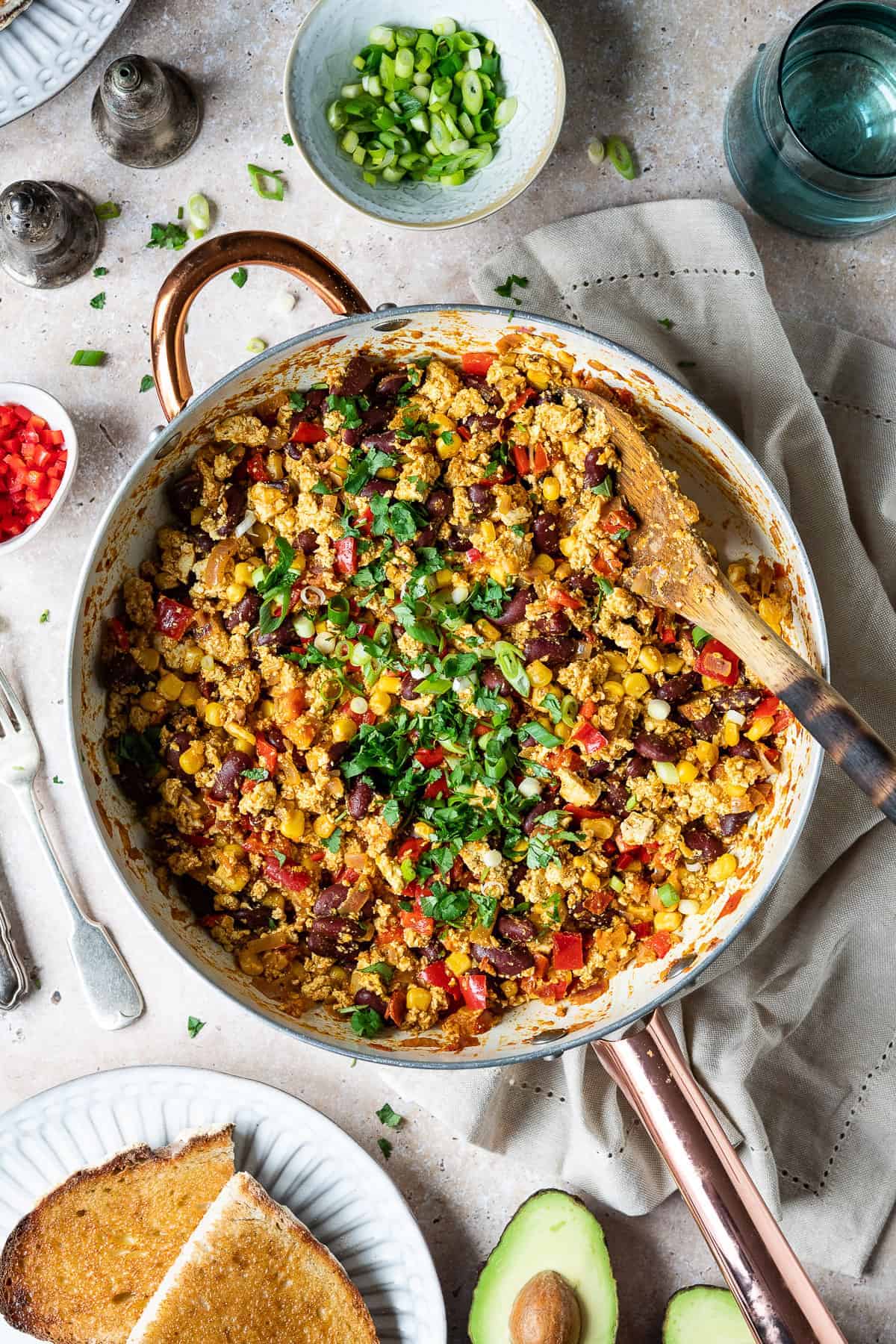 Bring Mexican flair to your vegan brunch. This tasty Mexican Style Tofu Scramble by Domestic Gothess made with crumbled firm tofu, red pepper, tomatoes, beans, sweetcorn and spices is packed with protein and flavor.
25. Vegan French Toast Casserole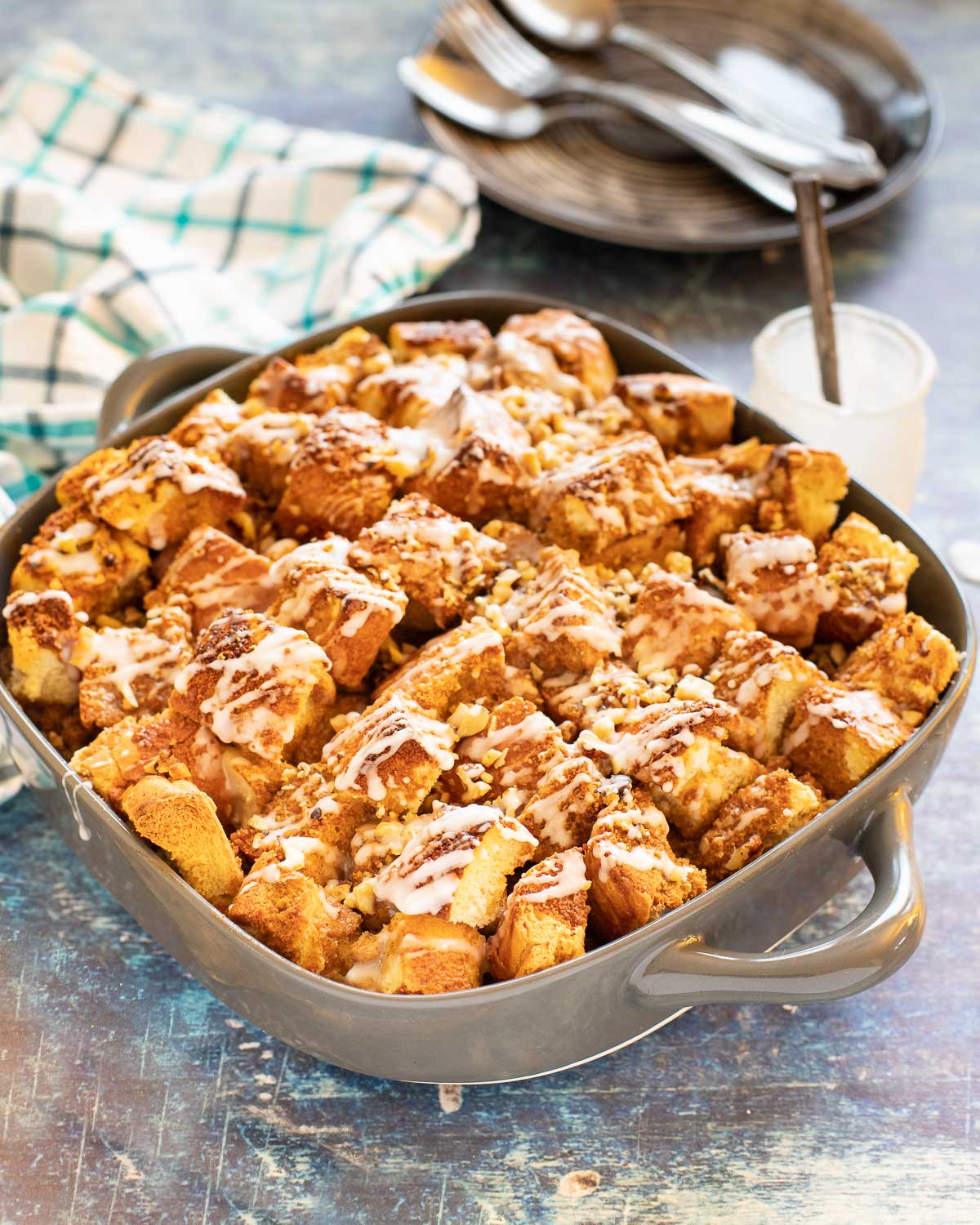 Meet your brunch expectations with this heavenly Vegan French Toast Casserole by A Virtual Vegan. Packed with flavor in each bite, creamy inside and crunchy nutty topping this sweet dish is perfect if you're after something more indulgent.
26. Sweet Potato Breakfast Bowls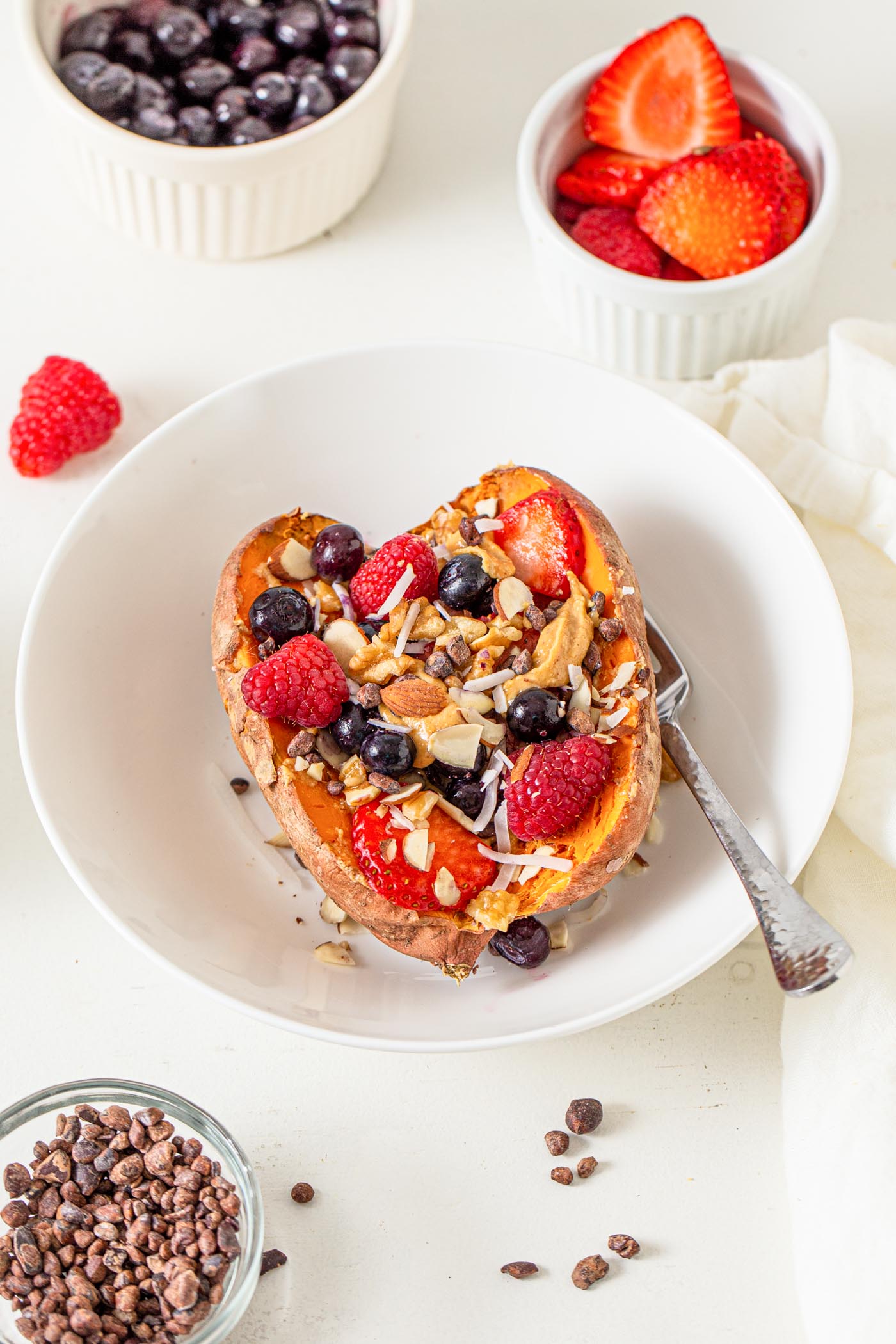 These Sweet Potato Breakfast Bowls by Running on Real Food are such a simple fun brunch idea. In this recipe, baked sweet potato is loaded with peanut butter, chopped nuts, berries and cacao nibs for a yummy treat.
27. Almond Flour Pancakes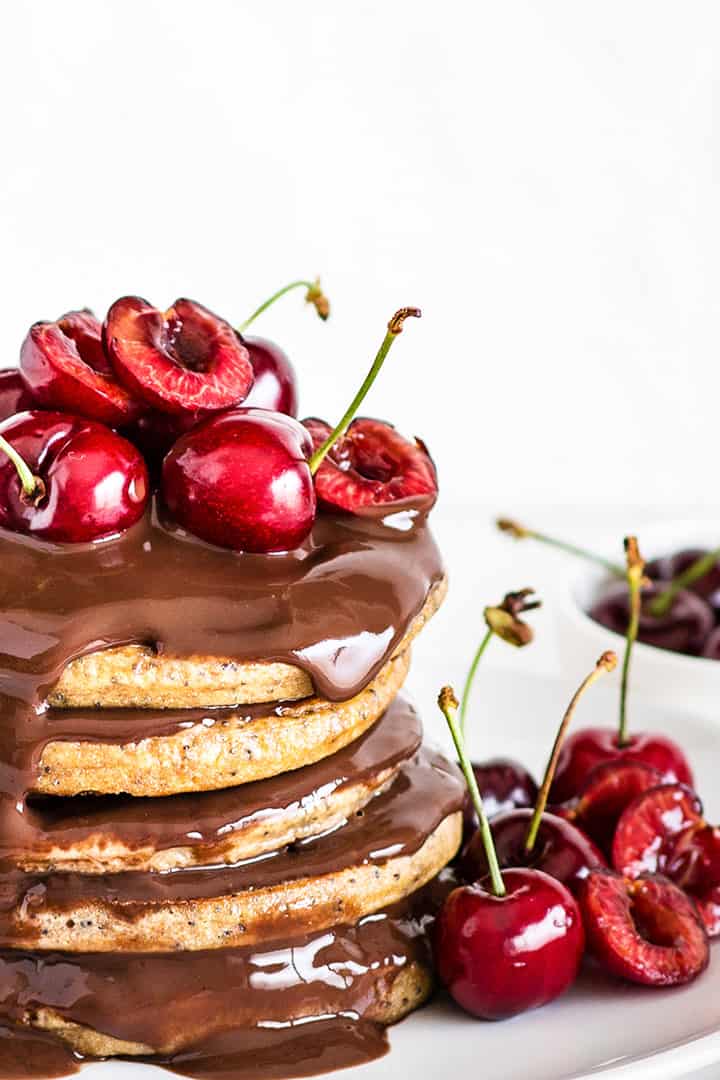 Indulge in these delicious Almond Flour Pancakes by Simple Green Recipes. These yummy filling pancakes with almond flour, almond butter and chia eggs are topped with luscious homemade chocolate sauce.
Similar Posts: