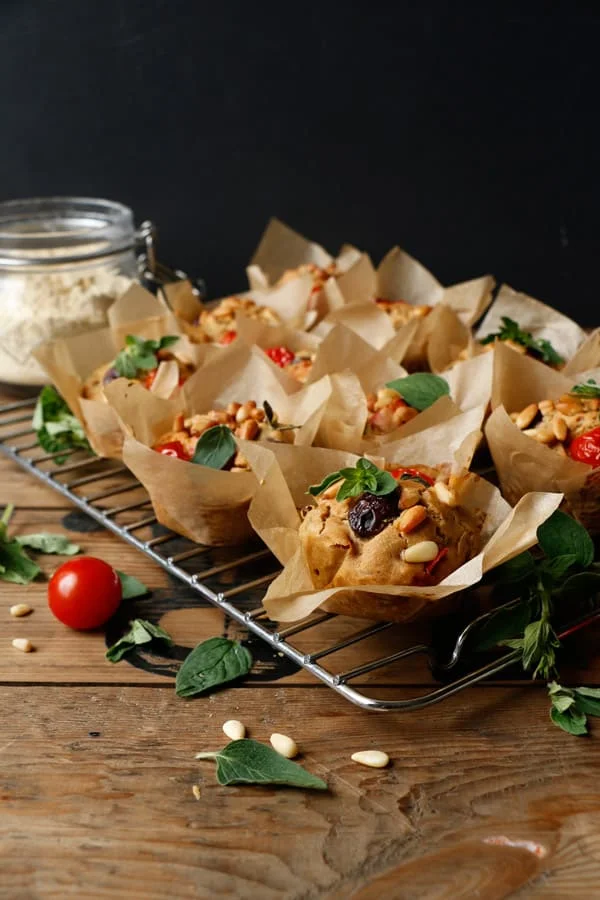 I know it's been a while since I've posted a recipe, definitely the longest time since starting my blog. Somehow life got too busy and instead of sitting in front of my laptop I needed some more time with my yoga mat.
But I'm back with some yummy this time savory Mediterranean Picnic Muffins just in time for summer outdoor gatherings.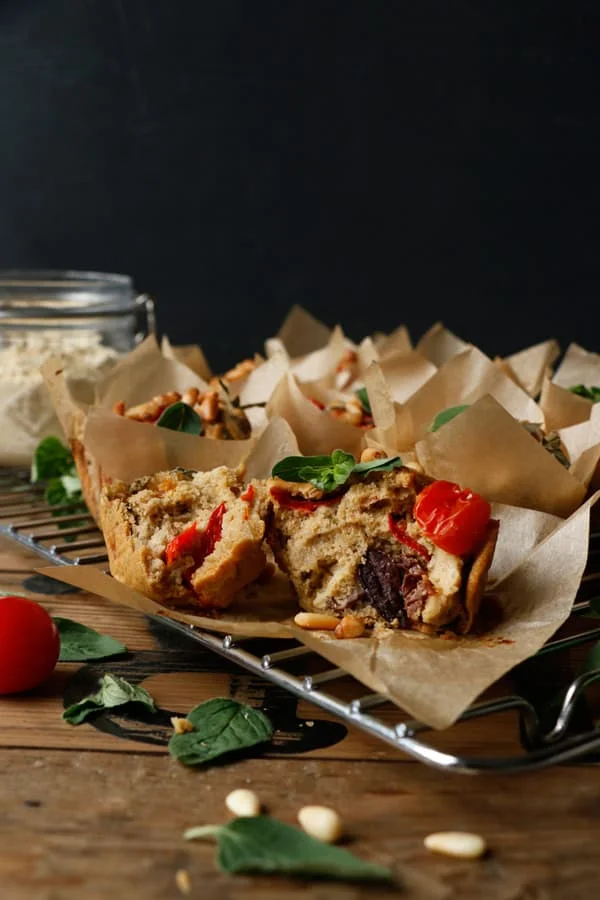 These are high protein muffins bursting with summer Mediterranean flavours of sundried tomatoes, roasted red pepper, olives, fresh oregano and pine nuts. To fit my palete I've used chickpea flour in my gluten-free mix.
My first batch was a mix of chickpea flour with ground almonds, but I found the mix to be little too dense, nevertheless still tasty if you prefer to give this one a go. For my second one I've opted for a mix of chickpea, buckwheat and brown rice flours which made the muffins much lighter. You could certainly play around with your favourite gluten-free mix, they would be amazing with spelt flour if not needed to be gluten-free. I did ended up freezing some, but they were definitely at their best freshly baked.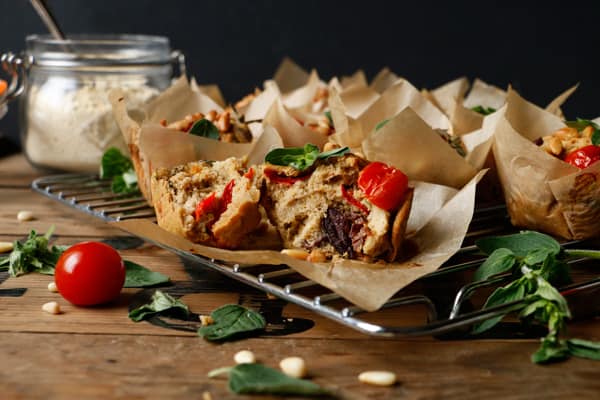 Yield: 12 muffins
Mediterranean Picnic Muffins (gluten-free & vegan)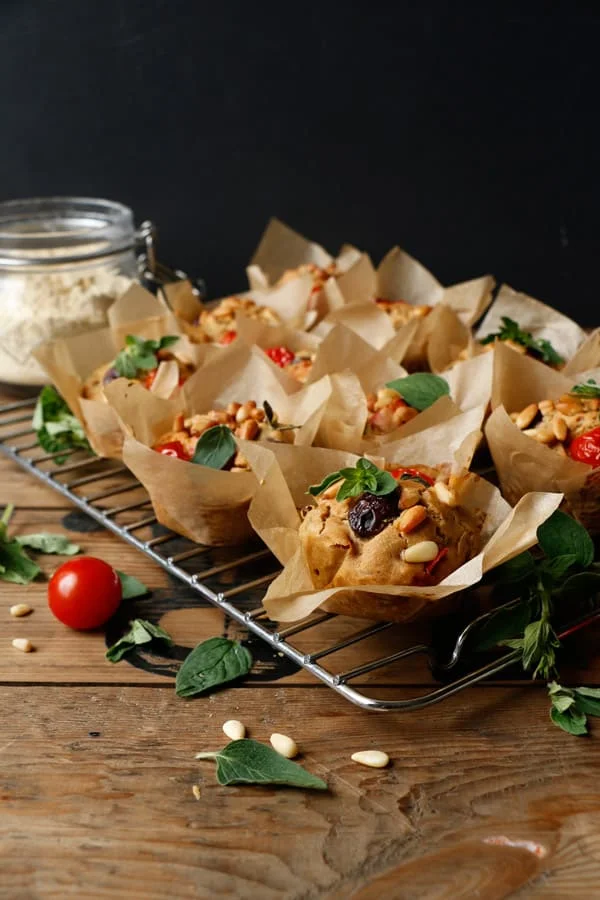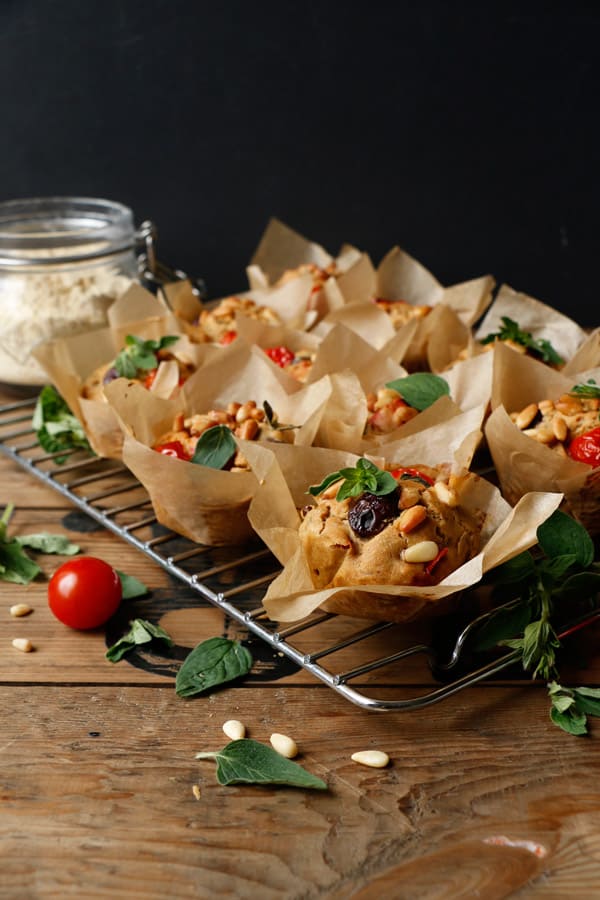 Ingredients
120g chickpea flour (1 cup)
70g buckwheat flour (1/2 cup)
70g brown rice flour (1/2 cup)
30g arrowroot (1/4 cup)
1tsp baking powder
1tsp bicarbonate of soda
sea salt & black pepper to taste
1tsp garlic powder
2tbsp ground flaxseed + 6tbsp water
80ml olive oil (1/3 cup)
240ml almond milk (1 cup)
1tbsp apple cider vinegar
30g sundried tomatoes (1/3 cup)
1 large roasted red pepper
40g kalamata olives (1/4 cup)
15g fresh oregano or basil (1/3 cup)
6-12 cherry tomatoes for the top
35g pine nuts for topping (1/4 cup)
Instructions
Preheat the oven to 180°C (350F)
Prepare 12 hole cupcake size tin with cases. I use 5" square cut out from baking paper.
Soak the sundried tomatoes in some warm water for about 20 minutes, drain well and slice into strips.
Roast one large red pepper and cut into smaller pieces. Slice olives into half and remove the pit. Roughly chop the oregano.
Mix 2tbsp of ground flaxseed with 6tbsp of water and set aside to thicken.
In a large bowl whisk together chickpea flour, buckwheat flour, brown rice flour, arrowroot, baking powder, bicarbonate of soda, sea salt, pepper and garlic. Set aside.
In a small bowl whisk together olive oil, almond milk, apple cider vinegar and flax eggs.
Add the wet mix to the dry mix and mix until combined. You should have loose muffin consistency batter.
Now fold in the rest of the ingredients except the cherry tomatoes and pine nuts. Taste for seasoning.
Evenly divide the mixture into prepared cases, press cherry tomato into each muffin (use only half if too large) and sprinkle with pine nuts.
Bake for about 40 minutes or until a cocktail stick comes out clean and it's toasted on top.
Remove from the oven once ready and leave to cool down for 10 min before carefully moving onto a wire rack.
These muffins are best eaten the same day.
Enjoy!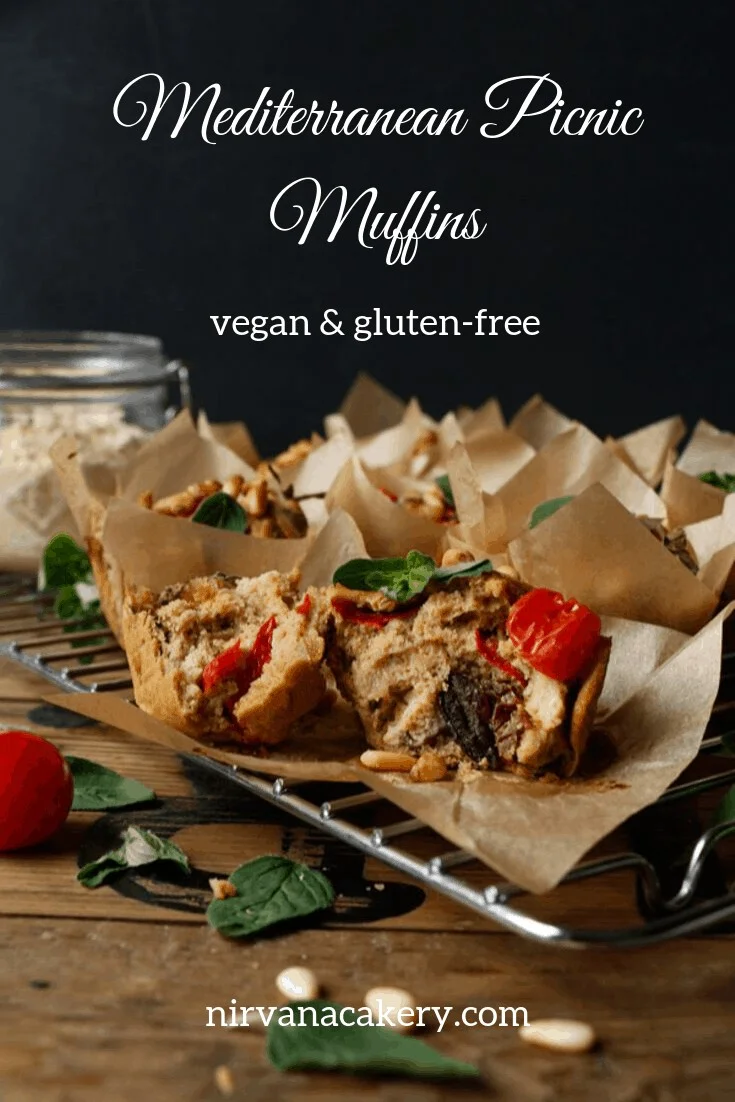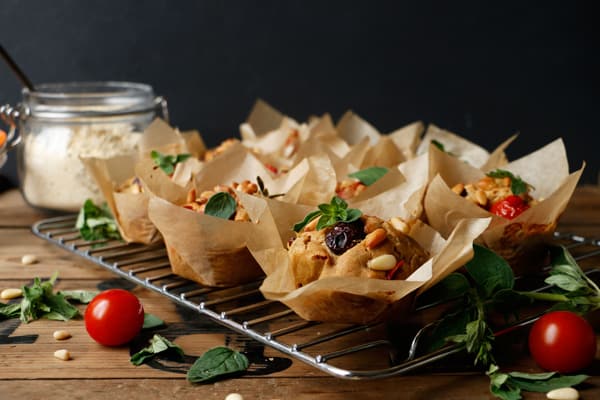 Similar Posts: