Wake up to a plate of the fluffiest vegan pancakes with the help of this Vegan Banana Pancake Recipes round-up.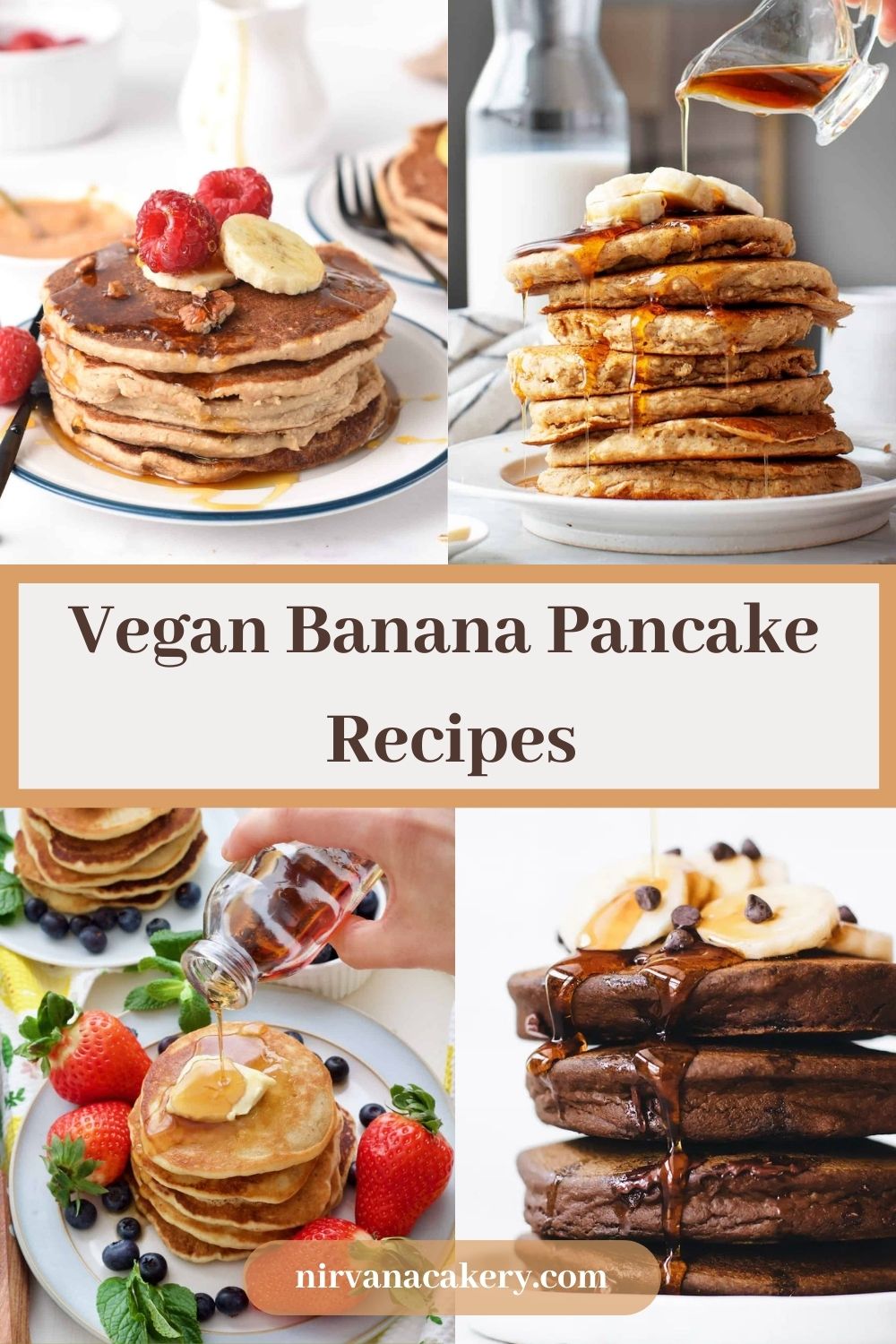 Love pancakes for breakfast, brunch or just anytime? Find the most exciting Vegan Banana Pancake Recipes right here. Why not try a few of them and choose your favorites?
Veganizing a pancake recipe is not that difficult with the help of bananas. Bananas add the right texture and sweetness to the batter and perfectly replace eggs. Always choose ripe bananas to ensure sweet soft consistency and experiment with different gluten and gluten-free flours to suit your dietary needs.
You can add baking powder, baking soda and apple cider vinegar to add more lightness to your batter and make your pancakes more fluffy. Spices like cinnamon and nutmeg and little vanilla pair very well with the sweet banana flavor. And to make your banana pancakes even more exciting try adding berries, nuts, cocoa powder or chocolate chips.
Serve your banana pancakes with a drizzle of maple syrup, vegan butter, coconut cream, sliced banana, berries, nuts or seeds.
1. The Best Vegan Banana Pancakes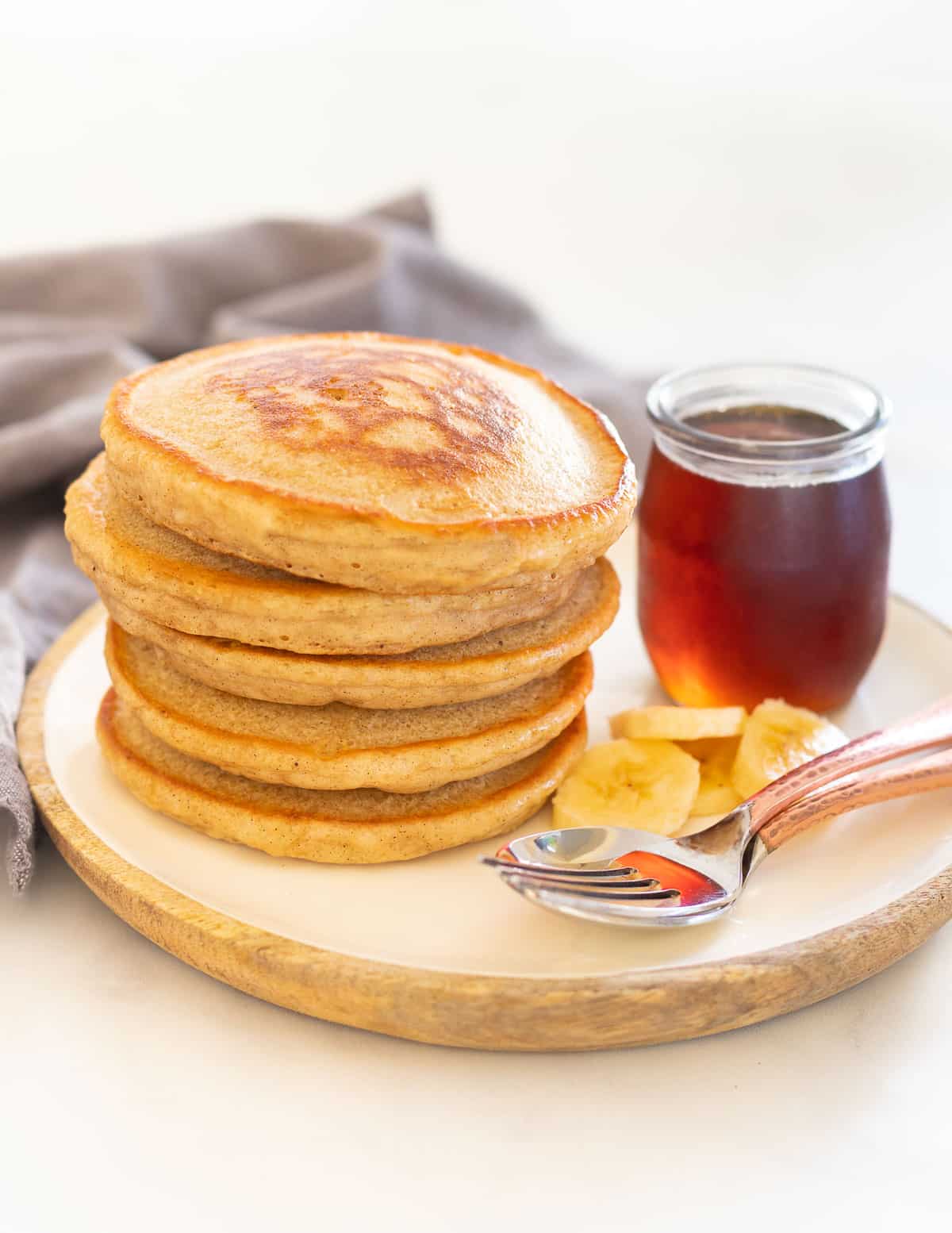 The Best Vegan Banana Pancakes by A Virtual Vegan are everything you expect from a good pancake – light, soft and fluffy. These melt-in-your-mouth pancakes are made from pantry staples and are quick and easy to make. Serve with vegan butter, sliced banana and a drizzle of maple syrup.
2. Vegan Blender Banana Oat Pancakes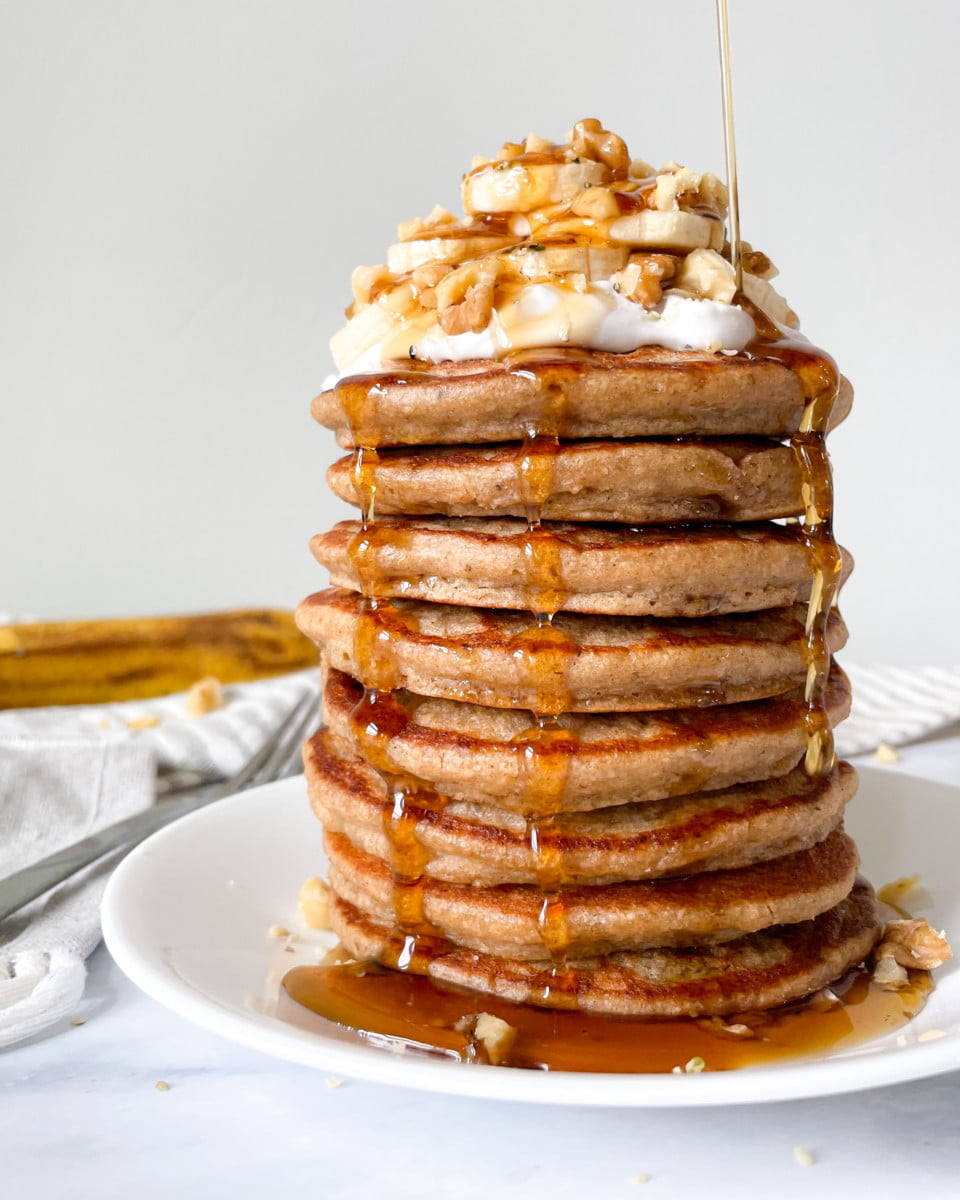 Make these yummy Vegan Blender Banana Oat Pancakes by Wholesome Crumbs. This fabulous stack of pancakes is made in a blender with ripe bananas, rolled oats, oat milk, cinnamon and maple syrup and served with coconut cream, bananas and walnuts.
3. Fluffy Vegan Banana Pancakes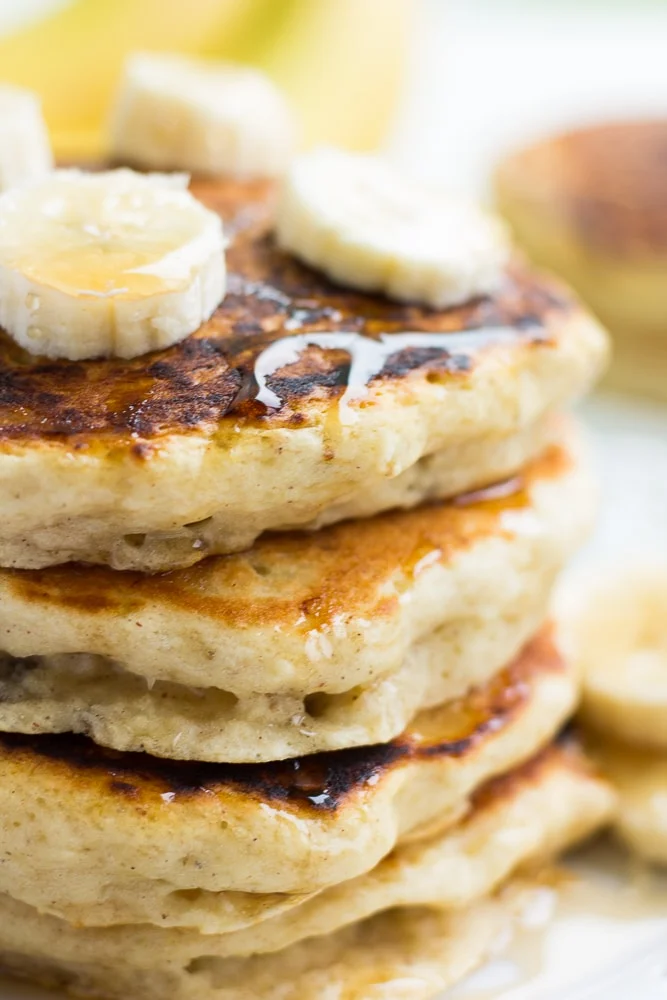 Have you seen more fluffy vegan pancakes than these Fluffy Vegan Banana Pancakes by Nora Cooks? These incredibly easy-to-make pancakes could easily become your next favorite breakfast or brunch choice.
4. Vegan Gluten-Free Banana Blueberry Pancakes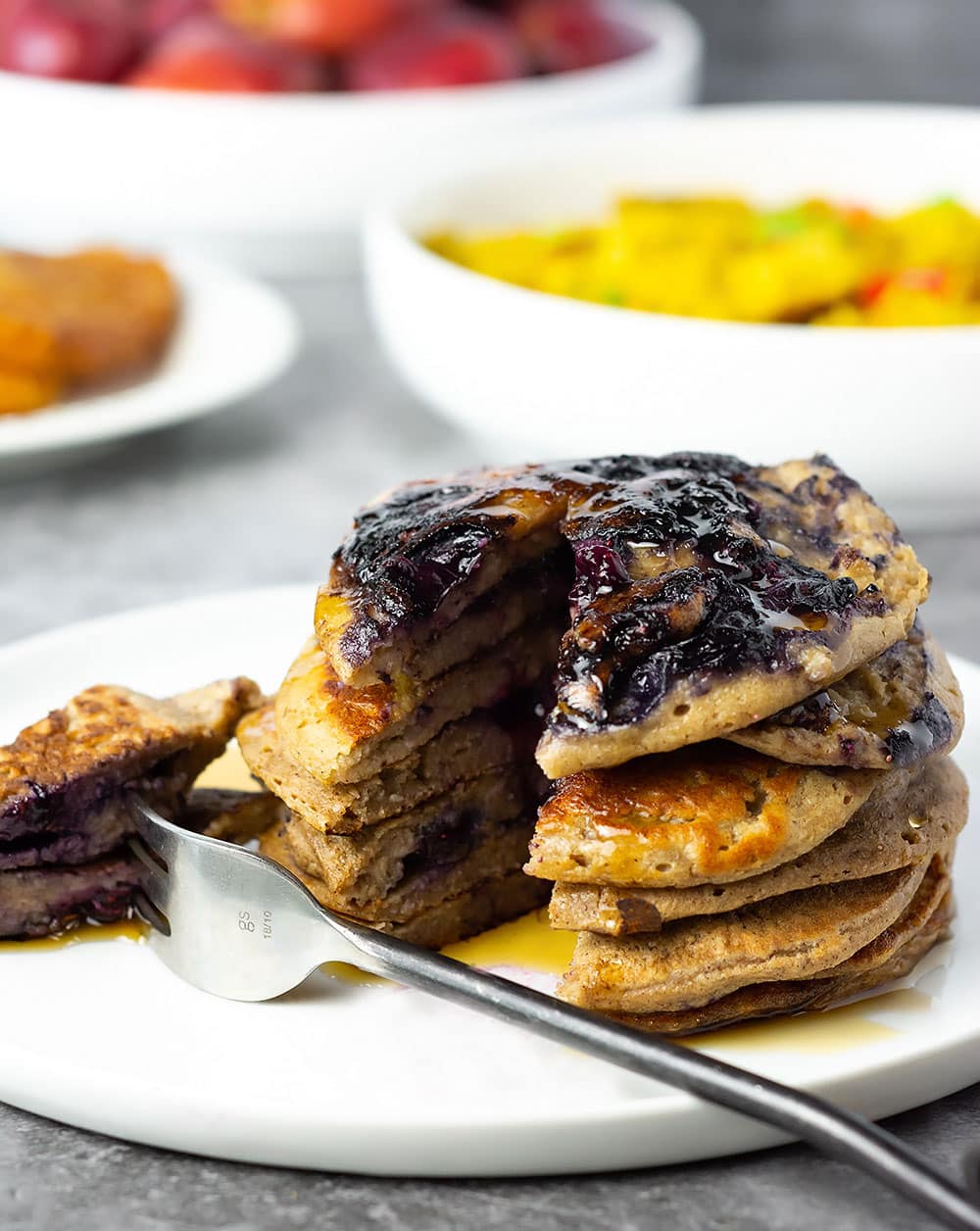 These Vegan Gluten-Free Banana Blueberry Pancakes by Healthier Steps are simply divine. Made with ripe bananas, rolled oats and big juicy blueberries they have just the perfect sweetness and texture and are gluten-free and oil-free.
5. Vegan Banana Nut Pancakes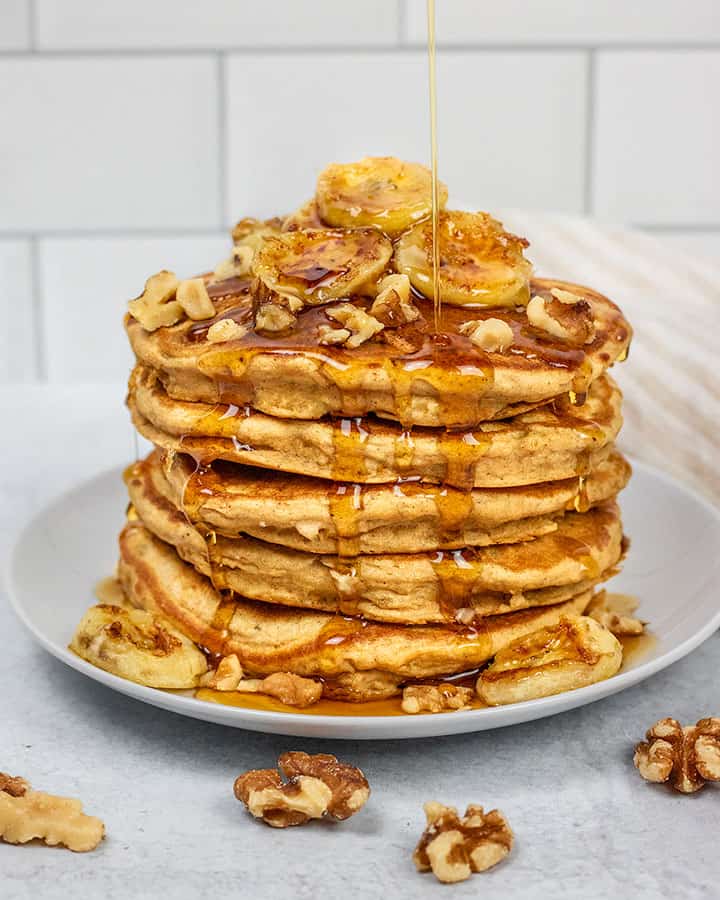 Brunch in style with these mouth-watering Vegan Banana Nut Pancakes by Plantbased RD. These decadent fluffy pancakes with gooey banana, wholewheat flour, vegan yogurt and walnuts are what pancake dreams are made off.
6. Three-Ingredient Vegan Pancakes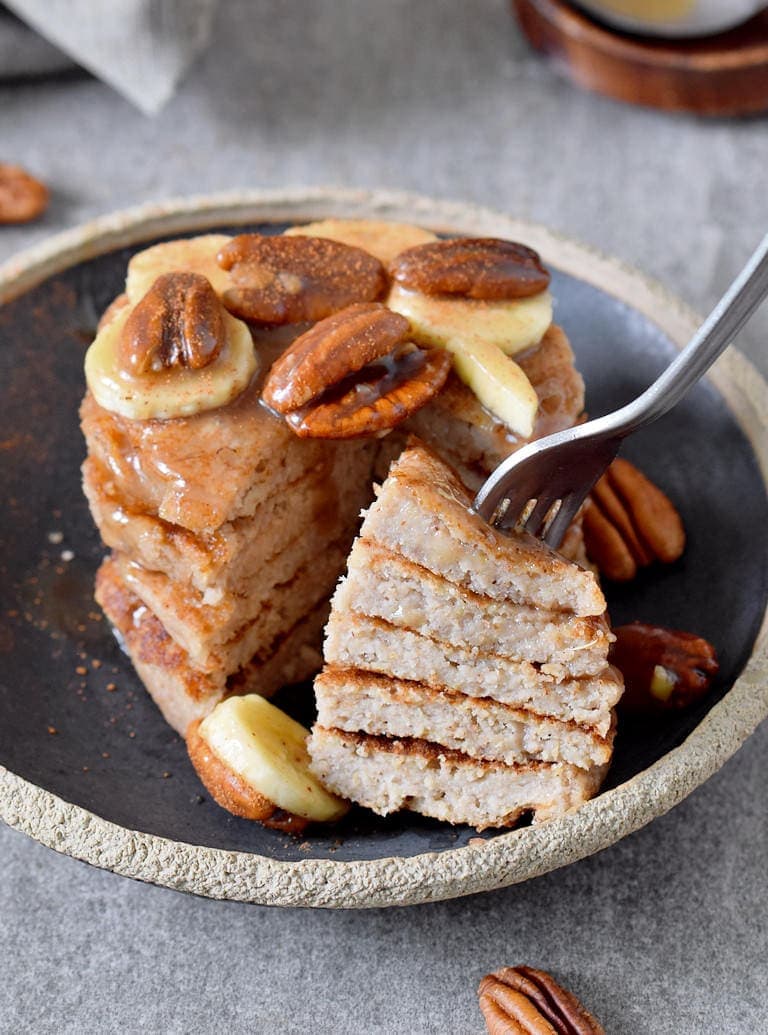 Like things simple? These yummy Three-Ingredient Vegan Pancakes by Ela Vegan couldn't be simpler and easier to make. All you need are bananas, oat flour and light coconut milk with an optional baking powder for fluffier pancakes.
7. Fluffy Vegan Banana Chocolate Chip Pancakes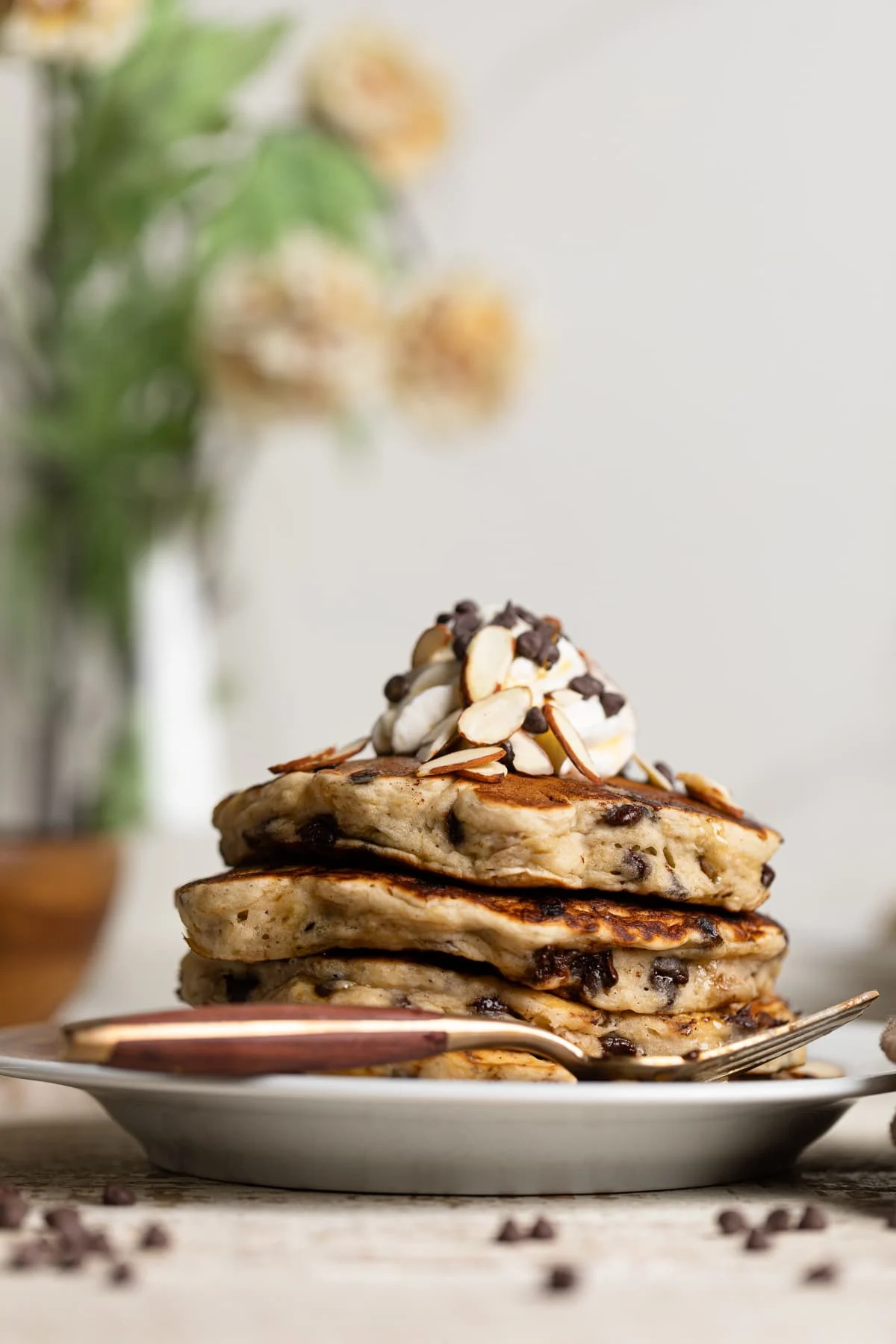 Banana and chocolate marry in these Fluffy Vegan Banana Chocolate Chip Pancakes by Orchids and Sweet Tea. These airy naturally sweetened pancakes are a wonderful breakfast choice for those laid-back weekend mornings.
8. Blender Buckwheat Banana Pancakes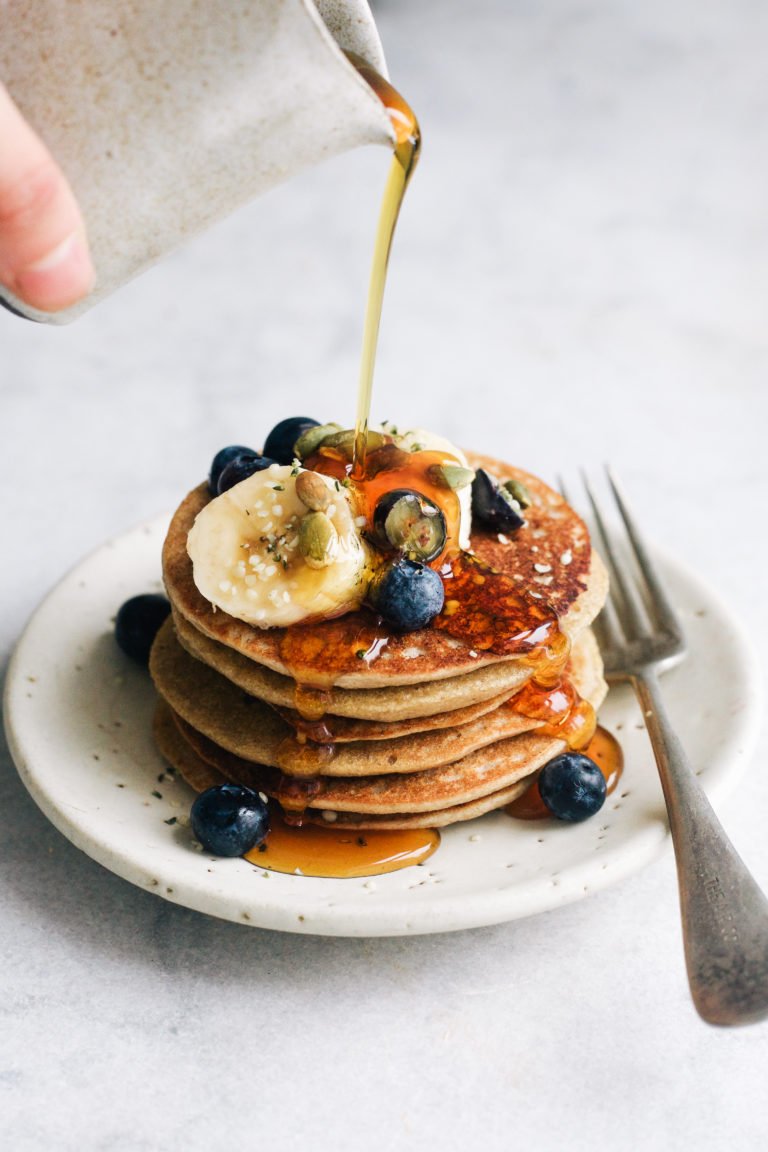 These delightful Blender Buckwheat Banana Pancakes by Wholehearted Eats are perfect for you if you're looking for a gluten-free vegan pancake alternative. With a few simple ingredients – bananas, buckwheat flour, plant milk, baking powder and vanilla this is a healthy wholesome recipe.
9. Vegan Banana Pancakes with Berries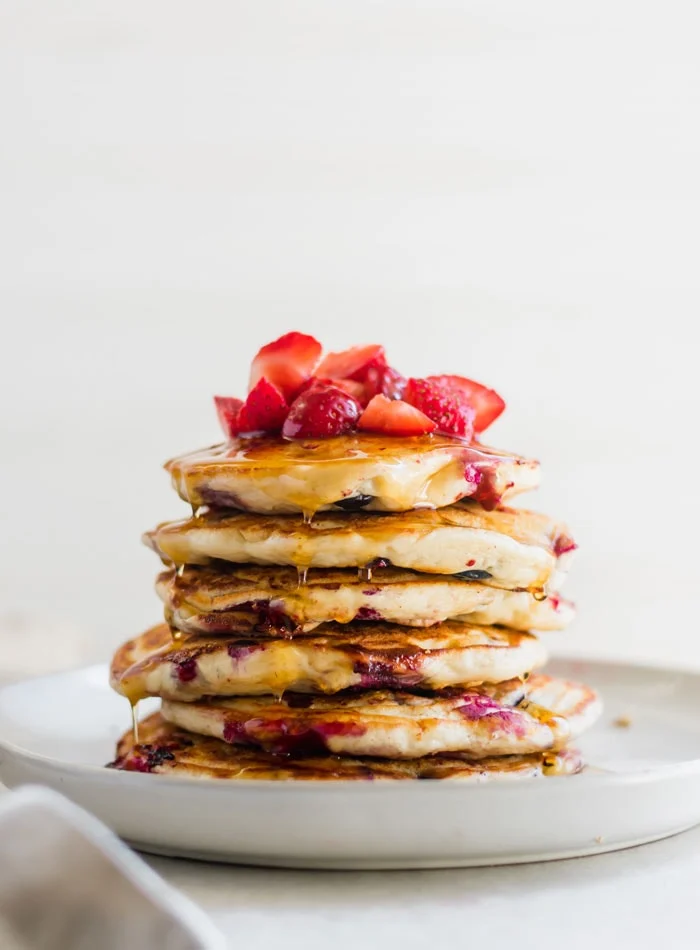 Treat yourself to a large stack of these yummy Vegan Banana Pancakes with Berries by Running on Real Food. With just a few everyday ingredients – banana, flour, almond milk, baking powder, sweetener and berries these are done in 10 minutes.
10. Banana Protein Pancakes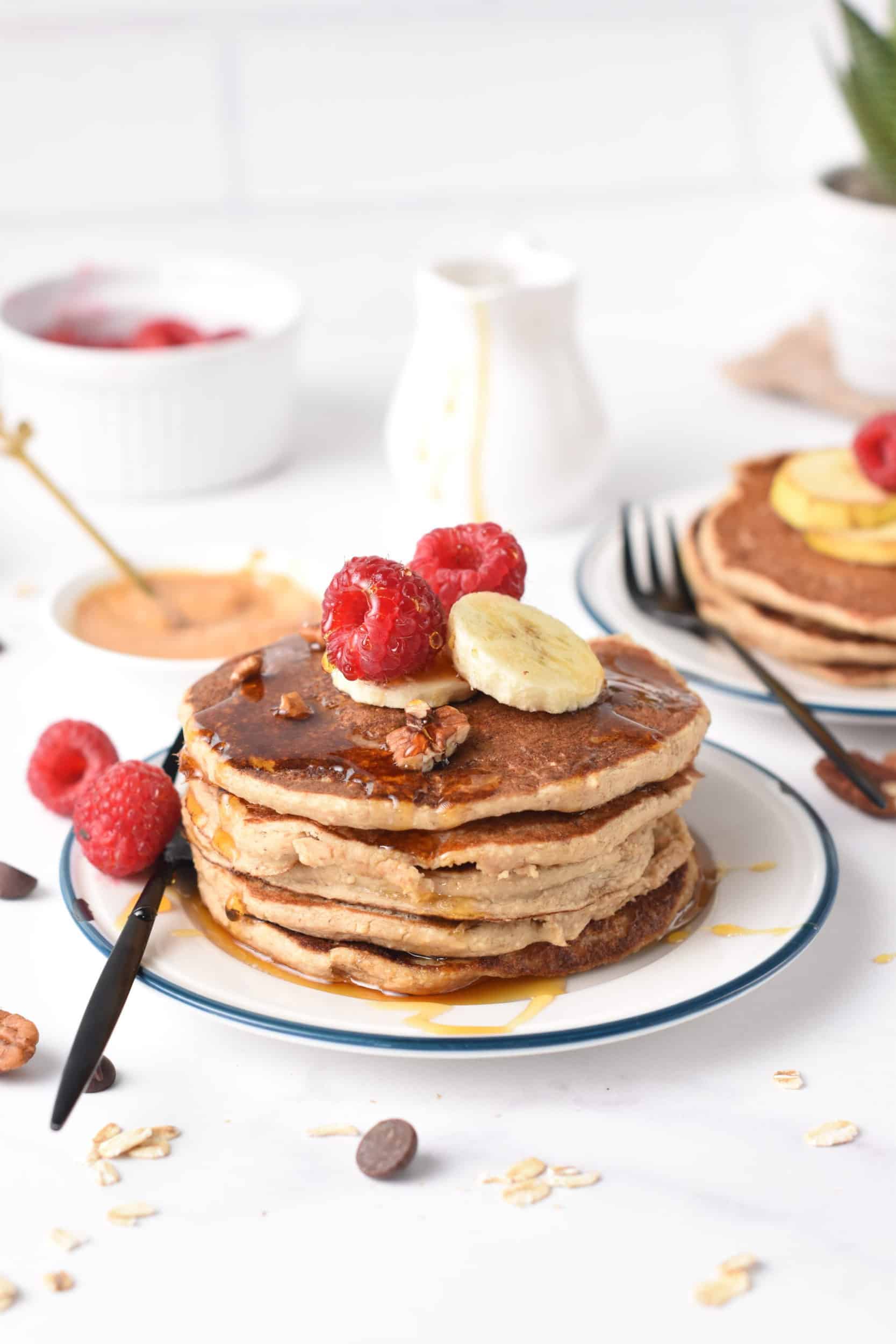 Start your day with these awesome Banana Protein Pancakes by The Conscious Plant Kitchen. These vegan-approved pancakes are simply made in a blender with rolled oats, banana, vanilla protein powder and almond milk.
11. Fluffy Chocolate Banana Pancakes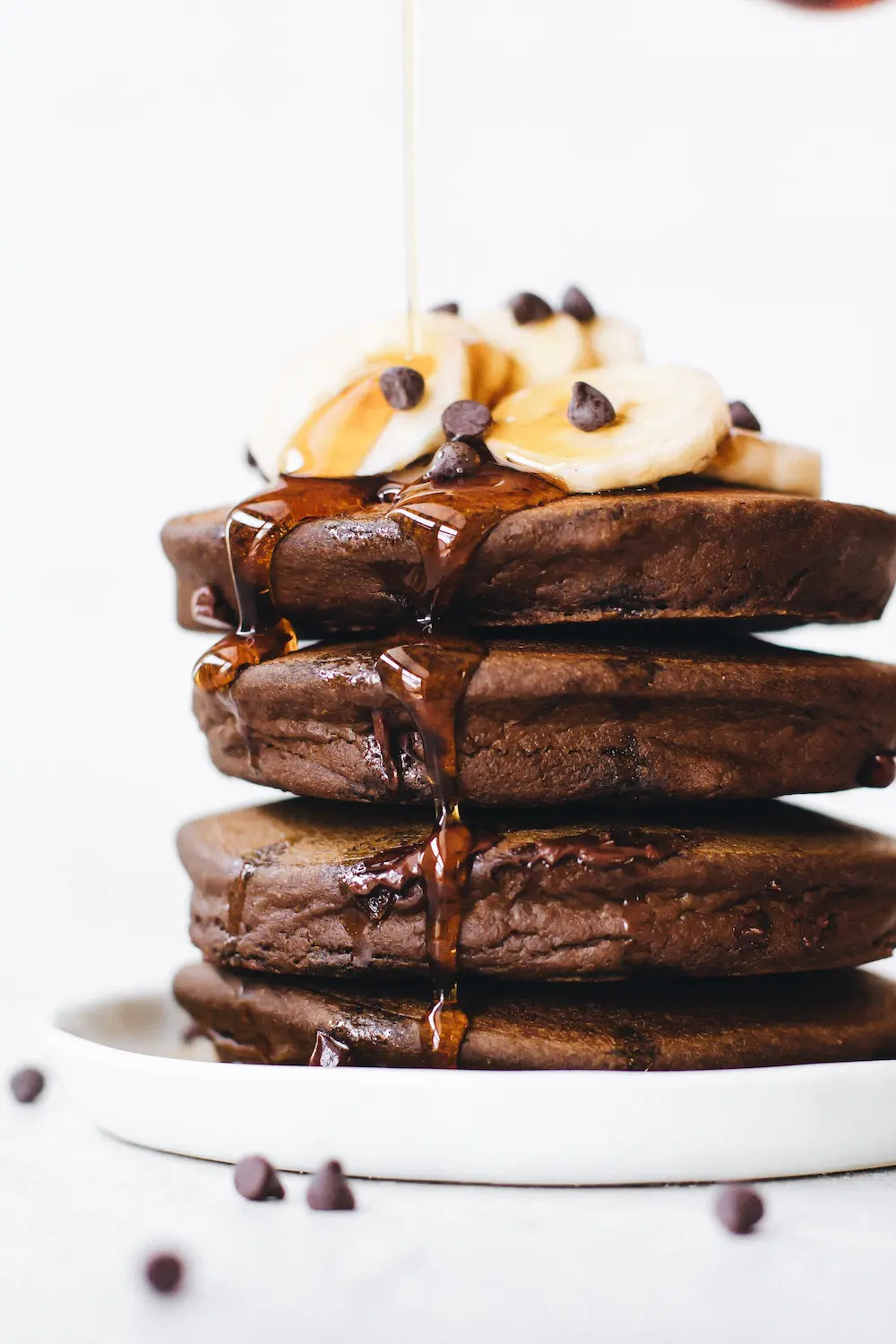 These decadent Fluffy Chocolate Banana Pancakes by Feasting on Fruit are simply irresistible. A vegan and gluten-free recipe made with quinoa flour, banana, cacao powder and chocolate chips these delicious pancakes are a lovely choice for a protein-filled plant-based breakfast.
12. Blender Spinach Banana Pancakes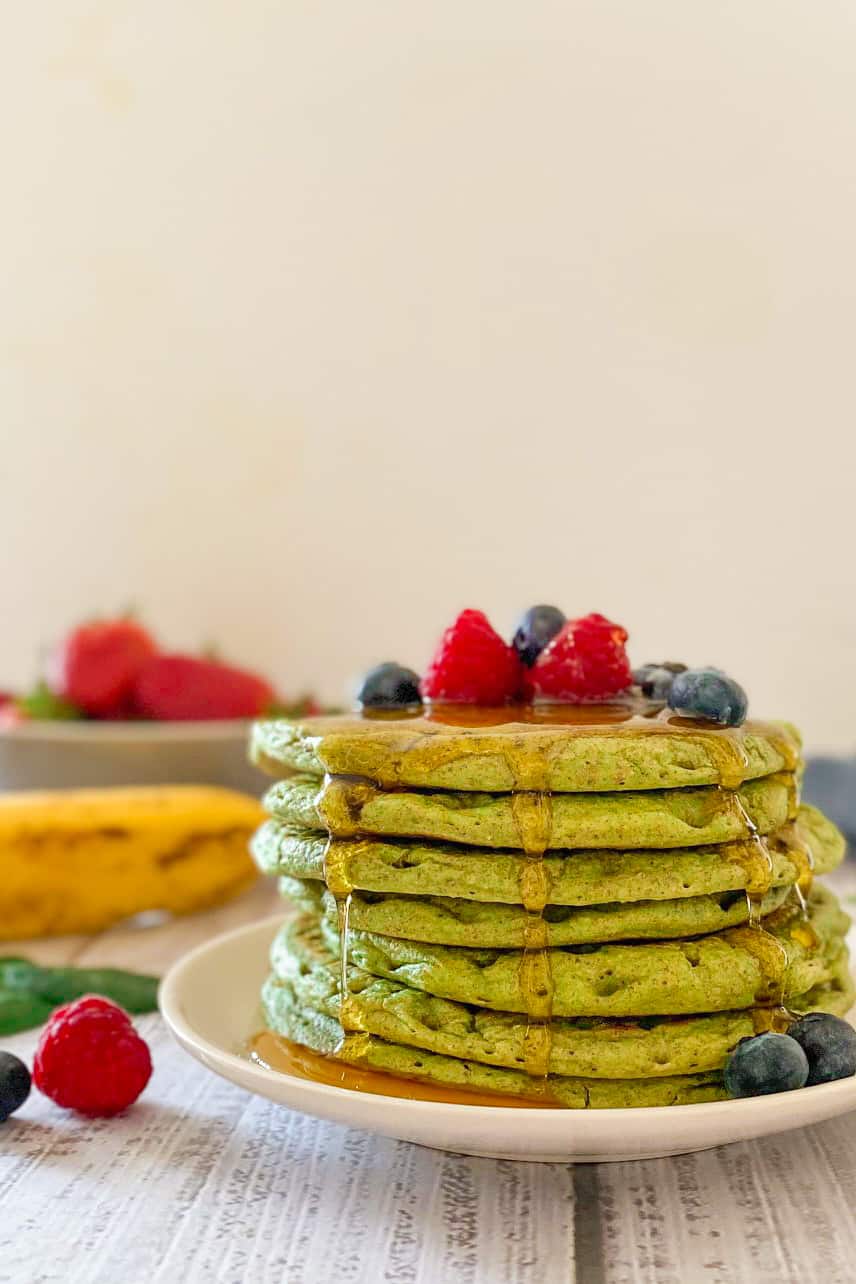 Pack in extra nutrients with these vibrant Blender Spinach Banana Pancakes by This Healthy Kitchen. This healthy blender pancake recipe features a wholesome blend of ripe banana, baby spinach, flaxseed and wholewheat flour. Enjoy them for a delicious breakfast or dinner.
13. Vegan Banana Chickpea Flour Pancakes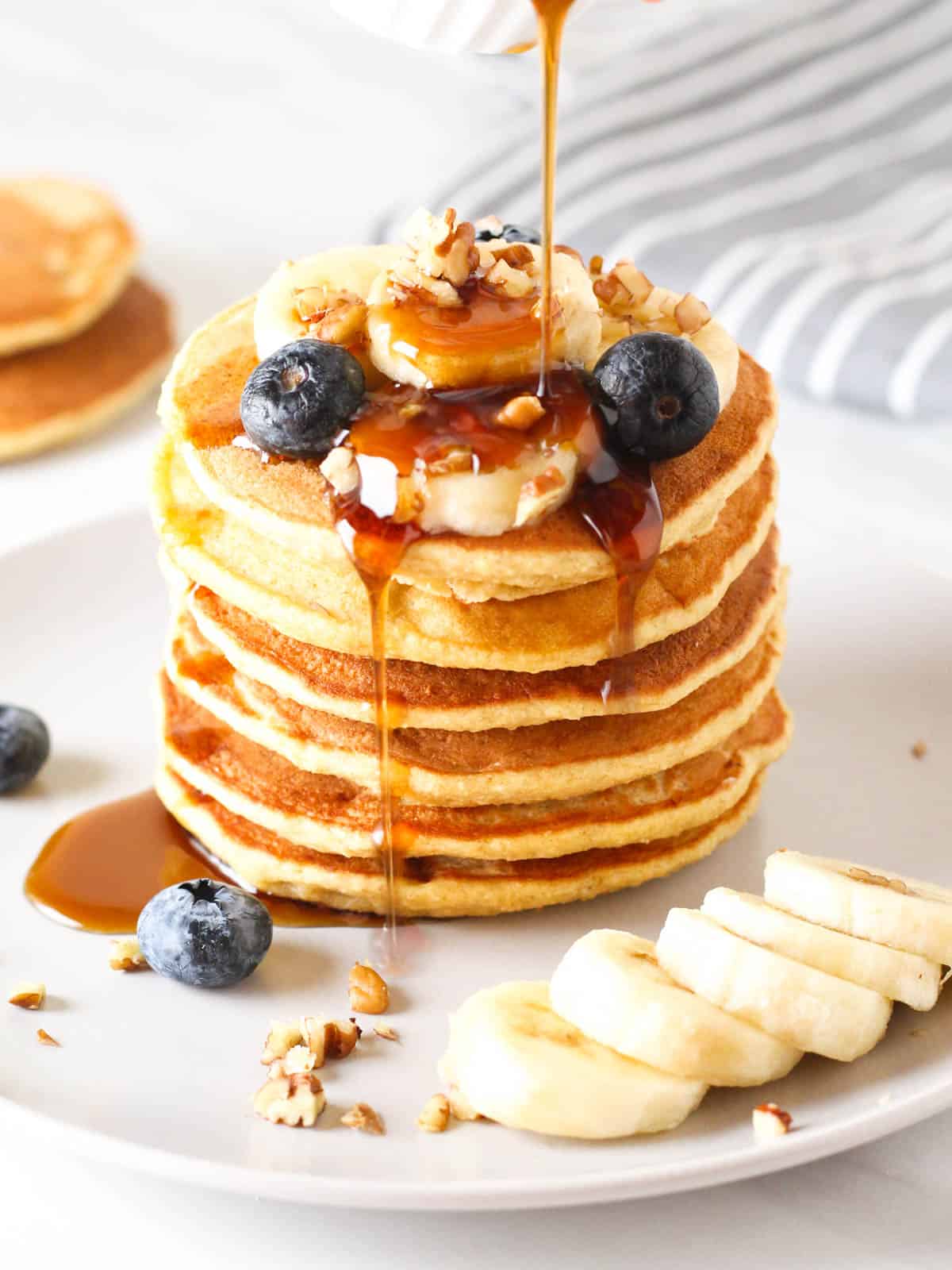 Enjoy these satisfying Vegan Banana Chickpea Flour Pancakes by My Plantiful Cooking. This recipe made with bananas, chickpea and oat flour contains at least 10g of protein per serving without addition of protein powder.
14. Vegan Banana Pancakes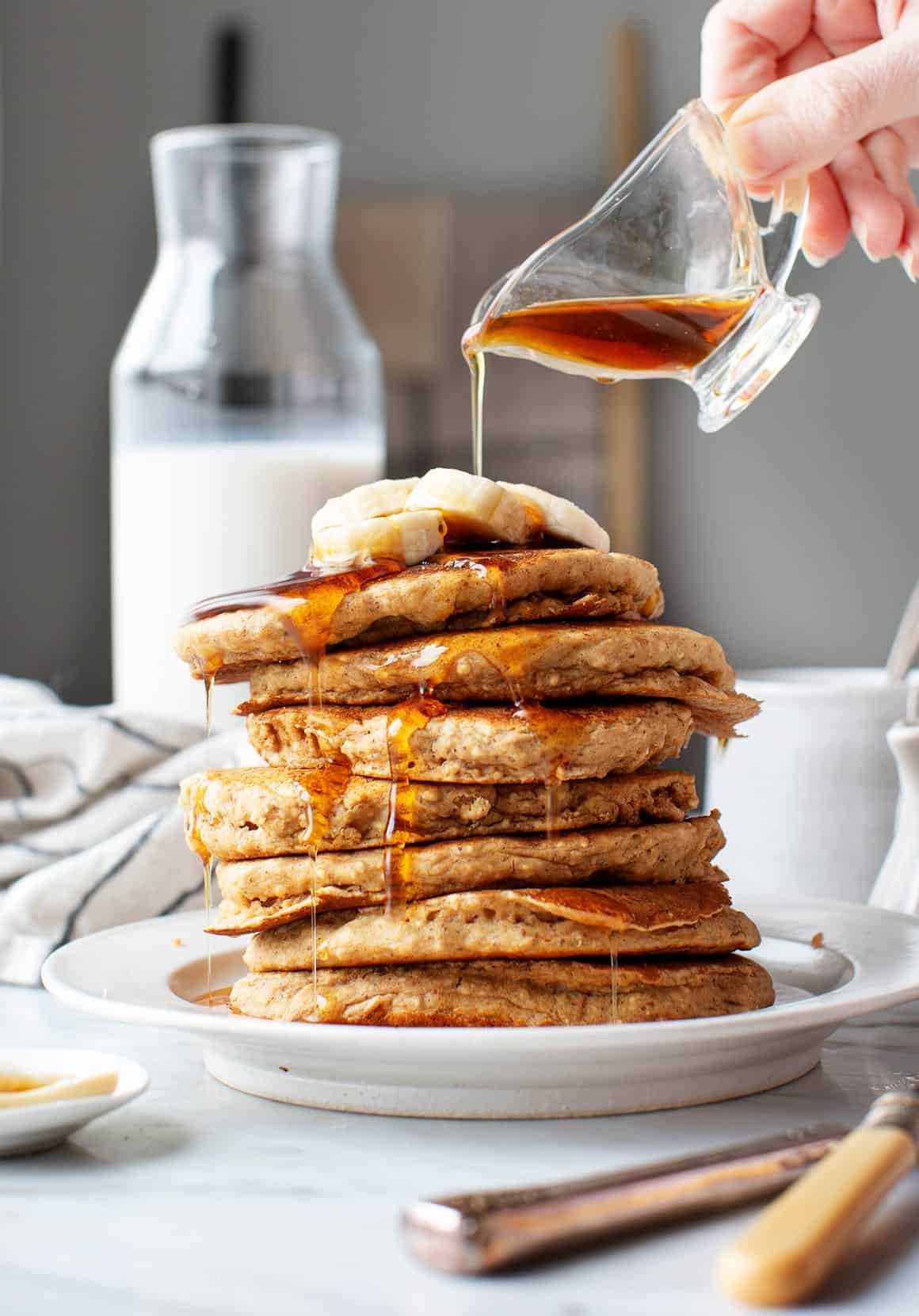 Make your Saturday morning special with these inviting Vegan Banana Pancakes by Love & Lemons. These thick, fluffy pancakes with a mixture of wholewheat and oat flour spiced with cinnamon and nutmeg will have you wanting more.
15. Vegan Banana Bread Pancakes with Chocolate Chunks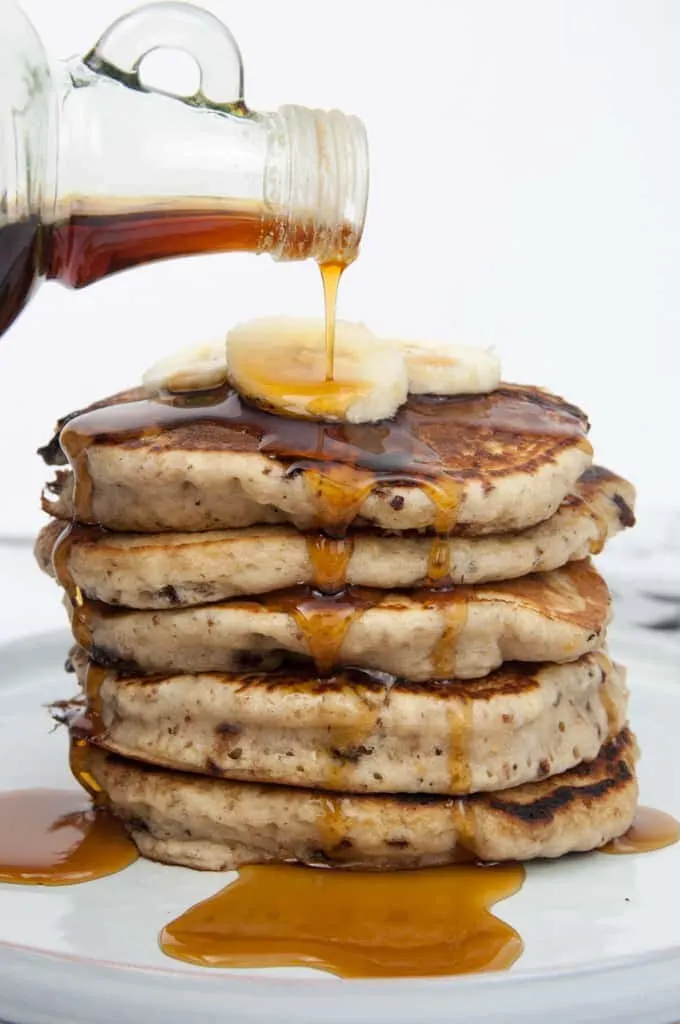 These delish Vegan Banana Bread Pancakes with Chocolate Chunks by Elephantastic Vegan have the perfect balance of sweet banana flavor, hazelnuts and chocolate. Next time you find yourself with overripe bananas, make some of these banana pancakes.
16. Fluffy Vegan Buttermilk Pancakes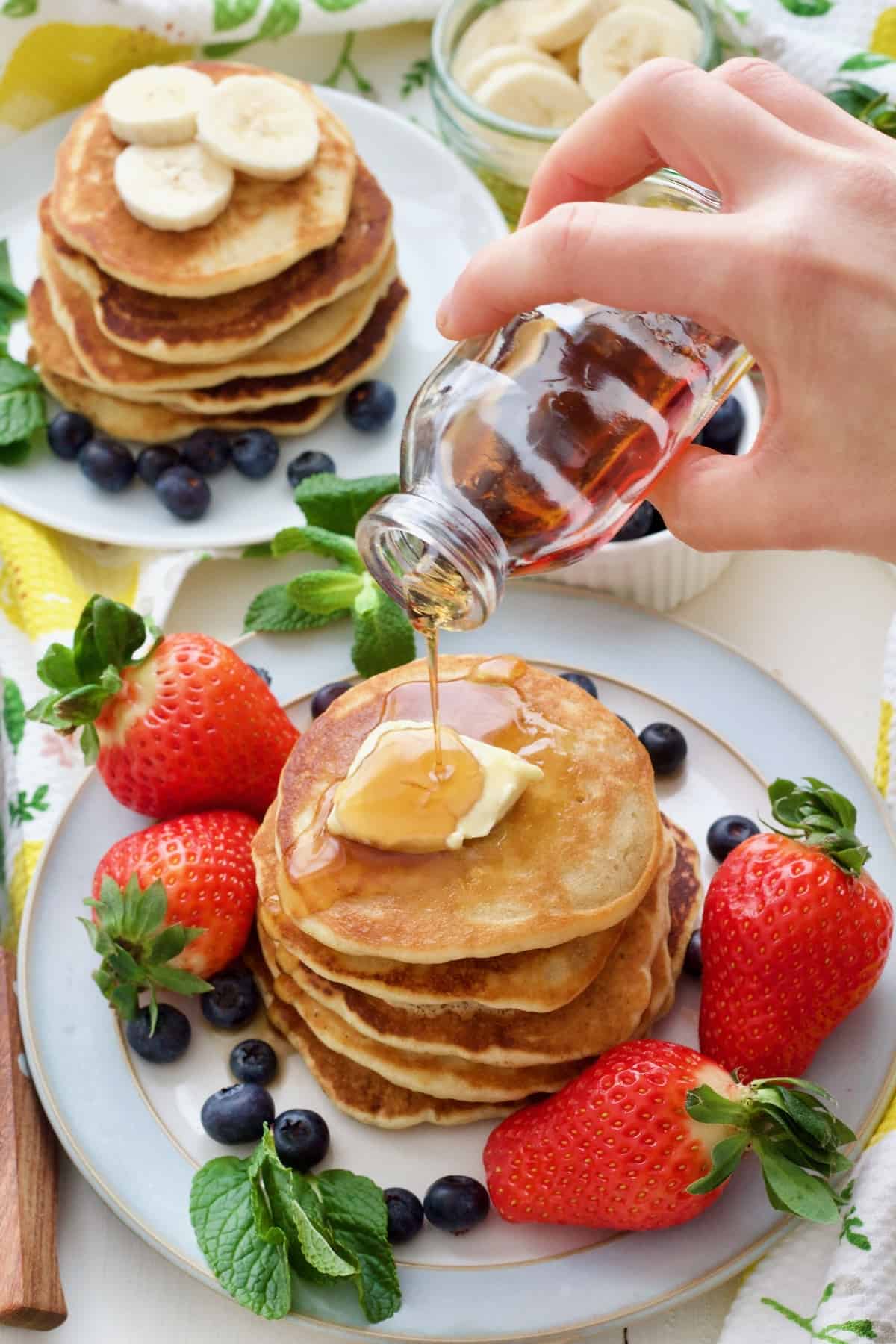 Learn how to make these Fluffy Vegan Buttermilk Pancakes by Jo's Kitchen Larder. These fuss-free beautifully thick and fluffy American style vegan pancakes made with super simple ingredients are a delightful breakfast treat.
Similar Posts: