Delicious plant-based dessert with wholesome ingredients amaranth, turmeric, ginger, mango and coconut.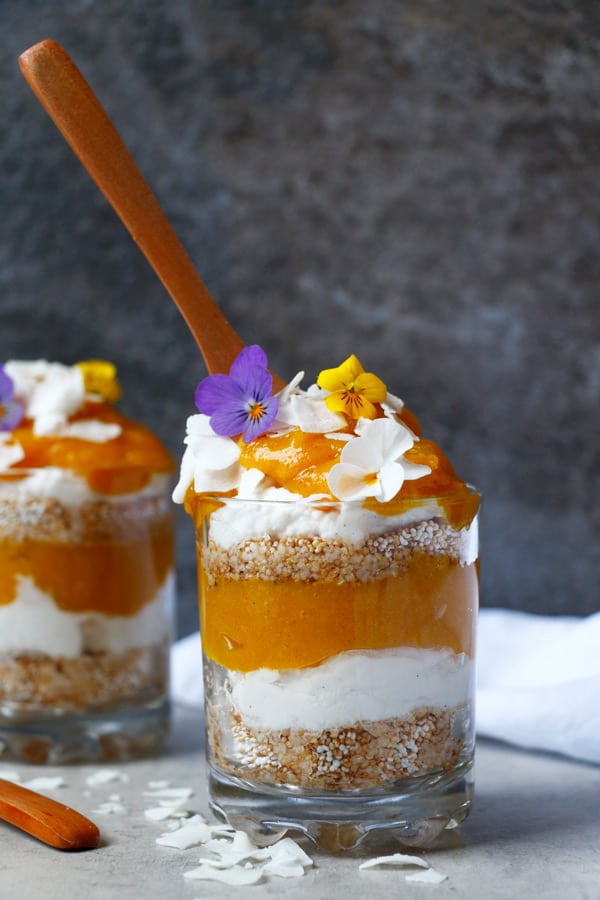 I shall call this Mango Turmeric Amaranth Parfait a dessert with benefits. It's packed with wholesome power ingredients amaranth, turmeric, ginger, mango and coconut and with no extra sweetener, this is the ultimate healthy treat.
Inspired by all of the gorgeous Instagram creations and chia puddings here is mine little creation coming to Life.
This parfait is made with layers of puffed amaranth, pureed mango, turmeric and ginger and a layer of coconut yogurt mixed with coconut cream. Together it tastes divine and it's perfectly fine to have this for breakfast.
If you've never popped amaranth before, get ready for a little bit of a mess, but it'll be well worth it at the end. I recommend to make more than you need since you already making the mess, you might as well. I burned my first lot, but quickly got hang of it and made some extra for later. For the coconut layer, I mixed coconut yogurt with some coconut cream, but you can use only yogurt or just some whipped coconut cream, whatever you have on hand.
Yield: 2 servings
Mango Turmeric Amaranth Parfait (gluten-free & vegan)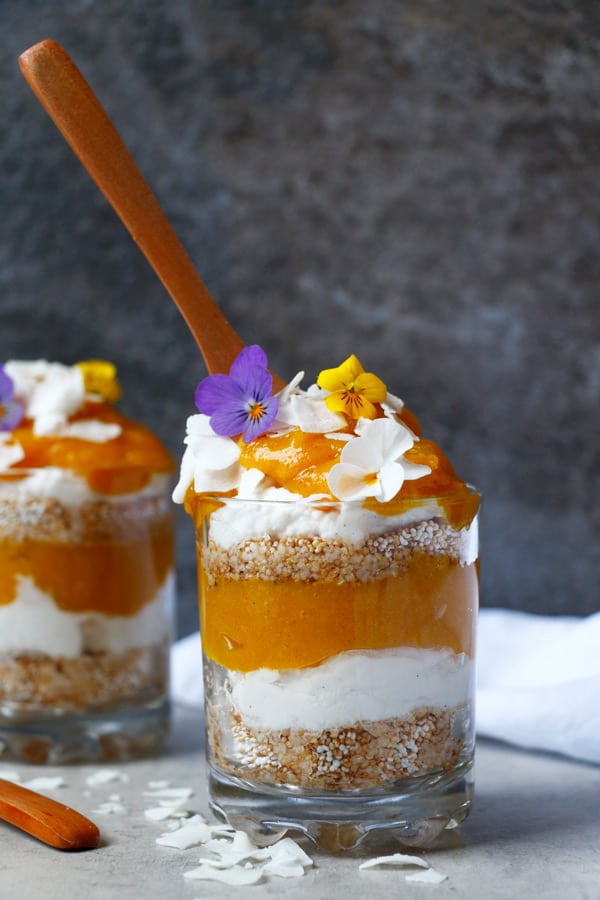 Delicious plant-based dessert with wholesome ingredients amaranth, turmeric, ginger, mango and coconut.
Ingredients
Amaranth layer:
2 tablespoons raw amaranth (3/4 cup once popped)
Coconut layer:
1/2 cup coconut yogurt (125 grams)
1/4 cup coconut cream (1/4 cup)
Mango turmeric layer:
1 large mango
1" fresh turmeric
1/2" fresh ginger
1/4 teaspoon cinnamon
Topping:
coconut flakes
edible flowers
Instructions
Heat up deep medium size pot and lower the temperature to medium. Add 1 tablespoon of amaranth and stir or toss continuously until most of the grains have popped. It'll look white once ready and only takes few seconds, don't let it start to brown. Scoop into a bowl and repeat with the next 1 tablespoon of amaranth. You will need only 2 tablespoons for the recipe, but I recommend to make more and save some for later. It's messy and expect some of the amaranth to come out of the pan. You could use lid if you like, but I find it's difficult to keep an eye on it once covered. Experiment with what works best for you.
To make the coconut layer simply whip coconut yogurt with coconut cream and set aside.
To make the mango layer, peel and slice mango, turmeric and ginger. Add everything into blender with the cinnamon and blend until smooth. Taste if it's sweet enough for you, if not you can add 1tsp of your favorite sweetener.
To assemble prepare 2 small serving glasses. Spoon 2 tablespoons of amaranth into the glass, top with 2 tablespoons of coconut yogurt and 2 tablespoons of mango puree. Repeat with another layer. Top with coconut flakes or any other toppings of your choice.
Enjoy!
Nutrition Information:
Yield:
2
Serving Size:
1
Amount Per Serving:
Calories:

512
Total Fat:

19g
Saturated Fat:

17g
Trans Fat:

0g
Unsaturated Fat:

1g
Cholesterol:

1mg
Sodium:

174mg
Carbohydrates:

84g
Fiber:

8g
Sugar:

70g
Protein:

7g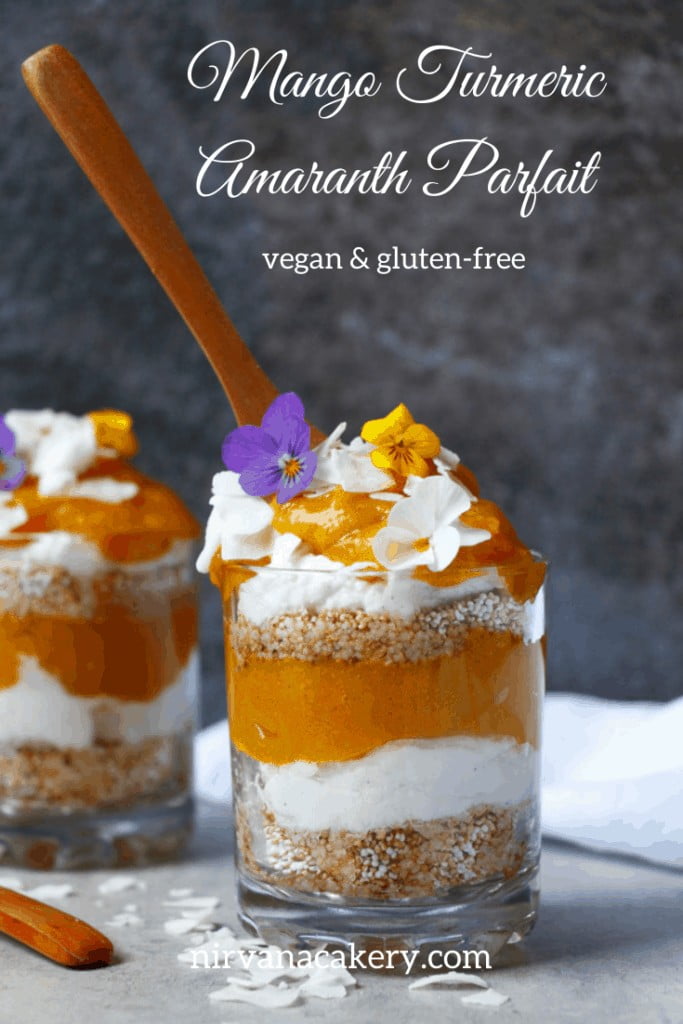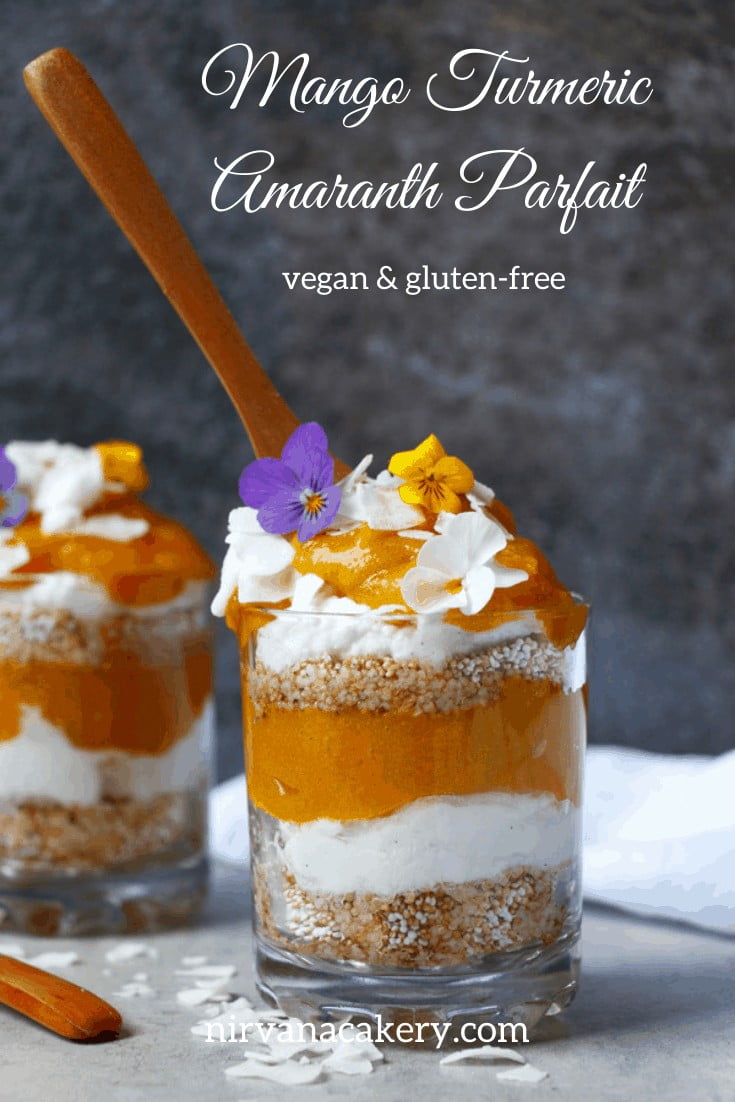 Similar Posts: