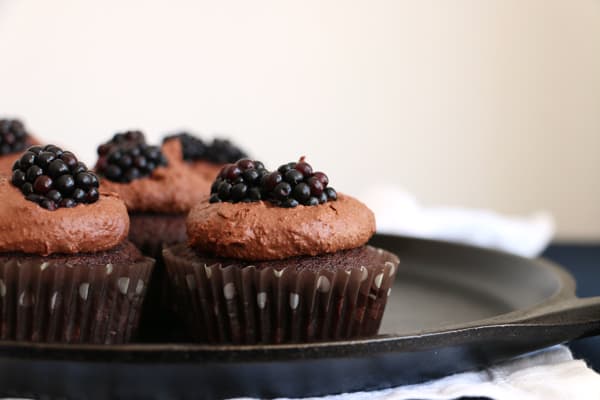 I've been waiting for blackberries to be in season to share this delicious Chocolate and Blackberry Cupcakes recipe with you. They are just lovely, the chocolate and blackberry combination is divine, very lightly sweetened with maple syrup and topped with scrumptious chocolate and coconut frosting.
I've made these yesterday and have eaten four throughout the day, they really are that good and right now I've totally overdosed on chocolate. Oh, those little pleasures.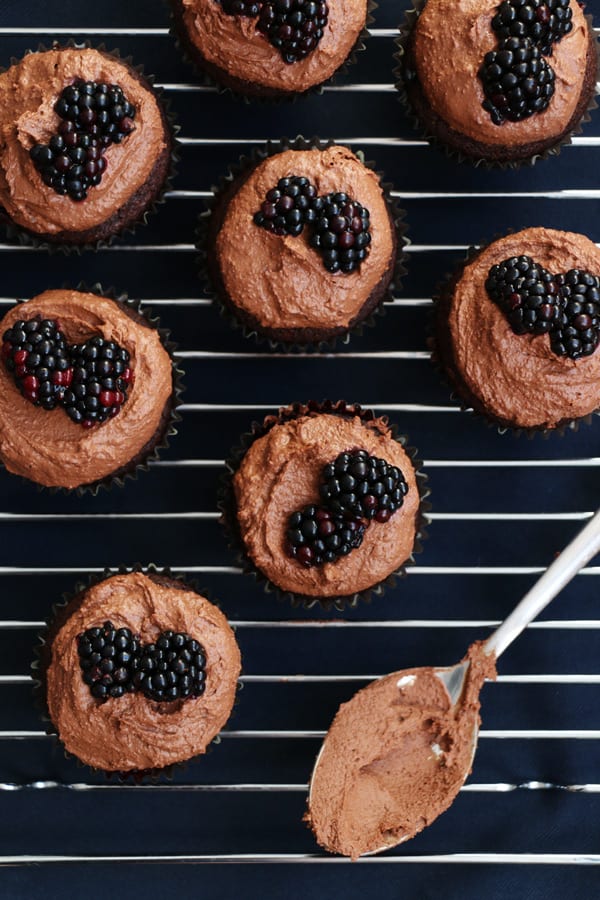 They are vegan and very simple to make, you can easily whisk them by hand, no need for an electric mixer. If you can, make the frosting ahead, it needs quite a bit of time to set. You can use raw cacao or cocoa, whichever you have on hand, other plant milk if you prefer, even different berries.
If you would like to make these gluten-free I have a similar recipe for Chocolate and Raspberry Vegan Cupcakes over here that are gluten-free. Enjoy :)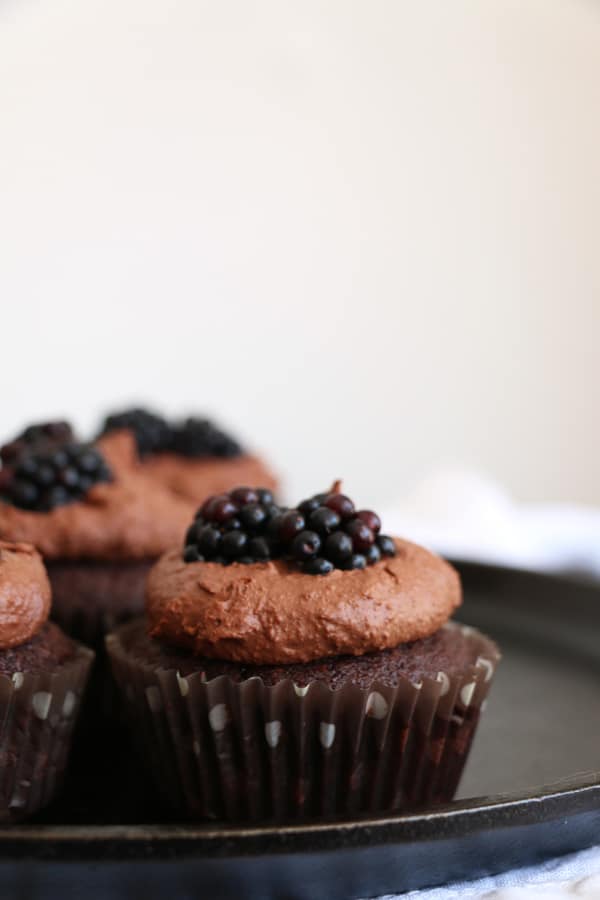 Yield: 12 cupcakes
Chocolate and Blackberry Vegan Cupcakes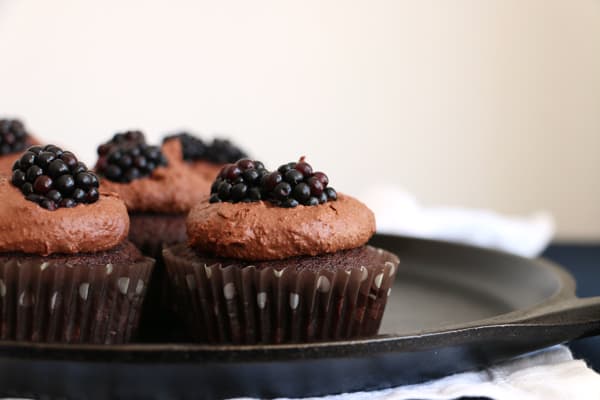 Ingredients
Cupcakes:
140g spelt flour (1 cup)
30g cacao or cocoa powder (1/4 cup)
50g desiccated coconut (1/2 cup)
3/4tsp bicarbonate of soda
pinch of sea salt
80ml olive oil (1/3 cup)
120ml maple syrup (1/2 cup)
150ml almond milk (1/2 cup +2tbsp)
2 tsp apple cider vinegar
1tsp vanilla
75g blackberries (1/2 cup)
Chocolate and coconut frosting:
240ml coconut cream (1 cup)
2 tbsp coconut flour
1 tbsp maple syrup
100g dark chocolate
12 blackberries for topping
Instructions
Prepare the chocolate and coconut frosting first as it takes time to set. If you can, prepare the day before and leave in the fridge overnight.
Chop the dark chocolate and place into a small bowl.
In a pan mix the coconut cream with coconut flour and heat on a low fire until it comes to a boiling point.
Pour the mixture over the chopped chocolate and stir until all melted.
Add the maple syrup and leave to cool down a bit. Transfer to a fridge to set into a spreadable consistency. It will take at least 3 hours to set to spread over cupcakes.
Preheat the oven to 190°C (170°C fan)
Line 12 hole cupcake tin with cupcake cases.
In a bowl whisk together spelt flour, cacao powder, coconut, bicarbonate of soda and salt. Set aside.
In a different bowl whisk together olive oil, maple syrup, almond milk, apple cider vinegar and vanilla. Add to the dry mix and stir together until well combined.
Finally fold in blackberries.
Spoon the mixture into your prepared cupcake cases and bake for about 25 min or until a cocktail stick comes out clean.
Remove from the oven once ready and leave to cool for 15 min before moving onto a wire rack leaving to cool down completely.
Frost with a generous dollop of chocolate and coconut frosting and top with fresh blackberries.
Store in a fridge for up to 2-3 days.
Enjoy!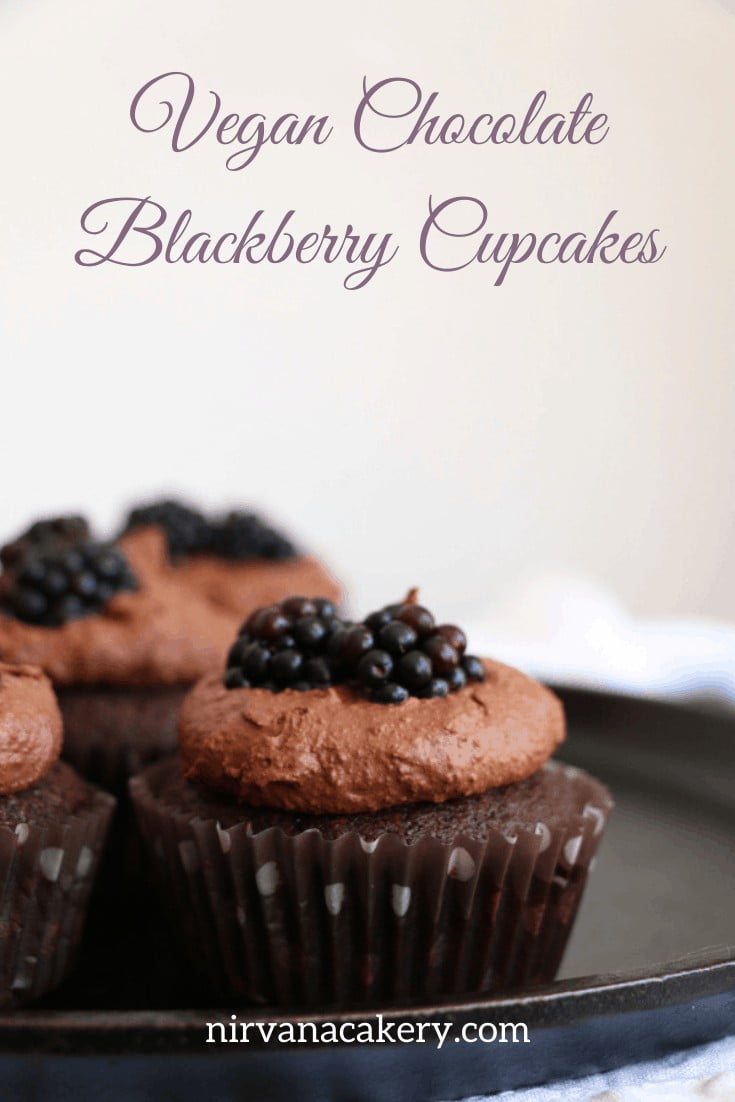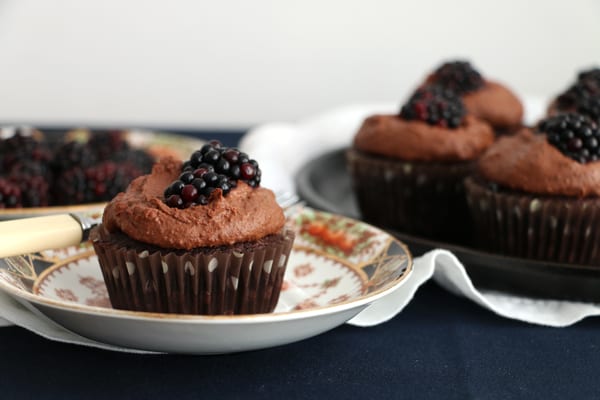 Similar Posts: