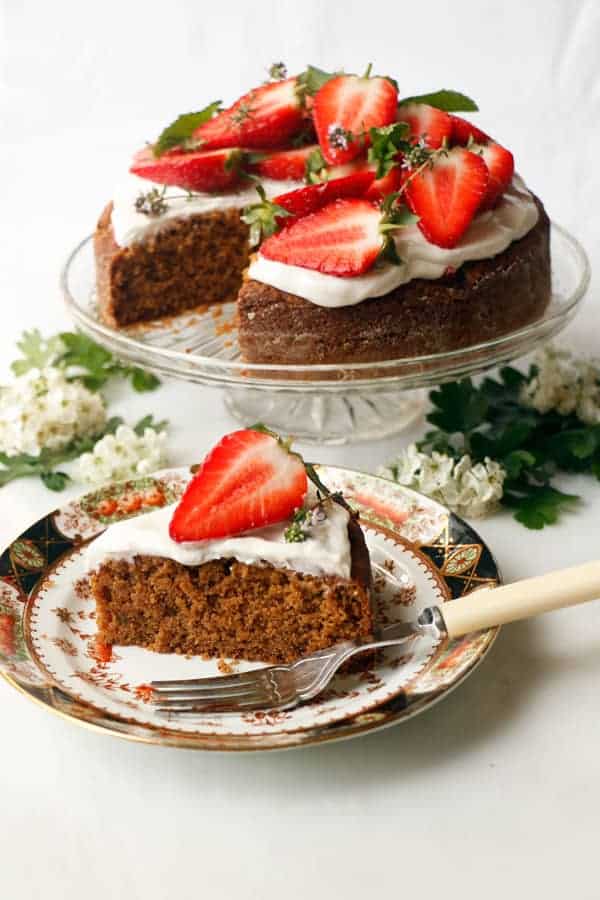 Beltane and May blessings! And just like that, we have entered the strawberry season. How are you all? I hope this Strawberry Thyme Hazelnut Cake will bring you little inspiration and warmth to your heart.
I've been waiting for my little thyme to start to flower so I can use it to decorate my cakes, the flowers are still tiny but already add a lovely touch and delicate beauty.
This is a simple one layer cake to bake and enjoy Sunday afternoons. I went with strawberries and thyme but you can adapt this cake easily to different seasonal fruits. It's light, moist and wonderful topped with light cream and summer fruits.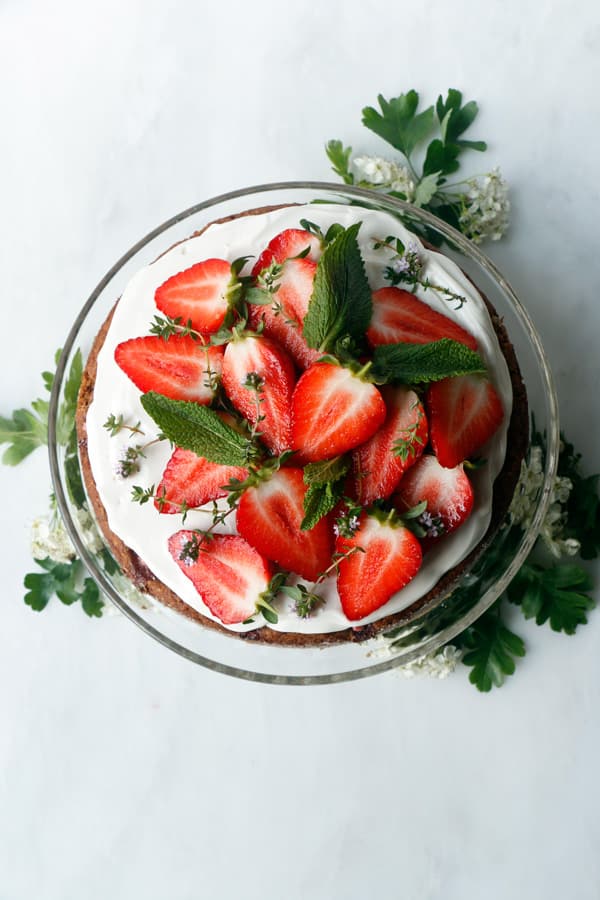 I know it's little more tricky to source ingredients at the moment. Feel free to adapt the gluten-free mix to what you have in your pantry. I had some hazelnut flour leftover and I've teamed it with teff flour which works lovely. I've topped the cake with some sliced strawberries before baking but you can leave it plain if you prefer and just use the strawberries on the top.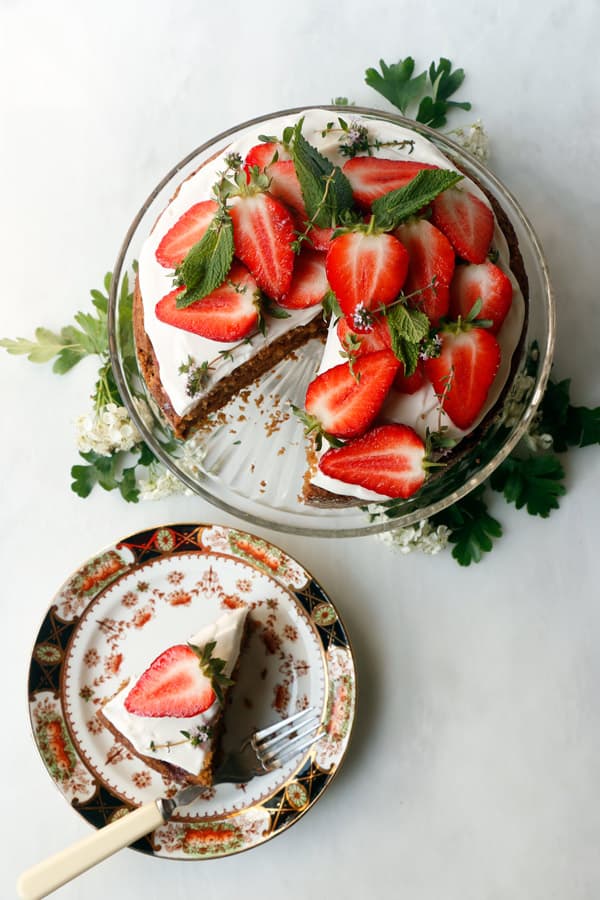 For the topping, I've used some vegan oat creme fraiche and more strawberries, fresh thyme sprigs and few mint leaves. Whipped coconut cream would be lovely too or you could even mix the two.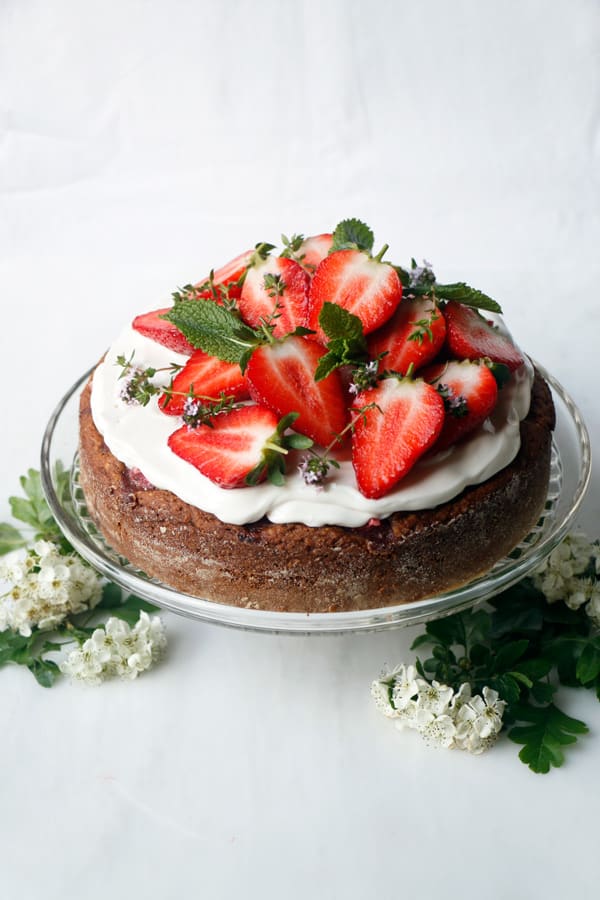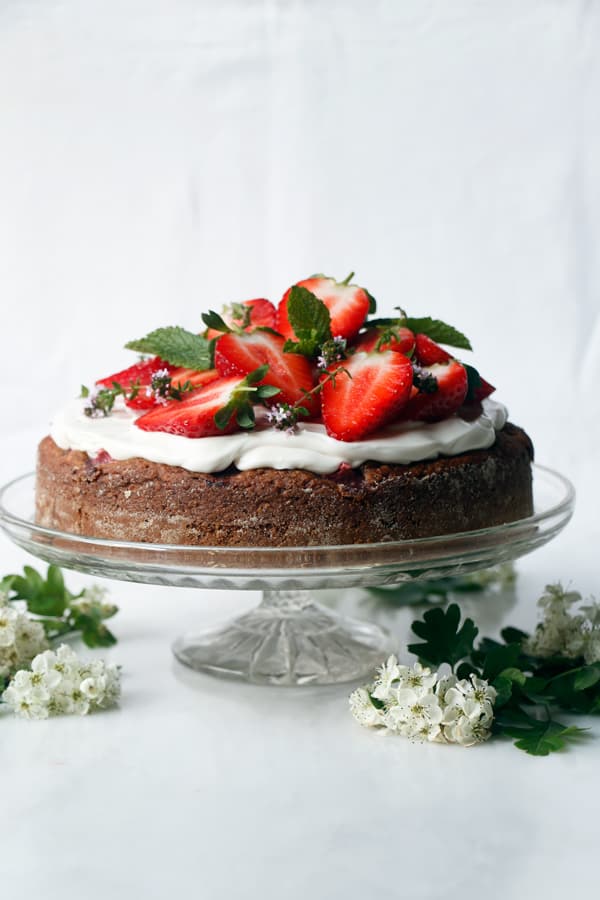 For the past couple of weeks, I've been working on an E-book for Spring Summer season including some recipes from the blog and few exclusive ones plus a guide to plant-based ingredients and my tips on creating gluten-free vegan cakes. I will also be re-opening enrolment to my online course a few of you have contacted me recently. If you're on my email list keep an eye on your inbox this week :)
Enjoy the recipe!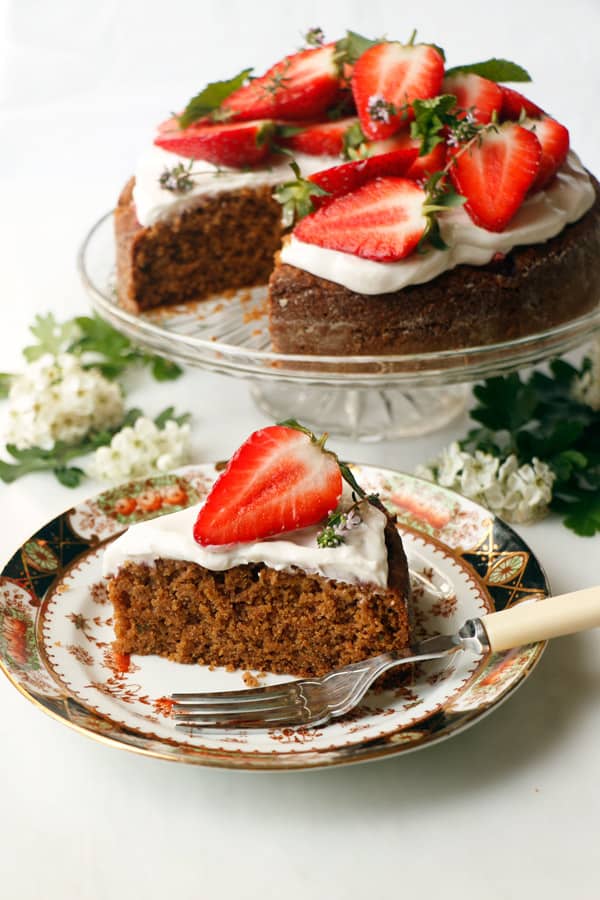 Yield: 8" cake
Strawberry Thyme Hazelnut Cake (vegan & gluten-free)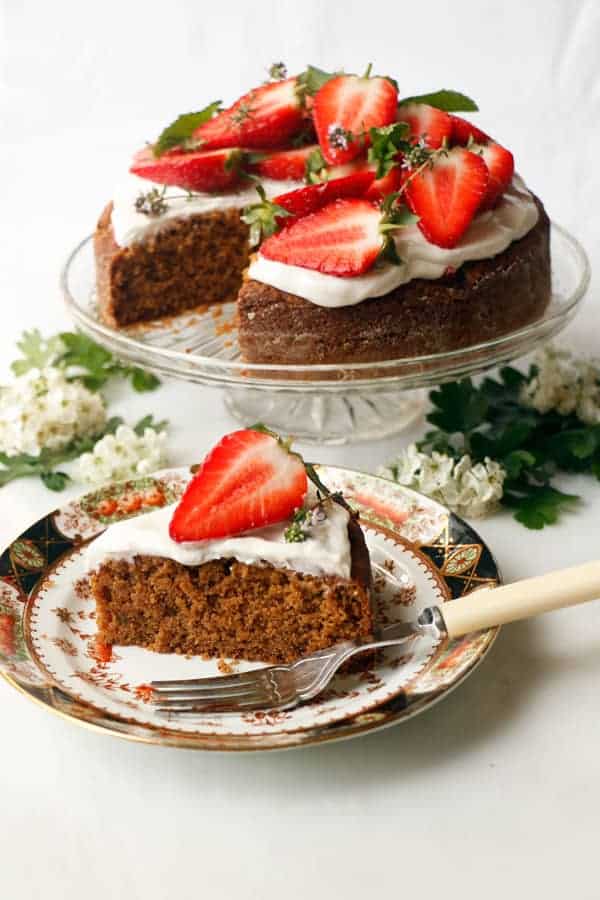 Ingredients
100g hazelnut flour (1 cup)
70g brown rice flour (1/2 cup)
35g teff flour (1/4 cup)
30g tapioca flour (1/4 cup)
1tsp baking powder
1tsp bicarbonate of soda
pinch sea salt
100g coconut sugar (3/4 cup)
1tbsp fresh thyme leaves
½ lemon, zest
2tbsp ground flaxseed + 6tbsp water
80ml olive oil (1/3 cup)
120ml almond milk or as needed (1/2 cup)
2tsp lemon juice
1tsp vanilla extract
125g strawberries, hulled and quartered (1 cup)
Topping:
vegan creme fraiche or whipped coconut cream or a mix of the two
strawberries
thyme sprigs
fresh mint
Instructions
Mix 2tbsp ground flaxseed with 6tbsp water and set aside to thicken.
Preheat the oven to 180°C (350F)
Grease and line the base and dust the sides of one 8" round cake baking tin.
In a large bowl whisk together hazelnut flour, brown rice flour, teff flour, tapioca, baking powder, bicarbonate of soda and salt. Stir in sugar, thyme and lemon zest and set aside.
In a small bowl whisk together gelled flax eggs, olive oil, half of the almond milk, lemon juice and vanilla.
Add the wet mix to the dry mix and mix until well combined. You should have muffin consistency. Add rest of the almond milk as needed. I've used just under 1/2 cup. Spoon the mixture into your prepared tin and level out the surface. Top with the strawberries.
Bake for about 40 minutes or until a cocktail stick comes out clean. Remove from the oven once ready and leave to cool down for 20 minutes before removing from the tin.
Once the cake is completely cool, you can frost and decorate the top. Place the cake onto a cake stand and spread generously with some creme fraiche or whipped coconut cream. Top with more strawberries, thyme sprigs and fresh mint.
Once frosted store in fridge.
Enjoy!
Notes
You can replace the hazelnut flour with almond flour and teff flour with buckwheat flour or use your favourite gluten-free mix.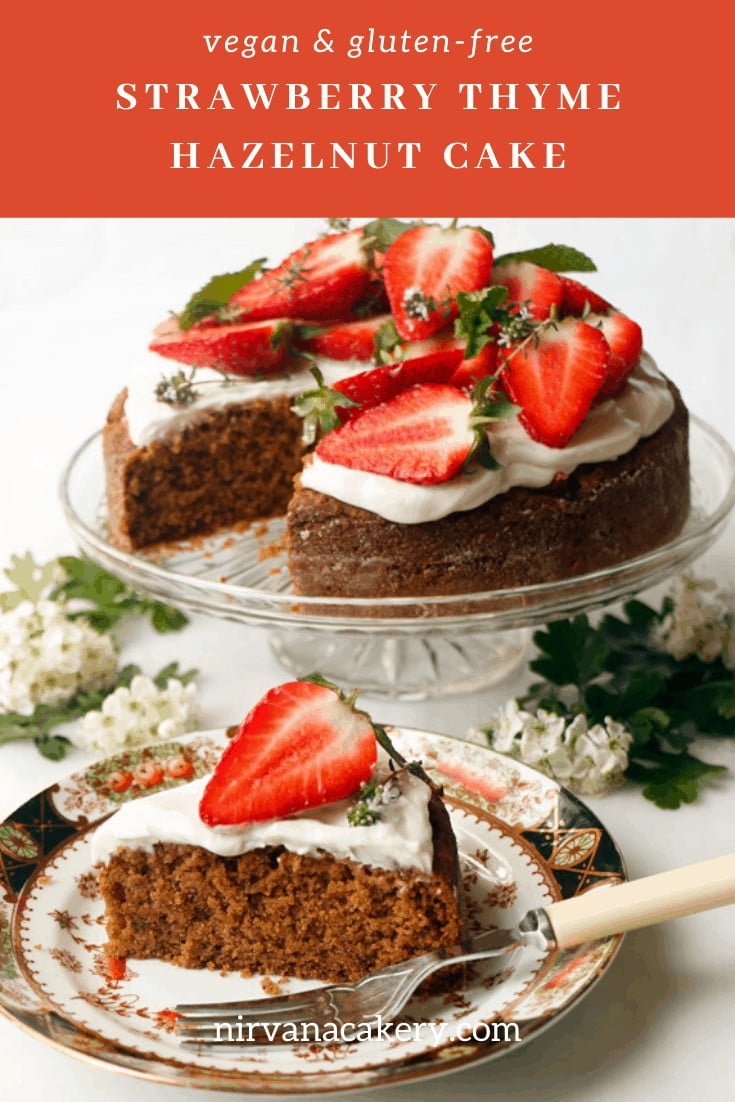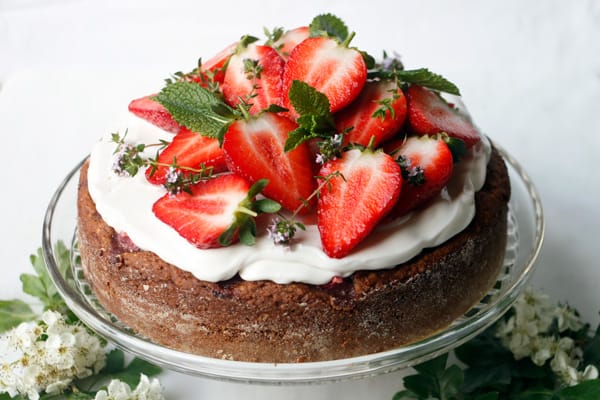 Similar Posts: